Battlefield 2042 is set to be one of the biggest games in the series so far. If you're looking at re-joining Battlefield with this iteration, you're looking at a lot of content. The game is going to have a lot of weapons, mobility, maps, and even game modes. The Battlefield 2042 game modes are going to give players a few very different choices in terms of gameplay. There are fewer physical modes than with other shooters, but each feels very different. The Battlefield 2042 game modes each bring something exciting and unique to the game.
Battlefield 2042 isn't having a single-player mode. Instead, there are some clear distinctions between the modes. Each offers something, including for those looking for highly competitive gameplay.
There are going to be three Battlefield 2042 game modes available at launch. However, each of these is distinct enough to be worth delving into in-depth. We've even gotten full details on what's going on. While the much-rumored Battle Royale mode in the game is looking pretty different now, as Hazard mode. This is what you need to know:
Battlefield 2042 Game Modes
Multiplayer – All-Out Warfare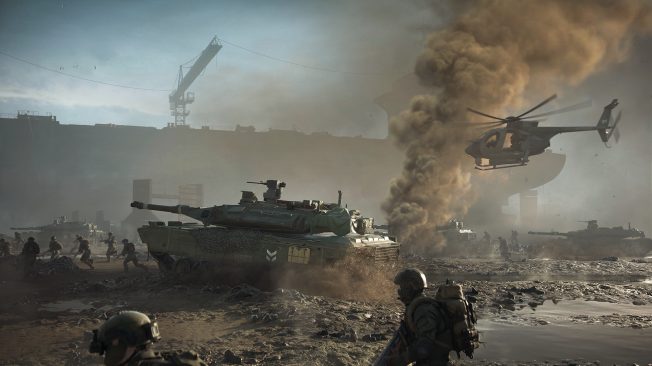 Multiplayer is the main event of the Battlefield 2042 game modes. This is going to be played over various maps in the game. There are currently a good number, with a decent variety in size. They stretch all the way up to the huge Battlefields that the game gets its name from. Obviously, every game mode is multiplayer, but All-Out Warfare is the traditional type of multiplayer that you're looking for with competitive play.
There are going to be some varied objectives in here, like Conquest and Rush. However, there will clearly be a lot of content to get your hands on in this section. It'll probably also be the most important part of the game.
The Multiplayer mode or All-Out Warfare can be roughly divided into Conquest and Breakthrough. This is how the two modes are going to work:
Conquest – Battlefield 2042 Game Modes
Conquest is the huge game mode that has made Battlefield famous. Here, a huge map is made available for teams to play in. This is half multiplayer and half sandbox, with an incredible amount of space and options for players to mess around in. The maps here are huge. So, there's a lot of different options open to players.
The big change to this game mode is the division of the maps. Maps are now being grouped into sectors. Each of these is going to have several flags spread around. However, it replaces the more standard control points gameplay that you found here in previous versions of the Battlefield 2042 game modes. On newer consoles and PC, you're going to get over 100 players in these matches. While this is great, it can be taxing. So make sure you've got your Battlefield 2042 settings optimized to make the most out of this.
Breakthrough – Battlefield 2042 Game Modes
Breakthrough is a standard fight between two teams of players. There are a set of objectives in a sector that a team has to capture, then they can move on to the next. This will continue until a clear winner is found. This Battlefield 2042 game mode hasn't been changed from previous titles. So, players who have been in the series a while will recognize this mode.
Hazard Zones – Battlefield 2042 Game Modes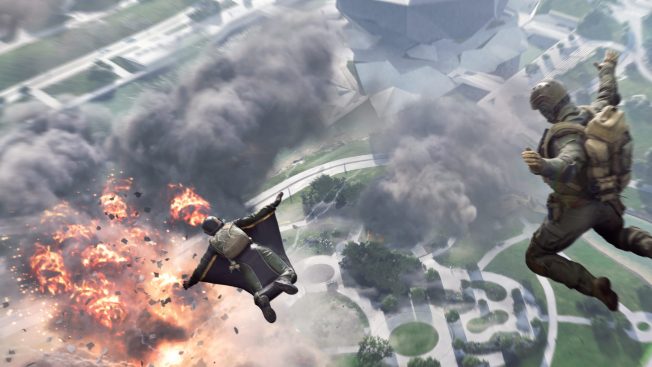 Hazard Zone is the newest Battlefield 2042 game mode to be announced. This is what was rumored to be the 'Battle Royale' for so long. It has some similarities, but it is pretty unique and has some elements similar to Escape from Tarkov too. This part of the game has been hotly anticipated and it really feels like the missing link to the game so far.
This mode has a few different maps. It is a mode for four-person squads. You have to figure out a plan to track down and extract data drives hidden around the map. There's a time limit to this mode, and also some AI enemies that will do their best to stop you. Another obstacle is the storm that can come into play, moving everything around. 
The game has some ongoing systems too. The data you retrieve gets you Dark Market credits. These are a specific type of credit for Hazard Zone. They allow you to purchase upgrades and gadgets in the mode, quite like progression in Escape from Tarkov.
This version of the game will have 32 players on PC and new-gen consoles, but only 24 on past gen. 
Battlefield Portal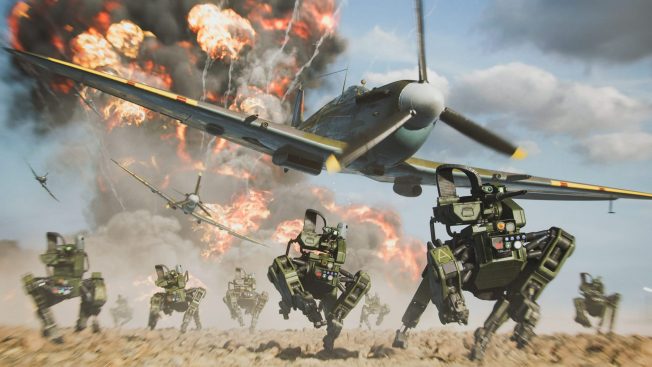 This Battlefield 2042 game mode is one of the most interesting. It is going to allow players to use various bits of equipment and gameplay in any of these new or remastered maps. Essentially, this is a 'best of' mode featuring all of the content from the Battlefield series mashed up. You can use a horse from one game with a gun from a futuristic title, all in a completely different time zone's map. While it is a bit bust, this mode is pretty interesting. However, a random assortment of past battlefield content being available should be fun.
Those are all of the Battlefield 2042 game modes. However, each of these has a lot of complexity inside of it. Make sure to keep an eye out to master everything you need to excel in all areas of battlefield 2042.