The AS VAL didn't exactly jump out for its early days in Warzone. However, as time has passed it has begun one of the more impressive weapons in the game. The AS VAL has one of the fastest TTK weapon in Warzone. Along with a few other qualities which really make it stand out, but the most notable is its high fire. Along with a higher recoil rate, the gun functions like something between an Assault Rifle and an SMG. This can make it effective, but also quite specialist. The weapon has clear downsides compared with other ARs. Using the best AS VAL Warzone loadouts can help to make it more effective though.
Loadouts in Warzone are a major decision. The right attachments can seriously improve the way a weapon works. You can build on its stats, get rid of its downsides, or make it into something more specialist. However, the wrong loadouts will make your weapon into something wonky that might be worse than it started as. That's why it's important to think through what you're putting in your loadouts.
The best AS VAL Warzone loadouts in Season 5 can help to make the weapon competitive, even against so many different AR options. However, things change quickly in Warzone. With so many different add-on options, even the change of a few pieces can make big differences to how the weapon's balance sits. That's why it's important to use the best loadouts in Season 5, and stay up to date. This is what you need to know to use the best loadouts, the stats of the weapon, and the top loadouts used by pro players.
AS VAL Stats
Warzone loadouts can majorly change up the way weapons work. However, you do have to start off with the base weapon. It can be helpful to know just where a gun has its strengths and weaknesses. Its general stats are the starting point for look at when building the best AS VAL Warzone loadouts. These are the stats for this gun:
Damage – 47, 37, 30, 30
Shots to Kill – 3-5, 4-6, 5-8, 6-9
RPM – 900
Mag – 20
Reload – 2.18s
ADS – 225
Move % – 94%
The RPM on this gun can hit players harder and faster than most of the competition. This is a quick weapon which be lethal up close. The downside to this is this limits range and control. You've got high recoil and a lower decent damage range. The AS VAL lives up to its slot as a halfway weapon between an AR and an SMG. These stats are an effective start, but the best AS VAL Warzone loadouts can build on it.
How to Unlock the AS VAL in Warzone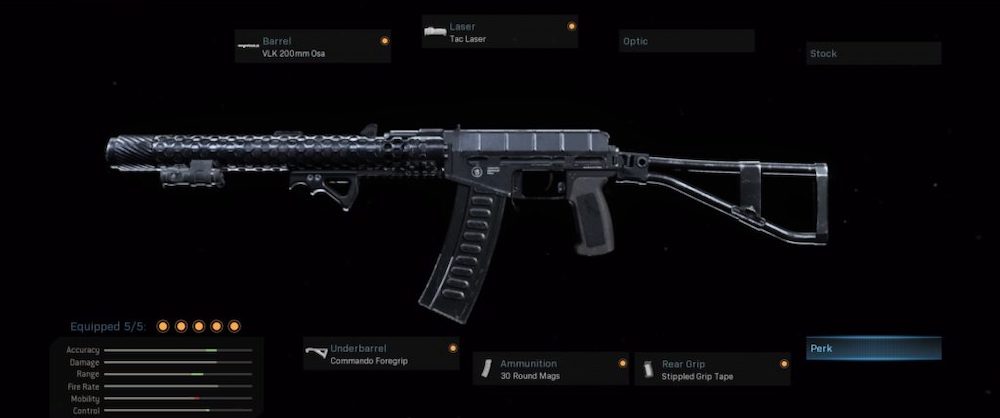 Warzone has a lot of weapons, more than the vast majority of online shooters. This naturally means you don't get access to all of them right out of the gate. You're going to have to put the time in if you want to unlock all of the weapons. The AS Val was originally part of a battle Pass. So, you had to purchase the pass to get access to it. The AS VAL can still be unlocked but you know how to go through a challenge. You need to get 2 headshots using assault rifles in five different matches.
This challenge is pretty achievable, but it could take a few tries. After this, you'll need to play with the weapon to level it up. That's how you can access all of the attachments for the best AS Val Warzone loadouts:
The Best AS VAL Warzone Loadouts
If you're looking for the best AS VAL Warzone loadouts, then you have a few different choices. While some players might want to adapt the weapon, the simplest option is a balanced loadout. This loadout builds on what is already present in the AS VAL. It helps to enhance it, without changing the overall way of how it handles. This is a set you can use for this:
Barrel – VLK 200mm Osa
Stock – VLK Strelok
Underbarrel – Merc Foregrip
Ammo – 30 Rnd Mags
Rear Grip – Stippled Grip Tape
The first thing you might notice about this one of the best AS VAL Warzone loadouts is the lack of a suppressor. The barrel attachment here takes care of that for you, alongside boosting its range and bullet velocity. The stock and foregrip can help increase your recoil control too. This will make the weapon faster, and easier to handle. The grip tape mainly deals with speed, and 30 round mags make the best case out of the fast fire rate.
The effect of this loadout is going to be to make the AS VAL into a more well-rounded weapon. You're getting bonuses to speed and recoil. Recoil is one of the main downsides of this gun. There is also some help for the damage range. The set of attachments here aren't going to make this game into anything they're not. However, they do improve it considerably.
Best AS Val Warzone Loadout for Range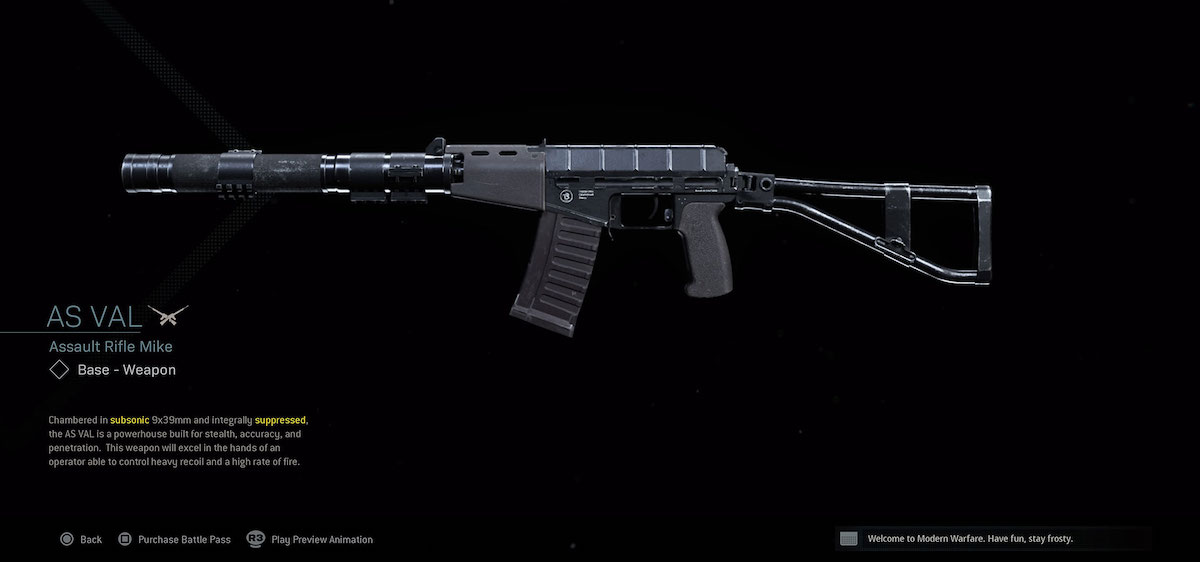 The AS VAL is a great assault rifle at more close-up gameplay, but this can be built on. If you use the right set of attachments for the AS VAL, you can turn it into a gun which is more effective at longer ranges. This loadout will make the AS VAL more closely resembles other assault rifles. However, it will keep that fast rate of fire which really makes it unique. This is what you can use:
Barrel – VLK 200mm Osa
Optic – 4.0x Flip Hybrid
Stock – VLK Strelok
Underbarrel – Ranger Foregrip
Ammo – SPP 10-R Mags
This loadout is going to help to push the AS VAL to work better at a longer range. However, it isn't exactly going to make it into a sniper. The gun will still work in the medium and close, but with some better strength overall. The barrel is doing a lot of heavy lifting for your range getting increased. However, you're getting a benefit for recoil too. Damage and bullet penetration are also increased. This one of the best AS VAL Warzone loadouts can work a lot better for players looking for something closer to a traditional AR.
Best AS Val Warzone Loadout for Low Recoil
Outside of increasing the effective range, recoil is probably the second biggest downside of the AS VAL. So, this loadout can make a big difference for how it handles. Recoil makes things tricky for some players, being able to cut down on it can make for a more user-friendly weapon. This is one of the best AS VAL Warzone loadouts if you're looking to fix the recoil problem that often occurs with this gun. This is what you can use:
Barrel – VLK 200MM Osa
Stock – VLK Stock
Underbarrel – Commando Foregrip
Ammo – 30 Rnd Mags
Rear Grip – Stippled Grip Tape
This build is devoted to getting the biggest drawback for this weapon under control, the recoil. The loadout is going to build on your gun's recoil control significantly. This will help you out with accuracy. Some damage drop off won't particularly be negative either, since increased recoil helps you hit your shots more easily.
This build has a few other benefits too. You're getting a better fire rate here and more damage at slightly longer ranges. The build doesn't work as well for range as a full long-range loadout for the gun. However, the overall effect is going to make your gun work with less recoil without softening its main strengths.
Best Perks for the AS VAL in Warzone

Those are some of the best AS VAL Warzone loadouts in Season 5. However, the attachments that you use are really just the start of things, you need to be able to organize the entirety of your loadout into the most effective form. Perks can make a big difference for your gameplay. Ideally, they should be organized to build on your weapon and make it better. These are some of the top choices to use alongside an AS VAL in Warzone:
This set of attachments comes closer to the normal picks for the best perks for an SMG rather than an AR. However, that is really what the AS VAL needs. The E.O.D perk is a pretty common pick, especially for more range-focused weapons. It helps to reduce the effects of explosives and equipment on you. Overkill lets you carry a secondary weapon. While the best AS VAL Warzone loadouts can help to make the gun a better all-rounder, you're going to need a secondary.
The last choice of perk here is Amped. This helps to keep you moving as fast as possible. These are some choices for the top perks for this loadout. However, you should tailor your perks to fit how you play as well as your weapon.
The Best AS VAL Loadout Secondary Weapons
The choice of secondary weapon is going to be equally important as the AS VAL when designing your loadout. Warzone requires players to engage in combat in a lot of different areas and terrains. Having two well-made weapons at your disposal is going to make it a lot easier to cope with everything an average game throws at you. These are the top picks for the best secondary weapons:
Snipers – The AS VAL Warzone loadouts that help to keep it as a close/medium range powerhouse are perfect for pairing with a sniper. They pick up the slack everywhere that the Sniper lets you down. Any one of the best Sniper Warzone loadouts can work perfectly here.
LMGs – Since this is a more close-range weapon, you can also go for an LMG to cover the longer ranges. Since the AS VAL works very fast, it has a real natural balance going when used with an LMG. These best LMG Warzone loadouts can all work with the AS VAL loadouts here.
Pro AS Val Loadouts
If you're looking for the best AS VAL Warzone loadouts, then you could take a look at those used by the top Warzone pro players. Pro players understand the game on a unique level, that goes way beyond just how the patches effect things. This can make their Warzone loadouts into some of the best options for players. However, they can also be pretty specialist. These are some of the top pro AS VAL Warzone loadouts:
Nickmercs Best AS VAL Warzone Loadouts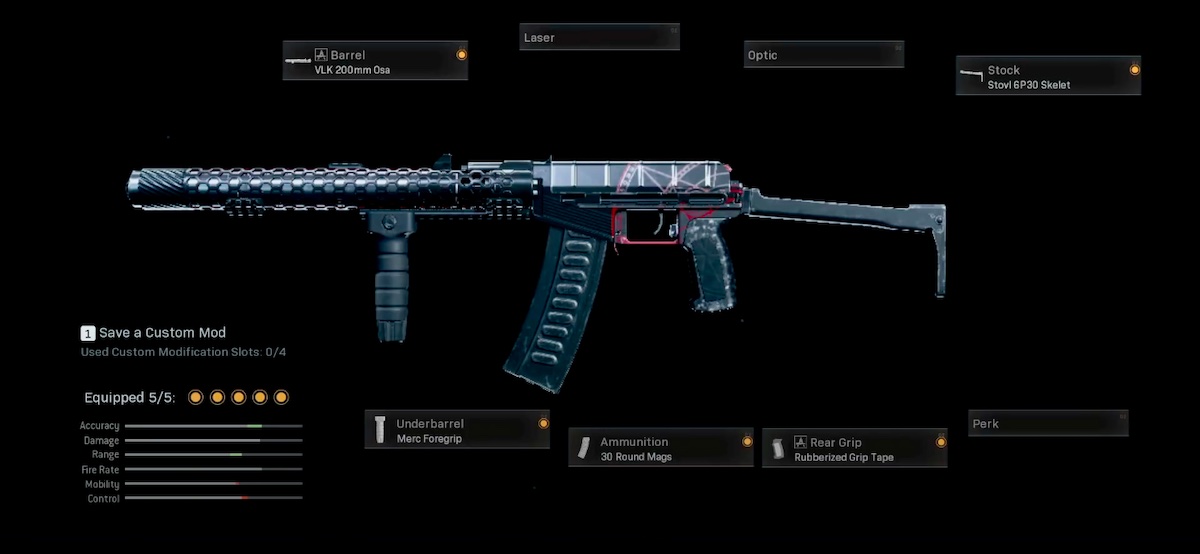 Nckmercs is a Warzone pro and content creator that achieved some big things with the AS VAL. As well as being one of the best players of the game, he has unique loadouts. This player often uses SMGs and other closer up weapons to get big kill counts in games. That makes the AS VAL a perfect choice for him, and his loadout is one of the bets developed. This is what he uses:
Barrel – VLK 200mm Osa
Stock – Stovl 6930 Skelet
Underbarrel – Merc Foregrip
Ammo – 30 Rnd Mags
Rear Grip – Rubberized Grip Tape
Swagg Long Range AS VAL Loadout
Swagg is another major Warzone player who has a big following. He wins events and get shuge numbers on stream. His one of the best AS VAL Warzone loadouts is pretty unique. It goes well at a longer range. This is what he uses:
Barrel – VLK 200mm Osa
Optic – Variable Zoom Scope
Underbarrel – Commando Foregrip
Ammo – SPP 10-R Mags
Perk – Slight of Hand
Those are the top AS VAL Warzone loadouts. However, one weapon is only a small part of things. You need to consider everything that goes into your loadout and the rest of your performance to get ahead. This is what you need to know to improve the other aspects of your gameplay: