Getting into gaming is never a cheap experience, and when you tally up the costs of all the required equipment and accessories, it can be overwhelming.
Some things you can't skimp on and others will be perfectly fine to go with a cheaper version, like finding a good gaming keyboard.
Material
Plastic and aluminum alloy
Gaming keyboards range drastically in price, with options under a hundred dollars and those reaching far beyond a thousand, and what each of them offers differs as well. That doesn't mean you can't find a good gaming keyboard under $100, and it's the perfect option for someone new to gaming or wanting to save money where they can.
What are the features to look for in a gaming keyboard under $100?
Although a more cost-efficient option, keyboards in this price range should still have it all, with features like
backlit keys, ergonomic setups, USB connectivity, mechanical and membrane switches, and a stylish look. Some options even have features like spill-resistant cases and wrist rests, so there's a lot to offer in this price range.
If you've blown all of your money setting up the rest of your gaming computer but still want a quality keyboard, we've got the ones for you. With our contenders for the best gaming keyboard under 100 dollars and plenty of specs to choose from, you'll find a budget friendly way to game in style.
Our Top Picks for the Best Gaming Keyboards Under $100 – Reviews for 2021
Gaming keyboards have come a long way, and the features that used to cost hundreds of dollars in one of these accessories can now be found in the best gaming keyboard for under $100.
We've selected some of the highest-rated keyboards for gamers shopping on a budget that will ensure you don't miss out on any of the magic.
Best Overall: SteelSeries Apex 5 Keyboard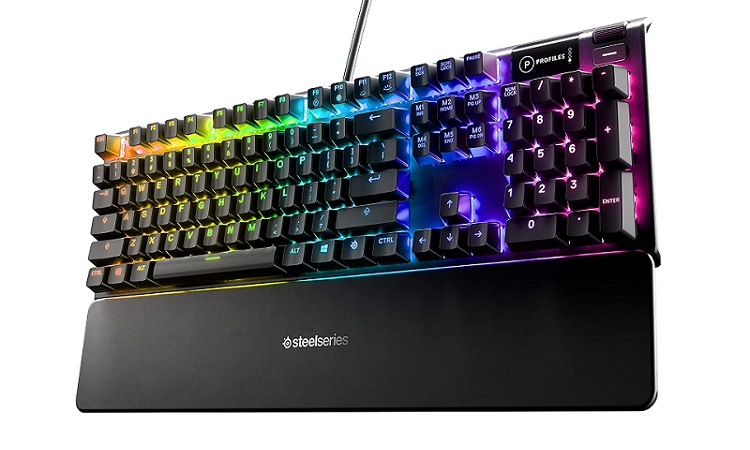 Type: Hybrid
Material: Aluminium alloy
For the best of the best gaming keyboards, you don't have to spend a fortune, and the SteelSeries Apex 5 is proof of that. This is the best mechanical gaming keyboard under $100 hands down with features that you'd expect on something much costlier.
The Apex 5 comes with an OLED smart display, premium magnetic wrist rest, and RGB illumination on
every key, as well as tough aluminum build to make it last for years to come.
According to gamers who've tried the Apex 5, the best thing about this keyboard is its response time and feel. Because SteelSeries has included a smooth membrane with the mechanical switch underneath each key, you get the best of both worlds, and it's this type of hybrid gaming keyboard that soon will be taking over.
However, customers weren't too thrilled about the lack of instructions that came with this keyboard. Although this wouldn't be a big deal with a usual keyboard, the fact that it's a gaming one that requires a lot of setup with lighting and color schemes, SteelSeries needs to step up their act and give users a bit more information on how to get it right.
Another noteworthy feature of the SteelSeries Apex 5 was its aluminum alloy construction made with aircraft-grade materials. The smart display allows you to read Discord messages and see game states, as well as being able to customize it to read whatever you want. The keyboard measures 35.43 x 11.81 inches and the keys are slightly slimmer than a standard keyboard which can take some getting used to.
The dynamic RGB illumination works on each key separately and you can custom design the color schemes and effects to however you choose, provided you can figure out how to. The wrist wrest is magnetized and comfortable so it's ideal for long hours of play, and gives you palm and wrist support in one.
If you want to get your hands on the affordable and feature-rich SteelSeries Apex 5 Mechanical Gaming Keyboard, head to Amazon for the lowest cost and a price tag under $100. SteelSeries offers a one year limited warranty from the date of purchase and the promise of a durable and reliable gaming keyboard, no matter the genre you're into. For gamers who want a strong but stylish keyboard to play with, the Apex 5 is our favorite pick.
Runner Up: Razer Cynosa Chroma Keyboard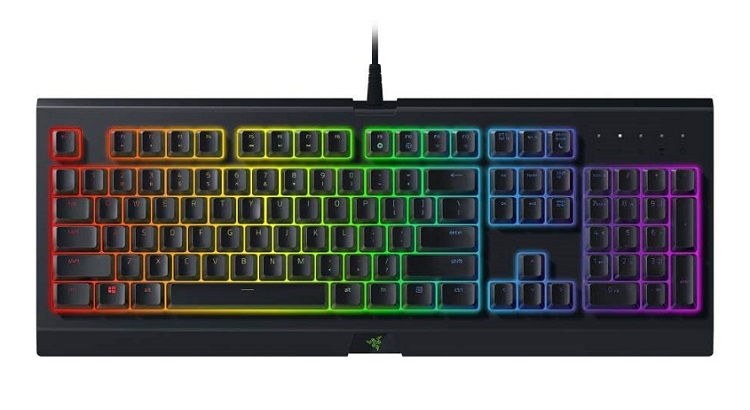 Type: Membrane
Material: High grade plastic
Razer is a trusted name in computer gear and it's no surprise that their Cynosa Chroma has made it onto our list. This is their cost-effective entry into gaming keyboards but it offers a twist, with a soft membrane coated keyboard rather than mechanical style keys.
The Cynosa Chroma comes with Razer Hyperhsift to allow you to program macros and synchronize with
most games and other accessories. The cost of this keyboard sets it apart from others, but you wouldn't know it to look at it or use it just how cheap it was.
If you want the best gaming keyboard under $60 or don't want to spend close to $100, you'll still get loads of features with the Razer Cynosa Chroma. As a membrane keyboard, it's ideal for people who don't like the feel of a mechanical model but still want something responsive, and customers loved how comfortable it was.
On the downside, there's no wrist support which was noticeable after some use. Customers also found that there were issues with the driver of the Razer Cynosa Chroma. Sometimes you'll have to make adjustments or bring it back to your customized settings, so it's not all perfect.
Others noted a slight squeaking with the keys which went away eventually, but if you're purchasing this to get a quieter gaming experience, you might want to look elsewhere.
There are lots of other great features worth noting on this keyboard, though, and especially for one in this price range. The keyboard of the Razer Cynosa Chroma features a spill-resistant coating that protects it from damage and the keys have a soft cushioning on them which reduces fatigue, even during long periods of play.
Razer has built the Cynosa Chroma with an impressive key display, offering individual colors on each key so you have a fully immersive gaming experience. There are 16.8 million colors to choose from and it features macro buttons, profiles, and rebind buttons, giving gamers everything they could ever want and more.
It's a full-size keyboard with 168 keys in QWERTY style so when you're not gaming you can use it for everything else as well. True to the reputation of the brand, Razer sells this keyboard with a two-year warranty, which is equivalent to 80 million clicks on your keyboard.
It's available at Amazon for the best price online and will serve your gaming experience well for many years to come. If you prefer the feel of a membrane keyboard with the efficiency of a mechanical one, this is one of the cheapest and most impressive ways to get it.
Alternative: Razer Ornata Chroma Keyboard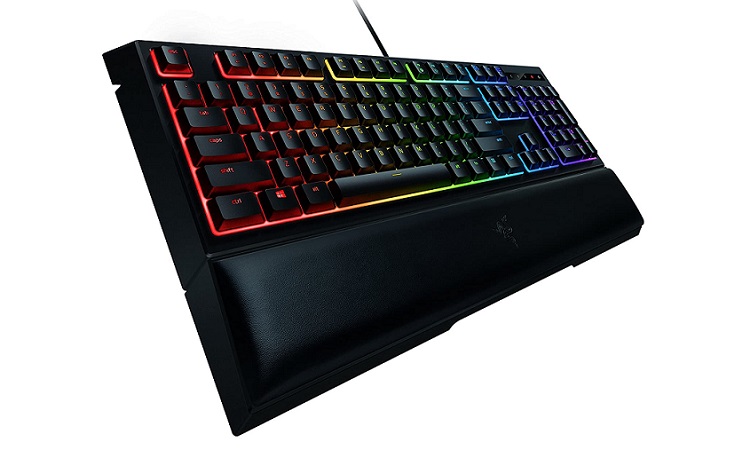 Type: Membrane
Material: Leatherette, plastic
Once considered the best selling gaming keyboard, the Razer Ornata Chroma still holds a place on our list of budget friendly options. This keyboard is made with high-performance Mecha-Membrane switches that Razer has designed, aiming to give the speed and feedback of a mechanical key but with the softness of a membrane one, thanks to its rubber dome switch.
According to customers, their favorite thing about this keyboard is its response, and how it differs from other gaming keyboards. Because of the rubber dome switch, you'll still feel the click like you do with mechanical keyboards but without so much noise, and it's just as tactile. This would be a great keyboard for use with gaming and typing because it serves all purposes.
On the negative side, there were some software issues for users which meant they would occasionally have to pull out the USB connection and plug it back in. others found they had to lubricate the keys a lot sooner than they would with other gaming keyboards, which indicates an issue during the construction phase and something that Razer should work on in the future.
This aside, there are loads of extra features worth talking about in the Chroma, including the personalization factor. The Ornata Chroma supports other popular gear like Philips Hue and popular games so you can immerse yourself in whatever you're playing. The keyboard features individually backlit keys with over 16.8 million colors to choose from to suit whatever your mood or taste prefers.
The Razer Ornata Chroma comes with a full programmable macro support called Hypershift, and this means you can create just about any command, as basic or complex as you want. The keyboard features an ergonomic magnetic wrist rest for comfort and it features built-in magnets that assist with alignment for reduced fatigue. Even long hours at the keyboard won't feel so bad when you're gaming with the Razer Chroma.
Razer has a huge selection of gear but this is the best gaming keyboard under $75 with these types of specs. When you purchase this online at Amazon you'll be covered with a two year warranty from the brand and the peace of mind that you purchased a best seller in this category. If you prefer an all membrane gaming keyboard without the mechanical distraction, you'll love everything about the budget-friendly Razer Ornata Chroma.
Alternative: Corsair K55 Gaming Keyboard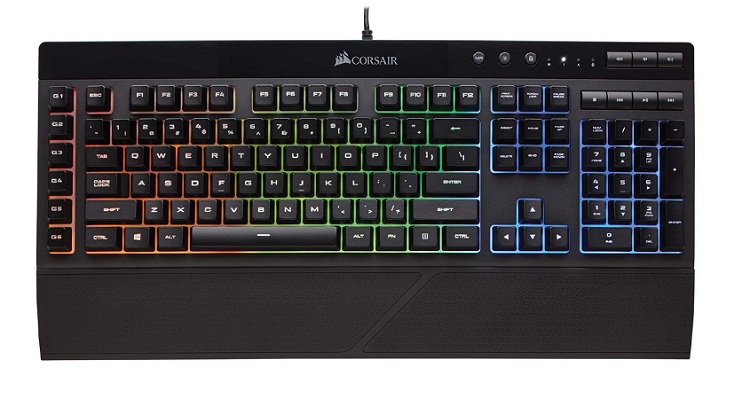 Type: Membrane
Material: Plastic
If you're shopping on a tight budget but still want all of the cool features a gaming keyboard has to offer, the Corsair K55 might be right up your alley.
This 120-key keyboard comes with RGB lighting, macro keys, media controls, and more, plus it's powered by the Corsair iCUE software that allows it to sync up with the rest of your compatible devices. As a membrane keyboard, it's got pros and cons worth weighing up, but it depends entirely on your preferred gaming experience.
Gamers loved how quiet the keys were on this gaming keyboard and it was a welcome change from most mechanical models. Although not your standard gaming keys, they were just as responsive, and if you plan on using this for typing as well, you'll appreciate the feeling that a membrane model gives.
This is a pretty bulky keyboard for something made of plastic and it isn't as slimline as others we've reviewed, which didn't impress some customers. If you want a sleeker feeling and looking keyboard for gaming, you'll probably want to keep shopping around. The RGB is separated over three zones and not independent for each key so you might want to upgrade if you prefer a more impressive lighting show.
These negatives aside, there is still a lot of good to talk about with the Corsair K55 Gaming Keyboard. You'll get six macro keys included so you can customize commands to suit your needs, and it features a detachable rubber palm rest as well. Unlike others where this is built-in, you can decide what feels most comfortable for you when gaming, and it can be switched out with ease.
The Corsair K55 Gaming Keyboard features a dust and spill-resistant cover that protects it from all of the usual gaming mishaps and it's rated up to IP42 protection level. You'll also find media and volume controls on the keyboard so you don't have to do this while you're trying to play, meaning your gaming experience will never be interrupted until you're ready to stop.
Corsair has made a low-priced gaming keyboard with all of the basics covered and if you don't want to spend a lot of money on this accessory, it'll be more than enough. It's listed online for a great special on Amazon which includes free shipping but their warranty coverage is a little hard to understand, so you'll want to be sure you're choosing a trusted reseller when you purchase. If you want a cheap but efficient gaming keyboard without too many frills, the Corsair K55 will give you everything you need.
Alternative: Razer BlackWidow Lite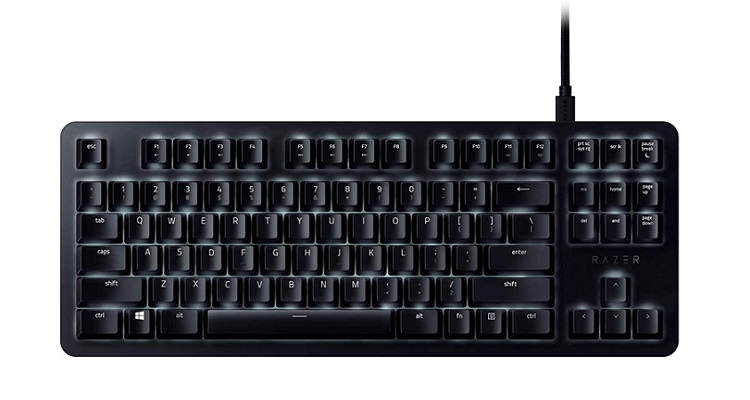 Type: Mechanical
Material: Plastic and aluminum alloy
It should be no surprise to see another option here from Razer, with their BlackWidow Lite keyboard making it onto our list as a hot pick for the best mechanical gaming keyboard under $100.
This is a simpler version of a traditional gaming keyboard that would suit everyday use as well and it relies on the Razer Orange switch technology to operate. The keyboard is also equipped with an O ring sound dampener built into each key, giving you a smoother and quieter experience than most.
The best thing about this keyboard is its simplicity and if you're someone who prefers to steer clear of flashy RGB lighting and far too many keys, you'll appreciate it even more. The BlackWidow Lite only uses LED lighting behind each individual key and full brightness control. Somehow, this makes it look even more spectacular than a keyboard with millions of colors, so it's a huge bonus.
However, the keys on this can feel a little sticky, and although they use the famous Razer Orange switch technology, it might not be enough for gamers. Those who prefer a tactile mechanical keyboard for gaming will be the most disappointed, and although it's quiet and smooth to use, you may feel like your keys aren't responding as quickly as you want them to. For a gamer, this type of lag can be a dealbreaker.
The BlackWidow Lite from Razer still has plenty to offer in customization though, and it comes with fully programmable macro support thanks to their Hypershift program. The keyboard has a tenkeyless design so it's ready for tournament play or whatever type of gaming you prefer. The attached USB cable can detach if you want to play on the go so there's no limit to how you can enjoy it.
This keyboard is made to last, just like the rest of the range from Razer, and it features a durable construction of plastic and aluminum alloy, as well as the strong mechanical switches underneath each key. You have three color choices to choose from with the cheapest being the classic black, or you can go with crisp white or their limited-edition Star Wars design to suit your personal taste.
Razer covers this keyboard with a two year limited warranty which means at least 80 million clicks for your money, and this is the same for all of their quality accessories. If you want the best mechanical gaming keyboard under $100 and prefer simplicity in your computer gear, you'll love everything about it. The Razer BlackWidow Lite is slim, savvy, and versatile, making it a smart investment for any type of gamer.
FAQs of Budget Friendly Gaming Keyboards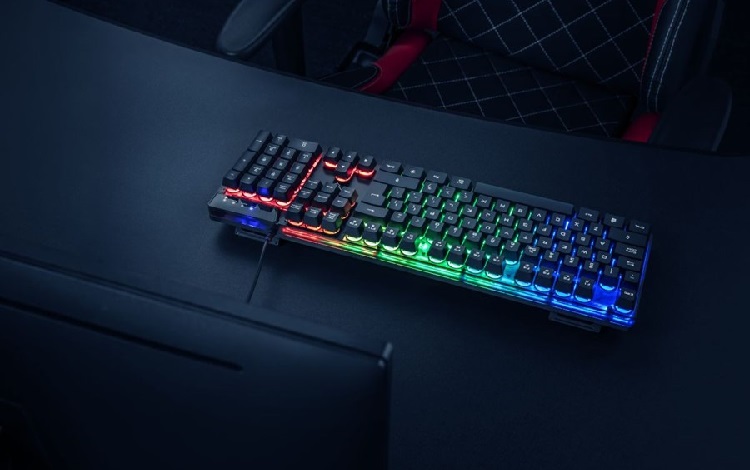 Gaming keyboards don't have to be expensive to be good, provided you know what to look for when choosing one.
This simple accessory can change the way you game forever, and it's an affordable adjustment that will make the world of difference in your gaming setup. For those seeking out a new keyboard and shopping on a budget, we've answered some FAQs that can give your search a push in the right direction.
How Much Does A Good Gaming Keyboard Cost?
There's no need to spend a lot of money on a gaming keyboard when you can get a quality model for between $50 and $60 that has just as many features.
Some of the options for the best keyboards are also the most affordable so it's not a purchase that has to set you back very far compared to the rest of your gaming setup.
Do I Really Need A Gaming Keyboard?
A gaming keyboard can enhance your gameplay experience as it enables you to type faster which can help with certain games. If you're playing games that require fast secession with keys or quick movements, the addition of a gaming keyboard with mechanical keys can make a difference.
Why Are Gaming Keyboards So Loud?
A gaming keyboard features a mechanical spring underneath each key that prevents depression and lagging after each keystroke. This mechanism can make it louder than a standard keyboard but it's possible to reduce this noise with accessories like a rubber cover on the keys or a mat placed underneath it.
What Is the Difference Between A Gaming Keyboard And Regular Keyboard?
A gaming keyboard is designed for efficiency during gaming so the main difference is that it uses mechanical switches instead of membrane switches. Other differences with gaming keyboards include RGB lighting, backlit keys, and ergonomic features like wrist support that help with long periods of gameplay.
The Money Savvy Way to Game
Gaming is an expensive hobby in the beginning but with some smart choices and cuts where you can take them, you can get a great setup for an affordable price.
One of the easiest ways to reduce your output is with a quality gaming keyboard for no more than $100, and as you can, see it's certainly possible.
Although there's often debate about the worth of a gaming keyboard, serious gamers know just how much it means to their experience. The lighting and response time makes it more immersive and you'll have a complete setup when you add one of these stellar keyboards to the rest of your gaming peripherals.
With our affordable selection of keyboards, you have something to choose from in every category, with as many or as few features as you want. There's no need to splurge on this one accessory when there are other parts you could be spending up on, so consider any of our recommendations for the best gaming keyboard under $100 as worthy candidates.