Halo Infinite is one of the most anticipated shooters in recent years. However, Halo games have a pretty big fanbase outside of the PC. The series hails from Xbox, and there's still a large crowd on that console and players are still looking to get a competitive advantage on there. You don't have the same customization options as you do with the best Halo PC settings. Although, you can optimize things to get a better ride from the console. The best Halo Infinite Xbox settings can help you do better in the game. This includes getting the right sensitivities and settings to perfect your aim even while using a controller.
This guide covers what you need to know to optimize everything to play Halo Infinite on a console. While you can't specifically tailor every aspect to work on an actual PC, but there's plenty you can do. You can cut down on lag, use a better sensitivity, and improve generally how you interact with the game. This is what you need to know:
The Best Halo Infinite Xbox Settings
Halo Infinite offers a good deal of choices to players. There are loads of ways you change things around to improve. These are the best Halo Infinite Xbox settings, in the sections the game groups things into.
Best Halo Infinite Xbox Settings – Controller Settings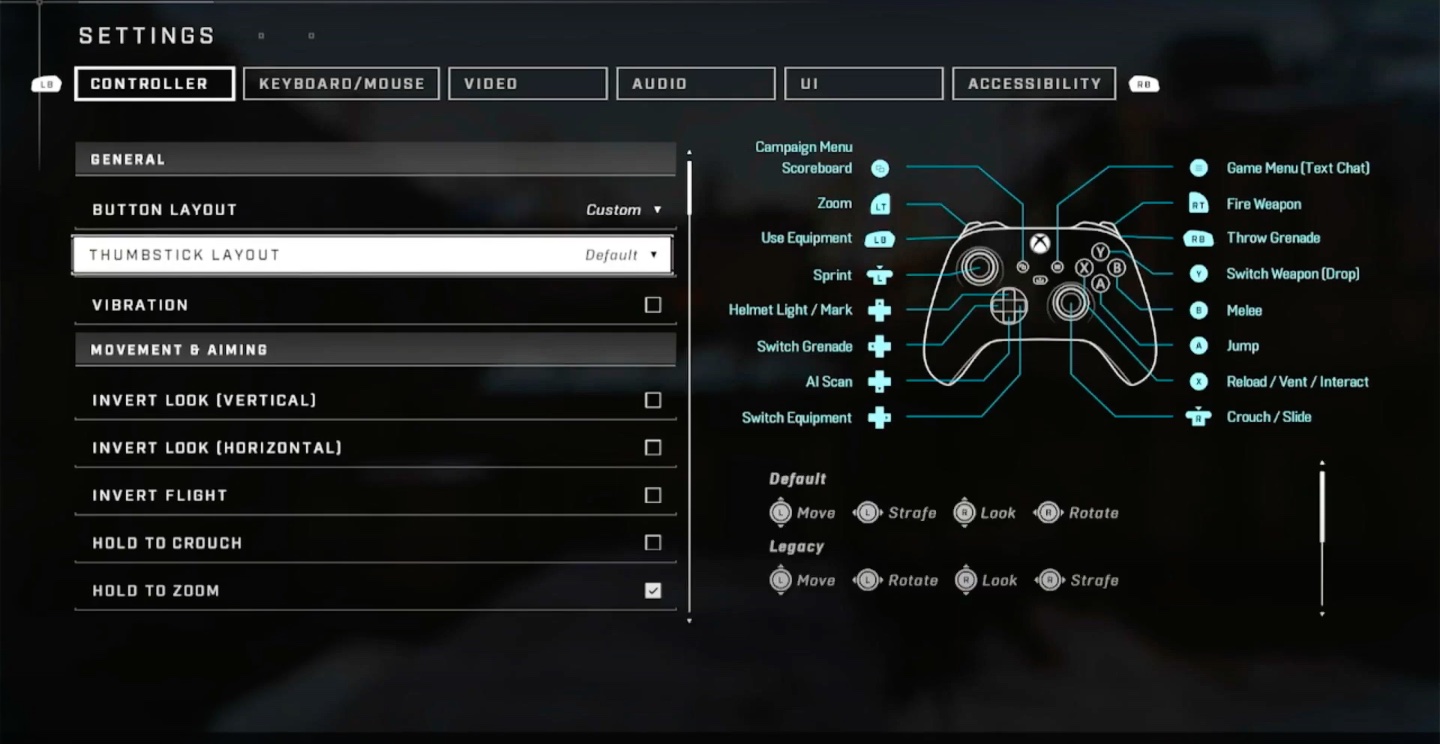 The controller settings are the first stage of the best Halo Infinite settings. However, there aren't a crazy number of options for you to change up here. There are still some improvements you can make to ensure that everything is well optimized:
Button Layout – This is going to vary depending on the player. For most, the standard layout will work great thanks to a lot of muscle memory built up with the franchise over the years. However, you can feel free to switch them up if there's a setting you prefer. This is more preference than a certain best Halo Infinite Xbox settings.
Vibration – Off. Vibration doesn't do too much but screw up your aim by shaking.
Invert Look – This works for some people, and not for others. There's some science behind it. It is entirely down to preference if you want to use it or not.
Invert Flight – Same as above.
Hold to Crouch – This is preference, but toggle is often easier.
Hold to Zoom – This is typically on in most games, so muscle memory would make it easier to hold.
Hold to Sprint – Off.
Movement Assisted Steering – off.
Auto Clamber – On.
Step Jump – Off.
Dead Zones/Input Thresholds – They will vary depending on your controllers' particulars. We have a full guide here to finding your exact deadzones, if you have any.
Best Halo Infinite Controller Sensitivity
Sensitivity is a unique part of optimizing your settings on any platform. That's because there isn't an objective best for the Halo Infinite Xbox settings here. It is going to vary depending on your muscle memory and preferences. We can give some good recommendations for starting points though. From there, you can experiment to find the perfect sensitivity for you on the platform:
Look – 5
Look Sensitivity – 7.5
Magnification Sensitivity – 2-3, scale with the zoom level.
Best Halo Infinite Settings – Video Settings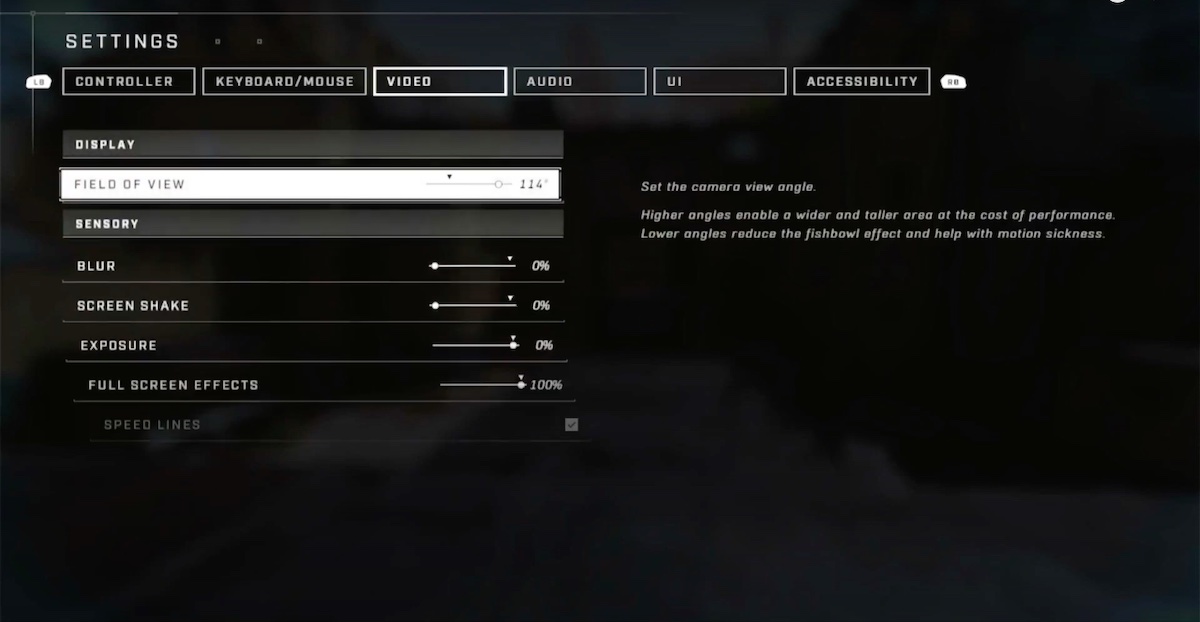 On a PC the video settings are probably the most important section. However, things are a bit different on Xbox. The best Halo Infinite Xbox settings for video can't do as much to change your FPS. However, there are still improvements you can make:
FOV – Your FOV settings allow you to adjust how much of the area around you is visible. If your monitor can fit it in without distortion, then upping your FOV could be a great way to get an advantage. A good starting point is 100-115, then experiment from there.
Blur – This should be turned all the way down, it just impedes your vision.
Screen Shake – This should also be turned down for the same reason.
Exposure – Have this to a low %.
Full-Screen Effects – 50-70%.
Speed Lines – Off. This is partially personal preference, but they can be distracting.
Sharpening – 50% but you can adjust if you have a problem with your clarity.
Audio Settings
Your audio settings aren't the most important thing in the world when you're looking to get the best Halo Infinite Xbox settings. However, it is important to get a sound mix where you recognize the important sounds over the unimportant ones. This is what you can use:
Master Volume – 10
Voice Volume – 10
Menu music Volume – Low
Sound Effect Volume – 5-8
Environmental Effects Volume – 5-8
UI – The Best Halo Infinite Xbox Settings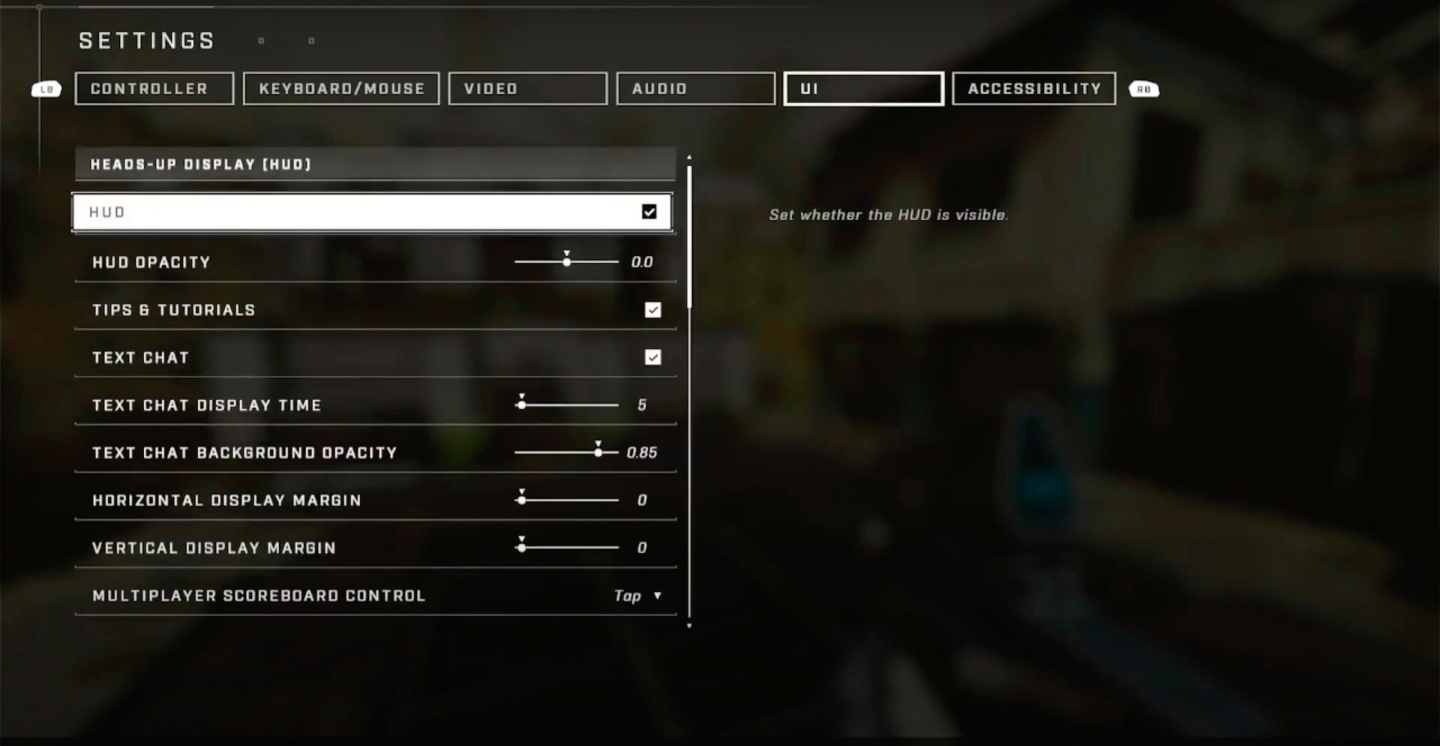 Like with the Audio settings, the UI aren't the most important. Most of this is pretty much down to personal preference. However, one change you can make to try and get the best Halo Infinite Xbox settings is to dial the HUD Opacity down a little bit. Along with FOV changes, this can make a difference for visibility that will have a decent effect. You should also remove the margins that you've set up.
Accessibility
The accessibility options in the game largely deal with making the game easier for those with different needs. If you need to use some of these, you probably already know. Otherwise, they don't really add anything to the game or give you an advantage.
That's all you need to change up for the best Halo Infinite Xbox settings. Things like your sensitivity and FOV can make a major impact on your game. Even without the advanced video settings that you can change around such as with the PC version of the game, you can do a lot here. If you're looking to build on your performance for the rest of the game, then our other guides can help you out there: