Each character in Apex Legends has a completely different skillset. Once you're familiar with the basics of the game and have learned a little more about the map and handling firefights, then you need to pick a legend to focus on. It won't always be possible to play as the exact legend you want to every time. However, you should at least focus on a few legends. By specifying your practice to just one or two Legends, you can really master their abilities and styles of play to ensure you're a real asset to your team. Caustic is a legend for players who enjoy firefights. He's a legend for those willing to outsmart their opponent rather than just try and win with brute strength. Caustic is a legend who can control the flow of the battle by running diversions and keeping enemies in their position.
In a way, Caustic is playing a support role. Because of this, he requires quite a bit of communication with other players. This is a basic tool of the game though. If you don't quite have that down, there are some other tips and tricks that can help you get that down. While he is offensively talented, Caustic's main asset is controlling the flow of battles and keeping your team in an advantageous position. By helping your teammates in this way, you can help offensive players like Banglore destroy enemy teams.
Caustic's Passive Ability – Nox Vision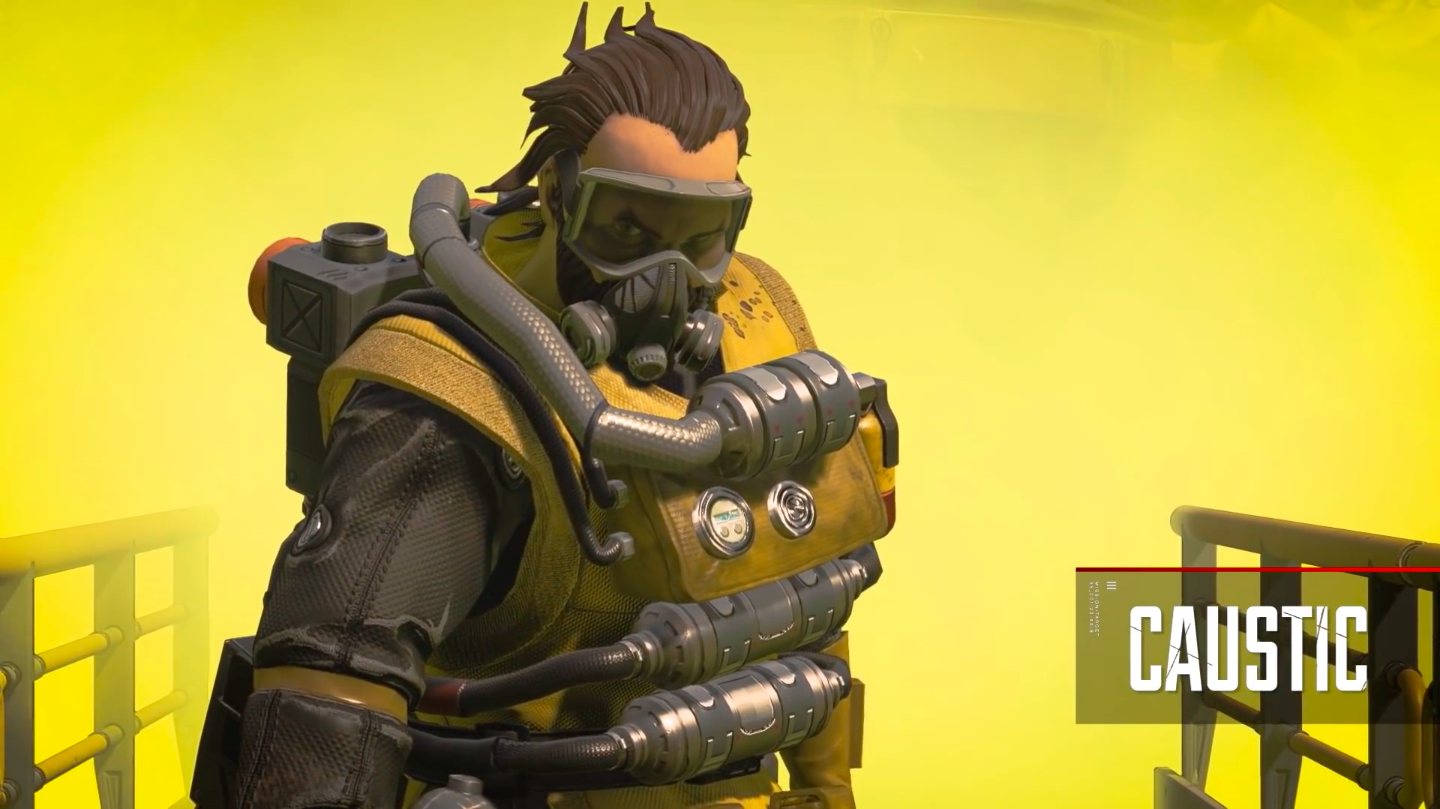 Caustic's passive ability doesn't take much strategic thinking. It is more of a constant advantage over other players than something you can use tactically.  Nox Vision allows you to see through poisonous gas, specifically the poisonous gas that you throw. It stops your attacks becoming detrimental to you.
It's important to keep in mind that only Caustic has this ability. Your gas will disorientate your teammates as much as your enemies. If you're playing exclusively as Caustic, you might sometimes forget that your teammates suffer as much as your targets. You can take advantage of this ability by utilizing the poison gas not only to trap your enemies but also to provide yourself with some cover.
Dropping gas around you will let you make the most out of this ability. Blanketing the ground around you means that you're the only one who can see through this cloud, giving you the perfect opportunity to escape or disorientate your target.
Be wary of your teammates, they aren't as gifted with gas vision as you are. As long as you keep this in mind, it's hard to go wrong with Caustic's Nox Vision.
Tactical Ability – Nox Gas Trap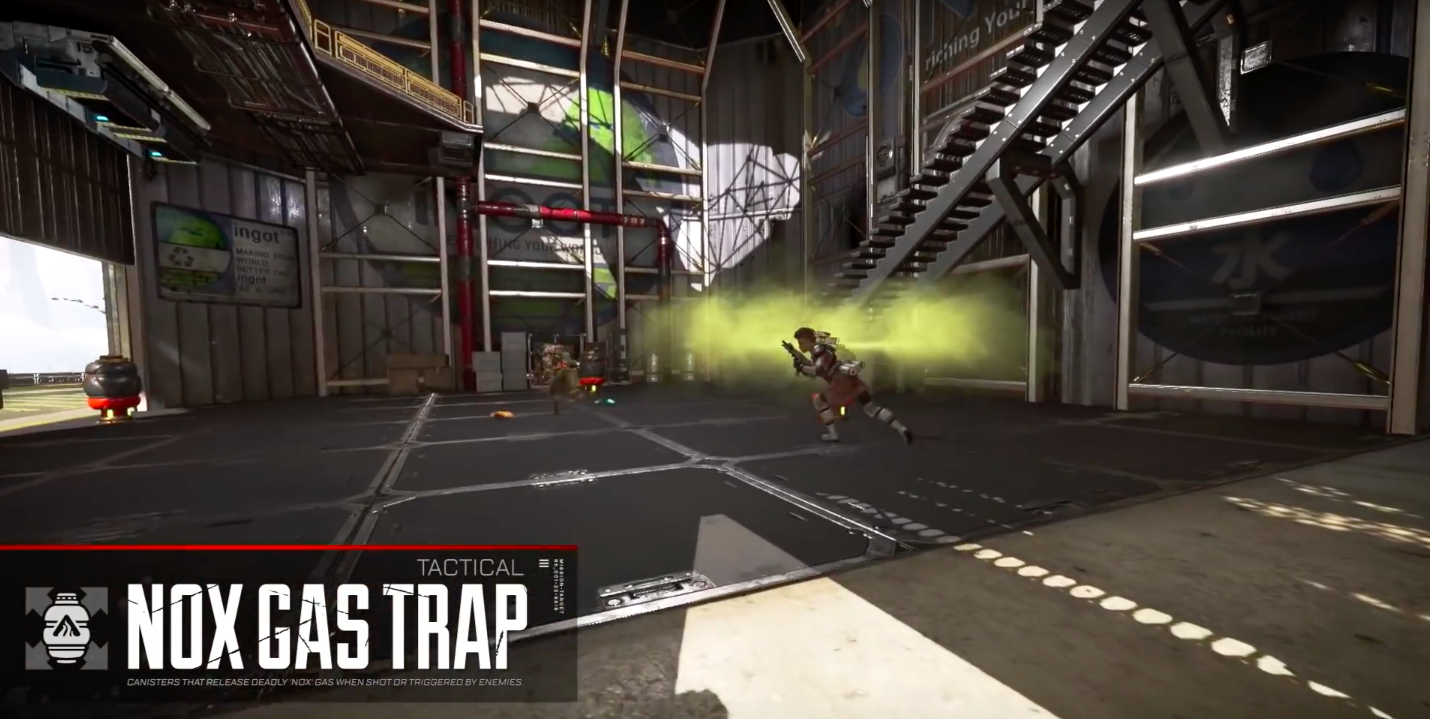 This ability lets you lay or throw gas canisters that will spew toxic Nox Gas when they are shot or impact with an enemy. These can be laid as mines or dropped near an enemy in firefights. This is a really useful attack and it should form the basis of your entire strategy and play style as Caustic. These canisters disorientate your enemies but they also damage them.
You can use Gas Traps to chip away at your enemy's health when they're already in a bad situation. Sometimes this incremental damage can make all the difference. Letting one loose in a tight spot will give your teammates the advantage. Sometimes you might take more damage in doing this, but you can help ensure your team survives to heal you.
You can use Caustic's Gas Traps to take control of an area. Caustic can drop these traps around areas where you know enemies are hiding out. This will flush them out of their hiding spots. Once they trigger one of the mines, you know there is an enemy there. These smoke canisters are nearly as useful as Bloodhound for locating enemies and threats. They have the added bonus of taking some of their health and sending them into a panic.
These traps can be used over a longer period of time. You can leave them in a position as a waiting trap for any enemy that enters this area. This is a good move in the game's opening. You can leave Nox gas traps around areas with good loot, inevitably taking players by surprise when they enter. This way you will know where enemies have been.
It's worth noting that you can lay down six of these mines and damage does stack with more than one mine. With this type of bonus, you can create a trap that nearly destroys a whole team when they trigger it.
Caustic's Ultimate Ability – Nox Gas Grenade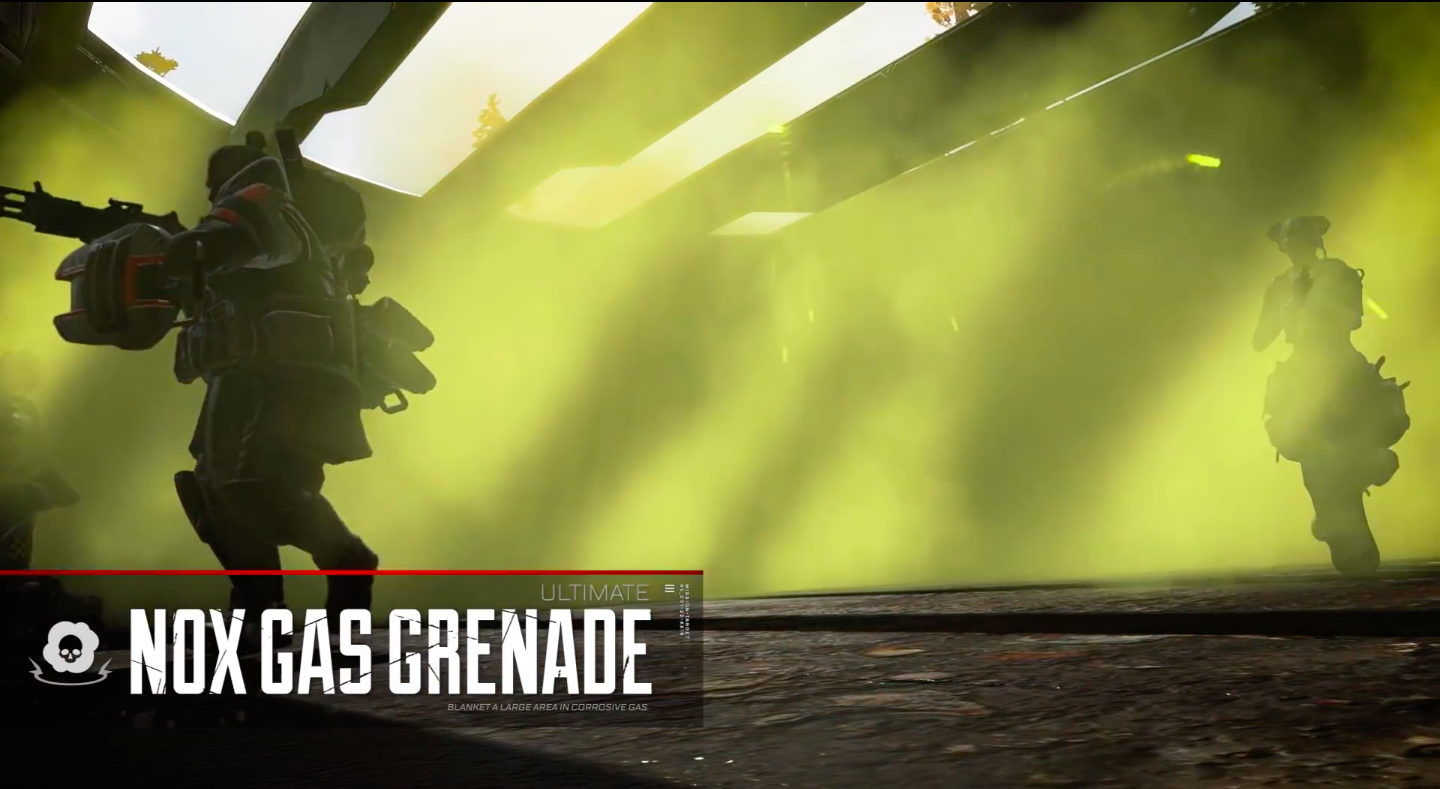 The Nox Gas grenade is the super-powered form of Caustic's gas attacks. The first thing to keep in mind is that this requires a little more aiming than most grenades. When throwing the grenade to choose where to launch this attack, it is worth ensuring the location is perfect. This attack spews a large blanket of toxic gas in a specific area, with it you can take control of the map.
You should consider using this ultimate attack to force players into a disadvantageous position. Such as using it to back enemies into a corner or a building, you can then bring in your teammates to finish them off.
You're impervious to the gas cloud and maintain your vision inside of it. You should use this to your advantage if you're cornered. If you're close to death, launching one of these attacks at your own feet make the entire area around you inhospitable. This should drive your attackers out and give your team the time you need to heal. It can also protect you while your teammates finish the other team off and come back to revive you. Don't neglect this defensive use of the ability, it's better to use it and survive than die while trying to save it for a better time.
Conclusion
Caustic can be a fantastic legend in the right hands. With these tips, you should be able to master Caustic's play style and have your enemies running from poisonous clouds through the entire game. He's best used in combination with other Legends, such as Bangalore, with offensive abilities to take advantage of Caustic's smoke.