Spellbreak gives players the choice of a number of different character classes. These give you a passive ability to enhance your play from the second the game starts, you can also collect scrolls to further augment your abilities. While players collect runes and equipment, you also need to be using your player class to get the most out of your build Ideally, you should tailor these abilities to your style of player and choice of Gauntlets. Each move you make can be supported by a properly chosen bonus skill. Zealot is a player class that boosts your attack power, particularly when you're entrapped by enemies.
Zealot is a utility player class that is best combined with a Gauntlet specific class. This way you can have your attacks boosted along with the general boosts that come with Zealot. This will result in a stack of boosts that really help your attacks hit hard. If you're playing Zealot, you need to be prepared to be the aggressive player on your team. This class is suited for those happy to take plenty of damage and deal plenty. You only really need one Zealot on a team, but two are workable as long as your other two team members are solid as their support roles.
The passive ability for Zealot is Frenzy. When you're on 35 HP or less, your damage will be increased by 35% and your sprint speed by 20%. This ability is always active with no cooldown. Its numbers aren't anything to dismiss either. A sprint speed 20% higher can be stacked with other bonuses to make you lightning fast. This passive ability should give you the tools you need to turn the tide of any bad encounter.
Zealot's Selectable Scrolls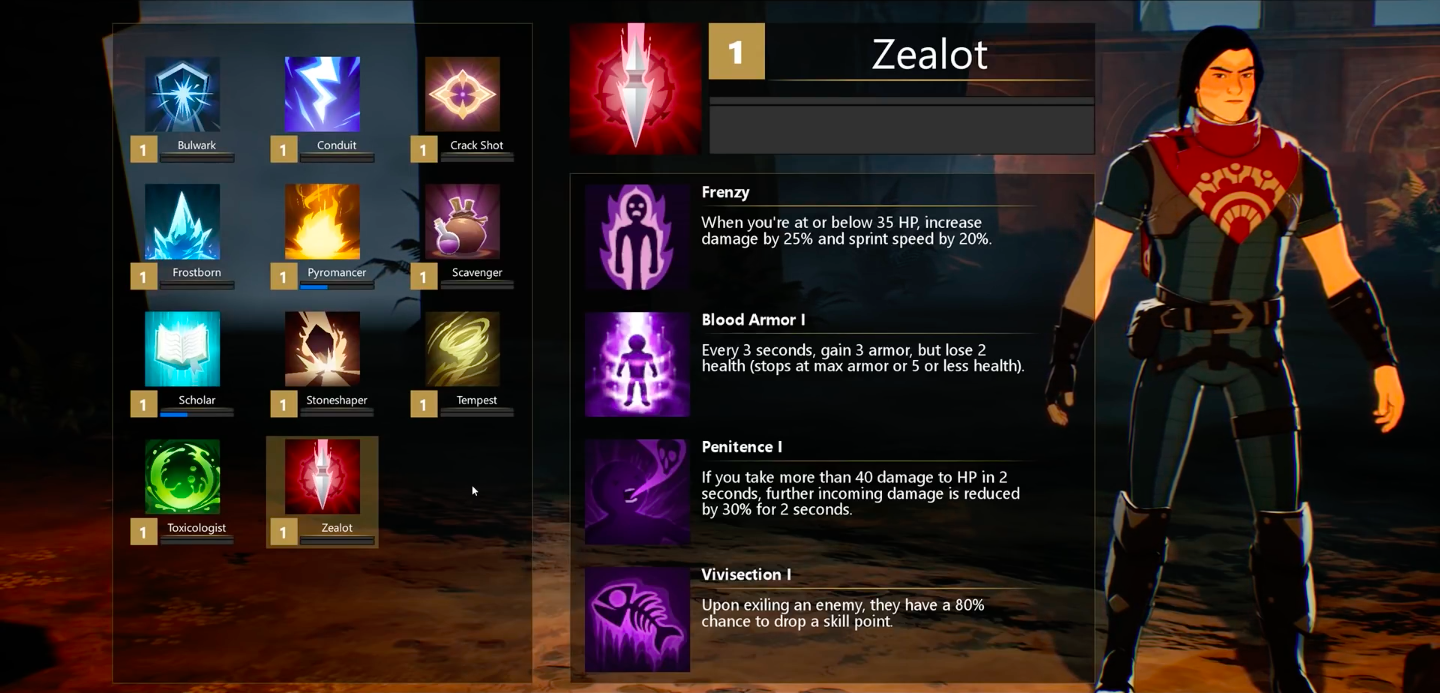 As well as the passive abilities of each of your character classes, you can also gain additional boosts with selectable scrolls. Each time you gain a skill point you can access one of these scrolls. The first selective scroll available for Zealot is Blood Armor. With this scroll, you can gain 3 armor every 3 seconds, but you will have to lose 2 HP. With upgraded scrolls this increases to gaining 5 armor and losing 3 HP, then gaining 7 Armor and losing 4 HP.
This scroll is quite well balanced if you give it enough time to work in full. When upgraded you start to gain quite a bit more Armour than HP making it more worthwhile. It is worth considering what loot you've stocked up on before taking this scroll. If you have potions that can make this scroll useful and not detrimental, then it is definitely a scroll you should prioritize. However, if you're weakened already it might not be the most helpful.
The second selectable scroll for Zealot is Penitence. When you have this scroll active and take more than 40 damage to your HP in 2 seconds, all further damage to you will be reduced by 30% for 2 seconds. With Penitence II it is increased to 50% and 70% with Penitence. This is a useful scroll for escaping from an enemy attack. Combo spells can do this much damage, this scroll will help prevent their AOE attacks from damaging you too badly. This scroll gives you enough time to escape an AOE attack after taking heavy damage.
Vivisection and Prioritizing Scrolls

The last selectable scroll for Zealot is Vivisection. After you have exiled an enemy, they have an 80% chance of dropping a skill point. This is increased to 90% and 100% with the upgraded scrolls. This is really useful when you're getting a lot of kills, but the upgrades after worth putting your skill points into. 80% is more than a good enough chance. This scroll can really help you develop a great build between your two classes by gifting plenty of skill points. It can also be easily exploited by teams.
When you have Vivisection active, you should try and take the eliminations more often than your other teammates. This increases the number of skill points left behind and it should help your team each gain more scrolls. If you share these skill points out, your team can be fully equipped with scrolls much faster than others.
Zealot is a pretty useful player class for those who want to play aggressively and dangerously. The scrolls will provide you with support and options if an attack goes wrong and you're corned. To make the most out of it, you need to stack these effects with a really useful Gauntlet boosting class. A Zealot can make a great addition to a team by sharing skill points, or an unstoppable solo force.