It's worth spending a little extra to protect your gaming setup. That's why the best surge protectors for gaming PCs are a great investment — they can save you, and your rig, from the worst of storms.
Gaming PCs draw a lot of power, especially if you're using a separate second PC for streaming. Investing in a surge protector will not only protect your equipment, but they can even make your setup more functional, and a little tidier, along the way. Some of these surge protectors even come with extra features, like USB C Ports, USB chargers, or even fast charging. This can protect your setup from electrical surges or power outages. With the right pick you also get overload protection too, great for setups with lots of power needs. Generally, they can protect and along add utility to your setup.
We've looked at all the protectors out there at the moment and find those that are the top picks to protect your setup. These are the best surge protectors for gaming PCs right now.
Anker Power Strip Surge Protector
Key Features
12 outlets
6ft extension cord
Dual surge protection
This Anker Power Strip Surge Protector is perfect for a gaming set-up. It features 12 outlets, more than enough to run a huge gaming PC without overcrowding any wall outlet. You're getting more than enough plug sockets here, even if you have an expansive gaming PC setup with extra monitors.
The cord for this surge protector is available in 6ft/1.8m, but also 8ft/2.4m and 10ft/3m. This should be helpful to prevent electrical surges even if you're further away from the wall outlet. If you're setting up your gaming area, you don't have to be limited to where the outlets are. It's also available in two different colors to match some different color schemes!
The surge protector is protected up to 4000 Jules surges. It also has a clamping voltage of 201v and ETL certification, so it's well-protected. There is fast charging in the USB ports here too to get your phone charged potentially quicker than normal. All this comes with an 18-month warranty, so you can feel secure that you're well protected.
APC Surge Protector
Key Features
Connectivity ports
11 outlets
Rotating power cord
This is a surge protector from APC with some technical add-ons for the more advanced setups. There are 11 outlets here that provide protection with a maximum surge rating of 29880 Joules and a voltage of 120. This is going to protect your setup from electrical surges and other problems.
The APC Surge protector gives more than just overload protection and safety from power outages for your plugs. You're also getting ethernet, coaxial, DSL and telephone ports. If you have a more complicated home system, these optimization options are going to come in handy.
The outlets on the protector itself are nicely spread out so weirder-shaped plugs aren't going to be a problem. There's also a rotating power socket so you can easily position it at any angle. Mounting holes with the rotation mean you can slot it into a lot of different positions in your setup. This is a great pick for a surge protector for electrical protection, and for its added features.
Kasa Smart Plug Power Strip HS300
Key Features
Six outlets with Individual Controls
Smart home optimized
Three USB ports
This Kasa smart plug power strip stands out as one of the best surge protectors for gaming PCs thanks to its integration with smart home devices. This power strip supports Amazon Alexa, Google Home, and other smart home ecosystems, with individual controllers for each outlet.
The surge protector isn't just something flashy though, it has real electrical protection for your setup too. This is an ETL-certified surge protector. It will shield expensive electronics and appliances against power surges and outages. You're also getting easy power monitoring here, you can see exactly how much power you're using! This is great if you've turned all power-saving options off so you can use the best settings in games like Fortnite or Apex Legends.
This surge protector also features 3 USB ports, great for USB chargers. The surge protector works without a Hub just as well as with one, so it works for everyone. This is a great pick for the best surge protector for gaming PCs.
Huntkey 12 Outlets Power Strip Surge Protector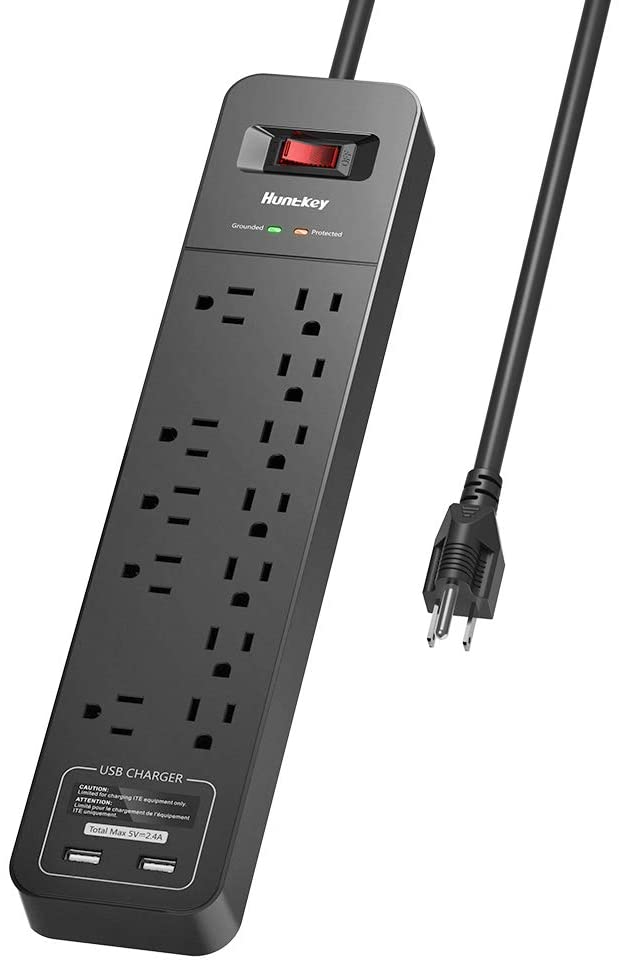 Key Features
12 outlets
Two USB ports
Safety switch and overload protection
This Huntkey Surge protector is big enough to power and protect a huge gaming PC and set-up. It comes with 12 different outlets with a voltage of 120. It has a 2390-joules energy rating which makes it perfect for high-level PCs. This is going to protect you from joule surges, power surges, and weather events that impact power.
Alongside all this, the surge protector itself also has a 6ft/1.8m reinforced extension cord. That's along with 2 keyhole mounting holes at the back of the cord. You can safely mount the surge protector anywhere that's convenient for your setup.
The surge protector also features 2 USB charger ports, so you can charge devices without needing to find that spare phone charger. As an added bonus, the USB ports automatically detect the correct charging speed for the connected device.
This surge protector offers plenty of extras like ports and a fireproof cable. However, it's also ETL Listed and FCC Certified, so you can trust its safety and strength. This is a great pick for a safe gaming protector.
Witeem Surge Protector with 12-Outlet
Key Features
12 Outlets
Four USB ports
Over voltage, current, short circuit, overheating, surge and overload protection
This Wilteem Surge Protector has just about everything you'd want from a power strip. It features 12 outlets, 4 USB fast charging ports, a 6ft/1.8m cord, you can use the mounting holes to hang it up, and it features protection for everything from surges to overheating.
The protections here are next level, with short circuit, heat, and surge protection. The maximum joules protection is 4360. This is going to protect your expensive electronics from surges and other power protections about as much as you possibly can.
Outside of the basic protections, this strip is big enough to take even more elaborate gaming PCs with 12 outlets. is big enough to power multiple gaming PCs without having any problems and in safety. That's alongside 4 USB charger ports. Between all this, this one of the best surge protectors for gaming PCs is going to take care of everything you need.
Plugable Surge Protector Power Strip
Key Features
12 Outlets
Two USB Ports
25-Foot Extension Cord
This Plugable protector is a great choice for a gaming set-up if you're looking to play in a less than convenient place. It features a 25ft/7.62m extension cord. It's huge; you can basically power a gaming PC in any room with a cable this long. It can be wall mounted too, with four mounting holes in the corners. With this, you can get your gaming PC protected from surges in any part of the room.
The protection here is decent too. It's got a maximum surge rating of 4320 joules protection. This alongside built in EMIRFI filters, and a 2-in-1 power/circuit breaker switch. It's also both UL an cUL rated so you can trust it lives up to these safety promises.
This surge protector comes with built-in USB charger ports, so extra slots to power your devices!. These will work with any USB cable, like USB C for differently powered gaming accessories. You're getting decent protection too, with sliding covers and a 2-year warranty. This is one of the best picks for a gaming surge protector.
Best Surge Protector for Gaming PCs FAQs
What Type of Surge Protector is Best for Computers?
A surge protector can sometimes be fine for some equipment, even heavy-duty equipment. However, it doesn't mean it'll work great for PCs.
For PCs and other expensive electronics that you rely on to store information, you need to go for a higher Jules protection. This figure is the amount of energy it can absorb before the surge protection fails. Higher is better, especially for PCs that store data in the case of a power outage or surge.
A lot of joule surge protectors only protect up to around 1,000. All the ones we've highlighted here go beyond that though, absorbing a lot more energy before they'll fail. These heavier duty surge protectors are the best for computers as they minimize your risk.
Should I Plug my PC into a Surge Protector?
If you don't already have your PC plugged in to one, then yes, it is probably a good idea to plug into a surge protector!
Joules surges or surges of power can cause problems with expensive electronics, this is going to be a major pain if you don't protect yourself. The best surge protectors for gaming all provide this protection and help make sure your equipment is kept safe.
How Many Joules Should a Surge Protector Have for a Gaming PC?
A surge protector for a gaming PC should aim to be at least over 2,000. Higher is better. 1,000 tends to be adequate for electronics that don't store data. However, to prevent risks with your PC it is best to go for over 2,000. Possibly even 3-4,000 where available. All of our picks for the best surge protectors for gaming are high enough for gaming PCs.
This article includes affiliate links, which may provide small compensation to Best Gaming Settings.