What the Nintendo Switch lacks in screen size, it makes up for in versatility thanks to its handheld mode. Although, the console's controllers have well-known issues with connectivity, drift, and wireless range. Compared to the indestructibility of past Nintendo controllers, the Joy-Cons are shockingly temperamental. That's why the best third-party Joy-Cons are a great solution for Switch owners.
Third-party Joy-Cons are controllers for the switch that have been made by a company other than Nintendo. While some might people still think of old-fashioned Mad-Cats controllers and dodgy 'turbo' buttons, there are some great third-party Joy-Cons available. These range from near facsimiles of Nintendo's offerings to more specialist controllers with different layouts and features including amiibo support.
Like the official Nintendo controllers, third-party Joy-Cons can be hooked up with the Switch console or used wirelessly. That makes them a good fit for both single-player and multiplayer games, the best ones can be pretty versatile, but there are still plenty of sub-par controllers on the market. We've narrowed it down to the best third-party Joy-Cons, these are the top choices out there:
Joy-Pad Controller Compatible with Switch
This Joy-Pad Controller is a high-performance alternative to the official Joy-Cons, with just about the same functionality as the Nintendo type. Their design is very close to the official ones, sporting the same ergonomics and form factor.
These controllers run at 400mAh of battery power. It has a smart wake-up feature that responds immediately when you hold down the home button. There is also a strong anti-interference connecting signal, which should prevent the disconnects that become frequent with more aged Joy-Cons.
This set of Joy-Cons is perfectly suited for anyone looking for a replacement to standard ones. They come in at a much lower price than the official ones and are relatively free from the common drift problems. This is a great pick for a replacement set of Joy-Cons.
Why we recommend:
Wake up function
Anti-interference feature
Firm grip
Hori Nintendo Switch Split Pad Pro
The Hori Nintendo Switch Split Pad Pro is something a bit different in terms of design. There's a Pokémon Pikachu theme to them which a lot of people will probably enjoy. However, it's the different design for the grip and controls themselves that make this one stand out.
This set of Joy-Cons function like any other wireless pair, able to split in two. However, the controller has a more standardized design and grip, giving the feel of a more traditional gamepad on the Switch in tablet play. There are more defined grips to make it easier to hold, and high-quality buttons and sticks. These should have performance improvements over the relatively delicate layout of the standard Joy-Cons.
This is an official Nintendo licensed joy-con. While it is third-party and a bit different, you can have faith in the Split Pad Pro's quality.
Why we recommend
Cool design
Configurable rear triggers
Officially licensed by Nintendo
Nyko Dualies – Alternatives to Joy-Cons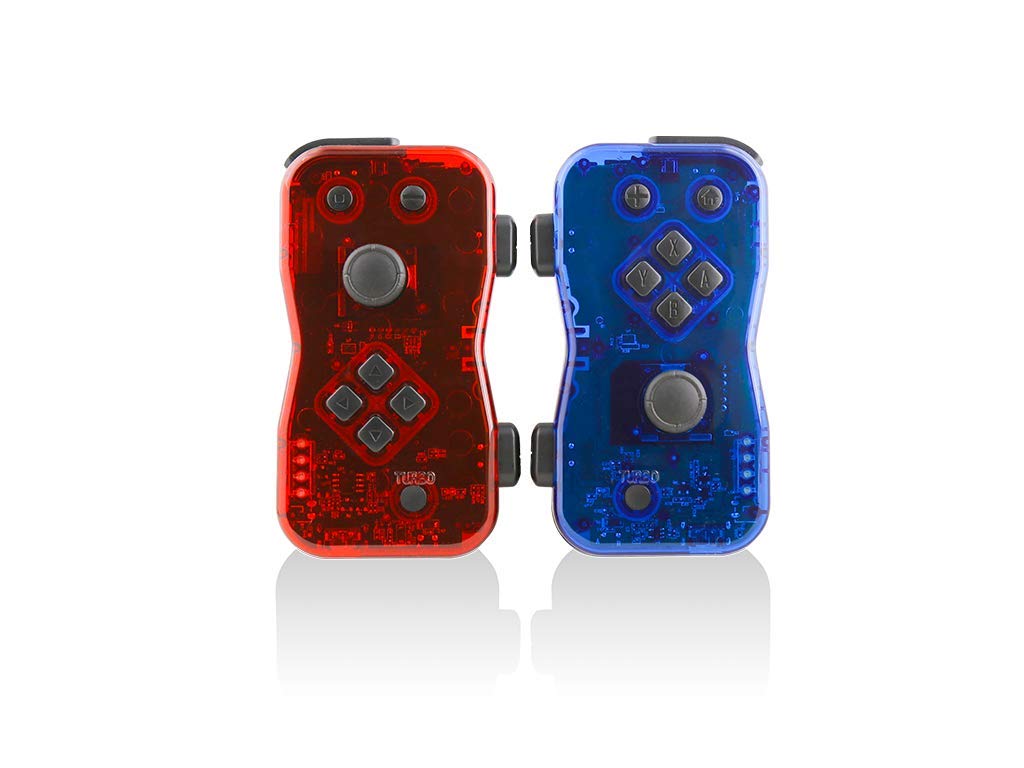 The Nyko Dualies are an apt choice for gamers who place accuracy above all else. The controllers feature precise motion controls, making it easier for games like Splatoon 2 or Fortnite which heavily rely on gyro inputs. They even get their name from the 'dualies' guns that star in Splatoon 2. The gyroscope in this controller should be on-par with the official one.
One cool feature of these Joy-Cons is you can charge them independently of the console via USB-C. This can be an annoying part of standard Joy-Cons for those who mainly play outside of the dock. There's also a programmable turbo button, but you might not want to use in online games!
Why we recommend:
Ergonomic design
Precise motion control
Programmable turbo button
SINGLAND Joy-Con Controller
The SINGLAND Joy-Con is a great pick, coming with a wrist strap, scratch resistance, and better wireless connectivity. In terms of design, these very closely resemble the standard Switch controllers. However, there are a few slight differences in the controllers from normal ones.
The controller comes with an anti-slip design that puts you in firm control of your game. Between this and the wrist strap, you'll have a solid grip over the controller. It also features a wake-up function that is always ready when you are, and a 20-hour battery life.
Like the official Joy-Cons, this SINGLAND alternative is available in a lot of different colors and combinations. Unlike Nintendo's colors though, the cooler combinations aren't limited and are tricky to find with this one of the best third-party Joy-Cons. This is a bonus if you want something different from the red and blue or grey that so many Switches launched with.
Why we recommend
Wake-up function
One-click connection
Anti-slip design
STOGA Wireless Controller
Creators of the STOGA Wireless Controller put so much "wow-ness" into it. These controllers are similar in design to standard Switch joy-cons, but with slightly bigger anti-slip grips. These aren't as intrusive as some other joy-cons, but they add extra comfort to gameplay.
These controllers also feature a fast wireless connection. The battery runs for 10 hours, or 20 hours if you're willing to game without vibration! They can be charged by micro-USB too, so you don't always need them attached to the Switch.
These controllers offer high-quality motion controls that can compete with the original Switch controllers. There are some downsides here, like the shallower thumbsticks and separated D-pad. However, these are basically the same design flaws of the original Joy-Cons. You'll see this compromise between portability and function repeated on a lot of gamepads for the console. This is a great pick for the best third-party Joy-Cons if you're looking for something similar to normal controllers, but with a few additions in design.
Why we recommend
Anti-scratch, anti-slip design
Improved motion controls
20 hours of battery life
binbok Joy Pad Controller
The binbok joypad controller combines both ergonomic function and style. The controller comes in multiple looks, but this one features 8 colored LED ring lights with different modes. Giving it the customization of RGB lights that you'd normally only see with PC gaming peripherals like mouse and keyboard.
The pad itself has chunkier grip sections for an easier time holding the Joy-Cons. There are a few differences in terms of button placement here as well. This starts with the D-Pad, which is in the more traditional style. That's great news for fighting game players or those who like to play retro-style indies in a more traditional way.
It also features a level-4 precision dual vibration for a heightened gaming experience. Another big selling point is the back map button that you can assign a function to. It might not quite be the paddles of a Scuf controller, but this is going to come in handy. This is a great pick for the best third-party Joy-Cons if you want a mix of form and function.
Why we recommend
LED multi-colored lights
Anti-skid rear pattern
Level-4 precision dual vibration feature
Joy-Con Controller Replacement for Switch
The Joy-Con Controller Replacement for Switch might look a bit familiar to any long-term Nintendo fan. This is a set of third-party Joy-Cons that recreate the feel of a GameCube controller. If you're a Smash Bros purist, this is going to be the only Joy-Con you want.
Outside of nostalgia, there are some functional benefits to this layout. The C-stick in place of a second thumbstick is set in an octagon grid, perfect for fighting games. There's also the kidney and orbiting button design of the A, B, X, and Y. While unconventional, this layout has often been suggested as the most efficient way for the face buttons. If you miss the GameCube's innovations on the standard gamepad then this is a great pick for a Joy-Con for you.
Outside of design, you're getting a 6-axis gyroscope, wake-up function support, and wrist straps here. This Joy-Con features decent connectivity, along with the other benefits you'll expect like easier charging. However, the main appeal here has to be the unique button layout and changes to form factor. While there's some GameCube controller support on the Switch, it's not ideal outside of Smash Bros so these Joy-Cons are a high-quality workaround.
Why we recommend
6-axis gyroscope and a dual motor
Lightweight design
Gamecube-inspired layout
Best Third-Party Joy-Cons FAQ
Third-party Joy-Cons aren't always the clearest area. Many manufacturers over-promise, and few want to admit what What's the difference between third-party and first-party Joy-Cons? A lot comes down to unique features for Nintendo controllers. We've covered what you need to know below with our FAQ:
Why Don't Nintendo Switch Controllers Have HD Rumble?
Some third-party Nintendo Switch controllers don't feature the Switch's trademark HD Rumble feature. There's a pretty simple reason behind it though, Nintendo owns HD Rumble. They own both the name and patents for the technology. Essentially, you can't use it without their approval and help. It would make a third-party Joy-Con just as expensive as any other official Nintendo controller, removing the point of going third-party in a lot of cases.
Do Third-Party Joy-Cons Have Drift?
Third-party joy-cons may not have the same thumbstick specifications as Nintendo. And, it has been found that the drift problem was an issue with the original design of the joy-cons. The drift can sometimes be avoided with third-party controllers. However, there's a big range in quality for third-party controllers, so consider sticking to the best third-party joy-cons to avoid problems.
What's So Special About Nintendo's HD Rumble?
HD Rumble is a type of vibration offered by Joy-Cons that is more precise than normal rumble. With HD Rumble, the rumble can happen in specific places and at precise levels, making it a unique feature.
This article includes affiliate links, which may provide small compensation to Best Gaming Settings.