Having a proper gaming experience is not merely about skill – it's about comfort too. Honeycomb mouses are a different style of gaming mouse that a lot of players find a lot more comfortable and ergonomic, especially in longer gameplay periods. It's not just improved usability though, many of the best honeycomb gaming mouses are stylish too. 
A honeycomb gaming mouse sports a different type of design from your standard mouse. The headline feature is the different grip. They have a honeycomb design, with holes throughout. This is supposed to add breathability which should make them more comfortable over longer grinding sessions. However, they also have other benefits. These are some of the lightest gaming mouses, sometimes coming in around 69 grams or 68 grams.  Some have extra features too like RGB lights, or high-quality optical sensors. These lightweight gaming mouses offer great performance and comfort. 
We've put together a list of the best honeycomb gaming mice that are on the market at the moment. These are the gaming mouses that offer the best combination of comfort and functionality, giving you a great performance along with better ergonomics.
Glorious Model D Gaming Mouse
This Glorious Model D honeycomb mouse has an ergonomic ultralightweight design that's ideal for gaming. The mouse has a honeycomb shell which cuts down on the weight of the mouse quite a bit. Despite being honeycomb, it's made from a durable material. The skates are 100% pure virgin PTFE that will glide just perfectly. This is a honeycomb gaming mouse with a high build quality for speed, comfort, and control.
While the honeycomb designs is the main thing that makes this mouse stand out, it has some other cool features. There are six different DPI settings so you can fine-tune your aim to match your perfect sensitivity. The mouse also has six buttons and macro support for a high level of customization. This is a perfect mouse if you want a lightweight gaming mouse that you can customize to suit your style of gameplay. 
The cable is ultra-flexible too, producing a drag-free feel more akin to a wireless mouse. The mouse features RGB lights too, so it can be light up in tune with the rest of your set-up. This one of the best honeycomb gaming mouses also has a 180-Day replacement guarantee and two years warranty. 
Why we recommend: 
Ergonomic lightweight honeycomb designs
Ultra-flexible cable
Customization
FinalMouse Ultralight 2 Cape Town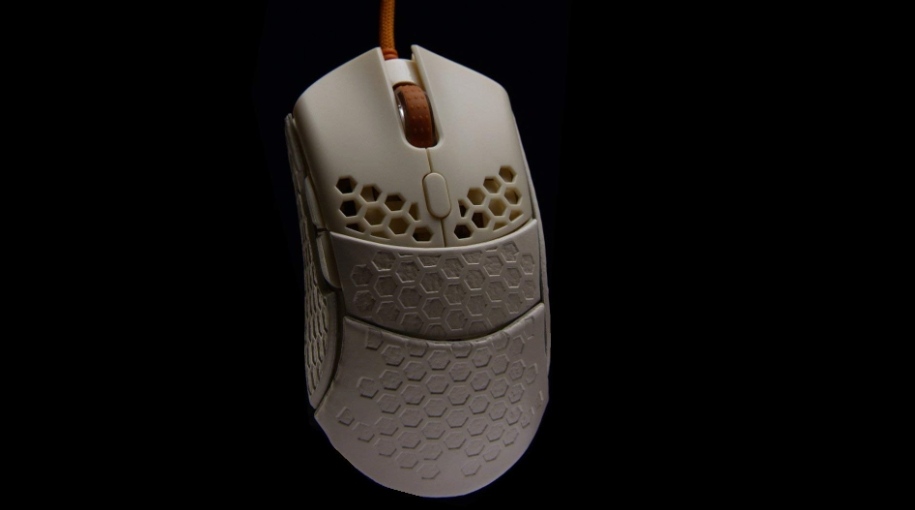 The FinalMouse Ultralight 2 Cape Town is a gaming mouse made for a player with a very specific mouse feel in mind! You can choose between various thicknesses, coming in increments of millimeters. This level of control gives you exactly the right mouse for you. Having a perfectly weighted and sized mouse is great if you're looking to optimize your aim. 
This mouse features the honeycomb designs that help to keep its weight low. This one comes in at only 47 grams. It's also strain and sweat-resistant, so you can feel safe that even sweating in a tense moment isn't doing any harm! There's a newly invented taper cutting technique on the foam here too that allows you to blend it into the mouse edges. This honeycomb mouse offers some of the best grip you're going to find. It does come in at the higher end of the price spectrum, but the mouse has the tech to back that up. 
Why we recommend:
Adjustable dimensions
Highly customizable
Strain and sweat resistant
Cooler Master MM711 RGB-LED Lightweight
The Cool Master MM711 follows up on one of the most well-known honeycomb mouses, the Cooler Master MM710. This one has a few extra features going for it. To start, it's stylish and ergonomically designed. However, it's also lightweight. This mouse clocks in at just 60 grams, which helps to make it feel pretty natural as you're playing. The additional buttons here even use Omron switches, for an even high-quality finish.
This one of the best Honeycomb gaming mouses also has RGB lights. That's in both the scroll wheel and logo itself. This is useful for players who like to customize the look of your accessories to match their full set-up. One person's MM710 can look pretty different from another with these lights. 
The mouse isn't just style though, the breathable honeycomb housing is well-protected with both dust and water-resistant coating. It's also an ideal choice for minimizing palm sweat and wrist fatigue during extended use. This mouse is perfect if you're looking for a lightweight gliding mouse and works great for extended gaming periods.
Why we recommend:
Durable
Reduces palm sweat and wrist fatigue
Ambidextrous
Xtrfy M4 RGB Ultra-Light Gaming Mouse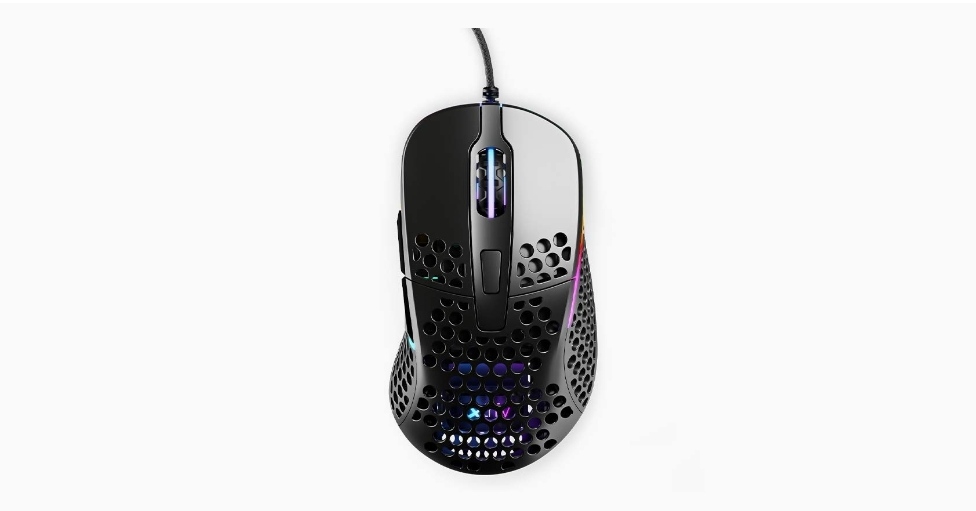 The M4 is a fine ultralight honeycomb gaming mouse that comes with an ergonomic right-handed honeycomb design. It is uniquely constructed to weigh less without compromising on shape and feel. The mouse was formed with feedback from professional esports players in mind. This means it's perfect for long periods of hardcore gaming as well as casual gaming alike.  Along with high performance, it's got a great build quality. 
This honeycomb gaming mouse glides smoothly on 100% PTFE skates with rounded edges. It enhances airflow under the palm and the holes also help you stay comfortable. It has a thoroughly engineered shell that minimizes weight while also retaining durability. On the inside, the glowing Xtrfy logo is surrounded by high-quality components to enhance your gaming experience. The RGB illumination is customizable and allows you to switch between numerous LED effects. 
Why we recommend:
Ultralightweight 
Durable
Customizable RGB illumination
G-wolves Skoll SKL 2020
The G-Wolves Skoll SKL 2020 is an impressive mouse and one of the most lightweight gaming mouses highlighter here. This one comes in at just 50g. It might take a little adjustment to get used to something quite so light. Once you do though, you're going to be rewarded with a effortlessly smooth aim that translate your movement in-game very well.
The G-Wolves Scroll isn't just an ultra-light mouse though. It comes equipped with a 3360 pixart optical sensor that offers DPI all the way up to 12,000. That is crazy high, but it's nice to have the option if you really want to experiment with your sensitivities. A better sensor is going to pay in your accuracy in-game.
This mouse has PTFE Skates along with an ultra-lightweight paracord cable that can reduce drag significantly. Along with the honeycomb designs, this is going to get movement as smooth as possible. The mouse even features some RGB lights and up to five onboard memory profiles for added customization options. This is one of the most impressive honeycomb gaming mouses that we've looked at here.
Why we recommend:
Pixart 3360 optical sensor
Ultra-lightweight mouse
Up to 12,000 DPI
Glorious Model O Wireless Gaming Mouse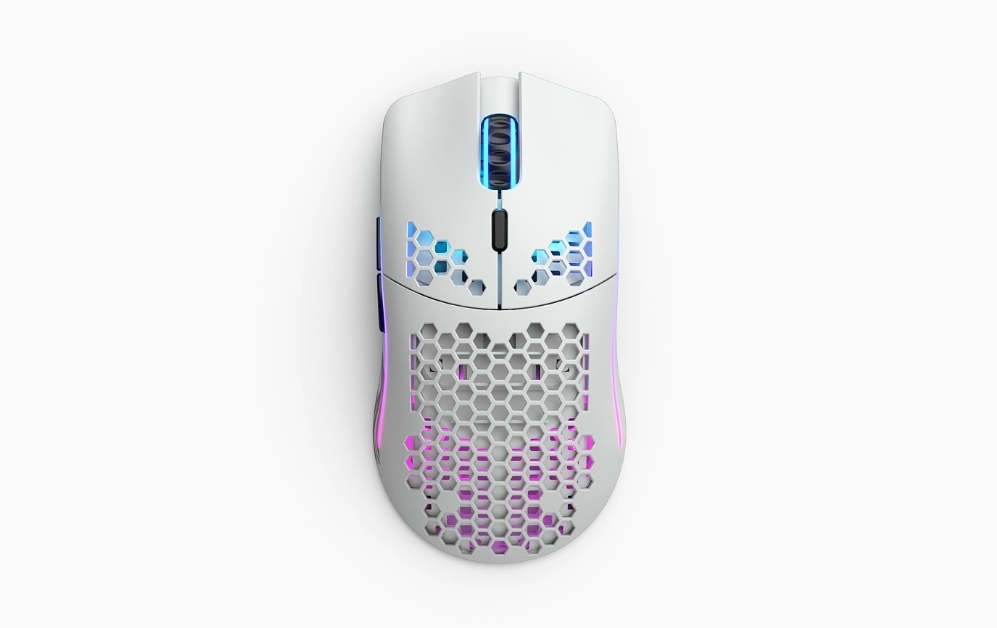 The Glorious Model O Wireless honeycomb gaming mouse really excels in a few areas, but one of its most impressive is the latency. This might be one of the fastest mouses out there. It features a very low-latency connection to provide responsive, crisp clicks and no unexpected double-clicking. You're not going to be missing any split-second headsets with this mouse.
This one of the best honeycomb gaming mouse has a few different options for how you want to play. You can use it as a wired and wireless gaming mouse. It connects up with USC-C cable, great for speed and longevity.
This mouse also has a fantastic battery life, it'll get you through more than 70 hours of playtime without the need to recharge it. The shell here is ergonomically designed to reduce the weight without sacrificing grip or durability. It's simple to clean and helps to improve comfort from airflow while gaming over long sessions.
Why we recommend:
Low wireless latency
Wired and wireless modes
Long-lasting battery life
The best honeycomb gaming mouses each have unique designs that will give players a super lightweight experience while gaming. Each of the mouses comes with incredible air ventilation that'll take away sweaty palms and hand cramps, providing a better gaming experience. Each of these picks is going to be a big improvement over a standard design mouse.
Best Honeycomb Gaming Mouse – Frequently Asked Questions
Why is a Honeycomb Mouse Good?
A honeycomb mouse is a unique type of design that has taken off in recent years, but are they actually as good as their made out? The differences aren't just in cosmetics. Honeycomb gaming mouses allow a mouse to be constructed at just about the lightest weight that's possible. The honeycomb designs can also cut down on wrist strain though, along with improving the ventilation and airflow.
What are Honeycomb Mouses for?
Honeycomb mouses are for anyone who wants to improve their performance gaming! These gaming mouses feature the DPI sensors and other competitive level components that you'd associate with more traditional gaming mouses. However, they're specifically ergonomically designed to help with weight and comfort. There are a few types of players that this will suit the most. 
The first are players who are looking for the lowest possible weight for their mouse. This will suit players looking to improve their aim and get more responsive movement. If you use a low sens it can be especially good.
Another area where you should consider a honeycomb mouse is if you're having problems gaming for longer periods of time. These gaming mouses have improved airflow which should help your comfort if you're playing for extended periods.
What Honeycomb Mouse Does Ninja Use?
Ninja is well known for having some of the sharpest aim around. His lightweight gaming mouse is no small part, although his skill definitely plays the biggest roles. Ninja currently uses a FinalMouse Ultralight 2. This is one of the best honeycomb gaming mouses with has a high level of customization. It's perfect for Ninja's sens in Fortnite and other games. 
This article includes affiliate links, which may provide small compensation to Best Gaming Settings.