Mario Kart games are super fun. But you can be a little extra and get a Mario-themed steering wheel and drive your Go Kart around. Steering wheel sets are not exclusive to bigger consoles. You can get one for your Nintendo Switch too. They come in all kinds of colors and sizes.
If you're into racing games big time, you might want to get your hands on a sim racing wheel to feel like a pro. The sim steering wheels come with gear and paddles and emulate the real-life driving experience. So, you can be a pro F1 racer without leaving your couch.
What to look for in Switch Steering Wheel?
You cannot just buy the first set of sim racing wheels that you see on the internet. To the right steering wheel and avoid overspending, scan this quick checklist and know what features to look for, and find the right sim steering wheel.
Consider the games you'll be playing: Depending on the type of racing games you'll be playing, you can get a Switch-exclusive little steering wheel or an elaborate sim racing wheel set with gear and paddle. If you'll be playing games like F1, you might get yourself a fancy sim racing set with an elaborate setup and fancy customization options. Meanwhile, if you want to have fun with games like Mario Kart, you might get an easy-to-use steering wheel with no complications.
Compatibility with multiple platforms: If you to use the sim racing set with other consoles or your PC, consider getting one that is compatible with multiple devices.
Extra features: To tweak your gaming experience, you can look for extra features like dual-motor feedback, packs with multiple steering wheels, responsive gear, easy-to-tap triggers, and much more.
Hori Nintendo Switch Mario Kart Racing Wheel
If you are a fan of Mario Kart titles, then you need to get your hands on HORI's Racing Wheel. The steering is attractive with Mario blue and red colors. One look at the steering wheel set, and you know Go Karting is going to be more fun. The wheel and the paddles work with Mario Kart games and the set is compatible with other racing games as well.
The steering wheel sports Mario's logo at the center and has other control buttons located around it. As it has an ergonomic design, you can easily use the controls and the steering wheel at the same time. The paddles are black and are set upon a red base. The product has been officially licensed by Nintendo, so you can be assured of its high quality.
Why we recommend:
Officially licensed by Nintendo
Steering wheel and paddles for an immersive driving experience
Ergonomic design
PXN Racing Wheel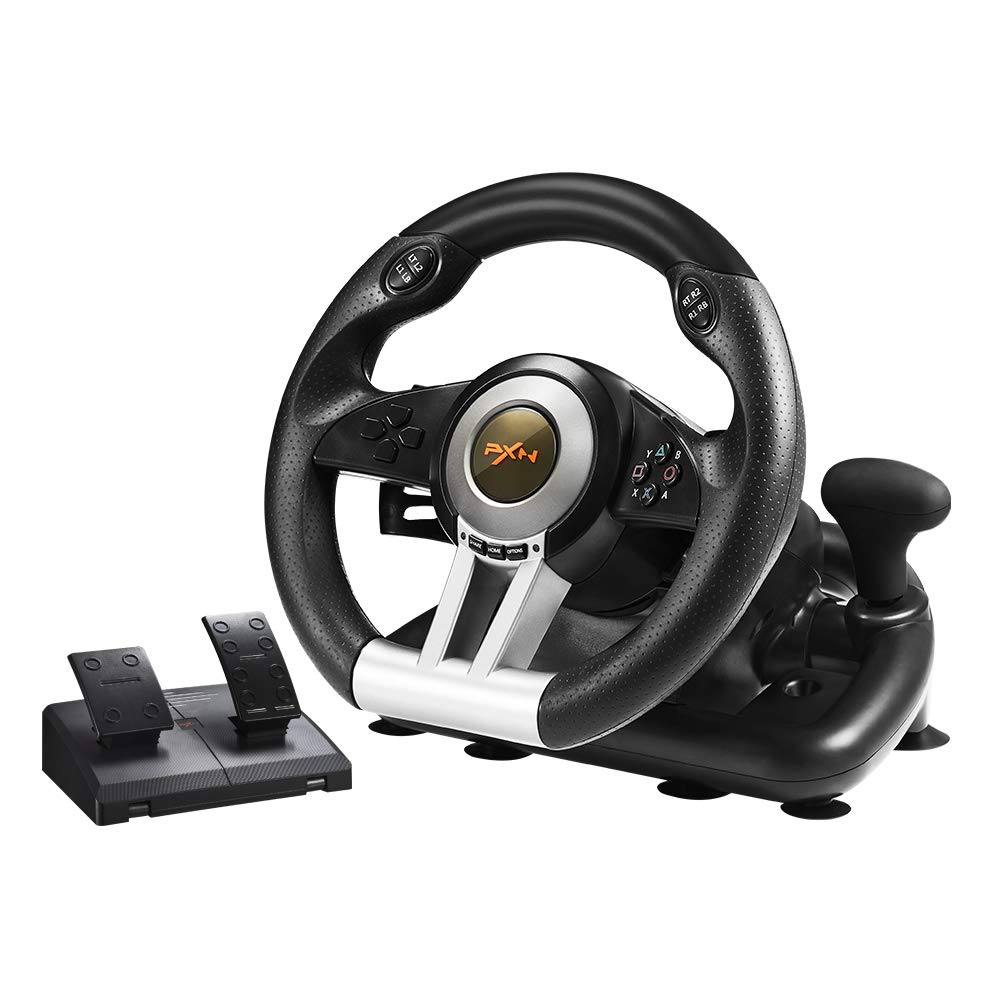 PXN's steering wheel is compatible with a wide range of platforms including Nintendo Switch, PS4, PS3, Xbox One, Xbox Series X, and S. The ergonomic wheel comes with a pair of paddles, and together, they give you an authentic driving experience. With dual-motor feedback and intelligent vibration deliver an immersive driving feel which is almost real. You can shift the gears with a finger slide which makes the whole thing easy and fun to control. The set is compatible with most of the racing games and really tweaks the video games with 180-degree rotation and rubber grip steering.
Why we recommend:
Compatible with multiple platforms
Dual-motor feedback and intelligent vibration
Feels like real driving
Orzly Nintendo Switch & OLED Console Steering Wheel
Orzly's pack of four steering wheels is perfect for parties. If you have a group of friends that's crazy for Mario Kart games, then this set of wheels is a must-have. These Switch-exclusive steering wheels come in bright Mario-themed red, blue, and black colors. Using them is very easy – all you have to do is place your Joy-Cons in the recess provided, align it with the '+' and '-' signs, and start zooming your Karts around. The buttons align themselves automatically and give you a fun Mario Karting experience.
Why we recommend:
Pack of 4, fit for groups
Exclusive for Switch consoles
Easy to use
Grip for Nintendo Switch Controller
If you want grips for your Joy-Cons and steering wheels as well, you can consider getting Momen's pack of grips. The set contains two steering wheels for racing games and two grips for your Joy-Cons. The steering wheels are crafted from high-quality ABS material making them durable and scratch-resistant. The whole set is easy to use – align and place your Joy-Cons into the wheels and hop into the game. The L and R triggers on the wheel and on the grip are responsive making it easy to hit them while playing.
Why we recommend:
Set of 2 steering wheels and 2 grips
Responsive L and R triggers
Durable ABS material
DOYO Racing Wheel
If you're a racing game fanatic who loves games like F1, then the DOYO racing wheel is a must-have for you. To begin with, the racing wheel is compatible with multiple platforms like PS4, PS3, Xbox One, Xbox 360, PC, Nintendo Switch, and a few Android devices. To use it for Xbox Series X and S, you need to update the firmware.
The sim wheel set comes with a pair of paddles and a steering wheel with gear. The wheel features a dual-motor drive and 270-degree swivel which give you a feel of real driving. You get an ergonomic and flexible design with responsive gear and progressive resistance braking. For further customization, you can program the buttons and adjust the sensitivity. You can easily install and use the racing wheel sim to tweak your racing games.
Why we recommend:
Compatible with multiple platforms
Comes with useful customization options
Ergonomic design
Conclusion
Some Switch steering wheels are compatible with other consoles and PC while others are Switch-exclusive. Some let you have fun and are easy to control, while others are elaborate and give you that almost-real driving experience. Depending on your requirements and the racing games you play, you can pick the sim wheel set that fits your bill and budget.
Carry your Switch in style. Check out the best cute Nintendo Switch cases to cover your handheld console and show off your personality!
This article includes affiliate links, which may provide small compensation to Best Gaming Settings.