Escape from Tarkov has jumped in popularity recently. The title is becoming more complete with each patch, and it has started to get a lot of attention from both streamers and players. With so much new blood around, it's a great time to learn how everything works. This Escape from Tarkov Loadout guide will cover how loadouts work and how you can make a kit in the easiest way that's also price-effective.
The basics of a loadout are Weapons, Mods, Medical, and Amor. It is about building a balanced loadout. Thankfully, you can actually buy anything from the fleamarket straight away. If you know what you're looking for, you can build an easy loadout this way. More often, buying from players is cheaper than dealers too. It is worth keeping in mind though that this price fluctuates. This guide will cover some suggestions for each category that should be within the price range of a beginner, giving you a cheap and effective kit.
Escape from Tarkov Loadouts Guide – Ammunition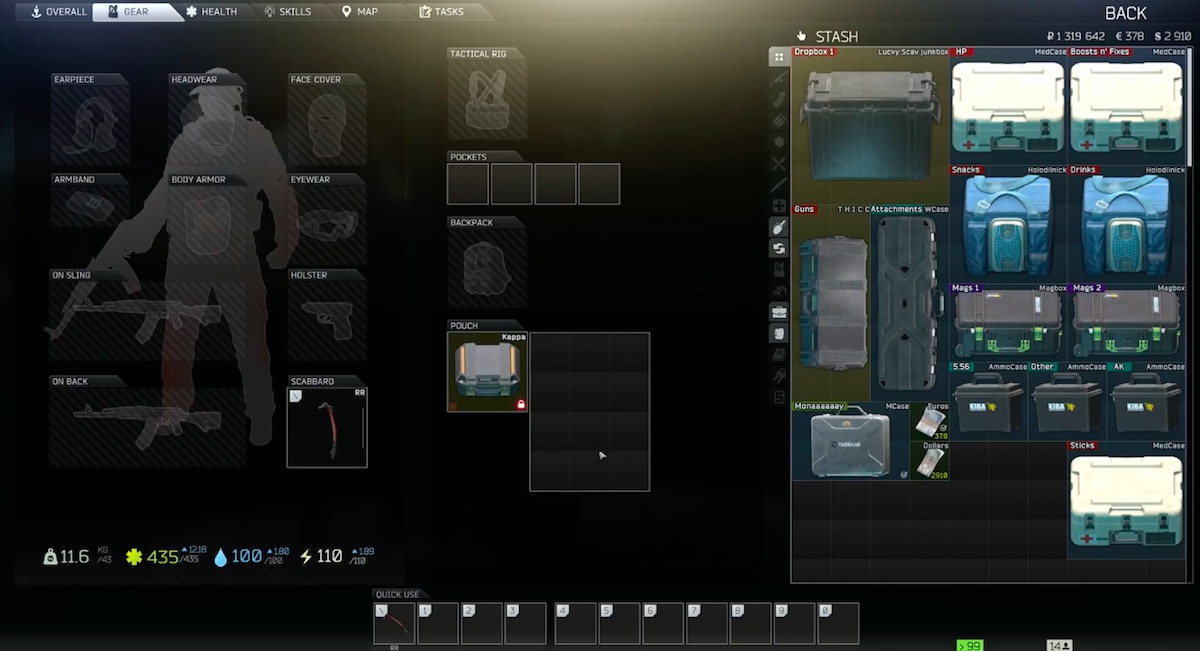 Ammunition actually alters the way your shots interact making it an important part of your loadout. Ammo with a high damage value will do more damage against bare opponents and those with a high penetration will do a better job of breaking through armor and defence. This is a trade-off.
Beginners will be best served by looking for rounds with good penetration. This will allow your shots to count more often than not. While their damage isn't as good, it does a great job of making your shooting forgiving. The cost of ammunition also has to be kept in mind. You need to balance the price with the stats of ammunition. Consider whether the increased prices are worth it for each different ammo. Some of the best ammo is worth the price further into the game but might be wasted on a new player.
Go for something over 40 penetration to give you the best balance between price, damage, and penetration through more advanced players penetration. This kind of ammo is what is recommended by an Escape from Tarkov loadouts guide.
Escape from Tarkov Loadouts Guide – Weapons
When you first start the game, there aren't a lot of weapons out there for you. This means most new players head over to the flea market to buy a weapon and get started. These are typically cheaper than the dealer price. A lot of really effective beginner weapons are affordable on the flea market, which should help you build an affordable and effective beginner loadout. These are some of the better weapons for beginners to use in an Escape from Tarkov loadout, guides have differing opinions depending on the player but these are solid choices.
The ADAR
This is a semi-automatic weapon that doesn't cost too much on the fleamarket. It is a really effective weapon to use while you get the hang of things. It doesn't need a crazy amount of modifications while you get to grips with things. However, the Prism Scope is a great scope to put on to this weapon if you're looking for a cheap loadout. This will also give you the range you need for the various maps.
AK-74
The AK-74 is a really affordable weapon that takes decently budgeted scopes. This weapon is definitely good enough to last your first few raids before you get better equipment or more cash to buy new weapons or attachments.
Vepr Hunter
This is the last recommendation from this Escape from Tarkov loadout guides. This is a carbine that forces you to play accurately. With a mount, this is going to give you any optic you need, but keep in mind this takes up a lot more space on your screen. This can become a bit of a problem.
Escape from Tarkov Loadouts Guide – Attachments
Attachments are going to depend on the exact weapon that you're using. You will have to experiment with various options. However, these are the recommendation for an Escape from Tarkov loadout guide to give you a balanced and affordable weapon:
The PWS CQB – This reduces the recoil of your weapon by an awful lot.
Red Dot – These are super helpful for landing shots compared with the iron sights
Rubber-But Pad or Recoil Pads – Great for control. This is really important with Escape from Tarkov's realistic gunplay, which can be difficult for newcomers.
Try Out Equipment that you Find in Raids – This is going to give you first-hand experience with a great variety of attachments. This is really the best way to get to grips with everything in the game.
Escape from Tarkov Loadouts Guide – Armor
Amor can be a real hassle in Escape from Tarkov. You need to balance capacity with armor value, this makes it a bit difficult to find good armor early in the game with limited funds. These are the recommendations for this Escape from Tarkov Loadouts guide:
Body Armor
6B3TM – This is a great piece of body armor that is available at a fairly affordable price. It can easily be found form scavengers, so it can be picked up at full durability for a cheap price.
6B515 – This is a Class 4 body armor. It has 40 durability points which give you quite a bit of protection. Class 4 armor will serve you pretty well for a while, so this is a great one to go for.
Helmets
SSH68 Helmet – This is a class 3 helmet with a high ricochet chance. This means that it will block a lot of rounds, but you run a great chance of bouncing higher rounds off of the helmet. At a cheap price and unlockable straight away, this is a great choice for an entry-level helmet.
Escape from Tarkov Loadouts Guide – Medication
You're going to need to be able to heal, and there is a lot of different medication types available. Some of these get very expensive. If you stick to certain types of medication, you can really keep your healing bills down. What you need from a loadout is a low-cost that can cover the basic problems. This is what you should go for:
Painkillers – These are really cheap because they don't actually heal you. These are essential since they allow you to get to an extraction even with blacked-out limbs. These aren't going to save you, but they will give you the time you need to leave the firefight and get out okay. They're absolutely essential.
Car Medical Kit – These give you 440 healing points and have a relatively low price. They can heal a fair bit for their price which is the balance that you're looking for in this game.
AI2 Medical Kit – These are great for sorting out low-level damage. This will stop you from wasting your car meds on other damage. It also applies really fast compared to others at only two minutes. This can even be used in a firefight given its speed. It isn't as cheap as a car medical kit, but it can be helpful.
Immobilizing Splint – This is a 5-use splint that can help you prevent early departure. They cost slightly more on the flea market, but it can help you get to safety quite a bit compared with trying to get by without it. With 5 uses, make sure you keep this in your secure container.
Bag and Headset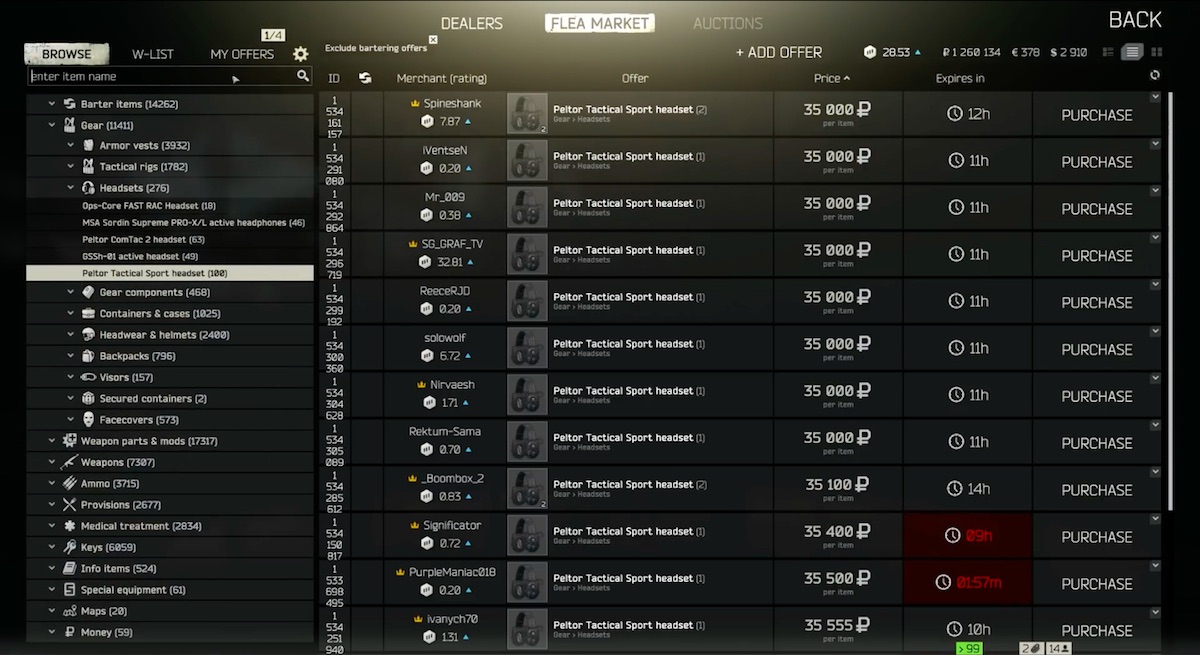 These are the last two factors for an Escape from Tarkov loadout. A headset is going to come in really handy even in the early stages of the game, so you should consider getting one when you can.
You can get a bag off of a killed scavenger or another player typically. However, a decent bag is going to be pretty cheap on the flea market when you're establishing a budget build for the game.
Escape from Tarkov has players construct a loadout from limited resources and options as new players. While the wealth of choices on offer is pretty wide to you, sticking to these basics should give you a solid build that doesn't cost too much while you work at getting to the better content in the game. Remember the game isn't quite done yet and wipes still happen from time to time so there is no need to become too attached to anything you're using.