Lenovo might not be a brand that comes to mind quickly when thinking of gaming laptops. However, it has done great in producing gaming laptops, and some of its products are a real game-changer in the mid-range to high-end segment. Lenovo gaming laptops are called "high-end" for a reason. They come with off-the-chart specs in all the important areas, including processor capacity, RAM, display, storage space, and audio systems.
The Lenovo gaming laptops mostly come under the Legion brand and offer considerable performance while keeping their affordability. We've provided a list of the best Lenovo gaming laptops to help you choose your next gaming device carefully.
Lenovo Legion 5 Pro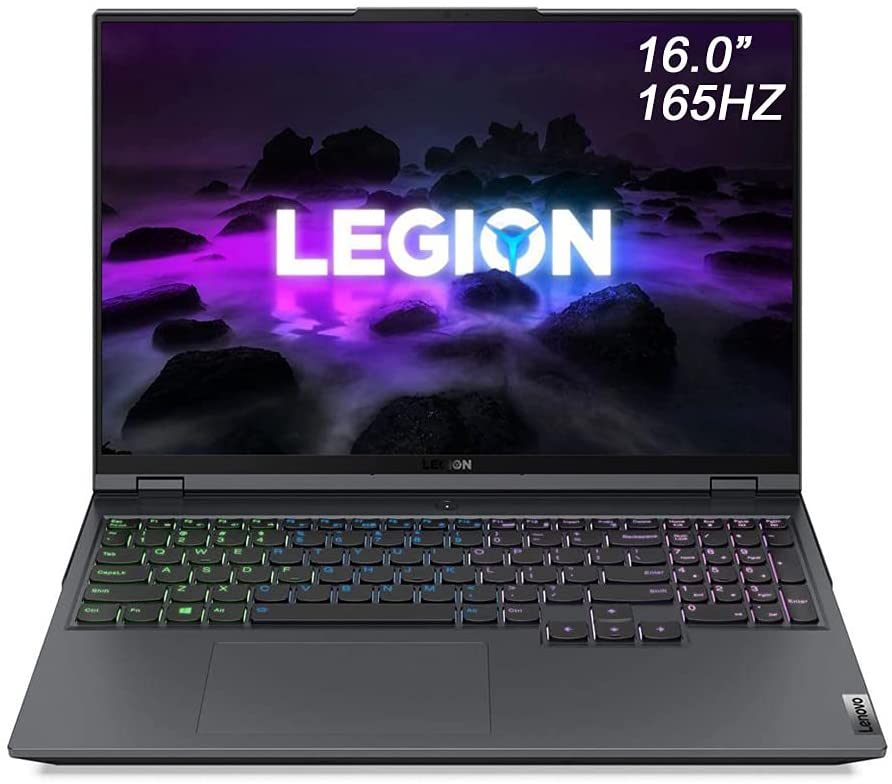 Specifications
The Legion 5 Pro is one of the most powerful laptops in the Lenovo lineup and offers a great combination of different components. For a bit less than $1,600, you'll get an AMD Ryzen 7 5800H and NVIDIA GeForce RTX 3060 with 6GB of GDDR6. It seems enough to slap every game in the market. Also, 16GB RAM and 1TB SSD are under the bonnet. The Lenovo Legion 5 Pro features every necessary port you need for a gaming experience.

Lenovo fully understands the importance of a vivid screen for gaming. That's why the Legion 5 Pro comes with a 16-inch IPS display at 2560×1600 resolution. Thanks to the 165Hz refresh rate, Free-Sync, and G-Sync, this laptop is ready for a remarkable gaming session. Three other configurations are also available to buy.
Lenovo Legion 5 Gaming Laptop
Specifications
Compared to the previous model, the Lenovo Legion 5 lacks a Pro term. However, this simple word could make a difference. The Lenovo Legion 5 features an AMD Ryzen 7 5800H processor with eight cores. This processor is accompanied by NVIDIA GeForce RTX 3050Ti GPU, 16GB DDR4 RAM, and 512GB SSD. Don't forget that Legion 5 is going to be the cheaper version of its Pro model, so it comes with a less powerful but still robust hardware set.

The Lenovo Legion 5 features a 15.6-inch FHD display with a built-in 720p webcam in the middle of its top edge. For the aesthetic part, an RGB backlight is also available.
Lenovo IdeaPad Gaming 3 15.6″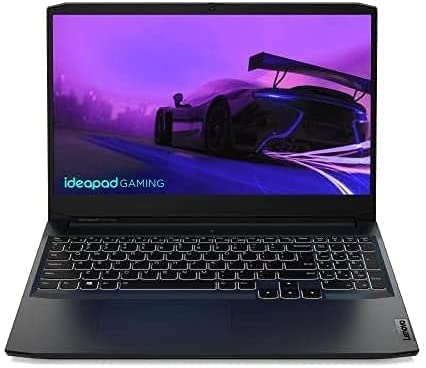 Specifications
One of the great things about the Lenovo gaming lineup is its affordable price tags. The Lenovo IdeaPad Gaming 3 is a budget-friendly gaming laptop that doesn't want you to go broke over buying a mid-level gaming gear. It comes with AMD Ryzen 5-5600H and NVIDIA GeForce RTX 3060, which seems enough to render the most popular games in the market.

Also, 8 GB of RAM and 512GB SSD is available to bring comfort to your gaming sessions. For the display part, a 15.6-inch 1080P 120Hz display is available.
Lenovo IdeaPad Gaming 3 15 Laptop
Specifications
Affordable gaming laptops are always welcome, and they could be a great deal for those who can't afford piles of money to buy a top-tier gaming laptop. This edition of Lenovo IdeaPad laptops comes with an AMD Ryzen 5 5600H processor and NVIDIA GeForce GTX 1650 GPU. A 15.6-inch FHD display with a 120Hz refresh rate is also attached.

Also, 8GB RAM and 256GB storage are under the hood for a smoother performance. While the combination might not seem significant, it is still enough to carry some games on lower to medium settings.
Lenovo Legion 5 17.3″ FHD Gaming Laptop
Specifications
Bigger and sharper screens are always popular among gamers. Lenovo has also offered a 17.3-inch version of its Legion 5 laptop to entice gamers who like big screens. This edition of Lenovo Legion 5 has a Full HD screen at 60Hz. Also, the 10th gen Intel core i7-10750H processor with NVIDIA GeForce RTX 2060 graphics promises a smooth performance. You will also find 16GB RAM, 256GB SSD, and 1TB HDD to support your gaming sessions.
Frequently asked questions about Lenovo gaming laptops:
Here are some of the most frequently asked questions about the Lenovo gaming laptops that can help you buy from the brand with more peace of mind.
Is Lenovo a good gaming laptop brand?
Lenovo is one of the most well-known brands in electronics, and it has been around since 1984. The Lenovo lineup includes consumer electronics, PC, and laptops with different specifications for every need. Also, Lenovo products are mostly affordable, which is an essential competitive edge for the company.
The Lenovo laptops lineup offers ThinkPad, Yoga, and Ideapad series. ThinkPad laptops are mostly for business purposes, while the Yoga series are suitable choices for students. Also, the Ideapad laptops are affordable options for those who can't afford piles of money for a mid-range laptop.
To enter the gaming segment, Lenovo decided to invent a new brand: Legion. Legion is a young brand, and its first products, Legion Y520 and the Legion Y720 revealed at CES 2017. The Legion lineup does not only include laptops and also offers products such as mice, keyboards, headsets, and monitors. Currently, almost all Lenovo gaming products fall under the Legion brand.
While the Lenovo Legion might not be reputable as Razer, Asus, and Logitech, it could challenge those brands thanks to combining high-performance and affordability. Most of the Lenovo Legion products are budget-friendly. Besides the high-performance products, Lenovo also offers some mid-range gaming laptops that mostly cost under $1000 and feature a robust hardware set. Also, Lenovo is using the most powerful combination of CPU and GPU from Intel, AMD, and Nvidia in its top-tier gaming laptops.
Is the Lenovo IdeaPad good for gaming?
Lenovo has tried to diversify its Ideapad lineup and add some gaming products to it in recent years. The IdeaPad gaming laptops are available to buy for under $1000, and their hardware combination is enough to promise a smooth performance. However, the Legion series still offers high-performance Lenovo gaming laptops, and the IdeaPad gaming series is dedicated to budget-friendly gaming products.
You can now find IdeaPad Gaming 3 15″ and IdeaPad Gaming 3i in the Lenovo lineup. Both laptops offer extensive configuration options. The basic model of IdeaPad Gaming 3 features AMD Ryzen 7 4800H processor along with NVIDIA GeForce GTX 1650 Ti. Also, 8 GB of RAM and 512GB SSD are available.
The IdeaPad Gaming 3i lineup series features a powerful hardware set. The basic model of this series comes with an 11th-generation Intel Core i7-11370H processor and NVIDIA GeForce RTX 3050. A 15.6-inch FHD display with a 120Hz refresh rate is also available to support your gaming sessions. You can also find 8GB of RAM and 256GB SSD under the bonnet.
The Lenovo Ideapad series could be a wise and affordable choice for gamers who can't afford piles of money to buy from the Legion series but still want a considerable performance. The IdeaPad Gaming 3i lineup offers more powerful products with multiple configuration options.
Which is the best gaming laptop of Lenovo?
When buying a gaming laptop, you need to consider many factors, including the budget, needs, and brand. Also, every product comes with its own pros and cons, so you can't just say a product is the "BEST" while there are dozens of other products in the market which you haven't tested yet. Regarding the Lenovo lineup, we have the same theory.
Lenovo has so many great products in its gaming lineup, and you can buy an item according to your budget and required specifications. Lenovo always tries to keep its products affordable while featuring them with the best available hardware set on the market.
The Lenovo Legion series offers incredible performance and can support your gaming sessions to the best. In the above listing, we introduced the best Legion laptops and mentioned Legion 5 Pro as one of the most powerful available items offered by the brand. However, if you are a power-hungry gamer and looking for a more powerful Lenovo gaming laptop, you can opt for the Legion 7 series.
The most powerful variant of Legion 7 series laptops is called Legion Slim 7i. It features 10th gen Intel core HK-series processors and NVIDIA GeForce RTX 2060 Max Q graphics. Up to 32GB of RAM and 1TB SSD are also under the hood. The cheapest Legion 7 series laptop costs $1,199, and the price can soar to above $2,500 for the high-end models.
Which Lenovo series is best for gaming?
Obviously, the products that fall under the Legion brand are the flagships gaming products of the company and can offer an enhanced gaming experience. They might also be able to change your perception of the Lenovo brand. Of course, don't forget that accessing that amount of power offered by Legion products is not cheap. The Lenovo Legion series can support your gaming for around five years.
The Lenovo IdeaPad series also includes some great gaming laptops with an affordable price tag. These products can be suitable for novice gamers and those who want to have a fresh start with Lenovo.
You can also take a look at the Thinkpad X1 Extreme Gen 4 series. This series is not built for gaming. However, it can be a versatile laptop for business and gaming, thanks to its great CPU and GPU set. Of course, the Thinkpad X1 Extreme Gen 4 laptops are relatively expensive, and not everyone can afford them. If you are a gamer, the Legion series is made for you.
How does Lenovo compare to other gaming PC brands?
Lenovo just entered the gaming industry in 2017, and it's a pretty young brand in gaming. It might not be as well-known as its competitors, but it has done relatively great and can now challenge other brands. An affordable price tag is one of the greatest advantages of Lenovo products. Also, the top-tier Legion series laptops offer a brilliant hardware performance.
Trusting a brand founded in 1984 but launched its gaming products in 2017 is not an easy thing to do. However, Lenovo deserves special attention from customers as its lineup can meet the demands of gamers with any budget range.
These are five of the Lenovo gaming laptops with the best overall performance. Which of them is your top pick?
This article includes affiliate links, which may provide small compensation to Best Gaming Settings.