When you think of gaming, the first thing that comes to mind is probably an elaborate and expensive desktop computer with a lightning-fast graphics card and other very expensive components. As it turns out, you can get a great experience playing your favorite games on a comparable computer in the $1000 price range. We put together this guide to give you a hand in finding the best gaming PCs under $1000.
What to look for when buying a gaming PC:
A good processor
It needs to have enough RAM
A solid graphics card
A large hard drive
An SSD for the operating system and popular games that you play
Now, these features can be tweaked based on your budget and gameplay preferences. For example, if you're only playing simple games like checkers, then you won't need the most powerful processor out there. But overall, if you follow this guide you're bound to find the best gaming PCs under $1,000 for your specific needs.
CYBERPOWERPC Gamer Master Gaming PC
If you're looking for a computer that can run games at high settings, meet the CyberpowerPC Gamer Master Gaming PC.
The CyberpowerPC Gamer Master is one of the best-performing gaming PCs on the market. The AMD Ryzen 5 3600 3.6 GHz Six-Core Processor and 16GB of RAM can handle any game with ease, and the 512GB SSD means you'll never have to worry about storage space.
With its RGB lights and the sleek, tempered glass panel, this computer is an absolute beauty. You'll be proud to show it off anywhere you go. If you want a computer that offers great performance and looks incredible while doing it, this is the one for you!
You'll also be able to enjoy your games in style. The RGB lights can be configured to display any color you want, so you can match the lighting to your favorite game or just pick something fun or relaxing. You can even choose from pre-configured lighting profiles that come with the system, like rainbows and waves of color.
No matter what type of gamer you are, this system will help you play at your best. Whether you like role-playing games or fast-paced action shooters, the Gamer Master Gaming PC is optimal for both performance and aesthetics to make sure every game is fun and engaging.
Why we recommend:
It has a nice, clean design with a tempered glass side panel that looks great and doesn't clutter up your desk.
It has an AMD Ryzen 5 2600X processor, which allows you to run several windows at once without lagging or otherwise slowing down your system.
It has an NVIDIA GeForce GTX 1660 graphics card, which will provide you with sharp images as well as a smooth gaming experience.
2021 Newest HP Pavilion Gaming Desktop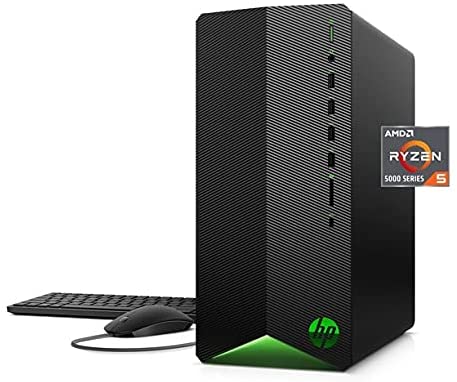 If you're thinking of getting into PC gaming, but don't want to do the legwork of tracking down the right parts and putting the system together yourself, this is the machine for you.
The 2021 Newest HP Pavilion Gaming Desktop is a prebuilt PC that delivers solid gaming performance at an entry-level price point. It comes in a sleek, black case with custom RGB lighting and a transparent side panel that shows off its interior. You'll get plenty of power to run games at high settings, with an NVIDIA GeForce GTX 1650 graphics card and up to 8GB of RAM.
If you're thinking of getting into PC gaming, but don't want to do the legwork of tracking down the right parts and putting the system together yourself, this is a great choice.
This desktop computer features a USB 3.0 port, HDMI output, and a headphone jack so you can easily connect peripherals like printers or external hard drives to this device without any hassle at all! You'll also love that it comes with Windows 10 Home preinstalled, which offers new features like Edge browser support along with other Microsoft apps such as Mail and Calendar as well as Cortana voice assistant integration which helps make finding information much easier than ever before!
Why we recommend
It's got an AMD Ryzen 3 processor and 8 GB of RAM for smooth, lag-free gaming.
With a 1 TB hard drive and 256 GB SSD, it has all the storage space you'll need.
It comes with Windows 10 Home.
CYBERPOWERPC Gamer Xtreme VR Gaming PC
This computer is designed for the gaming experience we all know and love, but it takes it to a whole new level! With 4th generation of high-performance Intel Core processors and ultra-quick DDR RAM, your games will play as close to flawlessly as possible. The freshly designed case of the Gamer Xtreme VR is compact with a clear side window, making this PC as sleek looking as it is powerful.
In addition to its powerful processing capabilities, the Gamer Xtreme VR also comes with the GeForce GTX 10 Series graphics card. This means you can enjoy virtual reality gaming without sacrificing visual quality or performance!
The CYBERPOWERPC Gamer Xtreme VR is the ultimate gaming PC. It's powered by an Intel Core i5-9400F 2.9GHz 6-Core processor, 8GB of DDR4 RAM, and a 120GB SSD.
Why we recommend:
Intel Core i5-9400F 2.9GHz Six-Core Processor
8GB DDR4
240GB SSD
SkyTech Blaze II Gaming Computer PC Desktop
Are you a gamer who craves power and performance, but can't stand the idea of building your own gaming PC? Get ready to level up and check out SkyTech Blaze II Gaming Computer PC Desktop.
This prebuilt gaming rig is all about bringing you maximum power with minimal headache. It's got a 500GB SSD, NVIDIA GeForce RTX 2060 6GB graphics, and an Intel i7-9700K 8-Core 3.6 GHz processor that lets you run your games at high settings without the annoyance of lag. If you want to keep the RGB lights on or off, that's up to you, of course (you can also control them with some neat effects).
You don't have to be a tech guru to get this gaming computer up and running. It comes pre-built for maximum convenience and ease of use. You'll be at peak performance in no time! No need to overpay for a gamer-approved system—this one is optimized for entry-level gamers who want something that performs as well as it looks.
Why we recommend:
16GB Gaming Memory DDR4 3000 with Heat Spreader
500G SSD – Up to 30x faster than traditional HDD
A high-quality motherboard with an I/O backplate
Skytech Blaze II Gaming PC Desktop
If you're looking to maximize your gaming performance, the Skytech Blaze II Gaming PC Desktop is a great choice.
It's packed with the latest technology, including an RTX 2070 Super 8GB Graphic Card, an i7-10700K 3.8GHz Processor, and 16GB DDR4 3000MHz RAM. It also has a 1TB SSD for storage. Does this mean that when you play your favorite games? You will be able to do it on high settings without sacrificing speed or responsiveness.
The Skytech Blaze II gives you a streamlined experience that will help you get into your favorite games ASAP. Whether it's streaming movies, browsing Facebook, or playing the latest blockbuster release, the Skytech Blaze II is dedicated to helping you get where you want to be as quickly as possible.
To top it all off, the Skytech Blaze II comes with a sleek design that is sure to impress both friends and strangers alike. With its stylish front panel, tempered glass side panel, and customizable RGB lighting system, this PC is designed to look great in any room.
Why we recommend:
Can handle most any game on the market
Upgradable in case you want to push it to the next level
Comes with wireless keyboard & mouse, ready to go
Periphio Reaper Gaming PC
The Periphio Reaper Gaming PC is one of the most powerful gaming computers available today. Featuring an Intel Core i7-8700 6-Core processor, NVIDIA GeForce GTX 1070 graphics card, 16GB DDR4 memory, 1TB hard drive, and a 500GB SSD.
The Periphio Reaper Gaming PC has everything you need for hours of entertainment at home or on the go. The quad-core processor can handle even the most demanding games without lagging or slowing down your gameplay. The NVIDIA graphics card provides stunning visuals so you can immerse yourself in every scene as if it were real life!
Don't worry about storage space or processing speeds, either—this gaming PC has 1TB of solid-state drive storage, so you can access and store your files faster than ever before.
Plus, all that processing power is nothing without a great display. The Periphio Reaper Gaming PC features a high definition 27″ widescreen monitor that gives you stunning visuals and provides stunning gameplay. No matter what genre or title you're playing, this display will allow you to immerse yourself in the action and take your skills to another level
Why we recommend:
it is a gaming desktop that can handle all your day-to-day tasks as well.
It has an Intel Core i5 processor and 8GB of RAM, so you can keep multiple apps running at once without slowing down.
It has a 2TB hard drive, so you won't run out of space for files and media.
In the end, your exercise of browsing through and revisiting these listings will come down to simple personal taste. No matter what a given computer's specifications are, you can easily decide whether or not it performs well enough on a daily basis to meet your needs, at least in terms of gaming. So besides being a good investment for the long run, buying a good gaming PC for under $1000 is a good use of your money as well.
This article includes affiliate links, which may provide small compensation to Best Gaming Settings.