Fortnite has a great variety of cosmetics available to every player. Most players though, want to have the rarest ones out there. With so many different looks added to the store every day and in the Battle Pass for each season, there is a lot of different options for players. Even among Back Bling, there is a crazy amount of variety on offer to players. These are the rarest Fortnite Back Blings. If you have one of these in your inventory, it is a good choice to wear to show off how long you've been playing the game.

A lot of the rarest Fortnite back blings are rare because of how they were obtained. Certain cosmetics in Fortnite don't come back into the store. Back Blings especially aren't rotated back around often since they're attached to a skin. Back Bling tends to come with Epic and Legendary skins. This makes quite a lot of them rarer than most other cosmetics. Back bling is an important part of a skin. Particularly when some of the cooler ones can even include pets in the game. While many of the rarest back blings are relatively plain, they're a great opportunity to show off how long you've been playing.
These are the 15 rarest Fortnite back blings, including a few that have never left one country.
15 – Ice Mantle

This is the Back bling that came with Ice King. This skin was the reward for the highest tier of a Battle Pass. Getting all the way to level 100 is no small feat. Players who do so were rewarded with this full skin, including this pretty rare back bling. It features two glowing paddles sticking out of your back, making you look like a human Scuff controller.
14 – Rust Bucket

This is back bling that was actually available for free! Unlike most of the other rarest Back blings in the game, this one required no purchase. Epic handed it out as an apology for three days of server issues rendering the game unplayable. If you don't remember this controversy, it is probably because it happened all the way back in Season 3.
Few players were around back then to collect this reward. This has made it one of the rarest Fortnite back blings. On top of this though, it had to be manually claimed. Only players who were aware of the apology reward and around to pick it up within a day or two got this back bling. This has made it pretty rare.
13 – Skirmish


This one came as part of the Save the World Founders pack skins. This is a relatively niche product that hasn't been available in quite a while. It looks pretty much just like a regular backpack, but it is one of the rarest Back Blings.
This one isn't quite as rare as some others on this list since the founder's pack was pretty widely available. However, for your average Battle Royale player that came on board when Fortnite really exploded, this is pretty rare.
12 – Pursuit

This one was also included in the Save the World Founders pack. You would have had to have purchased the Save the World game back in the first year. Hindsight might indicate that you should pick up these founder's pack when available. However, few players knew how Fortnite was going to explode since its release. This has made these some of the rarest back blings in the game.
This is a fairly plain looking back bling, but it is quite rare if you have it around.
11 – Back-Up Plan

This skin came with Havok. It was the first reward for Twitch Prime users. While these promotions have become pretty big since their inauguration, this wasn't all that widely redeemed. These days, Apex Legends gives out Twitch exclusive skins all the day. However, not too many players picked this one up.
In red and black this back bling actually goes well with quite a few different skins. This makes it not only one of the rarest Fortnite back blings but one of the most versatile.
10 – Galaxy

This back bling comes with one of the most notorious cosmetic sets in Fortnite. It is part of the set of free Fortnite cosmetics for those who purchase a brand new phone. Yeah, to get this back bling you have to buy a whole phone. This might make it one of the most expensive cosmetics in the whole of Fortnite.
This back bling just looks like a galaxy. It is particularly desirable because of how valuable it is, but you're not missing too much in terms of look.
9 & 8 – Royal and Squire Shields

This was nearly the first back bling to ever come into the game. They were part of the Season 2 Battle Pass, which like some of the other rarest cosmetics in Fortnite really limits the number of owners they can have. These skins were exclusive to the Battle Pass too, so they will never come back to the game.
This one is pretty plain looking, it resembles a shield for a knight. It is a cool enough shield when matched with your normal skin. However, it doesn't really blend in with the type of skins Fortnite has had since. Still, it is a great sign of how long you've been playing and one of the rarest Fortnite back blings.
7 – Swag Bag

The Swag Bag was a black leather duffle bag. It is overflowing and bursting at the seams. It has quite a unique look, but would have cost you some actual money rather than just V-Bucks. This one came with the Fortnite Starter Pack 3. This has made it harder to get a hold of and completely exclusive to its original release window. This is one of the rarest Back Packs in Fortnite since it went outside of the usual methods for buying or unlocking a cosmetic.
6 – Telemetry

Telemetry is a red and white backpack that is again available because of a promotion. A lot of the rarest Fortnite back blings are like this, obtainable simply from a promotional event rather than picking it up in the store.
This one was only available as part of a Nintendo Switch Fortnite bundle. A full console is a fair amount of money to spend on a back bling that just resembles a backpack in a different color. A lot of people buy Switches to play Nintendo's huge franchises, not to play a version of Fortnite that has more in common with the mobile version that the PC or console does. This back bling is really rare since it was packaged with an expensive item. However, unlike the Samsung tie-in there was little reason for people to purchase this bundle of a Switch over a Bundle without the skin, since they typically come with a game that isn't already free.
5 – Response Unit

This one is designed after a recon like backpack. It is perfect for anyone trying to play support in a team game. However, since this is one of the rarest Fortnite back blings you probably don't have it just lying around.
This one isn't particularly old, but it was bundled with something bizarre. It was part of an NVidia Graphics Card Bundle. Yeah, this one came with a screen that was exclusive to one model of graphics card. If you were updating your PC during the promotional period, you're in luck. Otherwise, you're not going to be getting this back bling. This really high bar of entry has made it one of the rarest Fortnite back blings.
4 – Black Shield
This one is notorious for being one of the rarest ones in Fortnite. This back bling came with the final tier of that season's Battle Pass. Something to keep in mind though is that back then the Season 2 Battle Pass didn't have anywhere near enough challenges to make progress as easy as it is nice. Back then, you basically just had to grind XP from leveling up. This made getting to the last tier pretty difficult, so very few people have this.
The Black Shield is one of the rarest Fortnite back blings since it was so hard to unlock. Outside of its reputation as a rare back bling though, it is a fairly boring looking black shield. It doesn't fit as well with as many skins as other back blings. Aside from bragging rights, there isn't much of an attraction to this back bling.
3 – Ski Bag
This is strangely one of the rarest Back blings in Fortnite, because of its nature. There are actually 12 different varieties of this back bling. It came in different varieties as part of its tie in. While this was purchasable briefly in the shop, it is weirdly rare. This has made all 12 varieties of this back bling some of the rarest in Fortnite. Each one individually is really quite rare, although it would be a little dull to fill this list with the 12 different types of ski bag!
2 – Penguin
This back bling gets quite complicated. It was completely exclusive to China. This has made it pretty much extinct outside of the region, but it does exist. It seemed to have been given away as part of a promotion with a Chinese company. The game's limited install base there and the amount of players completely locked out of these types of promotions has made this back bling one of the rarest in Fortnite.
1 – Insignia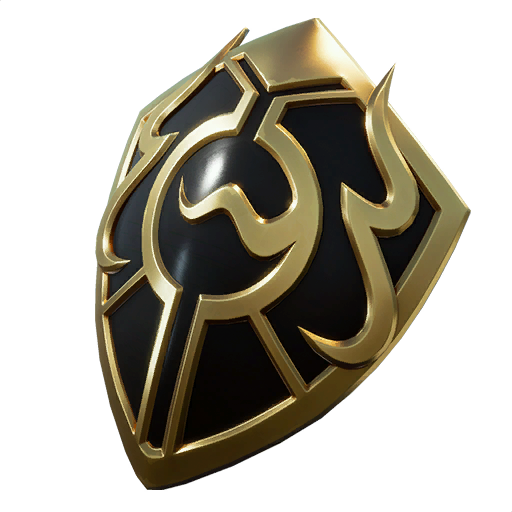 This is yet another plain black shield back bling. Unlike Black shield though, this one is probably the absolute rarest Back Bling in Fortnite. Like Penguin it was only available to players within mainland China. There is a small install base here to begin with, but it wasn't even available to every player in the game.
This back bling was a promotion involved with the company WeGames, this is another service that is offered by Tencent, the Chinese gaming company that owns a stake in Epic Games and handles it in China. To unlock it, you had to go through quite a few different steps with the services. This made it a weird back bling that has become really rare.
In Conclusion
These are the rarest Back Blings in Fortnite. A lot of them aren't the most interesting ones in the game, but you won't see them as often as many others in the game. The majority of them come from special promotions and limited events that prevented them from becoming a common sight.
Others in the game, are simply a sign of how long a player has been playing the game. If you have any of these back blings, wearing it in-game is a great way to show off the rare cosmetics that you have If you've somehow managed to get one of the top two, it'll likely really confuse players you see in lobbies.
This article includes affiliate links, which may provide small compensation to Best Gaming Settings.