If you spend a lot of time working on your laptop, comfort can become a bit of a problem! If you're actually keeping it on your lap the whole time, you can end up with neck and posture problems that might it difficult to keep going. This is especially worrisome if you're using a gaming laptop for long sessions. For all of these problems, you need to look at the best adjustable laptop stands. Ergonomic laptop stands can help keep you comfortable even while using one over a long period.
Portable laptop stands help to make you more comfortable even with long-term use. You can them to raise your laptop, so the positioning better encourages proper posture. If you're in a home office working from home or out of the go, these stands can increase the quality of life with a laptop. We've looked through all available to find the best adjustable laptop stands at the moment:
obVus Solutions Adjustable Laptop Tower
The obVus Solutions Adjustable Laptop Tower Stand can keep your PC positioned properly, but it does more than just that. This is an all-in-one adjustable laptop stand. It comes with draws for storage and even easy charging access.
One impressive feature of this stand is that it switches effortlessly from sitting to standing. You don't have to invest in an over-the-top standing desk just to get the best of both worlds with how you sit. An adjustable laptop stand like this can give you both options, so you can get the benefit of using a standing desk and be able to sit when you want to.
When collapsed this standing desk is really small, coming in at only 2" inches thick. This makes it perfect for travel. Although, with all the positions it can hold, this foldable laptop stand also works great for the home office or gaming too.
Why we recommend:
360 Degree rotatable base
Eight adjustable heights between 20–27"
Folds flat for easy storage and portability
Monoprice Ultra Slim Sit-Stand Riser Desk Converter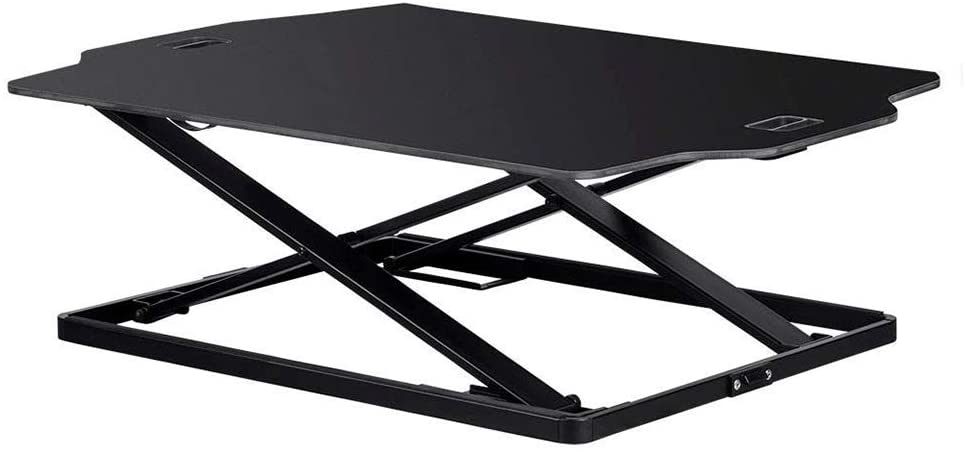 The Monoprice Ultra Slim Sit-Stand Riser works as an adjustable laptop stand and more of a general desk converter for your entire set-up. This stand can raise your laptop up and fold back in. You get both standing and sitting positions relatively easily here. It can move you from sitting to standing at an ergonomic standing desk, easily adjustable to the perfect height for your body.
Where this one of the best adjustable laptop stands has a bit of an advantage is in desk space. The surface area of the stand is big enough to accommodate a laptop or monitor. However, you could also get a mouse or other accessories on there too. This way you can keep a drink to hand while working, or even a gaming mouse if you're playing on a laptop.
This ergonomic laptop stand has a spring-assisted lift mechanism, to make it easy to move up and down. It lets you raise and lower the top from 1.2″inches thick to 15.7″ high with minimal effort. The stand has easy gliding tracks to stay secure in any position and make it simple to move up and down. This is a great pick if you need a bit more space alongside a raised laptop.
Why we recommend:
Spring-assisted lift mechanism for quick elevation
Large space for accessories
Built-in cable management
VariDesk Pro Plus 36
If you're looking for surface area in an adjustable laptop stand, then the VariDesk Pro Plus 36 might be the best pick here. This adjustable laptop stand has enough space to accommodate multiple displays and a lower drawer for a keyboard or mouse. You could have a whole gaming set-up on here, all laid out in an ergonomic laptop stand for decent posture. The whole desk space will move up and down depending on if you're looking for standing or sitting.
It isn't just space where this pick excels though. The VariDesk boasts 11 height adjustable settings, so you can easily pick your position and really fine-tune it to your own height and comfort. The stand is put up with spring-loaded lift technology allows for quick and easy height adjustments.
This adjustable laptop stand is easy to set up, coming straight out of the box, and ready for use. This is a great addition to a home office, especially if you have a bigger set-up that you're working with than just a laptop.
Why we recommend:
Extra-large surface area
Five-year limited warranty
Also available with a dual monitor mount
Laptop Table Stand Adjustable Riser
This portable stand can be used in bed, on the sofa, or at the coffee shop to raise your laptop up and get comfortable. It's made of lightweight aluminum, so it won't add much weight to your bag when you're carrying it around. Even if you don't want to carry much with you this should fit in, this portable laptop stand is very light. It can rise up to 17 inches. This can accommodate a starting desk or even just better comfort when you're sat.
This is a lightweight adjustable laptop stand. Some of the others highlighted here might have more desk space, but this is perfect if you're looking for something minimal. It is lightweight and can rotate 360 degrees to lock in place at just about any angle you need.
This laptop table comes out of the box not needing any assembly at all. You just unpack and adjust the height to whatever position you need it at. It also comes with a 30-day money-back warranty and 24 months exchange. This is a great pick if you want something simple for the best adjustable laptop stands.
Why we recommend
Comes with a mouse pad
Ergonomic and lightweight
Easy to transport and adjust
Neetto Height Adjustable Laptop Bed Table
The Neetto adjustable laptop stand has some great features that make it perfect for working from home or gaming. This stand can be used comfortably at a desk to turn it into a standing desk. However, it could just as easily slot in when you're in bed or just want to raise a laptop to a more comfortable position sat down.
This foldable laptop stand has legs that fold inwards and is pretty minimally designed. This makes it perfect for use just about anywhere. When flattened down, the laptop stand is only a few inches thick. This makes it easy to transport.
If you're looking to set your laptop at the very optimal position it's great how many options you have here. Like most of the others, you can change its height. This is going anywhere from 9.4" through to 12.6" high. Two auto-lock buttons secure it in place at these heights. You can change the angle here too. The adjustable angle can go from flat up to 35 degrees in tilt. This all makes it a great pick for working and gaming.
Why we recommend
Easy to transport
Adjustable angle and height
Made from sturdy and long-lasting wood
Laptop Desk Nnewvante Table Adjustable
The last one of the best adjustable laptop stands is something a bit different in its design. This one is made from bamboo wood giving it a more unique look than the others we've highlighted. This portable laptop stand works great too though, it's good in function even while it looks good in your home office.
This tray is perfectly sized for 11-17″ laptops, so you don't need the hefty price tag of a rain design laptop stand to fit a MacBook pro-sized PC. The adjustable top can even switch around so you can use it with a tablet or a laptop. The foldable laptop stand has an easily adjustable angle in case you need your screen balanced differently. The stand also comes with some added features, like a side draw for extra storage space.
Made with lightweight and strong natural bamboo, this laptop table is built to last. It has an artsy and modern aesthetic. This is a great pick if you're looking for something a bit more unique looking.
Why we recommend:
100% bamboo wood
Has a foldable design
Is adjustable to five angles–from 0° to 36°
Best Adjustable Laptop Stands FAQs
How to Choose a Laptop Stand
There are loads of great options for the best adjustable laptop stands, but how do you pick which one is actually better for you? You should start by considering your needs. The first is how big your laptop is and how much space you're going to need. The surface area needs to be big enough for your whole setup. The next factor is going to be your budget, and what added features like switching to a standing desk you're going to need. All of the ones we've highlighted here are ergonomic laptop stands, but some have a bigger focus on proper posture and space than others.
Once you've narrowed it down to just those that fit your needs, take a look at the build quality and other factors like a warranty. This should help you narrow it down to the best adjustable laptop stand for you and which is the best fit for your home office!
Should I get an Adjustable Laptop Stand?
An adjustable laptop stand is a great accessory to pick up if you spend a lot of time on a laptop, like if you're working from home or just when you're playing on a gaming laptop. The best adjustable laptop stands can let you switch from standing to seated, which can really help your posture and long-term health. There are other benefits too like added comfort or being able to work properly no matter where you are with a portable laptop stand. These are all great reasons to get an adjustable laptop stand. If you should or not will really just come down to how much time you spend on a laptop!
Is it Better to Type with a Laptop Stand?
A laptop stand can help to avoid a lot of different health and posture problems while you're typing. Problems like text neck and other health issues can all be caused by improper posture looking down at a laptop. An adjustable laptop stand or foldable laptop stand can definitely be better to type by improving your posture and general health while you're typing.
This article includes affiliate links, which may provide small compensation to Best Gaming Settings.