Game storage towers are a great way to keep your game collection organized and show it off in a stylish way. A gaming set-up for physical games definitely has to include one of the best game storage towers if you want to display your achievements in completed game form. Game storage towers can do just that, keeping your desk space clear of clutter.
We've looked at all of the game storage towers currently available to find the best ones out there. These are the best game storage towers, covering loads of different styles to suit any décor for your games.
Best Game Storage towers
Skywin PS5 Game Holder Game Storage Organizer
Key Features
PS5 themed color scheme
Holds 36 games
Money back guarantee within 30-days
This Skywin game storage tower can hold up to 36 games, so one or two of these should be enough to hold the titles you want show off (well, we assume). The tower is compact, not taking up much more space outside of the games themselves. Despite being relatively light, this is a secure unit so you don't have to worry about anything tipping over.
Since this game tower is relatively compact, you can stack it both on top of a desk for easy access or on the floor. You can even put one on top of the other if you need extra storage. The game tower is colored to fit the PS5, so it suits the set-up for this console perfectly. However, the slots in this game tower will fit all sizes, so you can use it for any console, even Switch.
NexiGo Headset and Game Organizer
Key Features
Holds 10 games
Extra storage space for controllers, headsets, and more
Great for storing next to a TV or Monitor
This is a smaller game storage tower – but one with some unique selling points. This is less of a bookcase for a whole game collection and instead a stand to support your entire gaming set-up. This unit can support games, as many controllers as most consoles take, and even two gaming headsets. This makes it perfect to store accessories right by your TV, getting rid of that awkward pile of currently in-play games and controllers for co-op!
The storage tower can take up to 10 games, fitting titles from all the major platforms. It also holds each of the main controllers, even having a draw that's just the right size for Joy-Cons! This is a great gaming storage tower if you're looking to display your collection as much as you are looking to store it.
Video Game Storage Stand Tower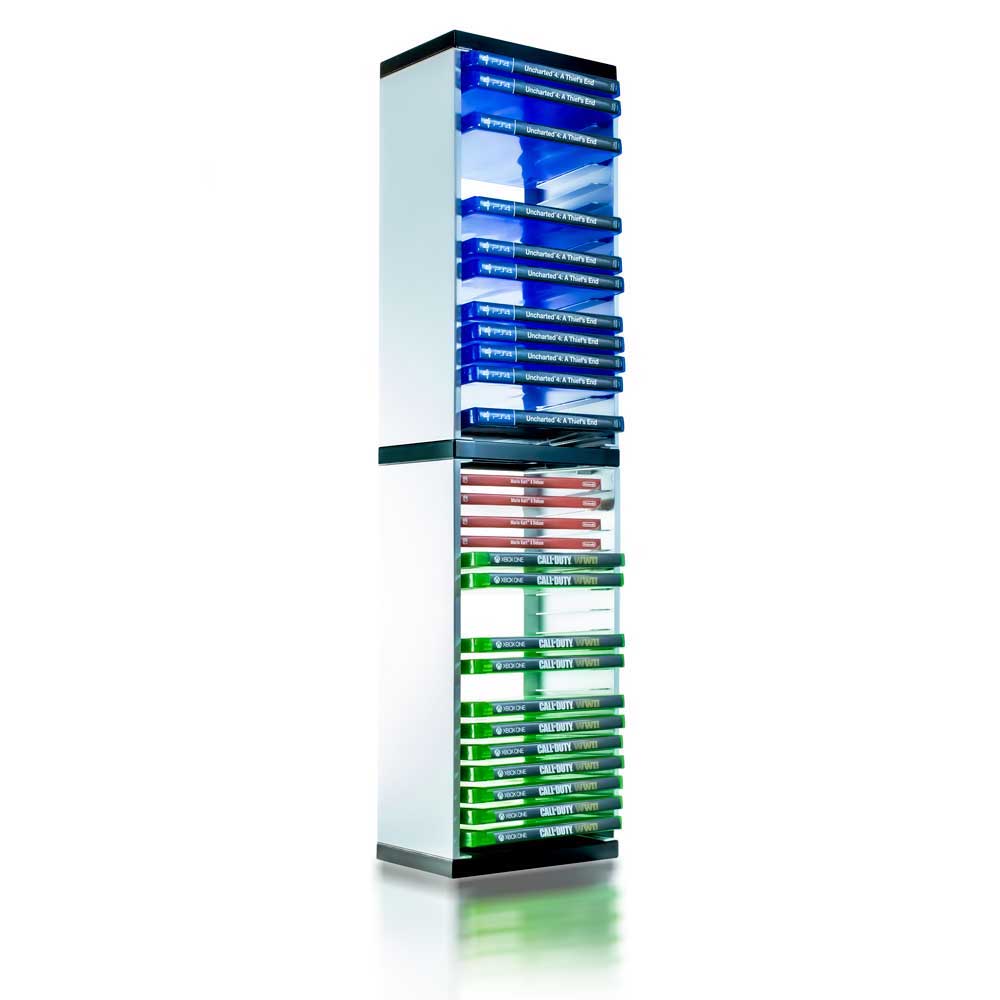 Key Features
Holds 36 games
One year Warranty
Fits all game box sizes
This video game storage tower can handle up to 36 games, definitely making it one of the biggest we've highlighted as the best game storage towers here. From the PlayStation to Xbox to Switch, you can fit any game box in this versatile and simple storage tower. It's easy to put together, giving your setup an instantly clean appearance.
This game tower looks pretty basic, but for many this is perfect. This isn't going to be some white elephant sticking out in the center of your gaming set-up. Instead, it blends into whatever aesthetic you have. This makes it more of a chameleon, easy to set-up in just about any room without it clashing. This is a great addition if you're looking for something simple to store your games.
Universal Game Storage Tower
Key Features
Stores 36 games
Anti-slip rubber pads
Hanger for VR Headset
This universal game tower can hold up to 36 titles from all consoles, with a relatively simple set-up. It comes in basic parts that slot together simply – you don't need to know much about DIY. Once it is all put together this is built to last. The stand has rubber slip pads to keep it in place and the holders for the games themselves are sturdy enough to hold up in the long term.
This storage tower is black on the sides, so it will fit in well on quite a few set-ups as a nice touch. The tower is also relatively small and concise with a half design, so it'll fit under a desk, on it – just about anywhere! Multiple units can also be stacked on top if you need more storage. There isn't anything too flashy about this unit, but it gets the job done well.
Atlantic Nestable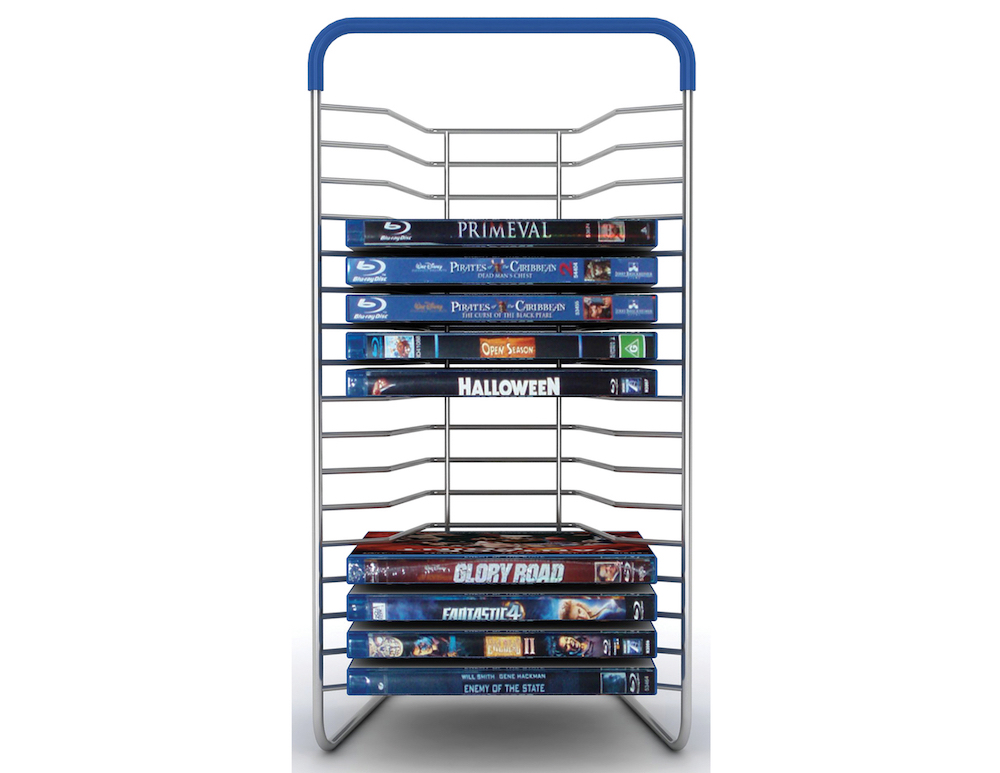 Key Features
Compact design
Holds 16 games
Molded Handle
This space-saving Atlantic Nestable is a bit smaller than others highlighted for the best game storage towers, but it has some important benefits. The first is its design, which is pretty different from everything else here. This is a case with a molded metal stand for each game, slotting together without a big outside casing for the games. The case has a handle at the top, for easy transport and to add a bit of a different look.
The stand is advertised for a movie collection, but don't worry – it stores games as well, as seen in the reviews! These are the same size as every game case so this is still a universal game storage tower. This one of the best storage towers is perfect if you want something smaller, or with a bit of a different design. 
You Have Space White Cube Storage Shelves for Wall
Key Features
Wall shelves
Needs no assembly
White and minimally designed
These You Have Space shelves are a great pick if you want something unique. These are floating shelves meaning they attach directly to your walls rather than standing on the floor. This is going to be a space saver, suiting someone who doesn't want yet more furniture cluttering up their room just to store their game cases. The way the games are held is a bit different here too. The games are held in stacks vertically, with four stacks to a shelf. In all, it takes 36 titles on the entire shelf.
While this will need to be hung on a wall, assembly is pretty simple here and there are clear instructions. The shelves are white on their sides, but this is a minimal design to hold everything in place. It isn't going to stand out too much, even when it's attached to a wall that's painted a different color. These are a great pick if you want a unique choice.
These are all of our picks here for the top ways to store your games, even among something as simple game towers there's quite a bit of variation in what you can get. You can go for something basic that just holds them upright, a wall shelf, or even something with a bit more of a design. Any of these will make a great addition to your gaming setup.
This article includes affiliate links, which may provide small compensation to Best Gaming Settings.