Laptops were first invented as a way to do business on the move, but with more and more people using these portable PCs for entertainment instead, the market for gaming-friendly devices has opened up.
Now it seems people are swapping their desktop computers for the portable kind, but knowing what to look for in a quality model can be tough.
[amazon table="37622″]
A gaming laptop is just another way to describe a high-powered laptop with the right specs to run your favorite game, but with all of these features, they can get pricy. If you're shopping on a budget, you'll be pleased to know you can get the best gaming laptop under $1500, with plenty of options to choose from.
What should you look for in the best gaming laptop under 1500?
A gaming laptop in this price range should have enough storage space, adequate RAM, and a quality graphics card to enable you to game without issues. Finding one that ticks all of these boxes and is still affordable can be challenging, but it isn't impossible.
To help you out, we've found not just one gaming laptop for under $1500 but five, with one to meet every feature and spec you've been hoping for. Any of these will serve the portable gamer well and make it easier than ever to take your favorite pastime with you on the go without giving up the gaming experience.
Our Recommendations for the Best Gaming Laptop Under $1500 – Reviews for 2021
Gaming ready laptops are becoming more common these days, but as they do, the prices tend to rise as well.
If you're looking to play the best gaming laptop for under $1500 but find it hard to sort your way through the crowd, we've hand-picked some recommendations that fit these requirements to a tee.
Winner: Acer Predator Helios 300 RTX 2060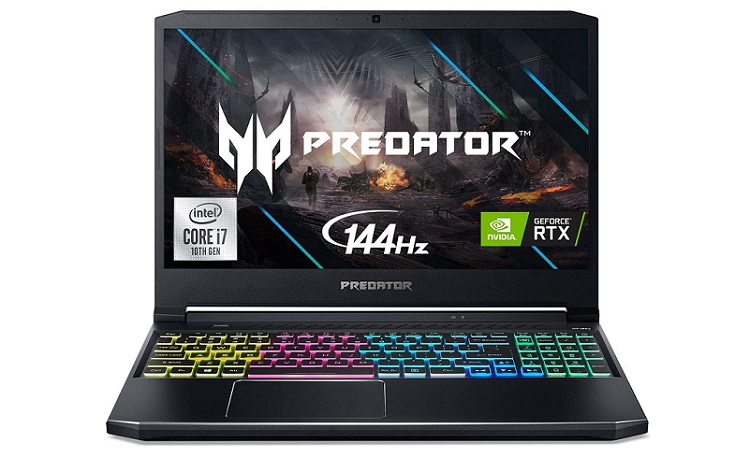 Size: 15.6 inches
Disc: 512GB SSD
RAM: 16GB DDR4
The Acer Predator Helios 300 is the top gaming laptop under $1500 and our favorite pick for whatever you like to play. Running on 10 Generation Intel 6-Core Processor and with an overclockable NVIDIA GeForce RTX 2060 Graphics Card, you get the most power possible for a gaming station this size.
The Helios 300 comes with an included protected bag, ports for your peripherals, impressive display, and backlit keyboard, checking all of the boxes of a quality gaming station.
What sets this apart from the rest is how crisp the display is, and with minimal lag and blur. This is thanks to the various features that put it in the category of a desktop made for gaming, including the GeForce graphics card and the impressive response time. You'll be easily fooled into thinking you're playing on something much more powerful than it is.
However, there were some minor setbacks, including the temperature that some gamers noticed after long periods of play. You'll have to keep an eye on the heat coming from the laptop and check in with what's happening, especially if you like to game for more than a few hours at a time. Acer seems to have had issues in the past with this, so it'd be nice to have it sorted out for future models so you could game on your laptop without any worries.
This aside, there are loads of features worth mentioning on the Acer Predator, but most importantly is the IPS panel of the laptop which runs at 155Hz and with a 3ms response time, giving you the crispest gameplay you've ever experienced on a laptop.
The screen is 15.6 inches and there are options to plug into other monitors and peripherals as needed. You can play online with wireless and ethernet components that keep you connected and never miss a beat.
The Acer Predator Helios 300 Gaming Laptop allows for all your peripherals with ports including HDMI 2.0, USB 3.2 Gen 1 and Gen 2 ports, and a MiniDP port. The keyboard features four backlit sections for RGB greatness and an immersive gaming experience. You'll further enhance the experience with its DTS X Ultra surround sound system built-in, no matter how you want to listen.
This laptop covers all of the basics and then some, offering an incredibly powerful and smooth gaming experience for this price range. You can purchase the Helios 300 online at Amazon and get a 12 month limited warranty from Acer, as well as ongoing customer service.
Runner Up: Acer Predator Helios 300 GeForce GTX 1660 Ti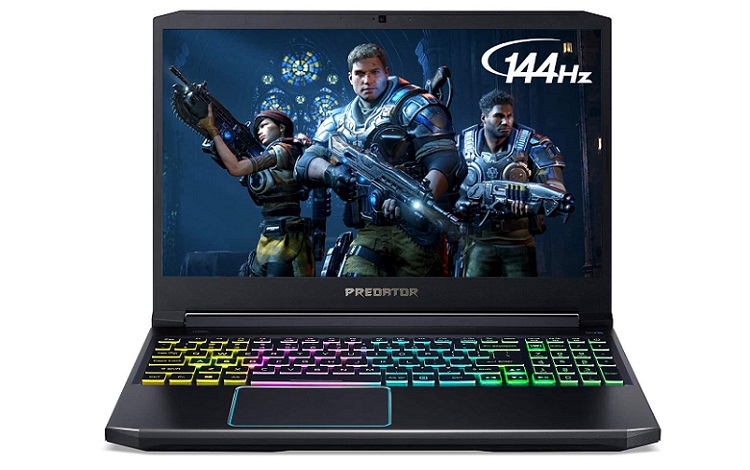 Size: 15.6 inches
Disc: 512GB SSD
RAM: 16GB DDR4
As the previous version of the Acer Predator Helios 300, and the cheaper one, this laptop deserved a place on our list. Known as the best gaming laptop under $1300, this model of the Helios 300 operates with some differences but is still impressive.
The two biggest differences are the NVIDIA GeForce GTX 1660 Ti graphics card and the 9th Gen Intel Core i7 Processor which are both earlier versions but still displayed on the 155Hz IPS panel for absolute clarity.
According to customers, their favorite thing about this laptop besides its price was how well it handles gaming. There's no point buying this unless you plan on using it at its full potential and that's with games, so if you're buying something for the office or school work, you can go a lot cheaper.
The refresh rate is impressive, it has an IPS screen, and fast response time, and all of them come together to offer a high-performance experience for a laptop.
On the downside, it has the same issues with overheating and it seems to be a lot louder than the later model, thanks to the 4th Gen AeroBlade 3D fan installed within. Playing games for more than a few hours might lead it to need a break, and if you prefer to spend the whole night playing, this won't suit you. If you're happy to spend extra, the newer model seems to handle it better, so keep this in mind.
The Acer Predator Helios 300 has a 1080p HD resolution and screen size of 15.6 inches giving you ample viewing space. The laptop runs with a 3ms response time and you'll notice an improvement in lagging and blurring, no matter what you're playing, and some of the cleanest visuals possible in a gaming laptop of this era.
This computer has lots of potential for connectivity and peripherals, including an HDMI 2.0, mini display port, USB Type-C, and USB 3.1, with a Waves MAXXAudio speaker. The keys are laid out in style with four RGB zones, and there are transparent concave keycaps available for WASD use, as well as the Turbo and Predator Sense keys you can select.
If you want to save even more but you're still looking for a high performance gaming laptop, this older version of the Acer Predator Helios 300 is a great find. Amazon has it online for a low price, they offer free shipping, and you'll get a full year limited warranty in case anything goes awry. You can game on the go and still play all of the latest titles on a budget, so consider adding the Helios 300 to your setup.
Alternative: MSI GL65 Leopard Gaming Laptop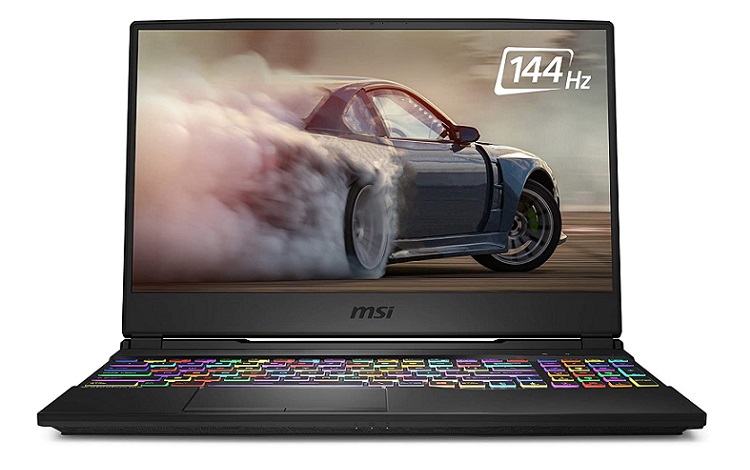 Size: 15.6 inches
Disc: 512GB SSD
RAM: 16GB DDR4
MSI are no strangers to gaming gear and it's not surprising they have a contender for best thing gaming laptop under $1,500. Their GL65 Leopard is one of our top picks and it offers you the latest 10th Generation Intel Core i7 processor and NVIDIA GeForce RTX Super Series graphics to kick things up a notch, all without spending over your budget.
The inclusion of the NVIDIA GeForce RTX Super Series is a major selling point for this laptop, and the card alone sets it apart. With this in place, you'll be able to game AI-enhanced graphics, up to 52 percent better performance, and more accurate visuals like shadowing and ray tracing. This card is perfect for laptop gaming and when included in the GL65, you'll forget you were even playing on a portable device.
However, although the graphics are good, other things aren't. Customers didn't like the keyboard and found the buttons to be clunky and weird. Others commented on the overall feel of the laptop and that it featured too much plastic. This can give a flimsy feel which you don't want to experience when you're paying over $1,000 for anything, so keep that negative in mind if you're picky.
The MSI GL65 Leopard is standard sized for gaming with a 15.6-inch screen to display its smooth graphics. Designed with a thin bevel look, it's sleek and impressive, and offers a 144Hz refresh rate which is incredibly high for a laptop. Inside is the Cooler Boost 5 fan which offers cooling on the GPU and CPU, and although this makes it noisy to game with, you'll appreciate how much it brings the temperatures down.
This laptop is packed full of features including 24-bit high resolution audio, with the option to listen through speakers or bring your own headset and its operating system is Windows 10. The keyboard features individual RGB lighting on each key and an anti-ghost key with a silver lining. The available ports include SSD, USB, and mini display ports, among others, and you'll get good battery life when you're gaming.
Although one of the more expensive options we've reviewed, this thin and powerful laptop is still under budget. The MSI GL65 Leopard comes with a 12 month limited warranty, ongoing customer support, and will be shipped for free when you purchase it online at Amazon. Although the buttons and overall construction leave a little to be desired, it makes up for it with graphics and display, so depending on what you're looking for in a laptop you're likely to be impressed.
Alternative: ASUS TUF Gaming Laptop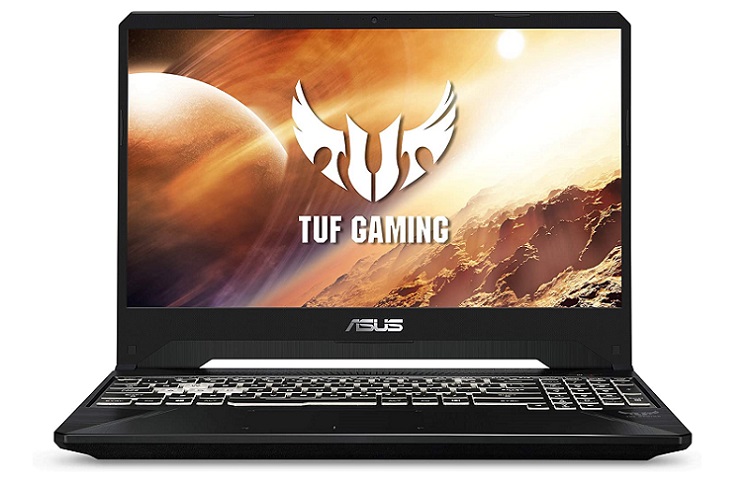 Size: 15.6 inches
Disc: 512GB SSD
RAM: 8GB DDR4
ASUS knows how to make a laptop on a budget and if you want our favorite pick for the best gaming laptop under $1100, this is it. This affordable option runs with a GeForce GTX 16-Series graphics card and the earlier version of AMD Ryzen CPU, giving you an easy way to play the latest games. This is a great choice for casual gamers who don't have a lot to spend and still offers all of the standard features like 15.6-inch screen and powerful display.
The best thing about the ASUS TUF is its ease of use, and this includes all parts from the keyboard through to the setup. Customers who purchased this for their kids or as their first gaming computer were thrilled at how user friendly it was, so if you're feeling hesitant about investing in something for gaming, you can put your mind at ease.
Although the keyboard and keys were smooth, there were some letdowns, and most obvious was the smaller 8GB of RAM available. Others didn't like the lightweight feel of the laptop, which is to be expected in this budget, but it doesn't seem to have the staying power that those models twice its price can offer.
The ASUS TUF Gaming Laptop features a full HD ISP-tyle display and their NanoEdge design. This means a thin bezel edge that allows you to immerse yourself in the game and better, wider viewing angles, no matter where you're sitting. You choose how to use it with either Gaming or Creator modes available, ensuring you get the best power to play how you want to.
This laptop might be cheap but it's not without noteworthy features, including a range of ports for peripherals like USB 2.0. HDMI, USB 3.1, RJ-45 Jack, and more. The Leopard has an anti-dust cooling system that removes dirt from the chassis and boosts the immunity of your laptop so it'll serve you for longer, even if the powerful fan does make gameplay a little noisy. As for connectivity, it's Wi-Fi-ready, and the lithium-ion batteries allow you to game on the go for longer.
If you want to spend less than $1,000 but still need a laptop dedicated to gaming, you'll get all the basics covered with the ASUS TUF. This laptop is available for a low price online at Amazon, and they'll ship to your door for no extra charge.
ASUS covers their computers with a one year limited warranty and gives you access to ongoing technical support should you need it. For ease of use and simplicity, there's no better or more affordable laptop than the ASUS TUF.
Alternative: ACER Nitro 5 Gaming Laptop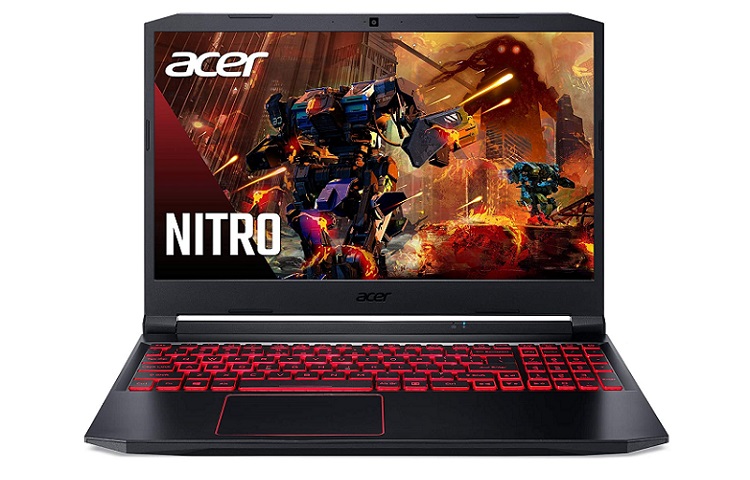 Size: 15 inches
Disc: 256GB SSD
RAM: 8GB DDR4
If you're looking to game on a budget, you've found your perfect match with the ACER Nitro 5 Gaming Laptop. With a 15 inch screen, it's a little smaller than most, but it makes up for that with a 10 Generation Intel Core 05 Processor and NVIDIA GTX 1650 Ti Graphics card included, both offering up smooth graphics and a powerful performance no matter what type of games you play.
Disappointingly, it only comes with 8GB of memory, which is around half of what we expect from gaming laptops and could affect what you plan on using it for. This might not be an issue for casual gamers but if you play more than that, you'll need to invest in extra storage which also eats up one of your ports.
Also, some people found the battery life to be pretty short, and over time, it only seemed to get worse. This is better for gaming while you're plugged in and not something to take on the go as you'll only stay alive for six to eight hours at a time.
This aside, the ACER Nitro 5 is still impressive for something this cheap, and there are options for upgrades in the RAM and memory. The keyboard is backlit with one major zone, and the widescreen display is backlit with LED, both of which add to the immersive experience. The Nitro 5 features an IPS display with a 144Hz refresh rate, which is even more impressive when you consider the price.
Other features worth discussing include the options for connectivity like Intel Wireless, Killer Ethernet, and 1000 Gigabit Ethernet LAN. Ports included on the ACER Nitro 5 are the 2 x USB 3.2 ports and HDM 2.0, as well as an HD webcam and lithium polymer battery that gives around eight hours of gameplay when you first set it up. The built-in sound system is DTS:X Ultra which gives clear audio and offers the chance for 3D soundscapes, which is further enhanced by your choice of headphones.
If you want the cheapest gaming laptop out there and are only a casual gamer, you'll be thrilled with what the ACER Nitro 5 brings to the table. This is a compact but powerful device and available for the lowest price through Amazon, as well as free shipping direct to your door.
ACER gives their customers ongoing support and tech help, and 12 months of protection with a limited warranty, as well as being one of the most trusted names in the business. There's no need to spend big just to game on the go, and the Nitro 5 is proof of that.
FAQs of Gaming Laptops Under $1500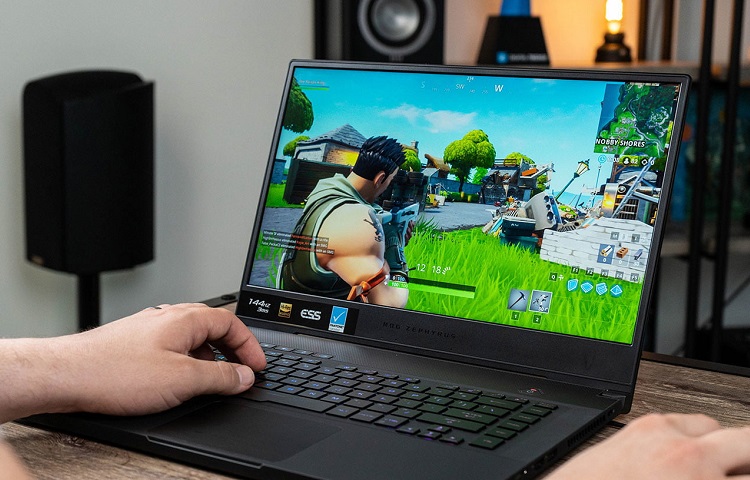 A gaming laptop is just a fancy way of describing a high-performance laptop that can be used for everything from watching movies to playing the latest release, but finding good gaming laptops under $1200 or slightly higher is no easy feat.
If you've been thinking about investing in one of these portable devices but want to know more, we've got the answers to a few FAQs about them that can help you out.
Are Gaming Laptops Good For Everyday Use?
Gaming laptops are high-performance devices made to handle the additional requirements of gaming like graphics and processing. This makes them more than capable of being used for applications like word processors and internet browsers like most people do during everyday use.
What Are the Disadvantages Of Gaming Laptop?
There are some downsides to buying a laptop made for gaming including the higher price compared to other laptops and bulkier size. Unlike a desktop PC, you can't make adjustments to a gaming laptop which is a major disadvantage for those who like to upgrade their gaming system.
Do Gaming Laptops Last Long?
With the right care and maintenance, a gaming laptop will last just as long as a regular laptop of similar quality. However, new game releases might have additional requirements in graphics and space that the laptop can no longer meet, so you may want to upgrade to something more powerful sooner than you hoped to.
Are Gaming Laptops Better Than Normal Laptops?
A gaming laptop is designed to handle the gaming environment and it usually has more powerful specs to back it up. Depending on what you're using a laptop for though, there may be another type of laptop that's better, as some people might only need the device for word processing or general everyday use.
The Key to Portable and Cost-Effective Gaming
A gaming laptop doesn't have to be the most expensive option just to be good, and these portable devices seem to be getting more affordable for everyone to enjoy.
A high-performance laptop with the right specs will be your key to playing wherever and whenever you want to, which is every gamer's dream come true.
With our help and careful selection of laptops, you'll have everything you need to game on the go. Whether you want a cheaper gaming laptop under $1,200 or are happy to pay a few hundred more for something high performance, you'll find these devices have advanced far beyond what they used to be and are ready to deliver.