There was once a time when people gamed with the peripherals their computer came with.
In those simpler times, you use the standard mouse that came with the package and it seemed to work well for the games of that era.
[amazon table="38128″]
In today's day and age, these types of mice will not do, and the savvy player understands the importance of using gaming mouses to match the speed and performance of modern gamers. If you've considered purchasing a new mouse though, you'll know they can cost hundreds of dollars, and when you've already spent a fortune on the rest of your setup, it can seem like a stretch.
Can you get a good gaming mouse under $50?
Quality gaming mice in this price range do exist, but usually without some of the conveniences or flashy features that their expensive counterparts offer. As long as your mouse has an efficient DPI, is comfortable, and responsive, it will serve you well for gaming, and likely be affordable.
Thankfully, there are a few options out there that could earn the title of the top gaming mouse under $50, but you have to know the features that matter when you're shopping on a budget. We're here to point you in the right direction to the more affordable yet efficient gaming mouses, and all that they have to offer.
Our Recommendations for the Best Gaming Mouse For Under $50 – Reviews for 2021
The mouse is a crucial part of your gaming station and having a reliable and responsive one can mean the difference between losing and winning.
With that, and a money-conscious attitude, in mind, we've compiled a list of our picks for the best gaming mouse under 50 dollars for your consideration.
Winner: Razer DeathAdder V2 Mini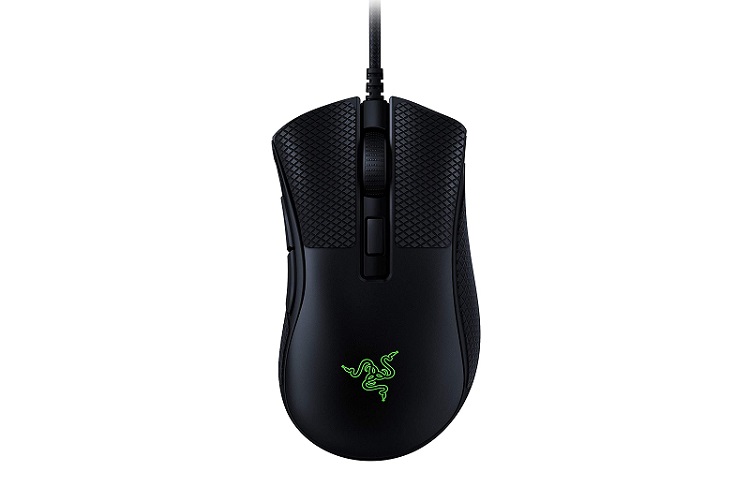 Speed: 650 IPS
DPI: 8500
Programmable buttons: 6
Expert gaming requires precision and your mouse is the most critical tool you use. With this in mind, our pick for the best of the best is the Razer DeathAdder V2 Mini. This is a gaming house for small hands and medium ones too, and it comes with a DPI of 8,500, high precision optical sensor, drag-free cord, and programmable buttons to add more efficiency to your gaming. As part of the prized Razer brand, you already know it's built to last, and this is especially great for those who want precision and speed during gameplay.
According to customers, the best feature of this mouse was how smoothly it traveled, thanks in part to the drag-free cord attached to it and the lightweight feel of it. As their lightest gaming mouse, this is no surprise. If you're someone who's tried to use larger accessories and found they only made your performance lag, having a light and custom-fitted mouse like this will make a huge difference.
The major letdown for people was the fact that they had to create an account with Razer just to use this mouse. Although it's standard to download a driver or software to run the device, asking for additional information that's not required seemed like overkill. If you like to keep as much of your personal data to yourself as possible, this registration might turn you off completely from this mouse.
The Razer DeathAdder V2 Mini comes with six programmable DPI buttons and you can switch between sensitivity to suit whatever you're playing. There's also customizable RGB lighting that offers 16.8 million colors to choose from, and it also syncs up with other Razer Chroma and Philips Hue products you're using. When they all come together, it creates a more immersive gaming experience in all of your peripherals.
The high-precision optical sensor of the DeathAdder moves with light beam-based actuation which gives it higher speeds, and it's all within a smaller package measuring 2.57 x 4.5 x 1.52 inches which makes it perfect for small to medium hands. According to Razer, it operates three times faster than a traditional mechanical switch so you'll see a huge improvement in your gaming skill.
If you're looking for a more compact but highly efficient gaming mouse, there's no better than the Razer DeathAdder V2 Mini. Although small, it has a lot to offer and is a good gaming mouse for under $50 that operates like a more expensive option. Razer covers this with a two year limited warratny, which is nothing to sneeze at, and when you buy it on Amazon you'll get it shipped for free to your door for an added bonus.
Runner Up: Logitech G305 Lightspeed Mouse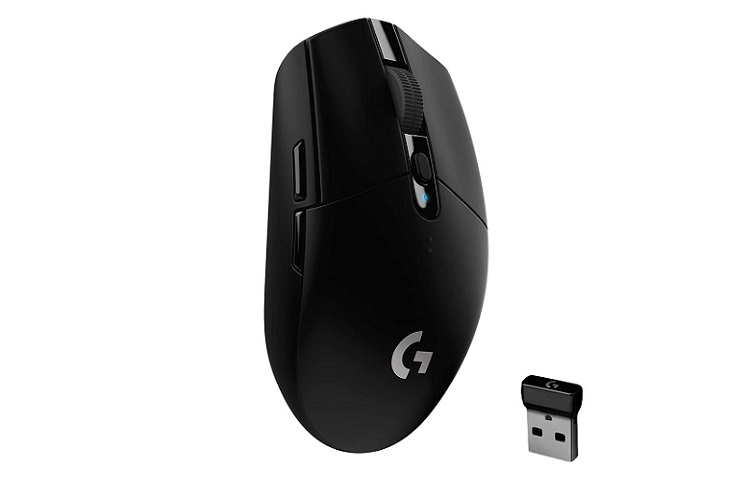 Speed: 400+ IPS
DPI: 12,000
Programmable buttons: 6
Seeing a Logitech gaming mouse on our list of favorites should come as no shock, and when it comes to the best, the G305 Lightspeed is their most affordable entry. This mouse features a next-generation 12,000 DPI HERO optical sensor putting it miles ahead of the competition, and operates with a 1ms response time, all the while functioning in a wireless package.
The coolest thing about this mouse and what impressed gamers most was its speed, and that was undeniable no matter what game they played. Their Lightspeed technology means it worked faster than a wired mouse but with the benefits of wireless playing, so if you regularly play titles and genres where this type of speed matter, it's worth looking into this as your top pick.
However, it did have its flaws, with some users not appreciating the heaviness of the clicks on the two front buttons especially. Some of the buttons seemed a little clunkier than other lightweight mice, which could impact your game, but it depends on your preference and the strength of your clicks. If you like to keep things light and easy so you have greater maneuverability though, you'll probably want to keep shopping around.
The max DPI of this mouse is 12,000 but you can adjust between 200 and 12,000 to suit your needs. Operating with wireless connectivity, you simply need one AA battery to keep it powered up, and this will give you a stellar 250 hours of use without having to change it or charge it at all. To keep the mouse light, using a lithium-ion battery is the best approach.
The G305 Lightspeed by Logitech measures 2.45 x 1.5 x 4.6 inches and weighs 3.36oz, so it's pretty decent in size to gamers with average to small size hands. With a mechanical design but unique G shape, it's comfortable to game with for hours on end and has built in storage where the USB receive plugs in, saving it further space. There are six programmable buttons on the mouse as well, including DPI and two side buttons.
If you're looking for a good gaming mouse under $30 this isn't it, as it's one of the more expensive choices in our $50 budget range. However, you'll get impressive speeds and accuracy as well as the trusted Logitech name, and a full two-year warranty for peace of mind when you go with the G305 Lightspeed. The best price online is through Amazon and they have a current promotion plus free shipping, so it's a great time to treat yourself to the speedy G305 if it sounds like your ideal mouse.
Alternative: Logitech G502 Mouse
Speed: 400+ IPS
DPI: 25,600
Programmable buttons: 11
Logitech has another great entry in our list for the best gaming mouse under $50 and this one is all about customization to make the mouse your own. The G502 High Performance Gaming Mouse comes with 11 programmable buttons, separate profiles, and sensitivity ratings between 100 and 25,600 DPI to suit a wider range of applications, even giving you the option to change how much it weighs.
This mouse steps it up a notch for those who like shortcuts on their accessories. People were thrilled to find a massive 11 different programmable buttons on this model, which is five above the standard in this price range. With these custom commands and the saveable profiles, you can truly make this mouse your own and get miles ahead of the competition.
The biggest issue with this mouse comes with the scroll wheel and it's enough of an issue to detract from all of the other cool features. Some users found that after a while, the wheel will continue to scroll after you're done touching it, with even the slightest movement having an impact on your game. If this happens to you and you're within the warranty period, we recommend switching for a new one a sit can be a major letdown.
Adding further to the personalization that this mouse offers, you can also adjust its weight to suit your needs. There are five removable weights inside, each weighing 3.6 grams, that can be shifted or taken out completely to customize it to your preference and get the right balance. You'll also have access to programmable RGB lighting that utilizes the Lightsync technology with over 16.8 million colors to choose from and compatibility with the rest of your gaming station.
The Logitech G502 High Performance Gaming Mouse is an advanced option with a recent software update, 400+ IPS, onboard memory, and 1:1 tracking, making it more futuristic than others in this price range. This gaming mouse with side buttons also features mechanical spring tensioning and hinges so you get a more defined click and ongoing feedback which can help your gaming performance overall.
If you like to personalize your peripherals to suit whatever you're playing, you'll love all of the customizable options here. Surprisingly though, this mouse is only covered for a one-year hardware warranty which isn't as much as some of their other models and slightly disappointing given the issues with the wheel. However, it's under the $50 price range and available online at Amazon with free postage to your door, so there's a whole lot to be excited about when you choose the Logitech G502 High Performance Gaming Mouse.
Alternative: SteelSeries Sensei 310 Gaming Mouse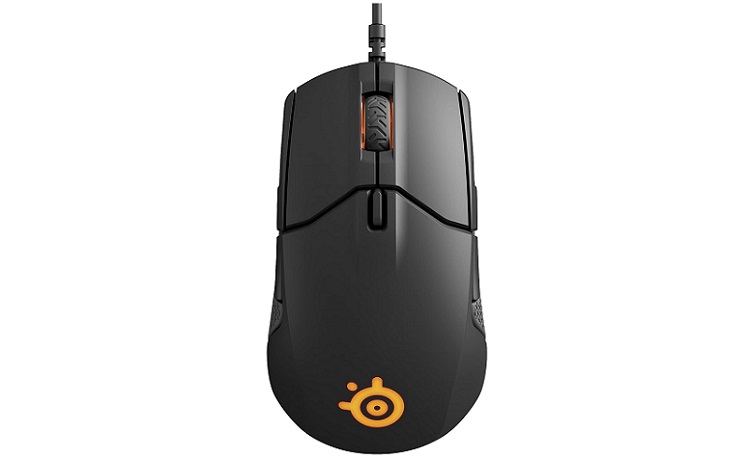 Speed: 350 IPS
DPI: 12,000 CPI
Programmable buttons: 2
SteelSeries is known for its quality gaming peripherals and their mouses in particular. The Sensei 310 is our favorite of theirs and it offers loads of features like 1:1 tracking, between 3,500 to 12,000 DPI capabilities, and advanced jitter reduction. As an ambidextrous mouse, more people will feel comfortable using it, and with the size, it's a great gaming mouse for big hands and small.
According to their happy customers, people loved how smoothly the SteelSeries Sensei 310 moved. This is due to all of the features they've added to make it easy to move, including the jitter reduction and low latency sensor built into it. If your old mouse was a pain to push around, upgrading to something as suave as this will be a treat to behold, and you'll notice a definite improvement in your gaming performance.
On the downside though, it's not all smooth sailing with the Sensei 310, particularly when it comes to the feel of the mouse. The silicone sides didn't allow for the best grip so it took some time to get used to. As one of the heavier options we've reviewed, it's better for people who like some bulk, as other users found it more of a hindrance to their gaming, even with all the smooth features added in.
The SteelSeries Sensei 310 uses TrueMove3 which offers up to 12,000 DPI and works especially well with esports and likeminded games thanks to the tracking sensor. The mouse has a split trigger left and right button, made with the durability this brand is known for and covered with a 50 million click guarantee. You can program the six different buttons as needed, and the mouse comes with onboard memory to save what you've done.
This SteelSeries accessory is compatible with Windows, Mac, and Linux, provided you have a spare USB port for it, and it's a wired device that can be used by left and right-handers in either the palm or claw grip style. You'll also be impressed with the Prism RGB lighting that makes use of up to 16.8 million colors over two separate zones, which is fully customizable to your preferences.
The Sensei 310 by SteelSeries is all about smoothness, provided you can get a handle on how to push it around with ease. Priced in an affordable range and available online at Amazon with free shipping, it's one of the cheaper but more efficient options. SteelSeries offers a one-year limited warranty on the hardware but it comes with the solid reputation and build that this brand is known for, and would make any gamer proud.
Alternative: Corsair Harpoon Wireless Mouse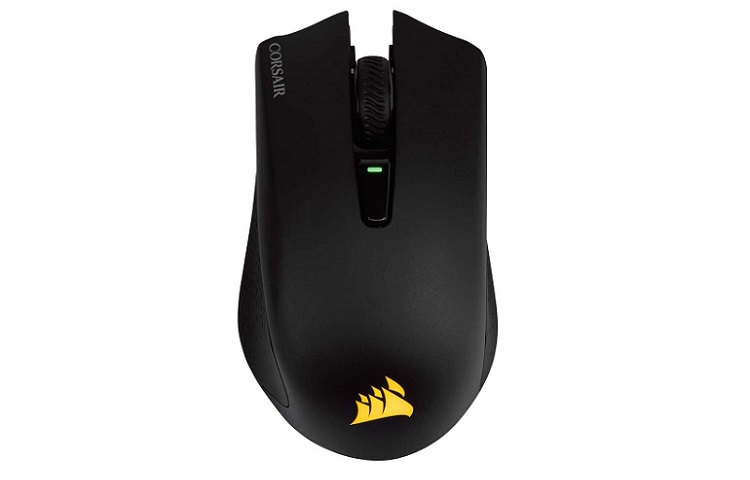 Speed: 1ms
DPI: 10,000
Programmable buttons: 6
A good wireless gaming mouse can be hard to find in this price range but the Corsair Harpoon has managed to tick most of the boxes. This high-performance gaming mouse offers a maximum DPI of 10,000, an impressive 1ms response time, and a special contoured shape. All of these features come together to make it the most comfortable gaming experience you've ever had, and without having to spend a fortune.
The best thing about this mouse is how it feels in your hand, which ultimately affects how well you play. Corsair hasn't tried to do anything new here or reinvent the wheel, and it has an ergonomic contoured shape coupled with rubber side grips, all of which come together to make it the most comfortable gaming mouse yet. With this type of support, you can play for hours on end without fatigue and get a good advantage over other players.
However, like other wireless mouses, this one also faces the issue of not being as speedy or responsive as its wired counterparts. Gamers found the Corsair to be a little slow at times even, which is never welcomed when you're in the middle of a serious game. If you've tried wireless before and are hoping to see an improvement here, you'll probably have to spend up to get a more expensive model that's done better with the technology, because this one is lacking sometimes.
The Corsair Harpoon Wireless Mouse comes with six programmable buttons and up to 60 hours of playing time with one set of batteries. If you want, you can attach the mouse via USB for a wired experience which lets you make better use of their Slipstream technology for faster gaming, or even use Bluetooth to stay connected.
Corsair is known for making durable peripherals and this one is no exception. The Harpoon comes with durable Omron switches and is rated for over 50 million clicks, which is great considering the price. The optical sensor will stay in top condition and give you high accuracy tracking, and this is true whether you're using it on the computer on an Xbox, as it's compatible with both.
The Corsair Harpoon Wireless Mouse comes with a lot of bells and whistles, and although it's a little slow, there's always the option to connect and speed things up. You can grab this mouse at Amazon and get free shipping to your location, as well as coverage from Corsair with their impressive two year warranty. If comfort is your goal while you game, you'll love the unique feel that this accessory has to offer.
Gaming Mouse FAQs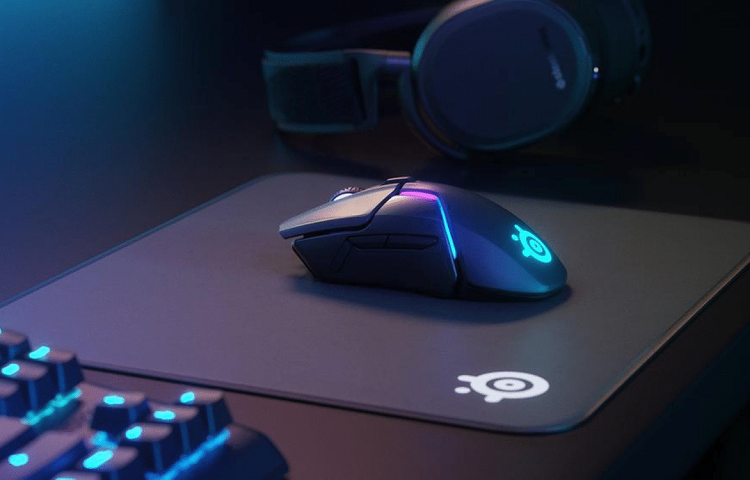 One look at the market for gaming mouse accessories and you'll see why it's so hard to navigate and find something affordable and reliable. If you're still in the learning stages and want to know more about how these types of accessories differ from a regular computer mouse, read on for some commonly asked questions.
Is 8000 DPI Good For Gaming?
The DPI of a mouse determines dots per linear inch and it's the measure of a mouse's sensitivity. A mouse with 8000 DPI may be too sensitive for gaming and not give the gamer adequate control, but this can also depend on their experience and what they're playing at the time.
Why Do Pro Gamers Use Low DPI?
Some professional gamers prefer to use a low DPI mouse when they're playing games that are sensitive, including first-person shooters. If you're using a mouse on a low DPI setting, you can adjust the settings between shooters more easily, which means less time spent trying to get it right when using a high DPI mouse.
Are Lighter Mouses Better For Gaming?
The weight of a mouse and its effectiveness while gaming will depend on the skill of the gamer, the rest of their gaming station, and what type of game they're playing. A lighter mouse may be easier to move quickly but it can also result in less accuracy, so it depends on the preference of the user.
What Mouse Does Ninja Use?
Professional gamer Ninja currently uses a FinalMouse Air58 brand mouse which was made exclusively for him and features hand painting and engraving in its design. The standard edition of this mouse is no longer available, but it was a popular choice due to its lightweight feel.
Responsive Gaming on a Budget
There's no need to spend a huge chunk of your gaming station budget just on a mouse, especially considering it's the smallest part of all.
However, finding an economical alternative that still lets you game with speed and accuracy can seem hard to do, especially with so many lackluster options out there.
With these picks, you'll be able to game with the best of them without losing any of the key features and stay well within your budget. Although they might not all have the latest and greatest specs or flashy designs, they're efficient, responsive, and affordable, ticking all of the boxes for what a budget friendly gaming mouse should be.