A Logitech gaming mouse is one of the best accessories for gaming on PC. It's also a great investment that comes with immense variation in features, ergonomics, and overall quality. For instance, the best mouse for League of Legends players will be different from what Call of Duty players will prefer. However, with the vast amount of options available from Logitech, there's a mouse that's made just for you.
Whether you're looking for a wireless or wired mouse, light or heavy – or even one with programmable buttons – we have a fine selection of the best Logitech gaming mice for you to choose from. Luckily, the best gaming mice don't usually require you to spend hundreds of dollars. Many of them can go from $50-80 and Logitech is known to offer some remarkable gaming mice. So without wasting any more time, find yourself the best Logitech gaming mouse for your specific needs!
Logitech G502 Lightspeed Wireless Gaming Mouse
This is one of the best gaming mice from Logitech – a complete redesign from inside out. It comes with light-speed wireless and power play compatibility for faster and more accurate gaming. The mouse is built with a superfast 1 ms wireless connectivity and a next gen hero sensor. This allows it to deliver up to 25K DPI class-leading performance and energy efficiency of nearly 60 hours of uninterrupted gaming.
It comes with 11 programmable buttons that help with video game optimization, even allowing you to play with custom keyboards and macros. Its primary buttons feature metal spring tensioning for fast and crisp actuation. Having up to six adjustable weights, you can easily find the right mouse feel. There's also a light sync RGB feature that gives provides 16.8 million colors for an immersive gaming environment.
Why we recommend:
Power play compatibility
Next-gen hero sensor
Custom keyboard support
Logitech G600 MMO Gaming Mouse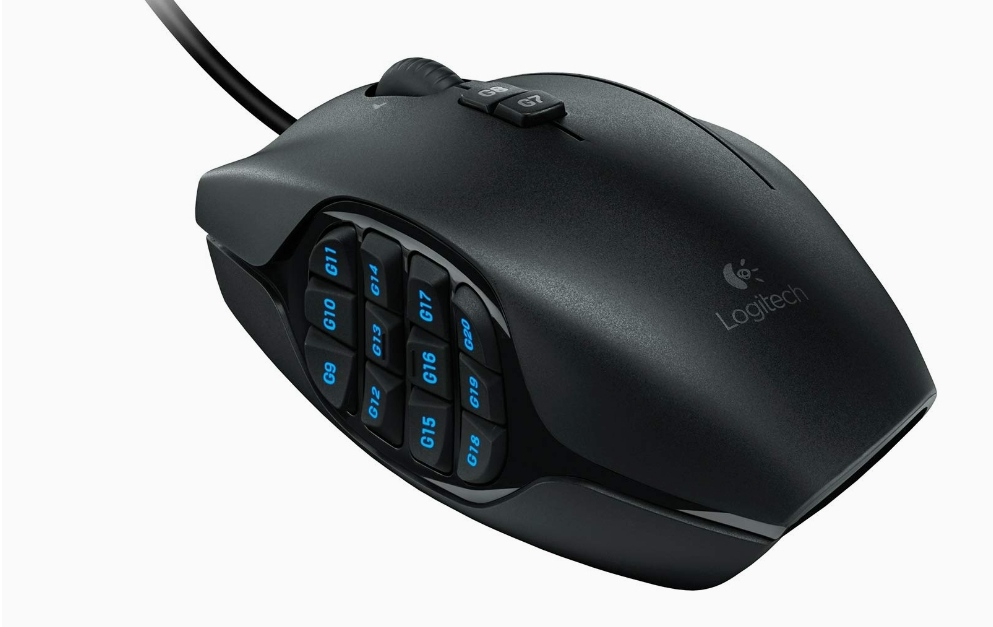 The Logitech G600 is a gaming mouse that has up to 20 MMO tuned buttons. This includes a unique 12 button thumb panel that's designed for quick navigation. It comes with a low friction polytetrafluoroethylene feet that eliminate friction on almost any surface. This provides a smoother motions, improved accuracy and precise cursor movements.
Players will enjoy the G shift ring finger button as well. It lets you instantly double the number of actions you can perform with every button. This gaming mouse is built for comfort as it has a sculpted shape and tuned buttons that reduces click fatigue. You can set it up however you want with its customizable thumb panel lighting colors, button assignments or DPI levels.
Why we recommend:
20 MMO tuned buttons
Quick navigation
Customizable
Logitech MX Vertical Wireless Mouse
The Logitech MX vertical is an impressive wireless gaming mouse with an advanced ergonomic design. It places your hand in a natural handshake position with its unique 57-degree angle. This helps to prevent forearm twisting and reduces muscular stran by 10 percent. It also has a hyper-efficient tracking and 4,000 DPI high-precision sensor. This provides precise tracking that requires four times less hand movements compared to the traditional mouse.
There's also a cross-computer control as well. This provides game-changing capacity allows seamless navigation on up to three computers. You can copy-pase text and images as well as files from one to the other. With its impressive rechargeable battery, it has a quick charging feature and can last up to four months on full charge. You can get up to three hours of use from a one minutes quick charge, which is crazy!
Why we recommend:
Ergonomic design
Reduces muscular strain
Long lasting battery
Logitech G203 Wired Gaming Mouse
The G203 provides up to 8,000 DPI gaming-grade sensors and responds precisely to movements. You can customize your sensitivity settings to suit the sensitivity you like using the Logitech G HUB software. It also allows you to cycle easily through up to 5 DPI settings. You can enjoy gaming with the mouse with its light sync RGB feature.
This features a color wave effect and is customizable across 16.8 million colors. That means this mouse isn't only customizable when it comes to configuration but aesthetics too! It's easily considered a best Logitech gaming mouse to get for gamers that find looks important in their gear. You can choose preset colors and animations or make your own with the Logitech G HUB software.
It's made to provide players with a comfortable usage experience and give you total control. The classic and simple six-button layout gives it a classic gaming shape and lovable design. You can customize each button using the Logitech G HUB software.
Why we recommend:
Gaming-grade sensor
Lightsync RGB feature
Highly customizable
Logitech G604 LIGHTSPEED Wireless Gaming Mouse with 15 programmable controls
This is yet another best Logitech gaming mouse that offers up to 15 programmable controls. It comes with 6 thumb buttons that are fully programmable with the G Hub software. It has dual connectivity that allows you toggle between Bluetooth and ultra fast 1mns advanced wireless technology. There's also a Hero 25k sensor through a software update from the Logitech G Hub software.
It remains one of Logitech's most advanced gaming mouse with 1:1 tracking, 100-25,600 max DPI sensitivity with zero smoothing, acceleration or filtering and has 400-plus ips. There's a dual mode hyperfast scroll wheel feature that lets you switch between hyper-fast and ratcheted scrolling. The programmable scrolling lets you apply key binds as well.
Why we recommend:
15 Programmable controls
Dual connectivity
Hyperfast scroll
The debate of whether a controller is better for a gaming PC than keyboard and mouse is one that'll go one for ages. However, the majority of users always pick the latter as their preferred choice to game with. Playing games with a keyboard and using any of the best Logitech gaming mouse on our list offers an experience you won't get by using a controller.
This article includes affiliate links, which may provide small compensation to Best Gaming Settings.