Gaming is a hobby rarely done alone anymore, and if you want to communicate with opponents or stream to an audience, you'll need to make sure your voice is heard.
The best way to do this is with a microphone, but most built-in mics on laptops and computers leave a lot to be desired, and a headset might not offer the clarity you're after.
[amazon table="38868″]
Choosing a good mic for gaming is important if you're ready to take your game to the next level, no matter how you like to play. But with so many options out there and an overwhelming array of specs and features, it can be stressful trying to find your perfect fit.
What should a good microphone for gaming offer?
To choose a microphone for gaming, you'll have to choose between a USB and XLR, the polar pattern, easy controls, and whether you want a studio or USB gaming mic. There are lots of features to consider and some specs that may be over your head, so the search for the perfect mic is challenging.
To make matters easier and un-muddy some of the waters, we've assembled a list of the best gaming mics out there, with something for every budget and requirement. You'll be confidently equipped with a top-notch mic to help you stream, speak, and broadcast while you play, bringing your gaming performance into the modern era.
Our Favorites for Best Mic for Gaming – Reviews for 2021
Equipping yourself with a quality microphone is crucial in this modern time of gaming, whether you stream to an audience or play against others.
These are our selection of the best mics for gaming, each with something cool to offer, and a bold new way to get your voice heard when you play online.
Winner: HyperX Quad Cast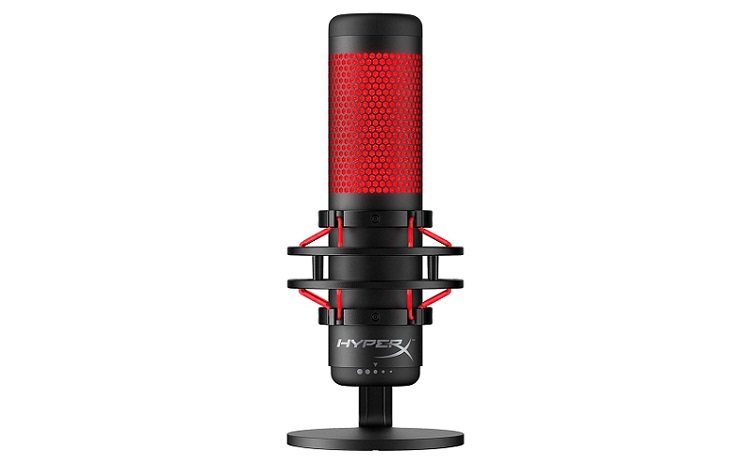 Connections: USB, Aux
Hardware Platform: PC, Mac, PS4,
Power Source: USB
HyperX is a brand known for making gamers proud and if you want a reasonably priced but professional quality condenser mic, they're the way to go. The HyperX Quad Cast is the best desktop microphone for gaming because of its features, including USB connection, anti-vibrator shock, mount, and the option of four sound profiles. The Quad Cast measures 5.05 x 4 x 9.8 inches so it's the perfect size for your desktop and can help you achieve professional audio at home.
Although there are loads of great features, the mute function is a standout with this mic and what it offers is especially helpful for streamers. The red LED lighting is connected to the mute feature so as soon as you're muted, it'll be obvious, but it'll also let your audience known. Having something as simple as this can be a game-changer and save some potentially embarrassing or unprofessional situations in the future.
On the negative side of things, people found some smaller design issues to be their main gripes. First, being unable to change the light color was annoying so you're stuck with red, whether you like it or not. The only way to change this is to upgrade to the more expensive model where RGB lighting is offered. Secondly, the mute button could have been more obvious and perhaps not matte-covered, so it stood out more.
These problems aside, the Quad Cast is still our favorite and is packed full of features. The built-in pop filter is included to reduce muffles and provide your audience with absolute clarity. With the four polar patterns to choose from you can go with either cardioid, bidirectional, omnidirectional, or stereo sound. This means whatever type of streaming or gaming you're doing, you'll have the perfect profile to use.
The HyperX Quad Cast is compatible with most types of hardware including PCs, Macs, and PS4s, and can be used for multiple applications at once. The mic comes with a mount adapter that fits 3/8" and 5/8" threads so you can attach it to your existing microphone stand or setup with ease. You'll be able to achieve professional sound with a gain control knob that can be used on the fly, giving you consistently good audio.
If you want a mid-range condenser mic that suits all types of gaming, the HyperX Quad Cast can be purchased from Amazon for a great price and with a one year manufacturer's warranty in place. This is the best microphone for gaming commentary, streaming, making videos, and in-game play, so you can put your trust in one of the most respected names in gaming gear and sound with this model from HyperX.
Runner Up: Elgato Wave:3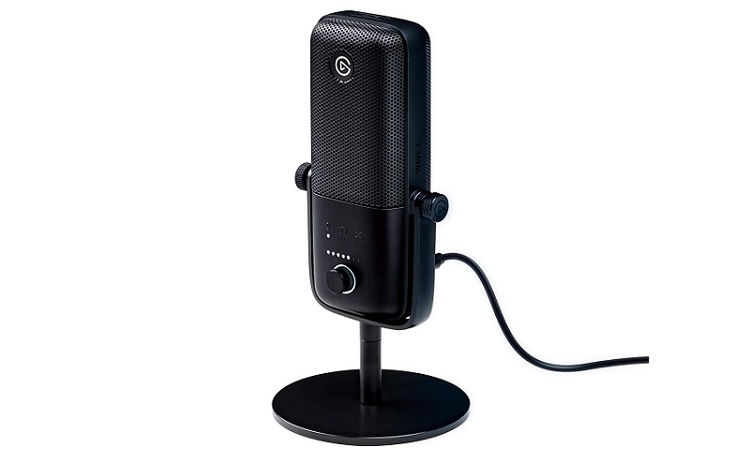 Connections: USB, Aux
Hardware Platform: PC, Mac
Power Source: USB-3
If you want a mic that's streaming-ready and won't steal your CPU storage, the Elgato Wave:3 is a popular choice. This microphone uses multidirectional sound and anti-distortion technology so adjust and edit your audio as you go, and it pairs with the WaveLink software to deliver a professional finish. As a desktop mic, the Wave:3 measures up nicely at 1.57 x 2.6 x 6.02 inches so it won't take up valuable room and isn't clunky.
The best thing about this microphone are the digital mixing options that come with it and how easy Elgato makes it to use, even if you have no idea what you're doing. If you're someone who prefers to have total control of their audio and want more than just a standard mic, you'll love this too. You can tweak the input gain or adjust the PC and mic mix, so you can create a truly professional sound without having to spend thousands on another model.
On the downside, people buy this mic mainly for the software, so it might not offer what other mics do in this price range when you look at them alone. Some users had issues with a static sound that took some adjusting and you might have to work harder with the settings to get it just right, so be prepared for some time spent in the initial setup phase,
The Elgato Wave:3 is a condenser capsule style of microphone and it features a cardioid polar pattern that's made specifically for high quality speech. You can use this mic for both PC and Mac, and you'll be able to pair it with the WaveLink app, as well as control up to seven out audio inputs and two mixes with this one piece of software.
This microphone works with the famous Clipguard technology so your voice won't be distorted, as well as up to 24-bit analog to digital conversion which means even the smallest, minute details will be heard. The Elgato Wave:3 is the best microphone for YouTube gaming commentary and other aspects where crystal clear audio is required, but without spending a fortune.
To equip your gaming setup with a mic that puts the editing power in your hands, head to Amazon to get the Elgato Wave:3 for a low price online. This mic comes with a two year warranty and is like having your audio and mixer packaged in one. If you take your sound seriously and prefer a mic with a thorough mixing software as part of the deal, you'll love everything about the Elgato Wave:3.
Alternative: Blue Yeti X
Connections: USB
Hardware Platform: Mac, PC
Power Source: USB
The Blue Yeti X is a professional-level condenser microphone made for PC and Mac that comes with its own software to achieve audio perfection for all aspects of gaming. This is a great option for gamers who like to stream because it has adjustable LED lighting for aesthetics, four capsule array and various sound profiles for greater clarity, and a multi-function knob that makes it easy to adjust your sound as you go.
By far the coolest feature of this microphone is the high-resolution LED metering. This tool allows you to keep a check on your vocals as you talk, and it'll ensure whatever your saying is coming across at the best volume and tone so you can adjust accordingly. This is like having your very own producer in the room with you, but without having to pay someone.
However, if you're using a Mac, you'll want to shop around for another mic as this one simply won't work. According to users, it appears the microphone hasn't been set up for use with Mac so will encounter more problems than people using it on a PC. Some customers weren't even able to reach customer support for a solution, which is disappointing when you're buying hardware in this price range.
The Blue Yeti X Microphone features a smart knob that lets you mute, adjust headphone volume and mic gain, and blend the sound of your voice with the game's audio. You can further adjust the final sound with the use of Blue Voice and its wide range of effects which can be utilized through Logitech G HUB and Blue Sherpa, depending on how you play.
This microphone features four capsule array and allows you to achieve quality sound in stereo, omnidirectional, figure eight, and cardioid profiles, making it perfect for everything from podcasts to Twitch. The mic itself weighs 2.8lbs so it's pretty hefty without being too big, and it'll fit neatly on your desktop so you can stream and game without interruption.
If you like to edit your sound on the fly when you're gaming or streaming and want a good software application to back up your mic, the Blue Yeti X is a popular choice. With a two-year warranty and better-recommended compatability for those on PCs but not Macs, this is the best microphone for gaming videos and everything else. As long as you're happy to spend some time getting your sound just right, you'll be thrilled with the final product using the Blue Yeti X.
Alternative: Samson G-Track Pro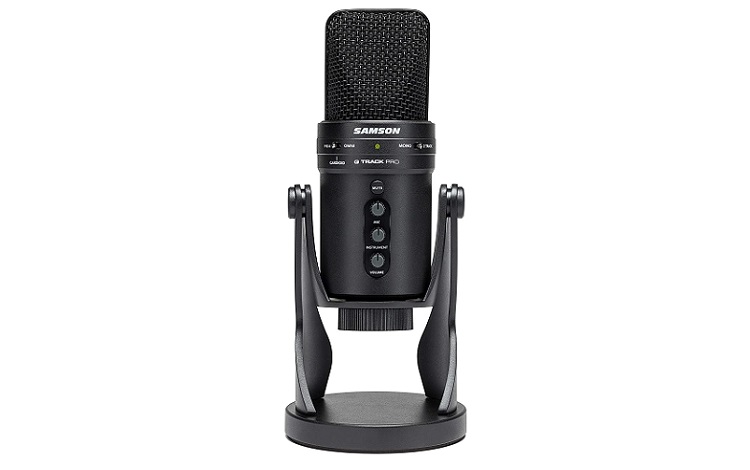 Connections: USB
Hardware Platform: PC
Power Source: USB
If you want two channels on your microphone for more than just your voice, something equipped to handle it like the Samson G Track Pro is ideal. This microphone was built for studio use and you can choose either mono or 2-track to record. With dual 1″ condenser capsules within, you'll be able to choose from three different sound patterns including bidirectional, omnidirectional, and cardioid.
Customers loved using this microphone overhead and it tends to work better up above because of its durability and bulky size. Made with die-cast zinc, it looks and feels like the real deal, and it's the best boom mic for gaming that will free up space below. If this is how you like to record while you game, you'll appreciate the clarity it can achieve from up high.
There were a couple of letdowns with this microphone, but to expected as a cheaper alternative. You won't be able to connect to a Mac as it's not compatible and there's also no option for a shock mount so it has to stay put on the desktop mount. People hoping to place theirs on the desk and not have it overhead will notice an obvious difference in the distortion this makes, so you'll need to shop around yourself for something compatible that prevents it.
Aside from this, there's still loads to love with the Samson G-Track Pro. This microphone features USB connectivity, 1/4″ instrument input, a front panel mixer, and controls for volume and your instrument if you choose to use one. This is designed to be more than just a gaming mic, and the features lean more towards studio recording, so keep that in mind.
The Samson G-Track Pro features high-definition audio with a 24-bit/96kHz resolution and allows you to monitor the sound through a 1/8" headphone output if you wish to record videos or sound. All of this is achieved without having to download or install a thing and you can plug and play for instant enjoyment with the G-Track Pro, meaning minimal space requirements as well.
To do more than just streaming or online play with a gaming mic, you might prefer something like the Samson G-Track Pro. This studio-quality mic provides two channels of clarity and expert sound, even if it's somewhat limited in compatibility. Samson covers their mics with a two year's manufacturer warranty and is available online for the best price at Amazon. This is one of the cheaper options for gaming mics but still has lots to offer, so consider it if you're looking for professional audio.
Alternative: Razer Seiren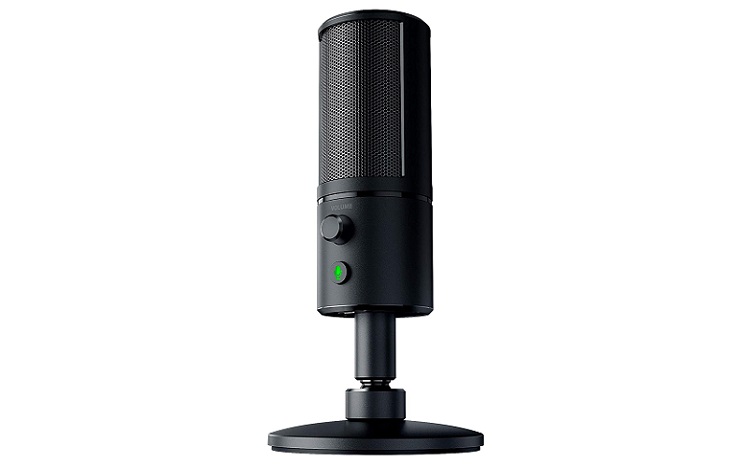 Connections: USB
Hardware Platform: Universal
Power Source: USB, AC
There's no need to spend a fortune for a good gaming mic if you don't need anything too technical, and the Razer Seiren is proof of that. This condenser microphone is the cheapest of all we've reviewed but still has loads of noteworthy features like background noise reduction and a built-in shock mount, to give you professional audio without requiring any experience achieving it.
According to gamers, the simplicity of this microphone made it a huge hit, and there was no need to know anything technical about audio or adjustments to make it work. The Razer Seiren has all of the features that more expensive mics do and it does them automatically, so there's no need to focus on anything but the game.
Because of its cheaper price, it's natural that this microphone falls flat in some areas that others didn't. It requires quite a bit of assistance to bring it up to a professional level, so you can expect to shell out extra for a pop filter as well as using other software that will help achieve the sound you're looking for. If you can spend some time setting it up and experimenting with external applications, you'll be able to get the most of it.
The Seiren uses a super-cardioid pickup microphone which helps to reduce background noise, and it's a good entry level choice for streamers and online players. You'll also benefit from built-in monitoring for zero latency, all of which works in real-time when you're playing and streaming, without you having to do a thing, or experience the classic echoes that many cheaper mics produce. The Seiren features a precise pickup pattern so your audio isn't interrupted, no matter what's happening around you.
With a built-in shock mount, you won't have to spend any extra fitting this part, and it means even when you're gaming hard and creating vibrations, it won't be picked up on your audio. The Razer Seiren X comes in a classic black color, with a green LED light to show when you're on or muted, and a simple volume knob that lets you control your sound. There's nothing complicated about this setup, including the
Razer is known for their quality gaming peripherals and this one is no exception, so if you're after an entry level gaming mic with expert features, head to Amazon for a great deal. Razer covers this mic with just a one year warranty which isn't that impressive, but as one of the cheaper options we've reviewed, it's still not too bad. If you want your first foray into gaming mics and don't want to spend a fortune, the Razer Seiren brings a lot to the table.
Gaming Microphone FAQs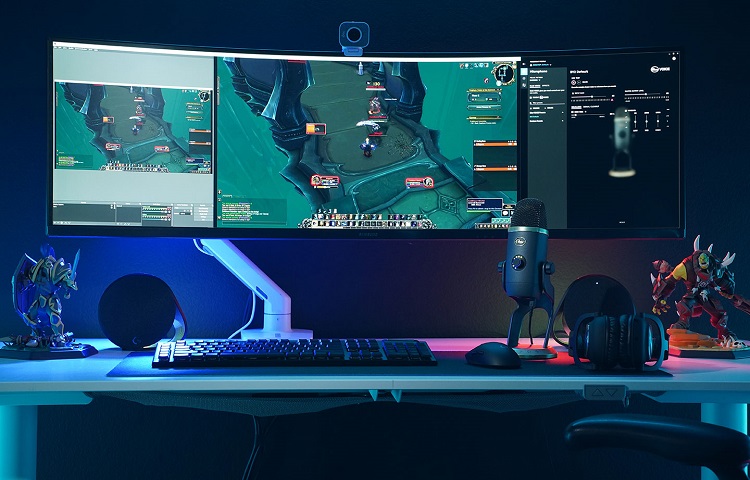 A gaming microphone gives you the ability to step up your audio game while you play, but one look at the options out there and you'll quickly become overwhelmed.
To make it easier to find that perfect gaming mic when you see it, we've answered some commonly asked questions that newcomers have, giving you everything you need to make the best purchase.
Do You Need A Mic for Gaming?
Whether or not you need a mic for gaming depends on the type of games you enjoy. If you're into playing solo, including offline play, you won't necessarily need one. Those who play online, with opponents and team mates, or stream to an audience will find a lot of value in having a mic set up specifically for gaming.
What Mic Does PewDiePie Use?
Pro streamer PewDiePie currently uses the AKG Pro Audio C414 XLII Vocal Condenser Microphone to play but is always updating his gear as technology evolves. As a more expensive option costing thousands of dollars, it might not be the right fit for all gamers but is a multi-pattern condenser program if you want a professional sound.
What Mic Do Pro Streamers Use?
Professional streamers use all different types of microphones depending on their gaming station setup and requirements. Most commonly though, you'll find pro streamers speaking through a studio mic, and often a condenser, which offers greater clarity and accuracy that are helpful when broadcasting to an audience.
Can You Stream With A Headset Mic?
Most headsets come with a microphone included and these are sometimes all you need to stream. However, if you're opting for a professional level of sound or need greater clarity, you might upgrade to a standalone microphone that gives more studio quality audio compared to a headset.
Make Your Voice Heard
The landscape for gaming is changing and if you're someone who prefers to play online and with others, you won't get very far without a mic.
If you need to step up from the mic included in your headset or on your laptop, you're in luck, as it's never been easier to get professional studio quality audio without even leaving your desk.
With our expert picks and some insight into the features that matter, you'll know precisely what mic will be your perfect fit for gaming. Whether you want to stream to an audience or stay in contact with teammates, one of these at your gaming station can make all of the difference.