It can be difficult to know where to begin when you build your own PC. Getting a good case is an important part of your PC and there's a variety of flashy-looking cases out there with plenty of RGB and impressive looks. However, some people would prefer to go for a minimalist PC case instead to avoid unneeded flashiness and save some moolah.
In fact, minimalist PC cases are made to blend right in and draw little to no attention from potential admirers. A minimalist PC case can do this while providing adequate room and cooling for the components inside the PC. There's been a skyrocket increase in minimalist PC over the last couple of years. So in this article, we've taken the time to put together the best minimalist PC case you should buy.
NZXT H510i
The H510i is a nice minimalist PC case that comes with various new features like Front I/O USB Type-C Port, a vertical GPU mount, tempered glass side panel with single screw installation, and upgraded smart device V2. This smart device V2 includes a much faster microprocessor for NZXT CAM-powered control.
It allows you to control two RGB lighting channels and up to three fan channels. It also supports either voltage-regulated or PWM fans. You can show off your graphic card with a built-in mounting bracket that lets you install your GPU vertically. It also comes with enhanced cable management with a routing kit, pre-installed channels, and straps for east and intuitive wiring.
Why we recommend:
Vertical GPU Mount
Up to 3 fan channels
Enhanced cable management
Lian Li Q58 White Color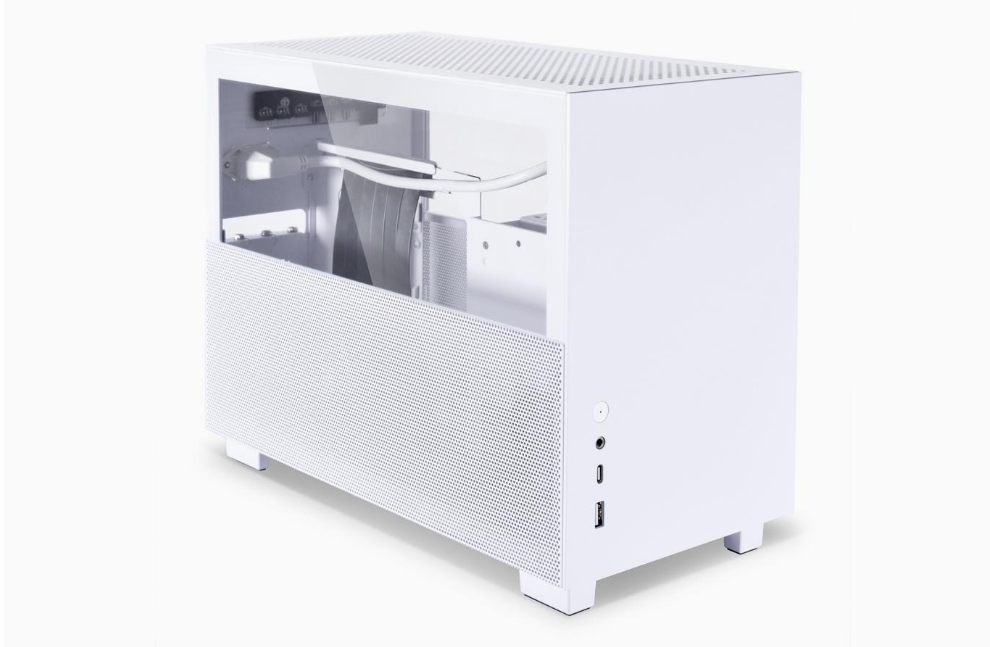 Lian Li's Q58 is an impressive case that comes with a Mini-ITX form factor with a hinged class and mesh panels. If you're seeking a minimalist PC case that'll keep your PC cool and running for long hours without signs of overheating, consider getting the Q58 case.
Apart from its impressive mesh panels, this minimalist PC case also supports SFX PSU. It also has a GPU support of up to 320mm. It was made to be durable and will give you an enhanced and satisfactory user experience.
Why we recommend:
Hinged glass
Up to 320mm GPU support
Mini-ITX form factor
Corsair 5000D Airflow
Corsair's 5000D Airflow is a remarkable PC case that is also very easy to build. It looks stunning and can be easily stored to main coolness. The flexibility to mount is up to 360mm multiple radiators. Having a high airflow with an optimized steel front panel allows you to deliver a massive airflow to your system for max cooling.
It also comes with a RapidRoute cable management system that makes it very fast and easy to use. You can route your major cables via one hidden channel, and also enjoy easy access with its hinged door with 25mm of space. It has two Corsair 120mm air guide fans and can utilize anti-vortex vanes perfectly for enhanced cooling.
Why we recommend:
Easy to build
RapidRoute cable management
120mm Airguide fans
LIAN LI Mid-Tower Chassis
This is yet another impressive minimalist PC case from Lian Li. It's a Mid-Tower Chassis case that comes with a clean aesthetic with the main structure that has lots of room for every component. This makes it a durable and roomy choice for your first PC build. The PC case comes with a tempered glass side panel that provides a fantastic view of your RGB components.
You can easily remove your SDD with its removable mounting brackets, swappable top, and front fan brackets. It comes with an easy installation design as well as a bottom side panel and an HDD bay. There's an extra space behind the motherboard tray for hidden cable organization. It has a high air performance with a magnetic dust filter and side ventilation with two pre-installed 120mm fans.
Why we recommend:
Tempered glass side panel
HDD bay
Magnetic dust filter
Thermaltake S100 Tempered Glass Snow Edition
Thermaltake's S100 is a slim and compact minimalist PC case with full metal construction around its body. It has a sleek front panel design that gives out its stylishly slim and compact look. There's a 4mm thick tempered glass panel that provides a tool-free door lock design for durability.
It comes equipped with a PSU cover and a ventilated design that improves its airflow and also hides any unsightly cables. You can also enjoy its impressive dust reduction feature which is a handy magnetic fan filter that's right on the top and on the base of the chassis. There's a single 120mm rear fan pre-installed and it supports Mini ITX and Micro ATX Motherboards.
Why we recommend:
Slim and Compact
Durable
Magnetic fan filter
AeroCool Cylon RGB Mid Tower
This comes with a full acrylic side window RGB with a mid-tower case. It has an elegant backslash LED with up to 13 lighting modes on its front panel. Having 6 RGN flow lighting modes, it has seven solid color modes as well. It supports liquid cooling with 240mm radiator in its front panel.
There's a 120mm fan on top of it as well, which enhances its cooling performance. It supports high-end graphics cards up to 371mm. You can also enjoy its VGA fan bracket design with two 120mm fans for the ultimate cooling performance of VGA. There's SD and MicroSD support as well as a dual-chamber design for improved ventilation.
Why we recommend:
Up to 13 lighting modes
High-end graphics card support
Two 120mm fans
Our list of best minimalist PC cases consists of cases from various manufacturers, which means prices will differ. However, they're all impressive in many ways, including an abundance of features that will improve your gaming experience. So ahead and take your pick.
This article includes affiliate links, which may provide small compensation to Best Gaming Settings.