After connecting your Nintendo Switch to the TV and in the dock, you can enjoy hours of gaming without having to worry about battery drain. However, if you decide to play in tablet mode, you're likely to drain the Switch's power, putting you at the risk of losing your game progress. We've compiled the best Nintendo Switch stands in this article that allows you play comfortable while it charges.
All Nintendo Switch stands aren't created equally, but the list of things you should consider before making a decision isn't a long one. While some of them are designed to explicitly for Nintendo's versatile console, others are able to prop up anything from tablets to gaming consoles, smartphones and even e-readers. So here are the best Nintendo Switch stands you can get.
Amazon Basics Playstand for Nintendo Switch
The Amazon Basics Playstand is a fine stand that is capable of holding the Nintendo Switch upright. It offers an adjustable angle for viewing comfortably. You can also charge the device while it's placed on the stand. Users can enjoy an adequate ventilation feature that helps to prevent the Nintendo Switch from over-heating as well.
The Amazon Basics Playstand has a collapsible and lightweight design that's made to provide excellent portability to users. There's also a non-skid rubber feet that helps keep it in place. The item is backed by an Amazon Basics limited one-year warranty as well.
Why we recommend:
Adjustable angle
Adequate ventilation
Lightweight
Charging Dock Compatible with Nintendo Switch
This stand is designed to be safe and stable, including both over-current and over-voltage protection. It's easily one of the best Nintendo Switch stands due to its triangle-shaped build that comes with an anti-slip metal bottom as a counterweight, making the placement more safe and stable. You can also use a soft silicone pad around the output port that protects the console's appearance.
It also comes with a quick charging feature that's compatible with Nintendo Switch Lite/ Switch OLED Model 2021 charging power supply: DC15V/1.2A and compatible with original AC adapter, allowing you to maintain power while playing games. The compact design lets you easily travel with the charging stand. You can take it along with you on daily commute or even social gatherings.
Why we recommend:
Compact design
Voltage protection
Quick charging
Lamicall Adjustable Phone Tablet Stand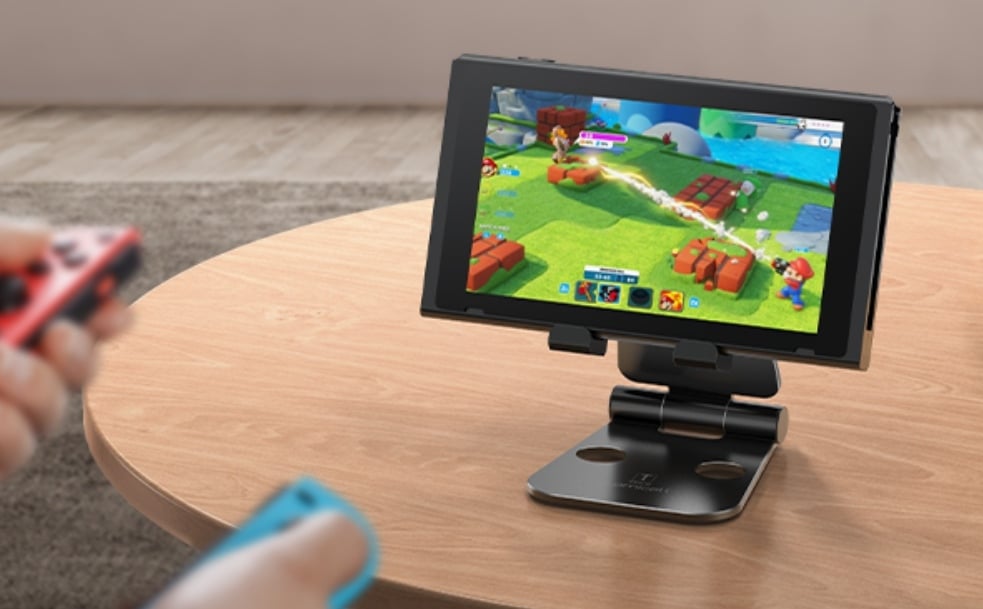 Lamicall's adjustable stand is one of the best Nintendo Switch stands on our list because it is portable and adjustable. You can fold it and put it in your pocket. And whether you're reading, watching, or charging, you can adjust the device to your preferred angle or height for the best comfort. It is compatible with the Nintendo Switch as well as tablets and smartphones. If your tablet is larger than eight inches, it'll be more stable in landscape mode.
With this stand, your device or can stand freely on its own as you watch videos, play video games, listen to music, view recipes, facetime, watch YouTube, and even make phone calls. It's a very stylish stand with a sleek design that's perfect for your desk or nightstand. Made of high-quality premium aluminium for stable and sturdy use.
Why we recommend:
Multi-purpose
Adjustable & Portable
Sleek design
Skywin Game Storage Tower for Nintendo Switch
The Skywin Game Storage Tower made our list of the best Nintendo Switch stands as it allows you to organise all your games and accessories in one place. You can display your Switch console with as many as 10 favourite games and four controllers. It's powerful enough to hold the Xbox X controller, Joy-con or Nintendo Pro controller.
With this, you'll never misplace accessories again because unlike others, the Skywin comes with a bottom drawer that provides extra storage for your gaming accessories. The Switch holder also has a dock snap that makes your accessories easy to grab.
Why we recommend:
Durable
Extra storage
Easy to use
Antank Tiny Charging Stand Compatible with Nintendo Switch
This stand comes with a cute spherical charger stand with white, black and classic red color combinations. There's also a minimalist charging dock that allows you to charge while gaming with the Switch in tabletop mode. The Antank Tiny Charging Stand takes up little space and acts not only as a charge stand, but also a fine game-style decoration. The 45° elevation angle gives you a comfortable and amazing visual experience.
It has a non-slip rubber ring at the bottom that allows that solidifies the stance of the Nintendo Switch and make it more stable. There's also a soft silicone pad on the ventral surface that protects the Switch console from scratches. It's also designed with over-voltage and over-current protection.
Why we recommend:
Minimalist charging
Voltage protection
Non-slip rubber ring
Tscope Switch Stand for Nintendo, for Animal Leaf Switch Holder
The Tscope Switch stand combines Animal leaf design and has a unique appearance due to high-quality ABS material. It can hold the Nintendo Switch upright and offers up to five adjustable angles for comfortable viewing. You can also charge your Switch console while it's placed in the stand.
Its portable and anti-skid features provide adequate ventilation that helps prevent the Switch from over-heating. Designed for portability, the Tscope Switch stand is collapsible and lightweight. It is also compatible with tablets and smartphones of 4-13 inches.
Why we recommend:
Animal leaf design
Adjustable angles
Adequate ventilation
We always want to feel comfortable when watching movies or gaming with the Nintendo Switch. And while you can simply hold the Switch with your hands, you can rest your hands is by getting one of the best Nintendo Switch stands on your list.
This article includes affiliate links, which may provide small compensation to Best Gaming Settings.