Having a fully charged Oculus Quest 2 will give you around two to three hours of battery life. However, if you have any of the best Oculus Quest 2 battery packs on our list, you can go even longer.
For many users, the built-in battery is not enough to take them through a good gaming session or even through an extended streaming session with a movie streaming app. Using battery packs is a great way of doubling or even tripling the battery life of your Oculus Quest 2 headset. A lot of users have often resorted to power banks to charge their headset throughout the time it's working.
But the most convenient solution to improving the battery life of the Oculus Quest 2 is getting a battery pack. So in this article, we've made a list of the best Oculus Quest 2 battery packs that you should get.
Capsule Power Bank for Oculus/Meta Quest 2
The Capsule power bank comes with 3300mAh, allowing you to charge up your Oculus Quest 2 without having to tether it to a plug socket. This can give you an additional 1.5 hours of usage time. It is slim, small, and weighs only 1.97oz. You can easily put it into a bag due to its impressive portability.
It charges automatically as well without the need to turn it on or off. The Capsule power bank is compatible with the Oculus/Meta quest 2, Oculus Quest 1, with Elite strap, original strap. For headphones, you can simply use the added adapter to lift the power bank over the headphone jack.
Why we recommend:
Portable
Lightweight
Auto charge
Rebuff Reality VR Power for Oculus Quest and Quest 2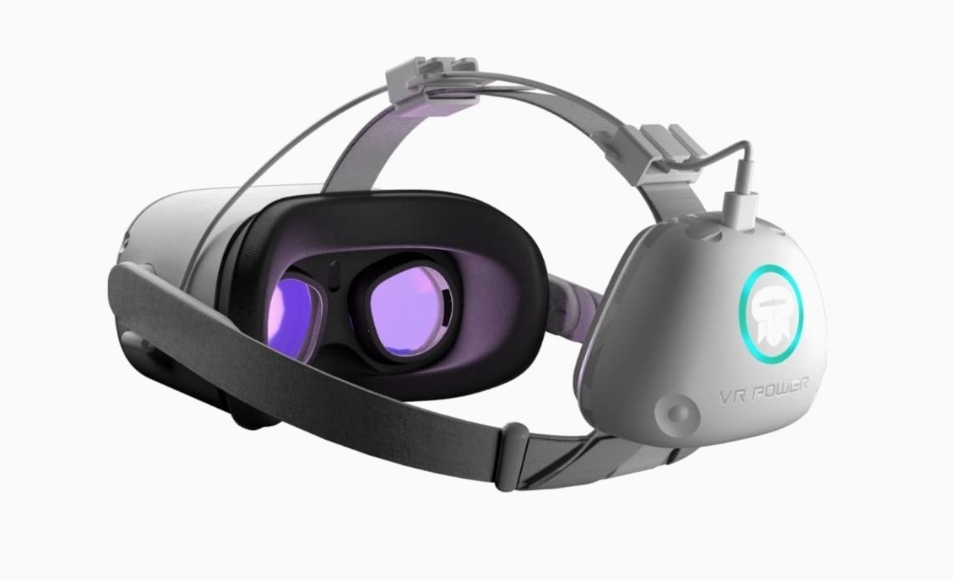 With this, you can significantly increase the battery life of your Oculus Quest 2 due to its digitally optimized battery power. It offers a massive 10,000mAh that offers eight hours of gaming and up to 10 hours of streaming. The counter-balance features provide great comfort with a central power button that comes with a rotational power indication.
You can watch your favorite TV shows and movies for up 19 hours without worrying about plugging your Oculus into a wall adapter. You can easily press the power on to check the remaining charge and it comes with secure-fit straps as well, making it not just one of the best Oculus Quest 2 battery packs but one of the most reliable.
Why we recommend:
Secure-Fit straps
Comfort padding
Long-lasting battery
KIWI design 3 in 1 Battery Strap for Oculus/Meta Quest 2
KIWI design's 3 in 1 battery strap provides a longer playtime by lengthening the battery life of the Oculus Quest 2. It solves the issue of insufficient battery power supply and gives you an extended period of virtual reality experience. The adjustable size allows the VR fixing strap to fit various external battery packs, coming with a segmented nylon fastener tap and metal buckle for easy adjustment.
It can also reduce head pressure by putting the weight of the battery bank behind. This allows the power bank fixing strap to shift the weight of the Oculus Quest 2 backward for better balance and alleviates pressure on the user's eyes. It is professionally manufactured, designed and is equipped with an adjustable silicone strap that stops the VR cable from shaking when playing a game.
Why we recommend:
Long-lasting battery
Ultra lightweight
Adjustable silicone
BUSQUEDA Elite Strap with Battery for Oculus Quest 2
BUSQUEDA2's Elite strap is easily one of the best Oculus Quest 2 Battery Pack due to its 8,000mAh rechargeable battery. It also has a high-speed cable and charges automatically by just plugging it. You can enjoy as many as seven hours of playtime in VR games or catch up on your favorite TV series and movies for up to nine hours.
It's also enhanced with elite side steps of adapted upgraded ABS material, which provides a much better tenacity and is eco-friendly as well. Then there's the ergonomic wearing design that offers significant improvement in comfort. The TPU back pad also adds a hole design that provides more breathability and lessens sweat. It also has an exclusive safety protection system that ensures the safety of both you and your Oculus Quest 2.
Why we recommend:
Safety Protection System
Eco-friendly
Long-lasting battery
Oculus Quest 2 Elite Strap with Battery for Enhanced Comfort and Playtime in VR
With this battery pack, you can extend your overall playtime and maximize your comfort to keep your Oculus Quest 2 headset secure no matter how you move around. The long-lasting built-in battery can double the playtime and lets you immerse yourself in VR for longer periods. You can maximize your comfort using a balancing design that uses the weight of the battery to lift your Oculus Quest 2 away from your face.
The easily adjustable fit wheel allows you to enjoy a more tailored fit and lets you quickly find your size. You can keep your headset in place and clear visuals with rigid stabilizing straps that provide all-round support. It's easy to install by simply removing the original strap and snapping the elite strap with the battery into place.
Why we recommend:
Long-lasting battery
Easily adjustable
Flexible comfort
Regardless of how long-lasting your Oculus Quest 2 headset's original battery is, at some point you're going to want an accessory that allows you to spend more time with your VR headset. Battery packs can get the job done and we hope you've been able to pick at least one product from our list of the best Oculus Quest 2 battery packs.
This article includes affiliate links, which may provide small compensation to Best Gaming Settings.