There are lots of gaming accessories out there that some gamers were not even aware existed. The one-handed gaming keyboard is one those gaming accessories in this strange category. Some people might wonder why one-handed gaming keyboards are even necessary when they already have a keyboard.
However, different gamers prefer different keyswitch types and style of play entirely, be it typing or gaming. Many gamers prefer red keyswitches due to their super fast actuation. Blue keyswitches on the other hand, offer an amazing feel when typing. In that same way, these one-handed keyboards are super useful for cramped setups and meet other specific requirements.
So without further ado, here are the best one-handed gaming keyboard and mouse to get.
MoModer One Hand Gaming Keyboard and Mouse Combo
This one-handed gaming keyboard and mouse comes with a fine ergonomic design. It is well crafted to provide ease and comfort with its ergonomic wrist rest. Designed according to the user's posture, you can reduce fatigue or discomfort and enjoy a relaxed gaming experience. It also comes with a shiny RGB LED backlit which provides an extremely cool and illuminating gaming experience in the dark.
The light also penetrates through characters and gaps which can take you into a true-to-life gaming atmosphere. It comes with 35 sensitive keys for fast and flexible operation. There are no loud noises, all keys are non-conflict keys, and you can press or hold multiple keys at once. It's comfortable and durable with unique breathing light for a soothing and calming typing or gaming experience.
Why we recommend:
Ergonomic design
RGB LED Backlit
35 Sensitive keys
Razer Tartarus v2 Gaming Keypad: Mecha-Membrane Key Switches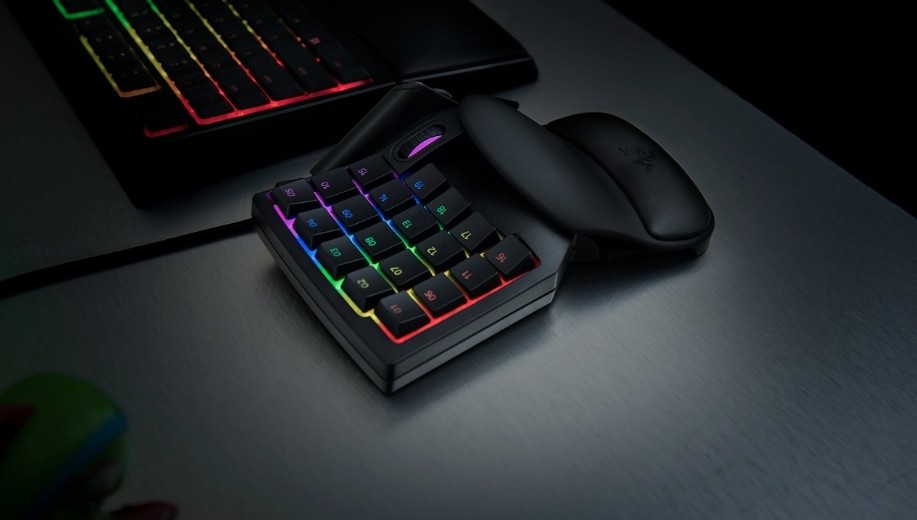 The Razer Tartarus V2 is a fantastic one-handed gaming keyboard with high-performance mecha-membrane switches. It provides the tactile feedback of mechanical key press on a comfortable and self-cushioned rubber dome switch that's suitable for gaming. There are also 32 mecha-membrane keys for gaming and integrating into creative workflows with full programmable keys.
There's an eight-way directional thumbpad that provides improved movement controls. It allows for more natural controls, especially for console-oriented gamers as well as an ergonomic experience. The Razer Hypershift allows all keys and keypress combinations to be remapped in order to complex demands. You can fully sync with the most popular games and supports millions of backlit key colors.
Why we recommend:
Mecha-membrane switches
Full programmable keys
Razer Hypershift feature
C91MAXPro Gaming Keyboard & Mouse
This is an impressive one-handed gaming keyboard and mouse that requires no converter. It comes with a fine combination that's suitable for all game consoles. There's also a wide range of compatibility with some of the most popular titles like Apex Legends, Overwatch and more. It supports a 3.5MM headset and comes packaged with professional gaming headsets.
You can plug it directly to the headset and enjoy up to 48K high-definition voice and dialogue. The C91MAXPro uses the same C91MAX chip that provides low latency and 1:1 tracking accuracy. Also, you can adjust the mouse to its maximum sensitivity for enhanced gaming experience on PC. It has an RGB mechanical keyboard with a blue switch that provides good hand feel.
Why we recommend:
No converters required
Low latency
3.5MM headset support
One-Handed Gaming Keyboard and Mouse Combinatio
This is a sleek and aesthetically pleasing combination that comes with an RGB backlight function. You'll experience no conflict with all the keys and they're easy to use even in low light conditions. It comes in a very compact size that helps save space compared to the long standard keyboard. You can also switch between seven single colors or even multiple colors. It has backlight brightness control with three levels of brightness adjustment as well.
Gamers will enjoy its ergonomic design that allows enlarging and widening of integrated palm rest to support the wrist. And it is suitable for both large and small palms. It also fits comfortably according to the player's operating posture and reduces fatigue or discomfort. You'll enjoy a relaxing and enhanced gaming experience with this one-handed gaming keyboard and mouse.
Why we recommend:
RGB Backlight function
Brightness control
Ergonomic design
FELICON One Handed Mechanical Feel Gaming Keyboard Rainbow
This one-handed gaming keyboard and mouse adpots an integrated wrist rest that is widened. When playing games, the special curved surface of the palm rest can support your wrist and reduce the pressure on it. It also has an impressive ergonomic structure that'll give you a wonderful gaming experience. Gamers will enjoy its full key Anti-Ghosting feature that also supports multimedia function keys.
It is a convenient and fast feature that enhances your gaming and meet requirements. There's also an eye-catching rainbow LED backlight that provides you with cool lighting effect at night. It has a LED backlight control switch on the left that allows you to enjoy an adjustable rainbow backlight as well. This is a fine one-handed gaming keyboard for both PC and console gamers alike.
Why we recommend:
Impressive ergonomic structure
Anti-Ghosting feature
Rainbow LED backlight
7KEYS One-Handed Gaming Keyboard
The 7KEYS one-handed gaming keyboard is a fine choice that provides up to 35 keys on a one-handed gaming keyboard set. Among the keys are high-quality key caps with cool and shiny sides. It also has a sleek silver spin cable and comes with an ergonomic wrist rest design that's suitable for all gamers.
With its firm and solid aluminium alloy metal, it also comes with a fixing screw for easy access incase of repairs. This is a professional one-handed gaming keyboard with reasonable layout of buttons. It's very easy to use and offers quick response for professional gamers.
Why we recommend:
Up to 35 keys
Silver spin cable
Aluminium alloy metal
One-handed gaming keyboard and mouse are very useful especially for gamers who prefer a keyboard that doesn't allow them extend their hands too much. In this case, the average full-sized gaming keyboard isn't an option. And if you haven't used a one-handed gaming keyboard before, we hope for your first try you'll pick one from our list.
This article includes affiliate links, which may provide small compensation to Best Gaming Settings.