Whether it's for your gaming laptop or iPad, a portable monitor stand can help make life easier for your productivity.
Portable device owners enjoy a wealth of convenience at their fingertips but also stumble across moments where they wish there was a way to make it easier to hold or view. A portable monitor stand is a perfect solution. It'll make jumping between your office or desk throughout the day easy, especially with the right portable monitor stand.
TriPro Tablet Stand -Portable Monitor Stand
Coming up first is the TriPro Tablet Stand: an extremely sturdy and stable portable monitor stand composed of solid metal and premium aluminum alloy poles. Thanks to the anti-slip design of the stand, your device will remain protected on the silicone-covered pad with a soft yet firm rubber hook to support your tablet. Furthermore, you can comfortably fold the stand when on the go and adjustable in height and angle if you need a bit more flexibility. Also, make sure your device is between 7-15.6″ to sit in the holder, and if larger – we have some other options below that meet the same durable quality.
Why we recommend:
Anti-slip design
Extremely sturdy stand
Silicone padding
Pepper Jobs Tablet Holder Solid Sturdy Stand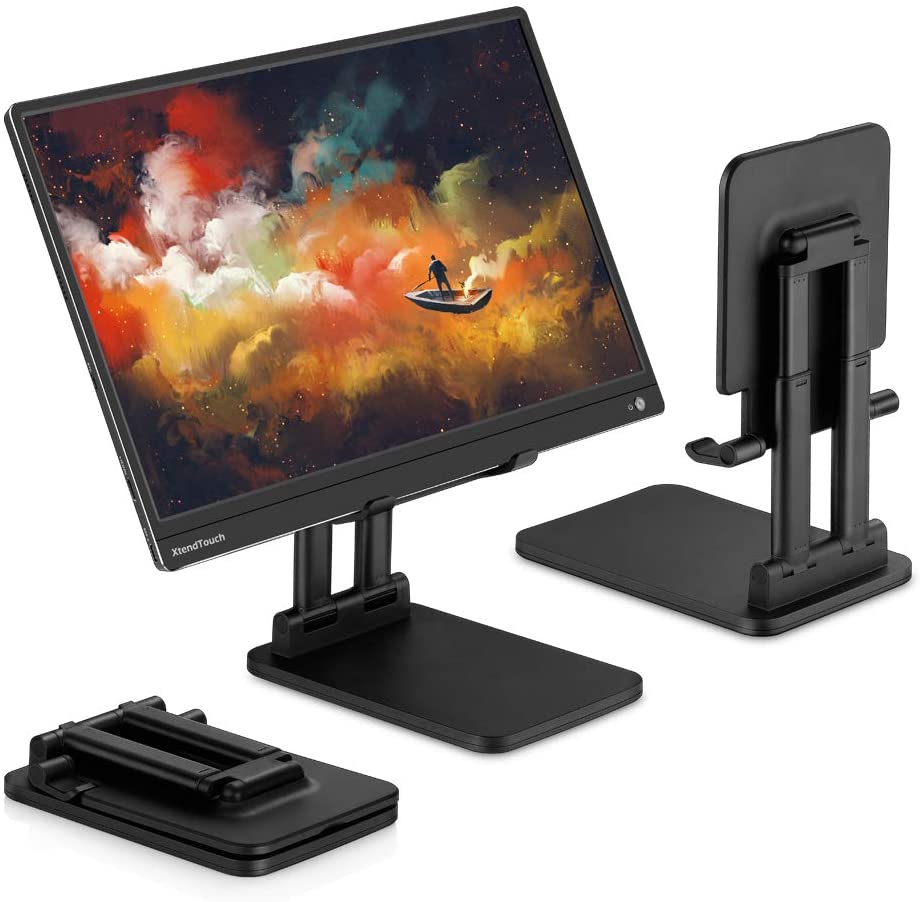 Following is the Pepper Jobs Tablet Holder, which has a viewing angle between 5-135 degrees and an adjustable height from five centimeters to two inches. The portable monitor stand has a dual pole sturdy stand that ensures an efficient base embedded with an iron block for extra weight. Moreover, it's compatible with 7-14 inch tablets such as a Nintendo Switch, iPad Pro, or Amazon Kindle. Lastly, if the product doesn't appeal to you within 24 hours of use, you can request a refund and get your money back 100% guaranteed.
Why we recommend:
5-135 degrees viewing angle
Dual pole sturdy stand
24-hour money back guarantee
Nulaxy Laptop Stand
Next is the Nulaxy Laptop Stand, an ergonomic sit-to-stand laptop holder with adjustable height and tilt to fit every head-turning need. It has broad compatibility with most laptops, capable of holding 10-17 inch devices from Chromebooks to Macbook Pros. This portable monitor stand features heat dissipation from its ventilation holes and has two rubber front pads to promote stability. However, it's important to note that the supplier encourages buyers to purchase a Bluetooth keyboard and mouse to eliminate wobbling at high adjustments.
Why we recommend:
Ergonomic
Holds 10-17 inch devices
Heat dissipation
Laptop Stand Adjustable Laptop Computer Stand Multi-Angle Stand
The Adjustable Laptop Computer Stand is a portable monitor stand that features a 360 degrees rotatable bottom design with a place to slide in your phone for easier viewing and typing. Also, it has lightweight ABS with non-slip rubber surface pads, ensuring fading doesn't happen quickly. It'll support up to 44 pounds of weight and is compatible with 10-15.6 inch laptops. Even better, its hollow design will reduce the contact area with the desktop, allowing heat dissipation.
Why we recommend:
360 degrees rotatable design
Lightweight ABS
Phone slot
Lpoake Laptop Stand for Desk, Portable Monitor Stand
With two slots for phone placement, the Lpoake Laptop Stand is a comfortable option for those doing various work activities at once. This portable monitor stand has an impressive eight-angle adjustment to create the best viewing experience possible, with an ergonomic design to lift your laptop to perfect eye level to prevent back hunching. Whether a foldable tablet or laptop, it'll hold up to 18-inch devices for watching videos, playing games, or recording.
Two phone slots
Eight-angle adjustments
Holds up to 18-inch devices
Ergotron – Neo-Flex Rolling Computer Cart
Last on our list is the Ergotron – Neo-Flex Rolling Computer Cart: an expensive option with a standing desk workstation. The portable monitor stand sits above a lightweight mobile computer cart that lets you work anywhere you want. The monitor stand can adjust up to 27 inches in height from its ergonomic monitor arm, moving with a simple button press. Its professional-grade design has a storable tray, mouse holder, cable storage area, and much more befitting an actual desk station. While a massive investment, it's a must-have for someone needing a moving workstation rather than an unmovable desk.
Why we recommend:
Rollable standing/sitting desk workstation
Goes up to 27 inches in height
Storable spaces
With our portable monitor stand picks, you're sure to find the right one fitting your current needs.
This article includes affiliate links, which may provide small compensation to Best Gaming Settings.