Portable monitors can be a great addition to a gaming set-up. With these you can utilize a high-quality screen for gaming on the go and connect to a multitude of devices. You can use them for loads of purposes, and the best portable monitors can manage high performance for gaming too.
These are some of the best portable monitors out there, those at excel in one area or another that make them a great pick for a gaming wherever you are:
MSI Full HD Portable Anti-Glare

Key Features
15.6" Screen
USB and Mini HDMI Input
Weighs 0.9kg
This MSI portable monitor has some impressive features. In terms of its performance, it has a 60hz refresh rate which is pretty impressive for a portable monitor. The response time is also 25ms.
The screen features anti-glare technology too, which is important for making it genuinely portable. You can't play wherever you want if you're fighting against the sun. This feature takes care of that along with a smart black tuner to help the screen stay completely visible in dark areas too.
The input for this device is mini-HDMI and USB C. The MSI Full HD portable anti-glare is a really small device but It doesn't skimp on quality and can be used anywhere.
ASUS ZenScreen 15.6" Portable USB Monitor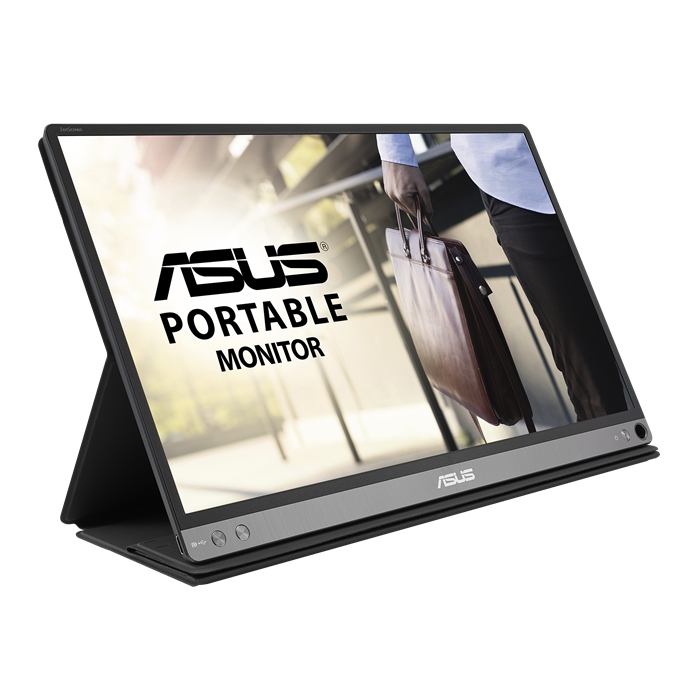 Key Features
15.6" Screen
1366×768 Resolution
Weighs 0.78kg
This ASUS portable Monitor is set-up to be effective no matter where you are. The monitor is powered via USB, so it's easy to hook up.
This portable monitor has a pretty small bezel along with only being 8mm thick. This is definitely lightweight. It features a tripod stand and a protective sleave so you can bring it just about anywhere without much fuss.
One nice feature here is that the monitor can work fine in portrait and landscape, which adds a bit more utility. There's also eye care technology in here with a flicker-free and low blue light screen, this is going to make it much more comfortable to use.
Asustek 15.6in Wled/ips 1920×1080 5ms
Key Features
15.6" Screen
Blue Light Filter
Weighs 0.79 KG
This Asustek portable monitor specifically stands out among the best portable monitors for its increased resolution and size. This monitor is 15. inches, meaning it's small enough to be portable while managing an impressive 1920×1080 resolution. Coupled with a 5ms response time, this is an impressive set of stats for a monitor.
The Asustek monitor connects up with USB C, which is great for both speed and wide compatibility. As an ASUS portable monitor, it features a blue light filter which can help to make it more usable for longer periods of gaming.
2022 Lepow C2S Computer Monitor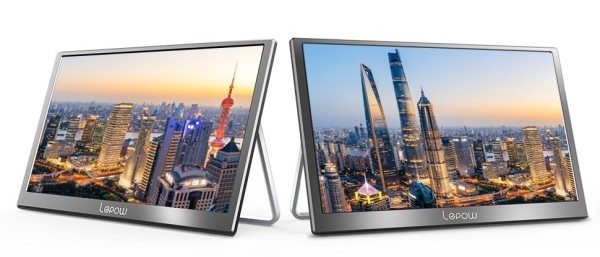 15.4" Screen
HDR Technology Adjusts Display for Light
0.72 KG
This Lepow C2S portable monitor has a great display hitting 1920x1080p in resolution. The screen can connect up via USB type C, HDMI, and Mini DP. The refresh rate here is 60 FPS, which is pretty good for a portable screen.
The portable monitor is able to be used in both landscape and portrait, with a kickstand to help you set it up anywhere. While this is a powerful monitor with a great resolution, it is lightweight and easy to travel with.
ViewSonic 15.6 Inch 1080p Portable Monitor
Key Features
15.6" Screen
Dual Speakers
0.8 KG
This is a portable monitor that is optimized for gaming on the go. The screen here utilizes anti-flicker technology and a blue light filter to make it suitable for longer use. It connects up with a USB C cable that allows two-way power.
The screen is definitely lightweight, weighing under 2 lbs. It includes a stand cover and screen protector to help to make sure it's both easy to use in any location and for being transported. The resolution of this screen is pretty impressive for one so light, hitting 1920x1080p. This is a great pick as one of the best portable gaming monitors.
ASUS ROG Strix 15.6" 1080P Portable Gaming Monitor
Key Features
15.6" Screen
G-Sync Compatible
0.89 KG
The ASUS ROG is already a brand pretty well-known for being great for gaming, making some of the best gaming monitors around. This portable entry is no exception. It has a few features that make it perfect for gaming, including utilizing NVIDIA G-Sync technology for a smooth experience.
The monitor also runs at a 144 HZ refresh rate. If you're using this for gaming on the go, a high refresh rate will let you make the most out of the game wherever you are. The screen can connect up with USB-C and a micro-HDMI port. You can use this to play with a lot of different devices.
Those are our picks for the best portable gaming monitors. These screens can help you achieve a good performance out of games. You get a monitor that is truly portable with different technologies to make them more useable in any environment.
This article includes affiliate links, which may provide small compensation to Best Gaming Settings.