Call of Duty: Modern Warfare has a really intensive create a class system that gives you a lot of customization options over your loadout. Between weapons, tactical, equipment, and killstreaks, you've got a lot of different options. The key is going to be catering each part of your loadout to both the style of play you go for and the game mode. This applies to Call of Duty: Modern Warfare Equipment too. While it may be more multipurpose than Field Upgrades, you need to make sure it is working in harmony with the rest of your class.
If you're going to be using the equipment in Call of Duty: Modern Warfare quite a bit, you can use perks that help you. The Restock perk is going to give you a quicker recharge for your equipment, and the Shrapnel perk will give you an extra piece of equipment.
Equipment falls into two categories, Lethal Equipment, and Tactical equipment. If you want to build the best class possible you're going to need to take full advantage of both.
Call of Duty: Modern Warfare Equipment – Lethal Projectiles
Frag Grenade – These grenades are a staple of the Call of Duty series. They do a good bit of damage but hold a short fuse. They can also be cooked in the game if you want to add even more variation to your equipment.
Semtex – Semtex is sticky grenades, upon being thrown they'll stick to just about anything. Walls, vehicles, scenery, or even other players. These grenades can be great for players who are playing more tactically. Sneaking onto an enemy can give you quite a few kills if pulled off properly.
Throwing Knife – This piece of equipment seems more at home in Red Dead Redemption than Call of Duty: Modern Warfare. Equipment like this has a use, but only in skilled hands. It is a throwing knife that deals some serious damage if it hits. It is also collectible, so you don't lose your equipment after you use it. If you're adept at stealth in a game that doesn't emphasize it, then this equipment is for you.
Call of Duty: Modern Warfare Equipment – Lethal Explosives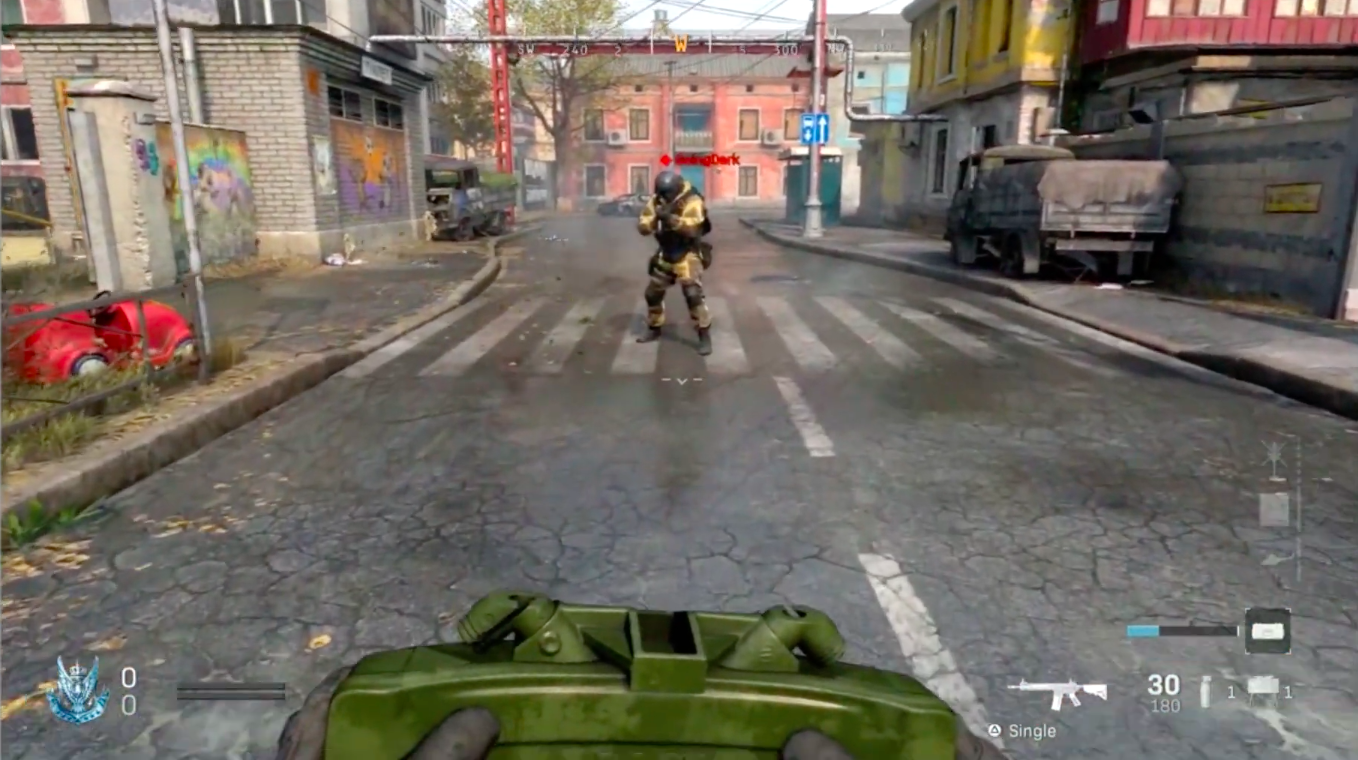 Claymore – This is a mine that you can lay down on the Battlefield as a trap for opponents. It is proximity active so you don't have to be entirely exact. This will be helpful for a sniper. It can also be put to good use on longer matches to protect objectives or the route to objectives.
Pressure Mine – This functions pretty similarly to the Claymore, but it has to be physically moved over to activate. This is essentially an anti-tank measure; its main function is combating vehicles.
C4 – This is a large explosive that you can place to surfaces. You can remotely detonate it at any time following this. While it can be hard to miss this bit of equipment, it does do plenty of damage. Be sure that you're ready on the trigger if you use it.
Thermite – This substance burns for a short period of time after hitting something. It does plenty of damage and causes quite a bit of chaos in anyone runs into it It will stick to any surface so can be deployed tactically.
Call of Duty: Modern Warfare Equipment – Tactical Throwables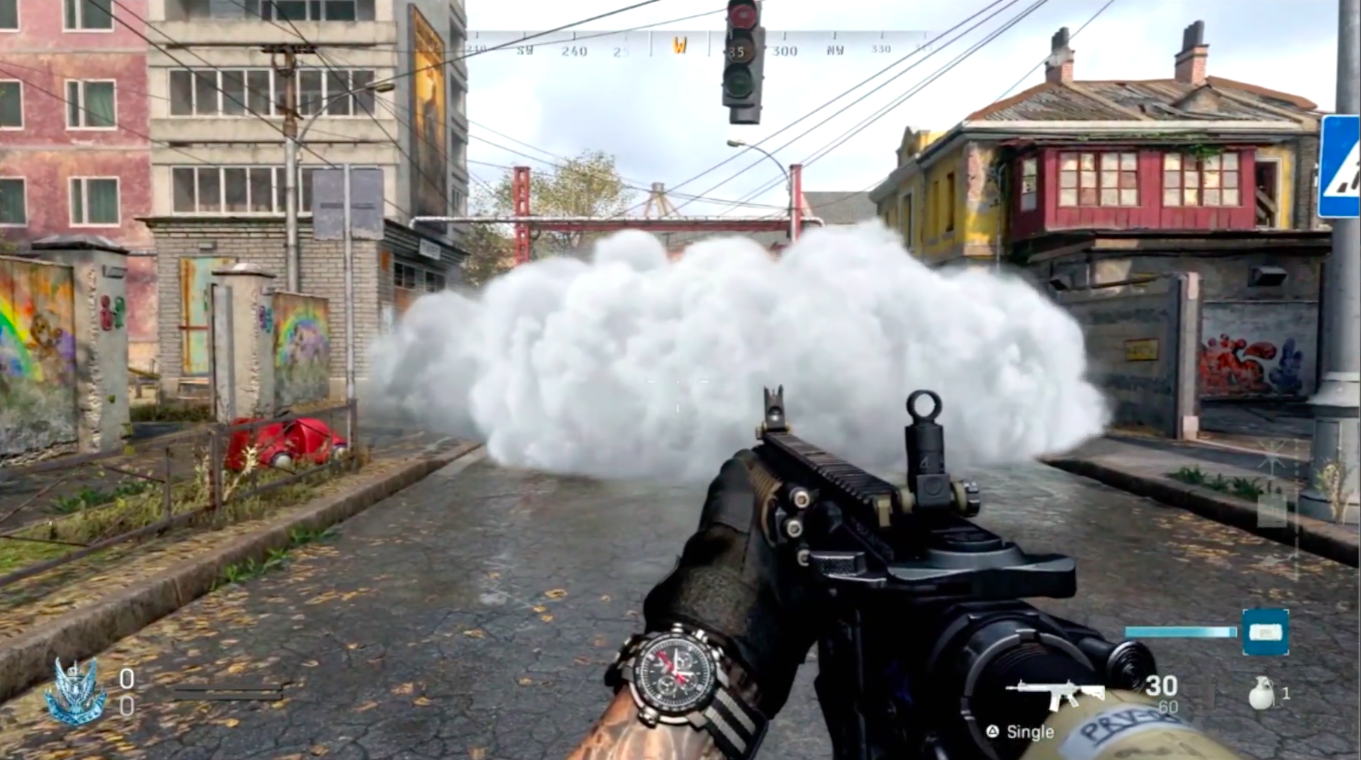 Stun Grenade – This grenade slows down your target's movement and their aiming. It can disorientate players to get you some easy kills. It also works against equipment. This makes it a good tool for countering an enemy team that has good timing.
Smoke Grenade – This one throws out a wall of smoke that obscures everyone's view. This type of Equipment will really work when used with an explosive or a few players standing ready with fast-firing weapons.
Flash Grenade – This classic bit of Call of Duty: Modern Warfare Equipment deals a bright flash that ruins enemies sight and hearing for a little while. It is like the stun grenade but a bit more specialist.
Gas grenade – This grenade explodes when it impacts with the ground. Tear gas is spread around the area. This blurs the vision of your enemies, ruins their movement, and even makes them cough for added realism. Like the other distraction throwable,s this one is best used in small spaces and with a teammate ready to help you pick off the affected players.
Decoy Grenade – This grenade works to confuse your opponents more than hurt them. Upon impact, it plays fake gunfire and generates false radar signatures. This is an interesting piece of kit that is going to be really useful in high-tier play. In matches against unorganized teams though, you can't guarantee that anyone will even be paying attention to sounds or radars at any given time.
Snapshot Grenade – This grenade works as radar and gives you the location of enemies caught in the blast radius. It's a fast and aggressive form of recon.
Call of Duty: Modern Warfare Equipment – Other Tactical
Stim – This is an injectable stimulant that heals your wounds. Essentially, it's a medpack and can heal.
Heartbeat Sensor – With this bit of equipment you will be able to see some information about your nearby enemies. This isn't an exhaustive sensor that functions perfectly since that would be a bit unbalanced. This will be of good use for players who go for close combat.
Building a successful class in Call of Duty: Modern Warfare is going to require you to know this equipment. Even in-game, you need to learn to tell the difference between a Snapshot grenade incoming and a Decoy. This Call of Duty: Modern Warfare equipment also needs to be balanced with other items in your character class, this will give you the best start when the start releases.