Call of Duty: Modern Warfare is shaping up to be one of the biggest installments in the franchise so far. It has seen a massive launch on console and PC, got a fully fleshed out Battle Royale mode, and it even looks to be sticking around longer than most installments do. While many players use a PC, Call of Duty is a huge console game. Using the best Call of Duty console settings can really help you even out that divide between console and PC players, and elevate your gameplay.
Call of Duty is an iconic console shooter It is up there with Goldeneye 64 and Halo in terms of what it has to popularise the modern shooter. However, that doesn't mean that it is optimized for use on a console. Really, you'll need to mess around with your in-game settings if you want to get the most out of the game. You don't have as many options as you do with PC, but you have less need for them. Unlike PC players you don't need to seriously dial down the visual quality for a stable frame rate. This is one of the benefits of using a pre-made platform, the developers have already optimized everything to run perfectly on your exact specs.
The Best Call of Duty: Modern Warfare Controller Settings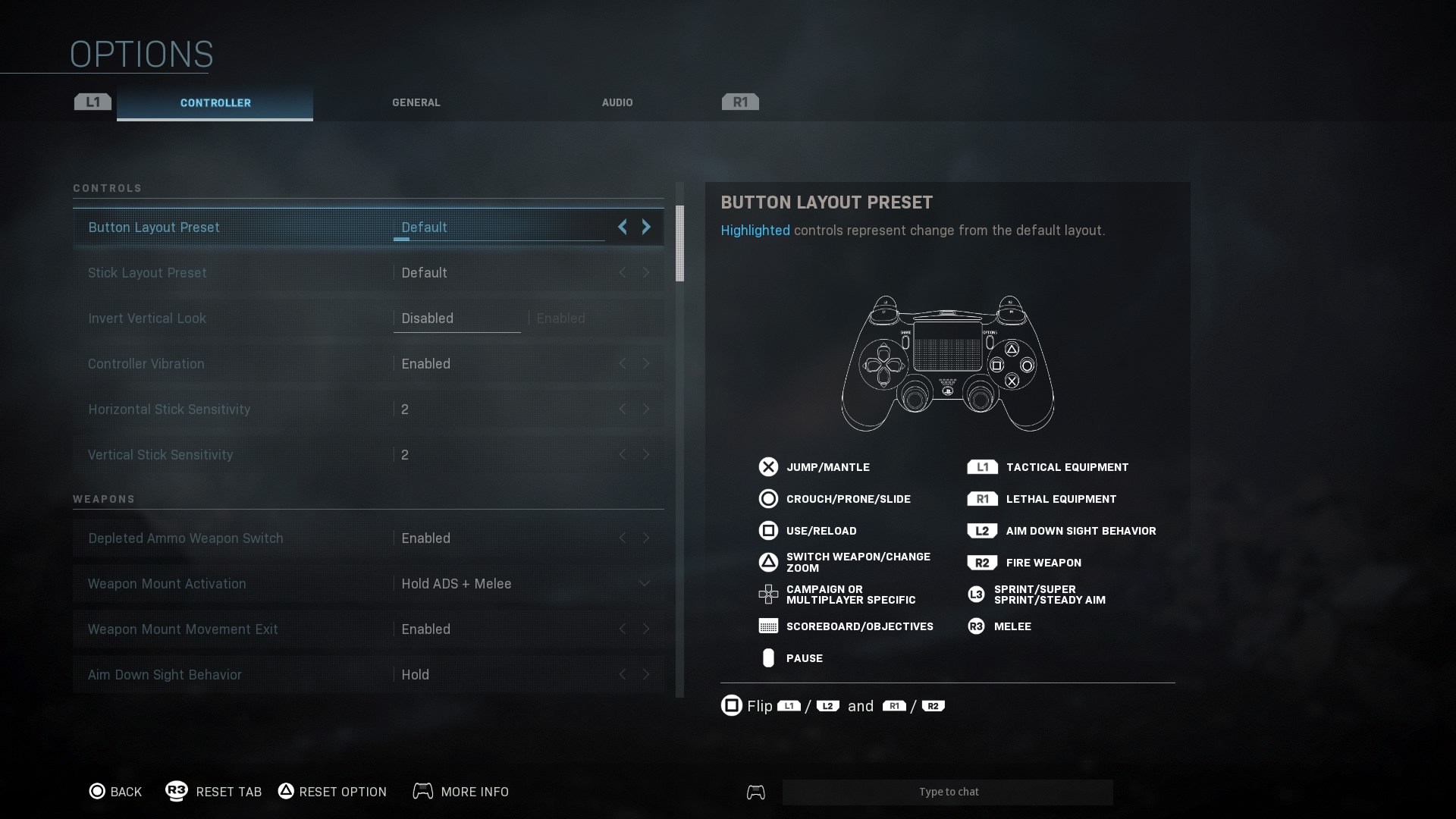 Call of Duty: Modern Warfare is letting players use a mouse and keyboard on any platform. However, the majority of console players are going to be playing using a controller. There are some tips and tricks and changes to your settings and you can use to make sure you're getting the most out of playing with a controller.
Button and Stick Layouts –Button and stick layouts will depend on what you're most familiar with. If you've played quite a bit of Call of Duty in the past, then it will be helpful to stick to the default layout. There is nothing wrong with the default layout, so just go with whatever layout you have the most muscle memory with. If you usually play a game like Fortnite then going for a similar layout will help you get off to the best start. Most shooters use similar layouts, but ensuring your muscle memory isn't fighting against you is important.
Invert Vertical look –Like quite a few of the best Call of Duty: Modern Warfare settings this is again down to muscle memory and which you're stronger with.
Controller Vibration –Off. Controller vibration only serves to shake you when you're lining up a shot. If you're used to the feedback you should try and get out of this habit.
Stick Sensitivity – These are okay at their standard-setting. However, if you're coming from a different shooter then it may be worthwhile to turn them up a bit.
ADS Sensitivity – This should be set to 1 to multiply your normal sensitivity by quite a bit. This makes ADS movement much more responsive.
Which Controller?
These a good guideline for the best Call of Duty console settings for controllers. However, a lot about your layout is going to depend on your controller. The standard Dualshock and Xbox One controller need the default layout. Consider a controller with programmable paddles though. These controllers, whether they are Scufs or just the PS4 official kit, can really help you out when playing shooters.
The Best Call of Duty: Modern Warfare Settings – Weapons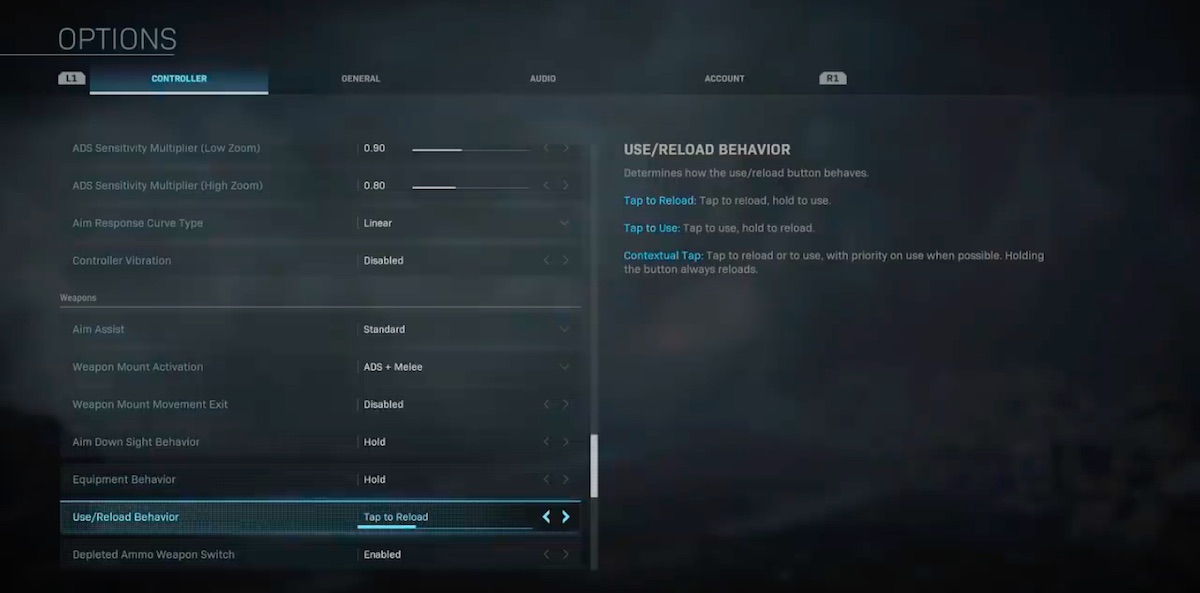 Depleted Ammo Weapon Switch –Enabled, this saves you a few steps.
Weapon Mount Activation –This likely won't come up too much. If you find your playstyle involving this a lot, it will be worthwhile to simplify this command.
Weapon Mount Movement Exit – Disabling this will help you avoid leaving your weapon by mistake.
Aim Down Sight Behaviour –Hold. This makes it more responsive than press to activate or deactivate.
Aim Assist –If you're playing on consoles then it is silly to not take advantage of this. You can use different options. Focusing is best if you're not particularly good at aiming. However, the others are going to be fine if you're competent using twin sticks. These are all great choices for the best Call of Duty console settings, with precision or standard for experienced players and focused for new players.
Equipment Behaviour – Hold
Reload Behaviour – Tap to reload
Depleted Ammo Weapon Switch – Disabled
Slide Behaviour– Hold is going to be a lot more responsive.
Sprint Cancels Reload –Disabled. This is going to be counterproductive when reloading in a hurry.
Vehicle Camera Reenter –Personal preference, but enabled is going to be easier for you.
Those are all of the settings in the game that deal with small tweaks to your controls. These are great ways to optimize the best Call of Duty console settings to get a more fluid experience. While things outside of aim assist won't make a huge difference, they should simply your button inputs and help you move faster and more deliberately.
The Best Call of Duty: Modern Warfare Settings – General Settings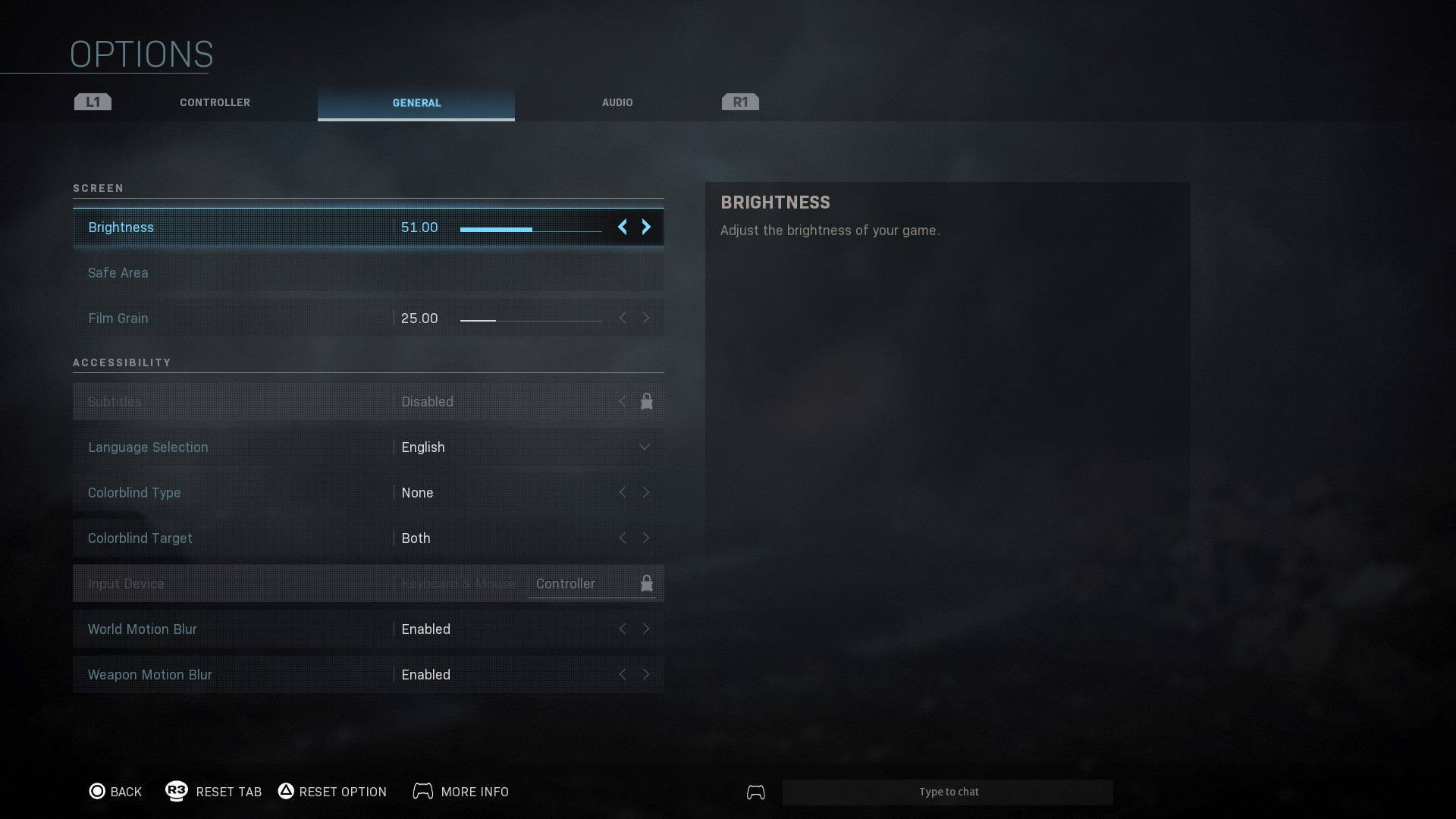 The control settings are the main event when it comes to Call of Duty Modern Warfare on console. However, there are some changes you can make to the visual and other settings in the game to get better performance. These are the rest of the best call of Duty console settings.
Brightness –Having this higher than normal is going to help you out in maps that are quite dark. However, try to keep the health of your eyes in mind when cranking it up.
Film Grain –Turn this down. It is a visual flair that doesn't help you play well.
Tooltips – Off.
World Motion Blur –Disabled. Motion Blur only stands to distort what you're seeing and make it harder to aim in the game. The best Call of Duty console settings needs it turned off entirely.
Weapon Motion Blur – Disabled, as above.
Audio Settings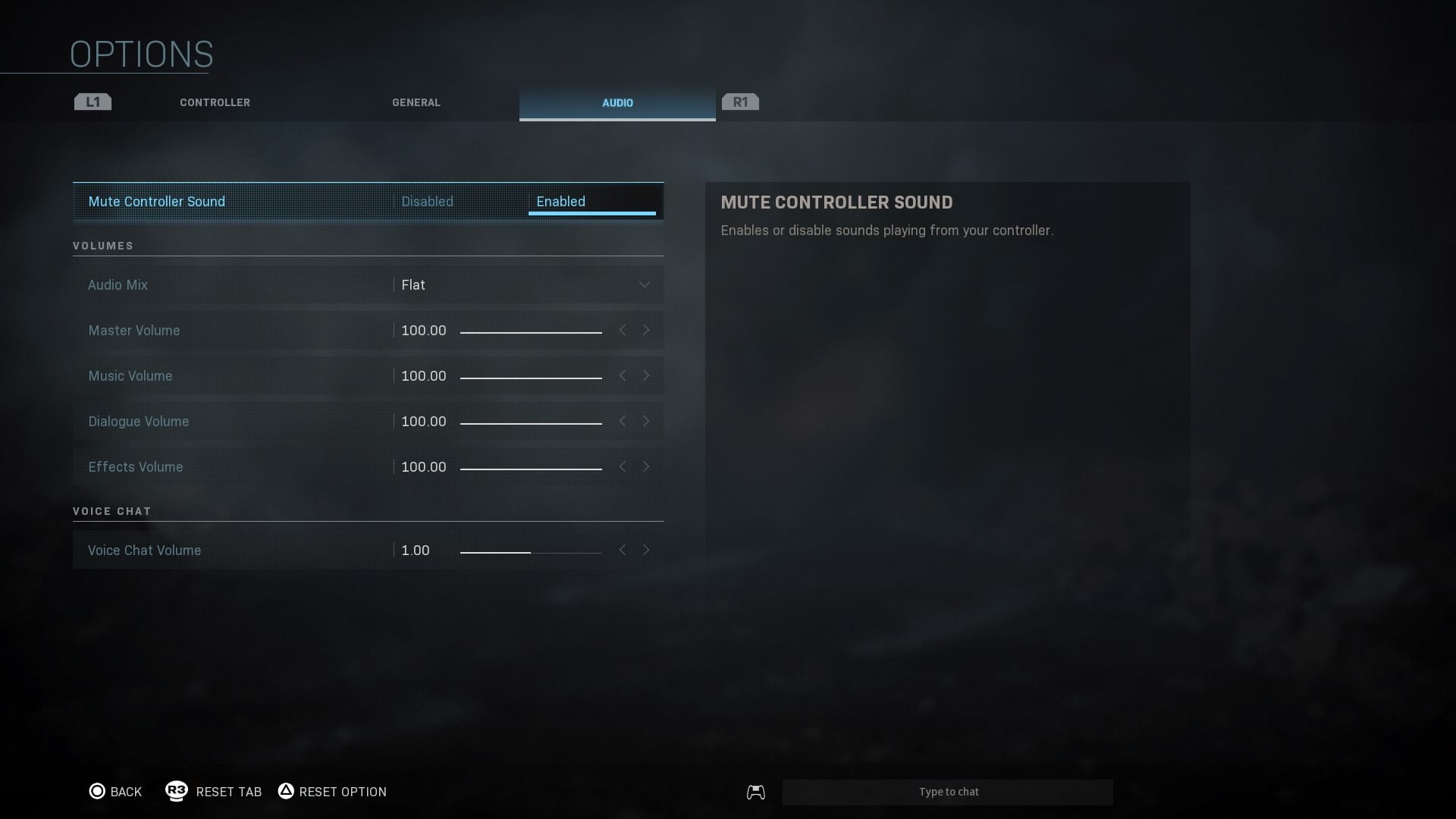 Audio is slightly more important in the game than you might think. Hearing environmental sounds like footsteps are vital clues in-game. This is really important in Warzone but also important in the Battle Royale mode. Having your audio balanced properly can help you hear everything that you need too. These are the best Call of Duty console settings for audio.
Mute Controller Sounds –Enabled. Having your controller make noises is only going to distract you.
Music Volume –Turn this down. The music for rounds beginning and ending has a tendency to drown out the audio of clues of other players moving around.
Effects Volume –Keep this higher to stay aware of what is happening around you.
Audio Mix – This will vary depending on your preference. Try each out and figure out which one is best for hearing footsteps. Boost is a good choice to go with, but it really depends on if you're using headphones, where you're sat, and the speakers of your TV.
These are the best Call of Duty: Modern Warfare console settings. You obviously don't get as much control as you would in the PC version of the game. However, if you are playing on a console then this is still going to be an improvement over the default settings. These should enable to play in a more fluid way, with the most responsive control system. This should free you up to spend more concentration on aiming and tactics.
If you're finishing up the latest Battle Pass or getting started with Warzone then our guides to the rest of the game can really help you out with that.
This article includes affiliate links, which may provide small compensation to Best Gaming Settings.