Call of Duty: Modern is now well into its Beta period; players have had a chance to see a lot of what the game has to offer. This includes a good look at the Call of Duty: Modern Warfare guns that they'll be using in the full game. There is an awful lot to get your head around, even in this early demo. Alongside the Gunsmith mode, killstreaks, perks, and other create-a-class options, you have a ridiculous amount of customization of your load-out.
If you want to do well in Call of Duty: Modern Warfare and grind through the levels, you need to be using a good class. This all rests on your choice of gun. Your choice of weapon in the game is going to be the starting point for whatever you set up you end up. Knowing the ins and outs of each weapon is going to save you time trailing everything out.
The beta stats aren't going to carry over, so this is a great time to get to grips with elements of the game. However, there is a staggering amount of options. This means you're going to have to limit even your options for this experimentation phase. This guide will go through the guns on offer in the game. You should get a better idea of where to start with the Call of Duty: Modern Warfare guns.
Call of Duty: Modern Warfare Guns – Assault Rifles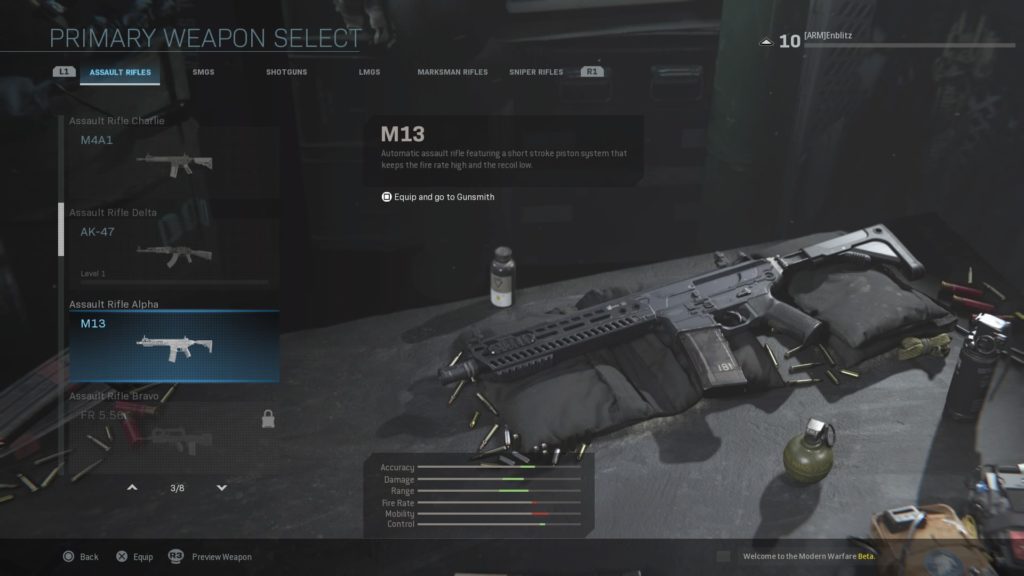 FR 5.56
This weapon is sometimes known as the Famas. This weapon is a burst-fire assault rifle with a high damage rate. The accuracy can be improved with your Gunsmith choices. The main downside of this weapon is its rate of fire, you might struggle in closed spaces.
M13
This assault rifle features a high fire rate and low recoil. This makes it more mobile and safer to deploy at a moments notice. The damage and range aren't great though.
M4A1
This is a good all-rounder assault rifle. It isn't particularly specialist but it has some great qualities that make it well balanced. This is a good starting point for those new to the game before they begin to specialize.
Ak-47
This one is a classic of the shooter genre. It seems to have a fair bit of recoil. However, it hits hard and is easy to maneuver. This makes one of the Call of Duty: Modern Warfare guns that is best for quick movement in the assault rifle category.
ODEN
This weapon has some strange balancing choices, but it might work out for some players. It has a slower rate of fire, nearly the slowest out of assault rifles. However, this is balanced with a really high damage rate and accuracy that you won't find elsewhere.
Kilo 141
This is the assault rifle for those after accuracy. It does well at longer ranges along with close up. It does sacrifice some mobility for this and the fire rate isn't the highest.
FAL
This entry into the Call of Duty: Modern Warfare guns are pretty well balanced. It is semi-automatic with a good damage rate. Its mobility and accuracy are about standard with a range slightly lower than what you'd expect. A well-balanced weapon.
FN Scar 17s
This one is fully automatic. This gives it an okay accuracy and decent damage. The mobility is better than you'd expect given the automation. It features a good range that is effective from further than most other assault rifles.
Call of Duty: Modern Warfare SMGs
Submachine guns work a bit differently in Call of Duty: Modern Warfare. Guns like this don't do the most damage in the world. They are very fast firing and have great mobility. Despite the lower damage, you should be able to do enough harm with the trade-off for ease of use.
MP7
This is a really fast weapon. The recoil can become a problem when it is firing so fast. This weapon is great for close combat and closed-in spaces. The main issue with it is that it is completely ineffective at any sort of range.
MP5
This one copes a little better than others at a further range. It can do damage at a medium range. While it still won't be effective at length, it is better balanced than most SMGs. It does great damage per shot with a slight slowdown in fire rate.
AUG
This one has the best accuracy that you'll find in a SMG. What is really nice though, is that this doesn't mean too big of sacrifice elsewhere. While no other stats stand out, this one doesn't suffer in any department making it a pretty well-rounded weapon.
P90
This one looks similar to the same gun in the original Modern Warfare. This retro entry to the Call of Duty: Modern Warfare will do quite a bit of damage in close range.
PP19 Bizon
The Bizon is an interesting entry into the Call of Duty: Modern Warfare guns. It has much better mobility than most SMGs, but a lower accuracy and damage.
UZI
This weapon has a great fire rate and mobility. Its recoil is pretty high, but nothing out of the ordinary for this class of weapon. It is effective with decent damage.
Call of Duty: Modern Warfare Guns – Sniper Rifles
Sniper rifles are a strange thing in this game. The addition of so many Gunsmith attachments is going to increase the ranged strength on a number of weapons. What you'll really want from a sniper rifle here is stopping power.
Dragunov
This sniper rifle is one that allows you to function at medium ranges as well as distance. It is quicker than most with great accuracy. This is great for more mobile snipers who need a greater variety in their options.
AX 50
This is a real classic of a weapon. It is a bolt action sniper rifle than does really high damage if you manage to hit. This one is meant for absolute sniper purists, those confident in their shot.
MSR
This one is also bolt action, with a slow fire rate. It has big damage numbers though. This is made for those who hang back in relative safety to snipe.
Marlin 1894
This is the fastest firing sniper rifle in the game. It is more mobile and more forgiving. However, it lacks the power of the other rifles. This might be a good weapon for anyone transitioning into sniping.
HDR
This is a really powerful sniper rifle. It also happens to be really really slow. That is the trade-off. However, you also get quite good movability when lining up shots.
Call of Duty: Modern Warfare Shotguns
Shotguns are essential weapons. However, what we've seen of Call of Duty: Modern Warfare so far hasn't included all that many of them.
Model 680
This is a pump-action shotgun, so it does fire slowly. It does a great amount of damage and has an okay range. However, a missed shot will put you at a real disadvantage. Players need to remember that this isn't Fortnite and Shotguns aren't unstoppable machines.
725
This one is a sawn-off shotgun. It does fantastic damage at a close range. The downside, is the range and speed are pretty much terrible. This one has to factor into a very specific playstyle or class build.
R9-0 Shotgun
This shotgun deals a little more damage than the others. However, It is also quite slow to fire. It makes up for this with mobility.
Origin 12 Shotgun
The origin shotgun is semi-automatic. This allows it to be fired a lot more than any other shotgun. While it doesn't pack the same punch, you can get a lot more damage in.
Call of Duty: Modern Warfare Guns – LMGs
If an SMG is a little underpowered for you, then an LMG is going to give you decent mobility too. These guns are going to fit players willing to hang back a drop to get their kills in.
L86A2
This entry into the roster of Call of Duty: Modern Warfare Guns has great flexibility for making all sorts of shots and mobility. It has a lot in common with an assault rifle. However, it does do the damage size of an LMG and have the same fire rate.
M91
The M91 is a great light machine gun for setting up in a spot and mowing down enemies. It has a big fire rate and a pretty good damage rate. There is some recoil that you'll need to deal with. Luckily, this is where Gunsmith comes in.
MG34
This gun is a Call of Duty standard. It has a high level of recoil like the M91 but does a great amount of damage. It can be difficult to use in a mobile way because of the recoil.
SA87
This one uses lighter stock but does do quite a bit better at long ranges than others in its class. This is at the cost of mobility.
PKM
This weapon features heavier ammunition. This gives it a great damage rate and a higher fire rate. This sacrifices mobility quite a bit.
Call of Duty: Modern Warfare – Marksman Rifle
These rifles fill a particular niche. They are similar to sniper rifles, but with added mobility and fire rate.
M14
This is a semi-automatic rifle. It has a decent damage rate but not as good as a sniper rifle, its fire rate is also pretty good. This makes it an effective tool for medium range fights, but lacking in long or short without some Gunsmith alterations.
MK2 Carbine
This Marksman rifle carries the stopping power of a decent sniper rifle with better accuracy. It is closer to a sniper than a medium-range weapon. However, some players will find this exact balance just right for their play style.
ERB-14
This one goes for mobility and damage rate. The accuracy is also pretty good but it is quite slow firing. It is one of the least sniper-like of the class.
Kar98K
This is another Bolt action rifle. It has a high damage rate and control. However, the fire rate is low and mobility isn't fantastic. This one doesn't really have enough unique about it to warrant picking it over the more specific rifles.
Call of Duty: Modern Warfare pistols
Pistols might not be the most exciting weapon in the game, but they're an important sidearm for any player.
.50 GS
This pistol has a higher damage rate than most. It doesn't fire the fastest, but as a close combat weapon, it is surprisingly effective.
X10
This is a decent well-rounded pistol. It doesn't really have any stats that set it aside from the crowd. With so many Call of Duty: Modern Warfare weapons on offer, not all of them are going to stand out.
M19
This is a semi-automatic pistol. It is considerably more stable than the others. It gives a steady and fast fire rate with little recoil or drift.
.357
This one doesn't really seem to stand out about the others. It lacks a fast fire rate or stronger damage. As useful as pistols are, there isn't much strategy in picking one over the other.
Call of Duty: Guns – Launchers
Things get a little more interesting here. Launchers are a great tool.
PILA
This weapon fires unguided rockets. This makes accuracy really important. Useful for bigger team games over those with small sizes.
Strela-P
This one locks onto vehicles. This makes it a great weapon to have on hand when other players pull out their killstreaks.
RPG
The 0ld classic. This is a well-balanced launcher that should do some major damage. If you want a launcher in your build, you should use this one unless your mode or build specifically calls for an alternative.
Between so many Call of Duty: Modern Warfare weapons it can be difficult to decide which is going to make your build. Take some time to try out all of them, and ensure you're using the best Call of Duty: Modern Warfare settings to get the most out of your weapon.