Call of Duty Warzone has arrived on consoles and it is dominating the conversation over Battle Royales at the moment. Part of this attention is down to the game's map. The Call of Duty Warzone map is huge. Really quite big, especially when you're used to playing Fortnite or the smaller PUBG and Apex maps. With the space to accommodate 150 players, you have a lot of different spots you can land at. This guide covers where are the best places to land in Call of Duty Warzone, the main POIs, and where to find buying stations across the map.
When you're looking for a Call of Duty Warzone map landing spot, you've got to consider a few things. The first is obviously loot, you need a weapon as close to landing as possible to ensure the entire game isn't a misfire. You need a good amount of loot to get established. Then, you have to consider rotation. You can't predict where the circle is going to go. However, you can place yourself in a spot that allows for easy traveling. Landing on the far corner of the Call of Duty Warzone map makes things a little difficult no matter where the circle is.
This guide covers the best landing spots to get the best start possible for the game, and the areas you need to know about when considering how to move around the map.
Call of Duty Warzone Map Guide
These are all of the major POIs in the call of Duty Warzone map. Below though is a full map. This is gonna be useful for reference throughout the guide.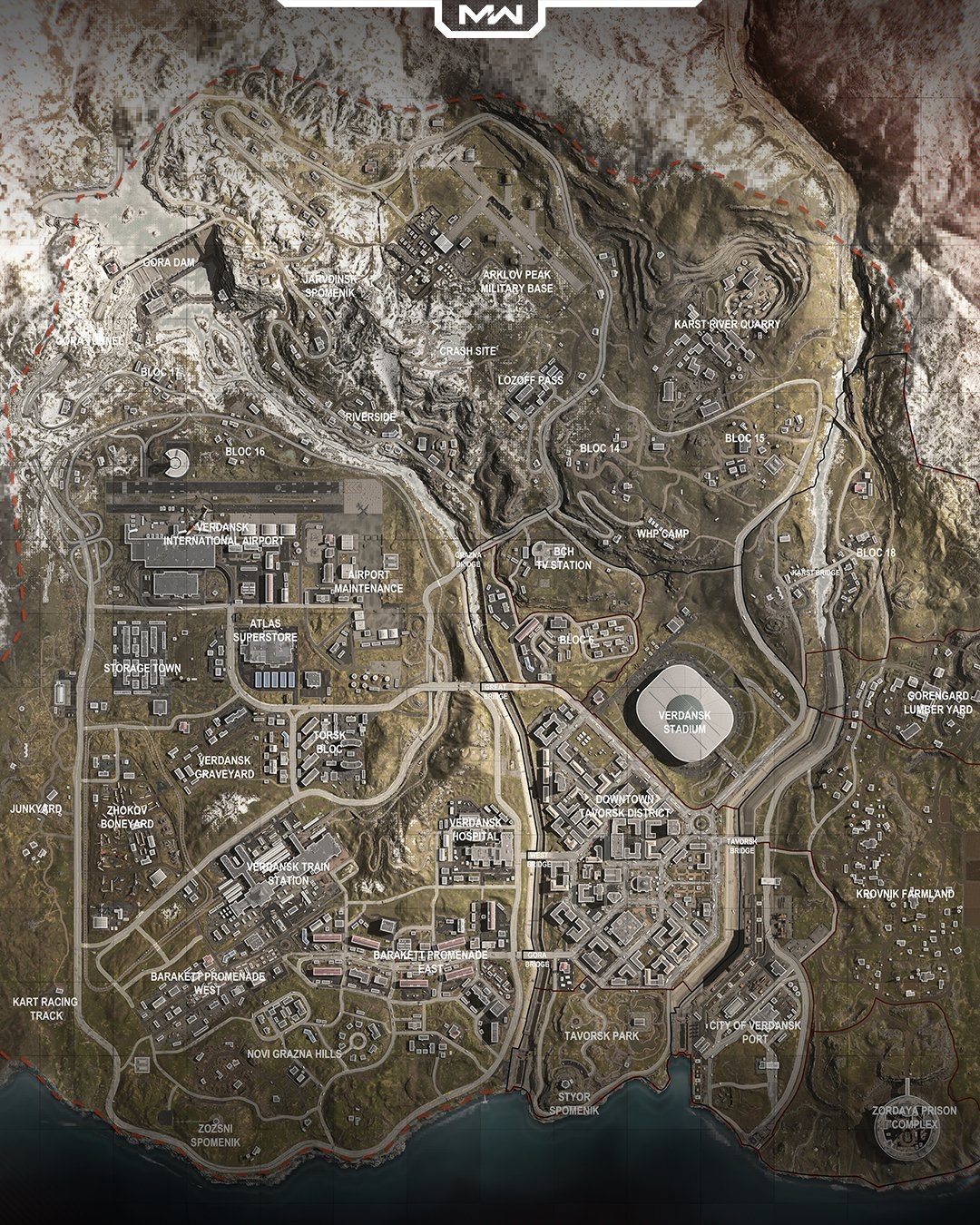 The Best Landing Spots in Call of Duty Warzone Map
We already where the loot is and how regularly you can expect it right from the release of the game. This has taken out a lot of the guesswork in the early days of the game. These are the best landing spots in Call of Duty Warzone:
Verdansk Airport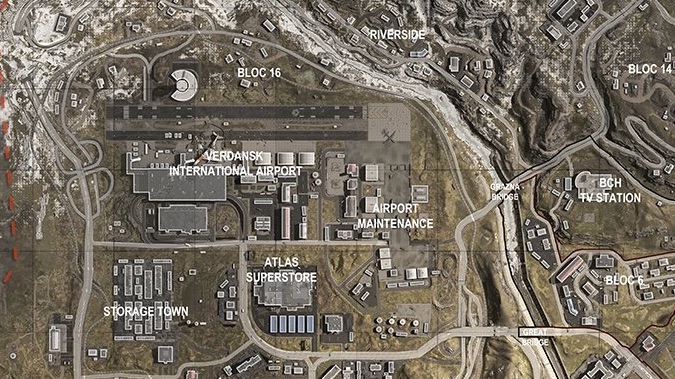 This area is almost too big to be considered a POI on its own. Instead, it is more of a collection of buildings that have a ridiculous amount of loot in it. If you land here you can definitely find enough loot for an entire team, there is actually enough for quite a few teams. That's where the problem is though.
This is going to be a popular area to drop into. If you go here, expect some early game firefights. If you're prepared for this, then you can really come out ahead here. However, it is something you've got to keep in mind.
Landing on the outskirts of the airport gives you plenty of loot too. The storage town and atlas superstore are less popular than the main airport themselves, so they're a good compromise. This is definitely one of the busiest landing spots in Call of Duty Warzone. However, it is also one of the best.
Zordaya Prison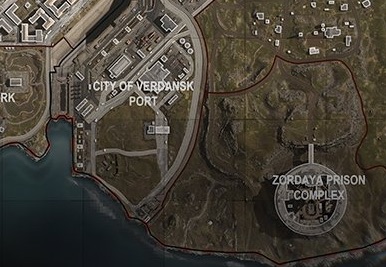 The Zordaya Prison is the next big contender for the best spot for loot. This area is smaller than the airport so it doesn't attract quite as many players. It is a dense area with a lot of verticalities. There is enough loot here spread around if you're willing to search it out.
One thing to be aware of is that it is relatively remote. There are vehicle spawns on the outskirts which should let you escape when you need to. However, if you fail to secure a vehicle you can be stuck traveling quite a long way. You should keep this in mind when landing here. While it is dense in loot, it can be difficult to rotate back into the safe zone.
Arklov Military Base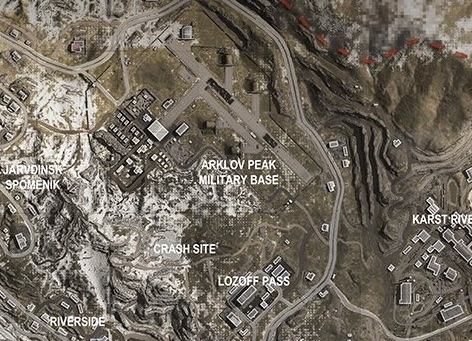 This is a POI on the Call of Duty Warzone map that is relatively popular but not as saturated as the airport. There is plenty of loot here for teams, so you don't have to worry about getting established for the game. There are also plenty of players to pick off for kills early in the game and it is relatively easy to travel out here.
An added bonus is that this is an expanded upon area from the regular multiplayer, so you'll have the benefit of knowing the territory. This place isn't the biggest, but it is actually one of the best spots to land if you want something balanced.
This place often comes up throughout games. This is a great spot for players who are used to mid and long-distance fighting. If you're looking to play as a sniper, the towers in this military base are going to be vital for you.
Verdansk Stadium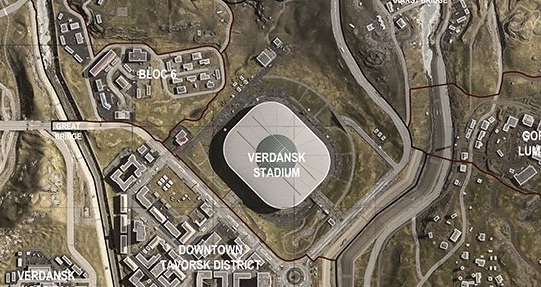 The stadium sits in a special place on the Call of Duty Warzone map. It is really central, which makes it a fantastic spot to land in and cut out a lot of traveling throughout the game. However, it is quite popular.
There is plenty of loot here and definitely enough to support the wide array of teams who go straight to this spot when dropping in. It is spread out quite well, but you'll likely have to come out on top of a few firefights here to fully loot up.
The stadium is a great landing spot, but be cautious of its popularity.
Verdansk Train Station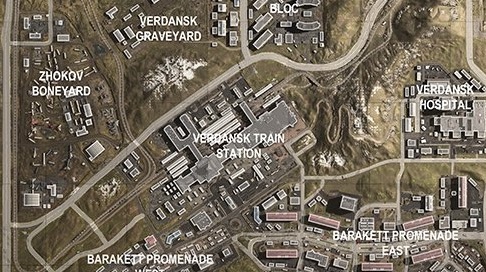 This train station is similar to the airport in that it is quite interiorly focused but with plenty of sheds and other areas spread around too. There is enough here to find some decent loot, as well as some vehicle spawns spread around.
This is quite a small POI, but there is a lot of loot here. That does come with some risks if there are plenty of other teams here. Try and remember where vehicle spawns are as a safety mechanism for an easy escape. Verdansk Train Station is one of the best landing spots on the Call of Duty Warzone map, but it is a bit more concentrated than the others on this list.
Call of Duty Warzone Map Buying Stations
Buying Stations are a vital part of the call of Duty Warzone map. While you shouldn't plan your landing exactly around one, it can be helpful to have a rough idea of how they're concentrated. This is a map of the buying stations in the Call of Duty Warzone map at the moment.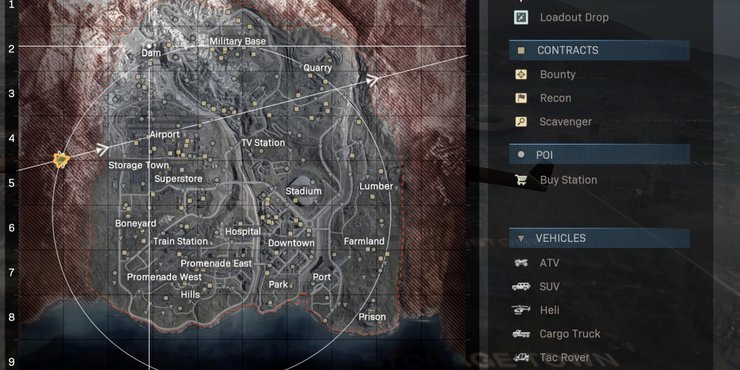 This should all give you a good idea of what are the better landing spots on the map and where you need to rotate through to keep your access to buying stations. Picking a landing spot is bound to be tricky during the first few weeks of release as players get to know the map. This is made all the more difficult by how large the Call of Duty Warzone map is. These are some other guides that can help you get a head start on the game: