Call of Duty: Modern Warfare has a different take on building a loadout for your character than we see in most shooters or even in past call of Duty games. While a lot of other titles have chased after a similar situation to Fortnite or PUBG since they became big, Call of Duty: Modern Warfare is sticking to the usual route of creating a solid character class system. This doesn't mean everything is the same though, the system has had a big revamp for the latest title. Create a class in Call of Duty: Modern Warfare gives you a lot of different options.
The main evolution from previous titles to this one is attachments. These are now separated from the main class structure in the Gunsmith area. Create a class in Call of Duty: Modern Warfare has a lot more options for attachments then we've seen before. A lot of these can really alter the way that the game plays.
Create a class in call of Duty: Modern Warfare comes down to mixing and matching the elements available to you into a combination that suits your play style. At your disposal, you have Weapons, Killstreaks, Field Upgrades, Perks, Equipment, and Gunsmith attachments.
Create a Class in Call of Duty: Modern Warfare – Weapons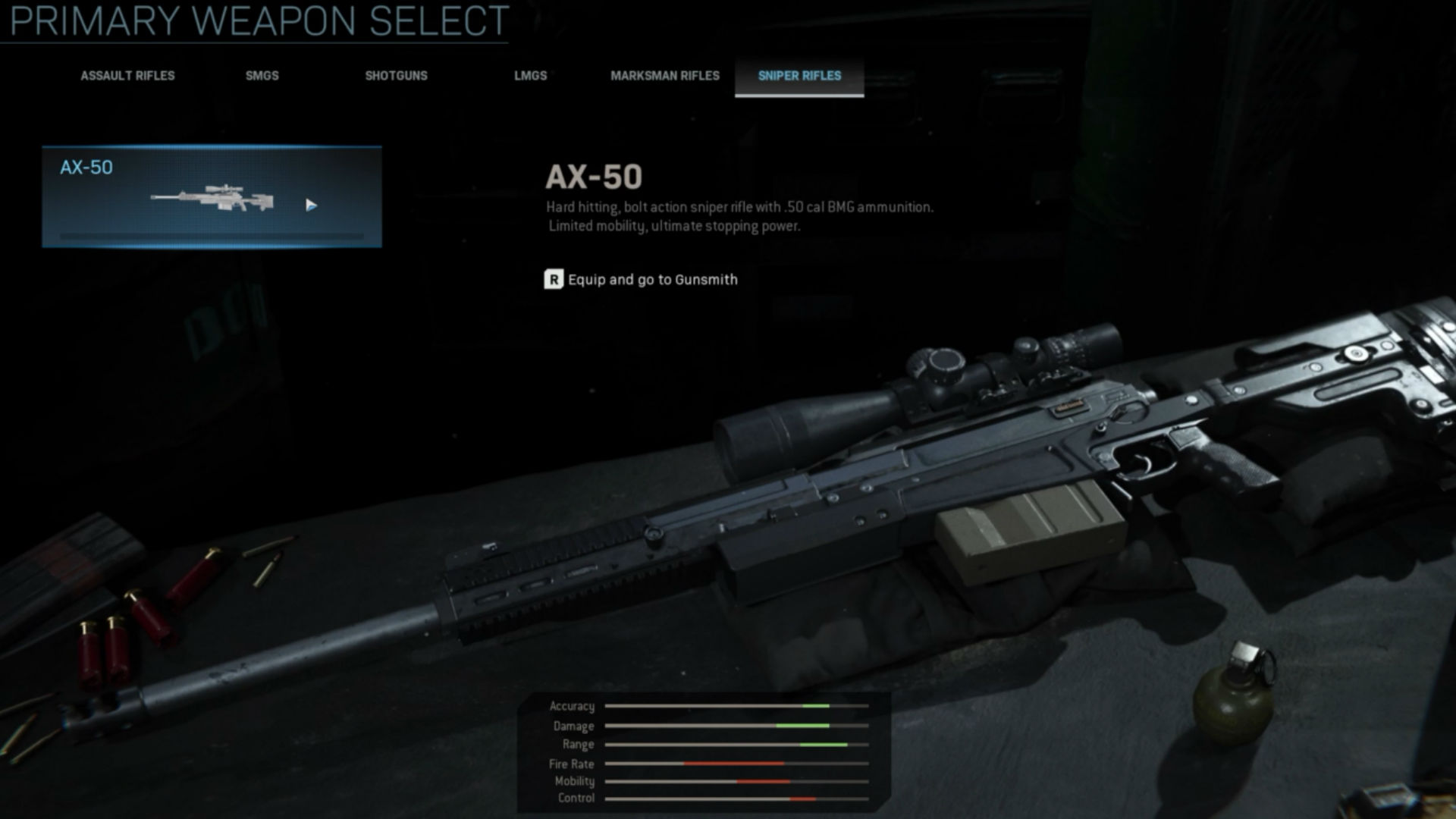 In each iteration that you make in creating a class, you get to chose from a variety of weapons. These are divided into your primary weapon and your secondary weapon.
Your primary weapon is your main line of attack and should suit your play style. If you're a sniper, you need a sniper rifle. If you favor mid-range, an assault rifle is best here. This is really where your create a class needs to start. You need to build your loadout around your choice of primary weapon. If you chose to use the Overkill perk, then you will be able to have two primary weapons. Remember that you can use mouse and keyboard on any platform, so that shouldn't factor into your decision making.
Your secondary weapon is something different. These only come in two categories, handguns, and launchers. Handguns are great for classes that are going to struggle at close combat or when under direct attack. This allows you to go for something less useful in some situations as your primary since you can fall back on your secondary weapon. Launchers are going to be helpful to pull out to deal big damage.
Perks
Perks are special abilities that you can select for your create a class a class in Call of Duty: Modern Warfare. Each has three slots for perks but you can only equip one from each section of the Perk tree. You need to pick ones that compliment your play style. You should focus on Perks that are going to help your main weapon, help your movement, and then a third for something specific. If you're playing games that depend on Killstreaks, then the bounty option may be for you. If you're playing as a solid team or as a sniper, then a stealth-based perk like hunter would be best.
You should pick perks that specifically help your weapon, rather than just the perks that you think have the coolest effect. A badly balanced class isn't going to be as effective, even if you think your choice of perks is overpowered.
Create a Class in Call of Duty: Modern Warfare: Lethal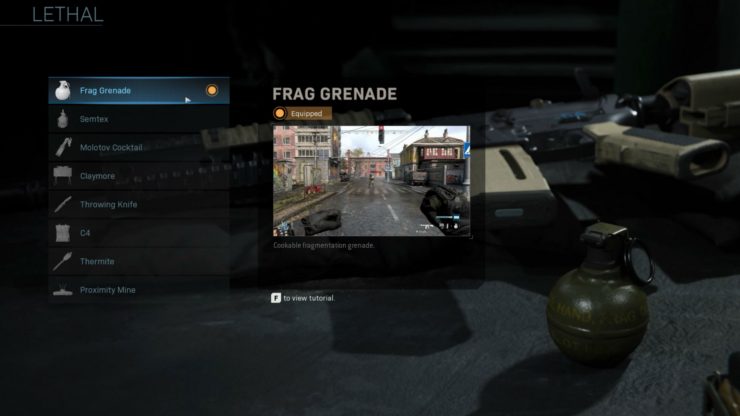 Lethal is the third category of weapon and it gives you access to some real classics like grenades and proximity mines. As with Perks, these should suit your play style. Grenades are helpful if you're going to be pushing forward rather than defending. Proximity mines will be helpful to protect yourself as a sniper.
If you're going for a Lethal piece of equipment which will form a major part of your attack, then you should aim to use Perks that help you keep your supply of Lethal attacks up. This can really make a difference if you're using them a lot. You only get one choice here, so make it count.
Create a Class in Call of Duty: Modern Warfare: Tactical
This is the last bit of equipment in the create a class. You can choose from eight different tactical additions. The bulk of these Tactical options are grenades. Many are aimed more disorientating than actually killing, such as the Smoke Grenade and the Flash Grenade. There is also a heartbeat sensor if that isn't your type of thing.
The tactical weapons should compliment your choice of Lethal and main weapon. Many of them perform pretty similar tasks even if the execution is different.
Create a Class in Call of Duty: Modern Warfare: Gunsmith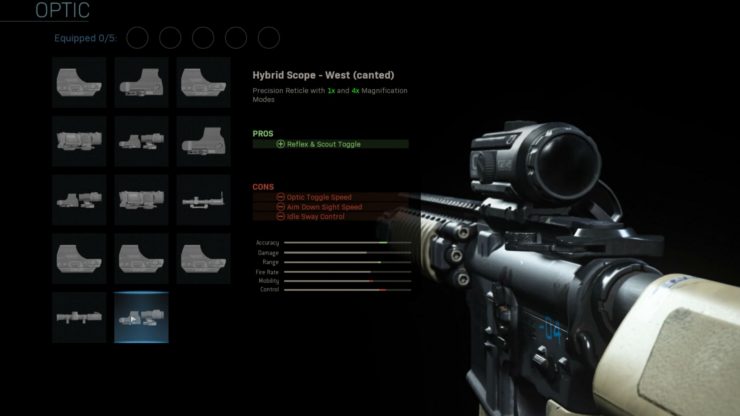 Gunsmith is the expansive new area added to create a class that is replacing attachments. It allows you to tweak the build of your weapon to such a degree that it can barley resemble that in use by another player. Each weapon can have between five and seven attachments. This includes changing the ammo stock, grips for speed, and scopes or sensors for aiming. Some of the options have effects that were previously seen as perks in Call of Duty. Moving them into Gunsmith can you more options for customizing your loadout in create a class.
With so many options in Gunsmith, it is going to take some experimentation to find the build of weapon that works for you. After a few games, think about what part of your weapon is holding you back or could be improved, then try to combat it with the right choices of attachment. These options are going to help you compensate for any of your blind spots while playing.
Create a Class in Call of Duty: Modern Warfare: Killstreaks and Field Upgrades
Killstreaks and field upgrades fall in the same vague category as create a class but it is more restrictive. These options can't be customized for each individual loadout. Rather, you've got to use the same one for any build that you're using. This is a bit of a hassle compared with the other options in the game, but there is little stopping g you from changing your kill streak around fairly often to suit the class you're playing as. Keep in mind though that you can't do this on the fly as you switch character classes between rounds.
Killstreaks can be selected that give you a special attack or move for your team at increments of getting kills. These range from huge attacks that take a lot of kills to moderate ones that reward more modest accomplishments. It is a shame that these can't be changed easily since some will be more useful on some maps than others. Try to hedge your bets in your choice of the three streaks to give yourself something useful in any class or situation, provided you get the kills.
Field Upgrades are a new feature in create a class for Call of Duty: Modern Warfare. It is similar to the equipment you can select. However, they recharge over the course of the match with some taking more time than others. You can pick from five different options. However, you're stuck with this choice for all of your classes.
If you want to win your first match in Call of Duty: Modern Warfare then you need to be building the right class. However, you should also be using the best Call of Duty: Modern Warfare settings.