Escape from Tarkov is a deep and complex game, with complicated systems at work. This new shooter has grabbed player' attention for its realistic gunplay and unique realism. However, it can be a bit confusing for newcomers. You won't find the friendly and easy to use mechanics of Fortnite or Call of Duty here. Instead, Escape from Tarkov uses sophisticated and realistic systems to enhance the gameplay experience. This is visible everywhere, but the Escape from Tarkov health system is particularly unique. This guide covers how health and damage actually work in the game.
Escape from Tarkov takes a unique approach to health, one that's as complex as its loadout system. Rather than just having a health bar, you've got something resembling the way a person actually feels pain. Well, it's not quite that exact, but considerably more so than most shooters. The system is comparable to Mordhau, with individual limbs being able to take damage and be rendered useless. On top of this though, you have other health concerns.
As well as actually taking damage, you've got status and health to worry about. Hydration, exhaustion, experiencing blood loss, the list gets quite complicated. In order to address the many problems that you face on the battlefield, you've got a complex system of healing items. This guide covers how Escape from Tarkov health works and how losing a limb isn't actually the end of the world or game.
Escape from Tarkov Health System
The Escape from Tarkov health isn't a simple full bar that accounts for everything. Instead, individual elements have their own health, as well as the underlying system for more general health. This is how it breaks down:
Head – If this section is destroyed, you'll instantly die. It gets 35 health points.
Thorax – This is another instant death when killed. It has 80 health points.
Right Arm – If this is fractured then your items and searching will be 50% slower, and reloading, drawing, and aiming your weapon will take 67% longer. Once your right arm loses all health you can't use it. After this, damage will then be distributed around the entire body. It has 60 HP.
Left Arm – Same as the right arm, but on the opposite side of course.
Stomach – A fracture in your stomach will cause dehydration and energy loss, like the arms continuing to receive damage will spread the damage across your body, but at 1.5x the normal amount. It has 70 HP.
Left Leg – If fractured, your speed is reduced by 45%, your jump height is also decreased and sprinting will cause further damage. After your legs are killed, damage is dealt to your whole body. It has 65 HP.
Right Leg – Same as above.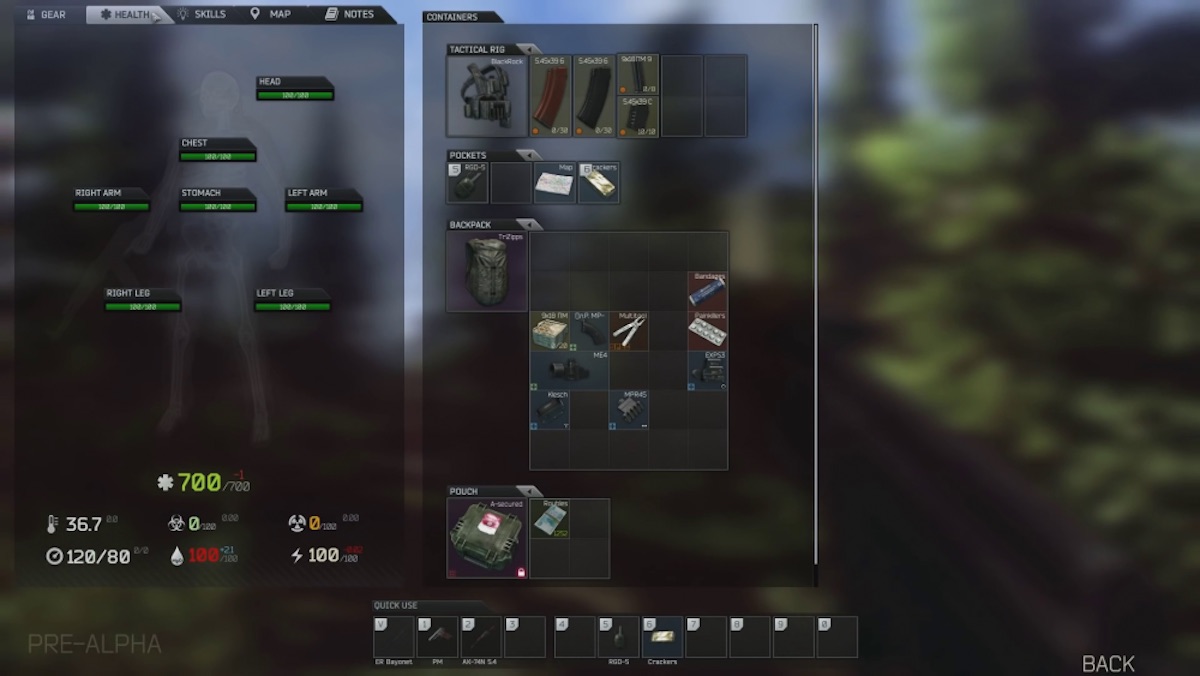 That's how your health bar actually shakes out. Some areas can take damage and still allow you to play the game. However, shots to the head are still going to be dangerous compared with anywhere else. This isn't the only aspect to healing though. Your overall health can be affected by other things.
Escape from Tarkov Health Guide – Status Effects
Status effects in Escape from Tarkov affect your health by applying a usually negative effect on the player. This can vary between disorientation and taking more damage. Most of these are things you should be trying to avoid. Some of these statuses won't make it impossible for you to survive, but it will make it more difficult.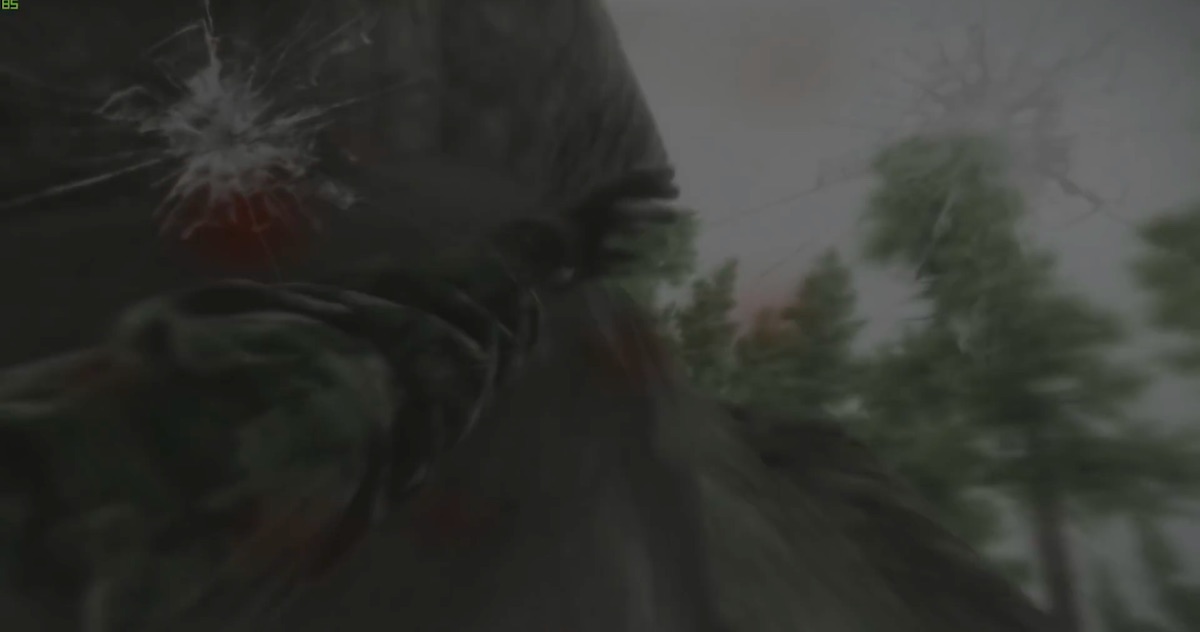 Status Effects
Bloodloss – The effected area loses HP every 5 seconds.
Fresh Wound – This replaces blood loss. If you sprint or jump too much it will turn back into blood loss. It lasts 240 seconds.
Fracture – A fractured part of the body will eventually become unusable and slow you down if not treated.
Pain – General pain will darken your vision.
Confusion – This reduces your senses by 33% and it also muffles audio. This makes it difficult to get the most out of the realistic game world and can cause real problems. It lasts 60 seconds.
Tremor – This causes the screen to shake. It will be caused by having pain that you don't treat. It lasts until you treat the pain!
Tunnel Vision – This causes the screen to pulse in and out of a tunnel effect. It solves itself, wearing off after 15–30 seconds.
Painkillers – When you take painkillers, your contrast will increase and fractures or pain will not affect you. The duration of this effect depends on the type of painkiller taken.
Dehydration – A filter is applied when you're depredated and you lose 2 hydration points every 2 seconds. This will continue until you are hydrated again.
Hard Dehydration – This even more severe. You get the same filter, but lose 3 health points for 3 and a half seconds on every single limb.
Fatigue – Everything you do will be 20% slower.
Hard Fatigue – Everything you do is 20% slower and you lose 1 health point every 2 seconds.
Disorientation – Your senses are completely disabled for 10 seconds.
Stun – You lose all sound which is replaced by a shrill ringing. This goes on for 10 seconds.
Flash – You're blinded entirely. This also lasts for 10 seconds.
Destroy Body Parts
Your destroyed body parts will end up blacked out if they cause too much damage. However, this isn't the end. If you have access to surgical kits or healing items, then you are able to pull this destroyed body part back together. However, it is difficult to ever restore them to full health without running through a fortune's worth of healing items.
Off-Raid Healing
Even when you're not in a raid, healing isn't instantly. You will regain health, hydration, and energy over time. However, you should keep in mind that you'll need to use health items if you want to fully restore quickly. Upgrading your hideout modules can also increase automatic healing. If you find yourself shelling out for healing items outside of raids often, then making the investment on these modules might be a better way for you to heal. Even outside of raids, Escape from Tarkov health isn't simple.
How to Use The Escape from Tarkov Health System
As you can probably tell, health is complicated. This is why you've got to prioritize. Often, a destroyed limb can be fatal given the way that it puts you at a disadvantage. In these cases, having low-level healing items like painkillers to hand will allow you to get to an extraction point without wasting your healing materials.
While this is fine for most health problems, sometimes you need something stronger. Unless you're willing to lose your stuff every time you take a major hit, you need to keep decent level healing items on you as well. If you're left nearly dead, you likely won't survive to an extraction point on most maps with the various status effects. These healing items are more expensive and shouldn't be used unless necessary, but if it is your only way of surviving then it's better to weigh up the cost of a single healing item to actually dying.
The Escape from Tarkov health system is definitely more sophisticated than in most games. However, if you pay attention to the various damages that you have then the status effects of this damage won't come as a surprise to you. If you're expecting the negative effects of getting hurt then it shouldn't be too hard to deal with them. If you want to avoid taking damage in the first place though, you should try and optimize your settings for Escape from Tarkov!