Call of Duty: Modern Warfare has one of the most expansive systems for creating a character class that we've seen in the series so far. While weapons and killstreaks are vital for crafting a balanced class, there is a lot more to think about this time around. Call of Duty: Modern Warfare Field Upgrades are rechargeable equipment that you can choose between. This gives you another ability to use when playing the game.
Crafting the perfect class in Call of Duty: Modern Warfare is really important for winning more games. Field Upgrades are just one of the many options available to you. To really make the perfect class, you're going to need to go through all of the field upgrades and find those which are best for you. This guide will show you each field upgrade, and how to best utilize it.
The Different Types of Call of Duty: Modern Warfare Field Upgrades
Call of Duty: Modern Warfare Field Upgrades aren't all universal in their effects or in how they're used. There are six different options and each recharges at a different rate. It is worth keeping the recharge rate in mind as this is a vital factor in balancing them. The field upgrade that doesn't seem as useful will actually be used considerably more over the course of the game.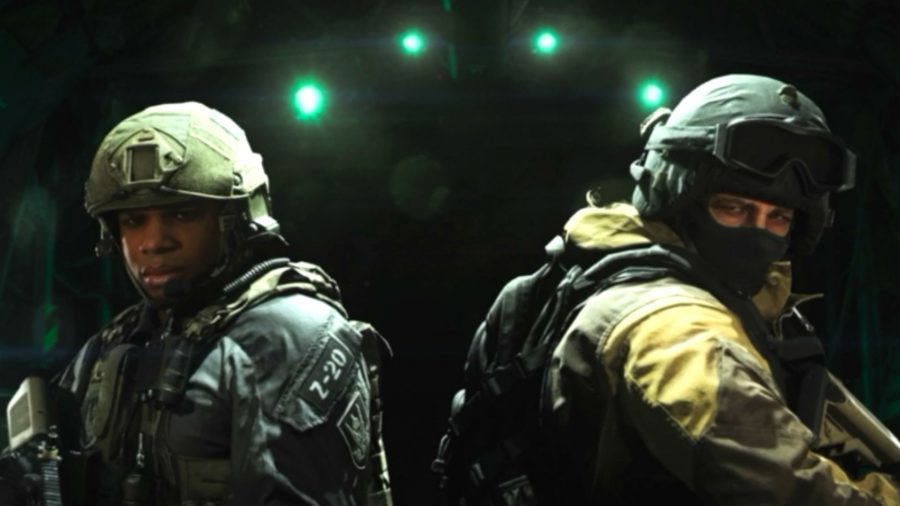 Even if the Call of Duty: Modern Warfare Field Upgrade that best matches your play style has a high recharge time, it isn't the end of the line. By properly coordinating your perks you will be able to boost this recharge time by 50%, cutting any field upgrade's cool down in half. This is a major bonus. If you plan on basing a class around using field upgrades to supplement yourself, the Tune-up perk is a great choice.
Call of Duty: Modern Warfare Field Upgrades
Fast Recharging Field Upgrades
Tactical Insertion
This entry recharges pretty quickly so you will get to use it an awful lot. It marks a location as a spawn point next time that you respawn. Obviously, this field upgrade is only actually useful in-game modes where you respawn. It is best suited to more aggressive players who may perish when pushing forward fairly frequently. If utilized properly, you can use it to make death a minor inconvenience. Pushing forward to claim new ground will be easier by bouncing you back to a closer spot upon death. Be wary of other players of taking advantage of your exposed spawn point though.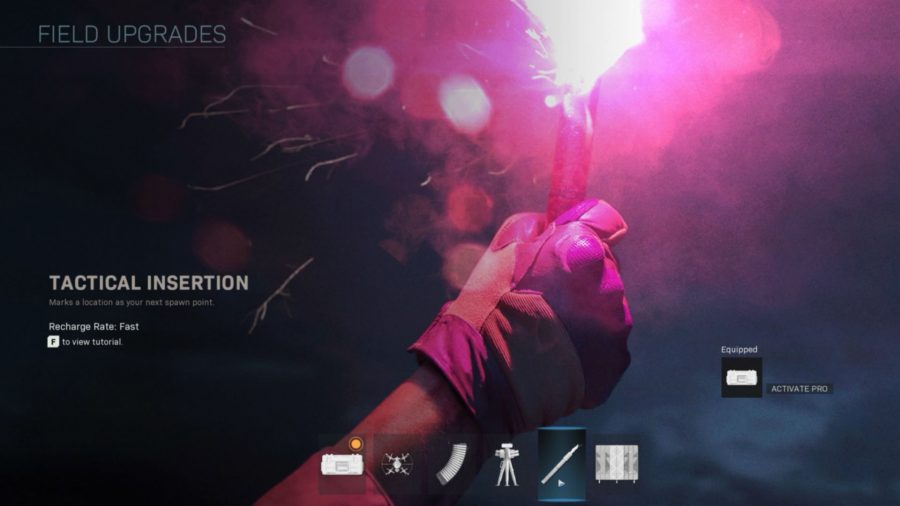 Trophy System
As another fast recharging Call of Duty: Modern Warfare Field Upgrade this one will come and go quite a bit. It deploys a defense system that can destroy three pieces of equipment or projectiles nearby. While this is a very specific use it is going to be really helpful in neutralizing the enemy. With a fast recharge time, this field upgrade will help you take objectives and ground much quicker than you normally would. It would suit players who engage in a lot of close combat by neutering their enemy's equipment.
Deployable Cover
This upgrade deploys a portable cover that provides you with some defense. This isn't really hard to figure out, pretty much every player would benefit from using this field upgrade.
Standard Recharging Call of Duty: Modern Warfare Field Upgrades
Munitions Box
This field upgrade is a box of ammo grenades and weapons for you and your teammates. The recharge rate is around average. This upgrade will be more useful for certain game modes than others. It is specifically suited to a type of player, but instead those who like to play the longer, bigger, and more expansive game modes in Call of Duty.
Slow Recharging Call of Duty: Modern Warfare Field Upgrades
Recon Drone
This Call of Duty: Modern Warfare Field Upgrade is a remote-controlled drone that you can use to mark enemies, equipment, and vehicles in the world. It has a slow recharge rate so it may be best when combined with the faster cooldown perk. This field upgrade would suit players who are willing to use their other perks and equipment to perform a recon role overall. Ideally, you should be happy to be playing a support role for your team rather than chasing those kills yourself.
Stopping Power
With this field upgrade, next time you reload your gun your rounds will deal extra damage. This one is a bit tricky to utilize properly since you may end up saving those bullets until you think they're really necessary. This field upgrade is for a player who stays at relatively mid-range. Close combat weapons won't need the extra power. Although extra damage may be helpful at a long-range, snipers reload far too often for it to be effective. A decent sniper should also be making shots that don't need extra power.
Between all of these Call of Duty: Modern Warfare field upgrades, there should be something for every player to use. Which one specifically suits you is going to vary on both your play style and the game mode you're currently using. Be sure to switch out your field upgrades for different game modes if you really want to take advantage of what is on offer.