Call of Duty has an intricate loadout system of weapons, killstreaks, attachments, perks, just about everything you could possibly get into a loadout. However, this is all irrelevant if you can't shoot straight. If you're losing games that you should be winning or lagging behind in getting kills, chances are that you need to learn how to aim better in Call of Duty: Modern Warfare. Aiming is about muscle memory, precision, and knowing how to improve. This guide covers some things you can do to improve your aim and hit your targets more often.
Aiming better can be achieved, but it won't be instant. There are plenty of good practices to use when aiming, but a lot is practice and precision. This all comes with muscle memory. Pro players have great aim because of great muscle memory. This comes from repetition and practice. The more shots you line up and hit, the more you can naturally move your aim to follow where you think it should be. Eventually, with enough muscle memory training, moving your crosshair is going to become a lot more subconscious. To build better aim, there are some exercises you can do and settings to adjust.
The Right Settings to Aim Better in Call of Duty: Modern Warfare
If you want to aim better in Call of Duty: Modern Warfare you've got to start with your settings. Using the best settings for the game can be helpful for everything, but when aiming it is vital. These are some other recommendations for prioritizing aiming:
Go for High FPS over Visuals – Your FPS gives you a more reactive view of the game, this helps your aiming feel more natural. Prioritize FPS over making the game look prettier or more Filmic.
V-Sync – Turn it off.
Mouse Acceleration – Off.
Filtering – Off.
Smoothing – These things are just there to mess up your aim, there is no benefit to keeping them on.
The other major factor for your aim is sensitivities. This is a little more complicated than some might make out.
Sensitivities to Aim Better in Call of Duty: Modern Warfare
Sensitivities can be complicated. While trying out a pre-set batch can be helpful, there isn't actually a perfect sensitivity for everyone. This all depends on your reaction time, your mouse, and even the amount of space you have to move your arm around on the mouse pad. There are some guidelines for finding some sensitivities that work though, and sticking with them to ensure you aim better in Call of Duty: Modern Warfare
Low Sensitivity at First – The lower your sensitivity, the more you have to move your mouse to aim. This is actually a lot better for players who need to aim better. More space will allow you to make more exact movements, this should cut out your margin or error by allowing you to aim more delicately.
Mouse Pad – A bigger mouse pad means you can use a lower and more exact sensitivity. Experiment with them and see how low yours can go before your mouse pad is too small to accommodate it. This is your lower limit; remember this is your boundary when playing with sensitivities. Your higher boundary is going to be obvious as it will be too delicate to control.
Experiment – Experiment with different mouse sensitivities. The best way to do this is to play in a game with bots. Try out different settings. When you think you've made a decision, hop into multiplayer and put it to the test. Experimenting is the only way to find the sensitivities that work for you and your equipment. However, after experimenting things have to change.
Stick with it – After you've found a set of sensitivities, stop messing with them. You need to build muscle memory; you can't do that without consistency.
Building Muscle Memory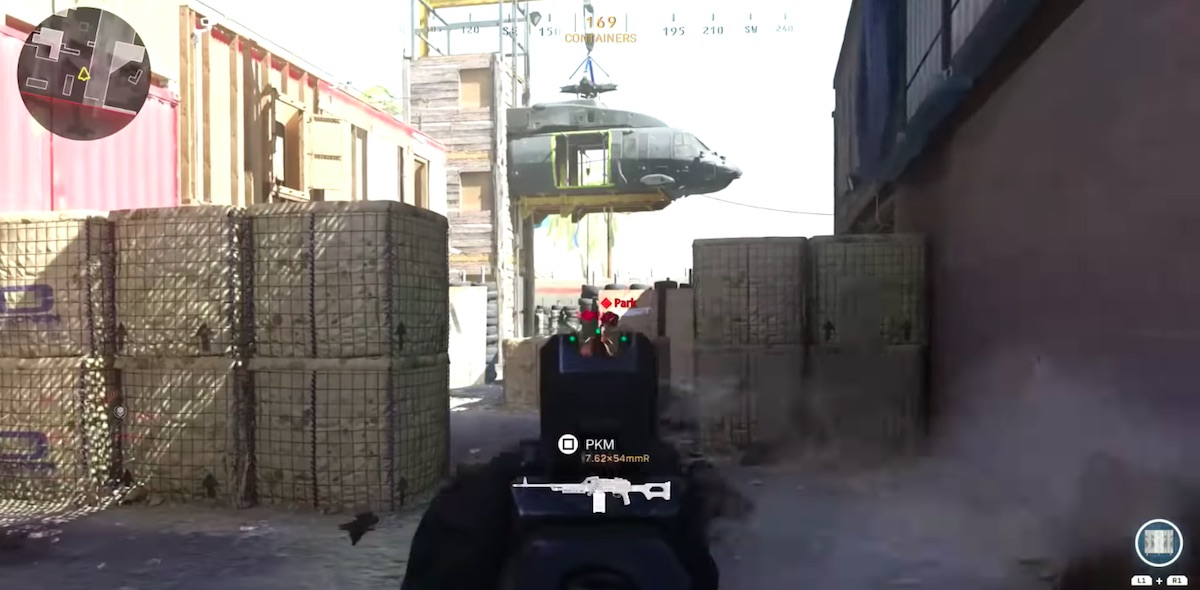 Sticking with one sensitivity is absolutely vital for developing the muscle memory you need to aim better in Call of Duty: Modern Warfare. This is why you need to do this:
Muscle memory turns aiming from a conscious task that requires concentration into a reflex. This is obviously a lot better for hitting your targets.
This comes from familiarity with the task your doing, and a natural memory of how you moved your hands to accomplish that task. In essence, you've got to wire your muscles up to already know how to move the cursor over the enemy's head. You shouldn't even really have to think about it.
If you change your sensitivities around too much, you will have to move differently each time you fire a shot.
This means you can't develop proper muscle memory since you're doing a different movement each time.
Once you've got a sensitivity that works, stick with it until you can build muscle memory.
Tips to Aim Better in Call of Duty: Modern Warfare
Sensitivity, muscle memory, settings, and practice are rally important for aiming better in Modern Warfare. However, there are some other tips you can keep in mind. While building better aim is going to come over time, there are also some basic principles you need to be following:
Keep Your Mouse Steady – Don't wiggle your mouse back and forth, take a consistent shot.
Start Slow – While you're working on your aim, it is better to take an extra second to line things up perfectly than to end up spraying. Spraying bullets everywhere and hoping for the best isn't going to help you improve.
Use Body Movement as Well as ADS – Moving your model around the map as well as your reticule can help you align your shot quicker. Get used to moving both things in tandem to line up your shots perfectly. This is quicker and it makes you a harder target for anyone lining a shot up on you.
Keep Your Crosshair Ready – When you're inside or watching an enemy behind cover, keep your crosshair in the right place. This will mean you have to adjust less when they come into range.
Tracking – Tracking is tricky at first and takes some time, but it is a skill worth learning. Use your crosshair to track an enemy, and attempt to anticipate their moves. This is the only consistent way to hit moving targets, building muscle memory at this helps you increase your speed.
Learning to aim better in Call of Duty: Modern Warfare is really important for getting better at the game. It takes some time, but it is a worthwhile skill to develop. If you're struggling to pick a sensitivity to work with, try out some of these settings from the best Call of Duty pro players!