Call of Duty Warzone has captured player's attention over the last week, but it has a lot more going on than your standard Battle Royale. Just like in Modern Warfare though, your loadout gets kind of complicated. If you're used to playing the regular Battle Royales, then balancing things like perks is going to be something quite new to you. This guide covers the Call of Duty Warzone perks available at the moment. While there are a few in the game, not all of them are worth using. If you want to come out on top of more games, you've got to make sure you're using the right ones.
How Do Perks Work in Call of Duty Warzone?
Warzone is different from other Battle Royales, but you aren't just dropping in with a loadout like in Call of Duty's regular multiplayer. Instead, you have to actually get your perks in-game. This is how you get Call of Duty Warzone Perks:
You need to create a custom class. This is done in the Warzone section of the menu. You need to pick two weapons, three perks, and equipment.
When you're in the game, you can find a loadout drop or buy one.
Buying one from a Buy Station (Which you can find on this map), is by far the easiest way to getting your perks and loadout. It costs $6,000, so you should be able to afford it pretty frequently.
It is helpful to create a few different custom classes so you have some choice when you're calling in your loadout.
The Best Call of Duty Warzone Perks
To get some perks in-game, you've got to make your custom classes first. These are the best Call of Duty Warzone. Among these, you should be able to find one for any type of playstyle.
Double Time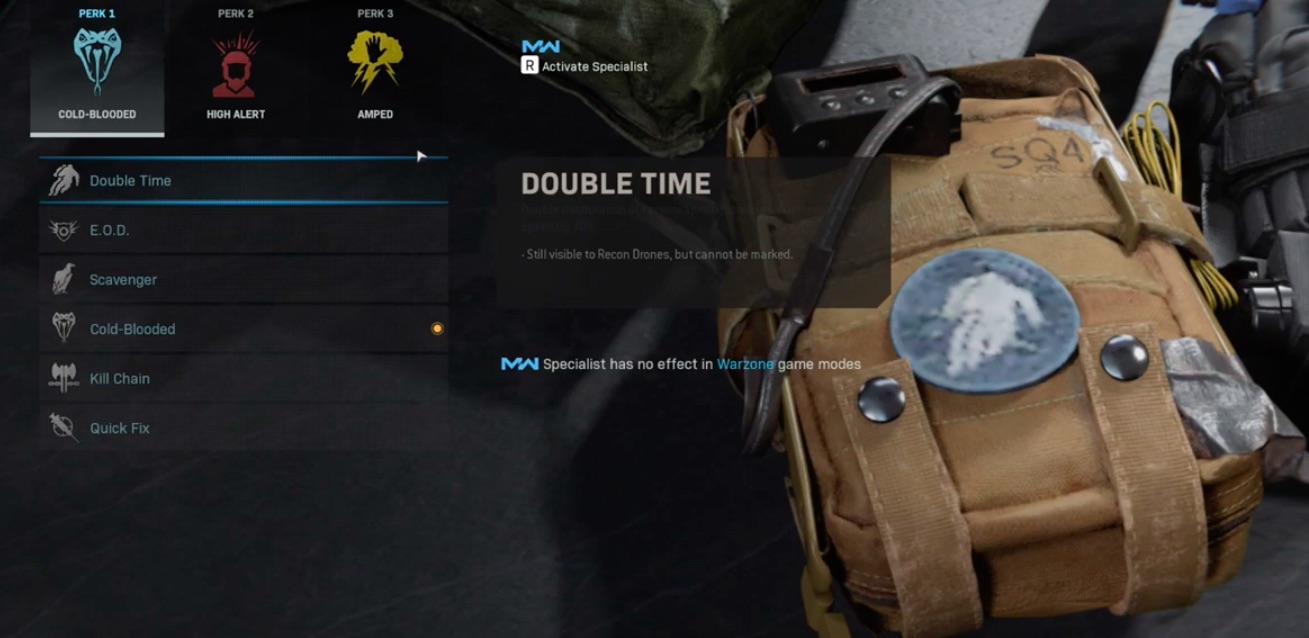 This perk might actually be better suited to Warzone than it is to regular Call of Duty Modern Warfare. This doubles your sprinting speed. In a game with such a huge map, this has so many applications. You can find cover easier, track down players, and you don't have to worry about the storm anywhere near as much. This makes things considerably easier.
The second part of this perk is to increase your crouch speed by 30%. This is worth evaluating separate to the run speed. When you're crouching, your hitbox is considerably smaller. Speeding you up in this form is going to be really helpful, it helps with stealth and evasion.
Ghost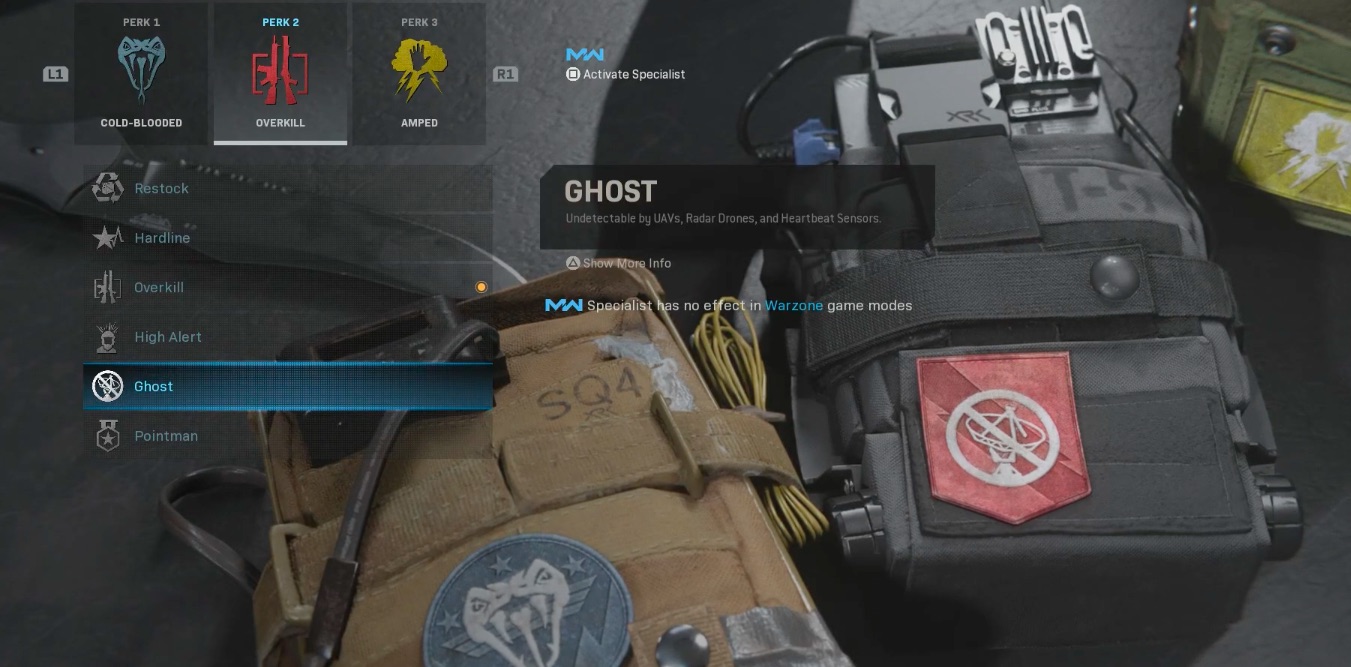 This Call of Duty Warzone Perks works exactly the same as it does in the regular multiplayer. However, in this mode where killstreaks are rarer, it might not seem as effective. It is still pretty useful though. The late-game has an abundance of killstreaks. Being immune to even a few of them can help you out in this stage of the game.
This is one of the best Call of Duty Warzone perks for snipers or players trying to avoid attention.
Scavenger
With Scavenger, you can get more loot from dead enemies and help restock. This is helpful if you're not particularly good at kitting up. This shouldn't be a major concern. However, spread across an entire team it is definitely helpful to have one person using this Call of Duty Warzone perk.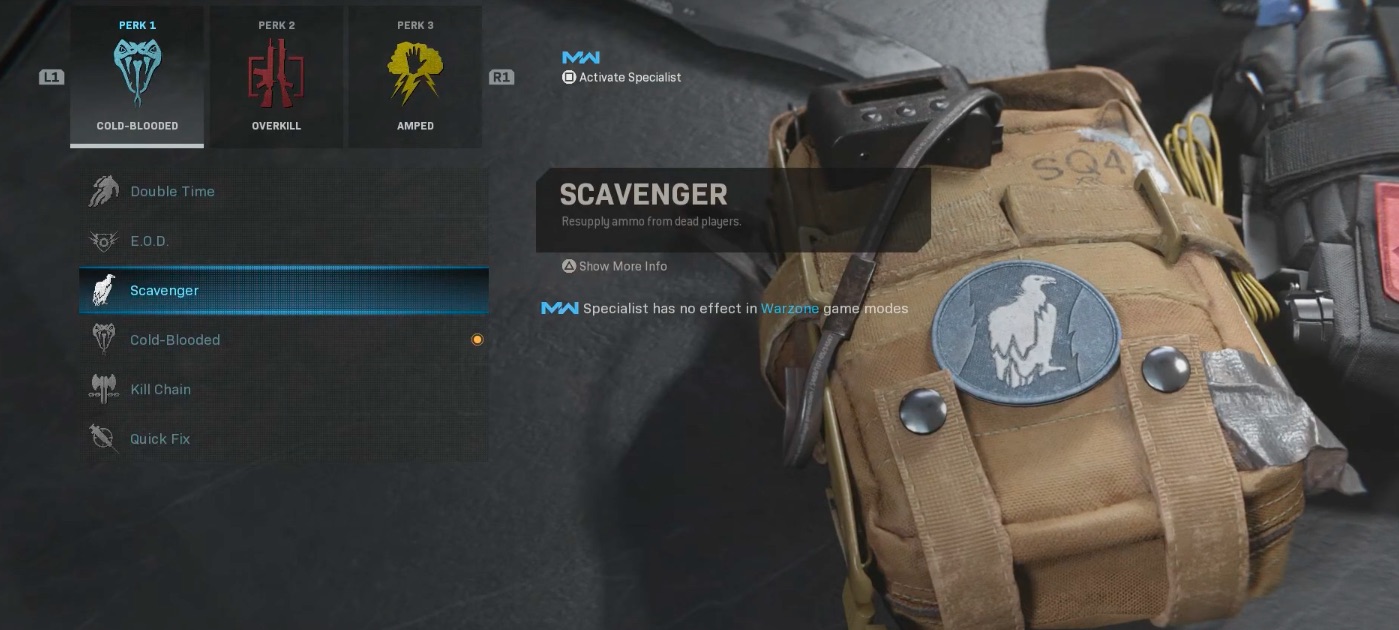 Tracker
This is a great perk for players who enjoy hunting down others. Tracker leaves behind a footprint from your enemies' movement. This gives you an increased awareness of the presence of others as well as a warning of danger. It works a lot like Bloodhound if you play Apex Legends.
This is definitely one of the best Call of Duty Warzone perks and it can help out most types of players.
Tune-Up
This is one of the best Call of Duty Warzone perks, but you will have to sacrifice the perk slot of one teammate to run it. This allows you to get players back from the gulag 25% faster. It can help everyone out a lot if at least one player on a team has access to this perk. This is definitely one to use, although it might take some negotiation to decide which player has to use it.
Amped
This allows you to reload 50% faster. This might not sound like the biggest bonus out there, but it can make a big difference. If you're dealing with close combat, this reload boost is going to be all you need to come out ahead.
The Rest of the Call of Duty Warzone Perks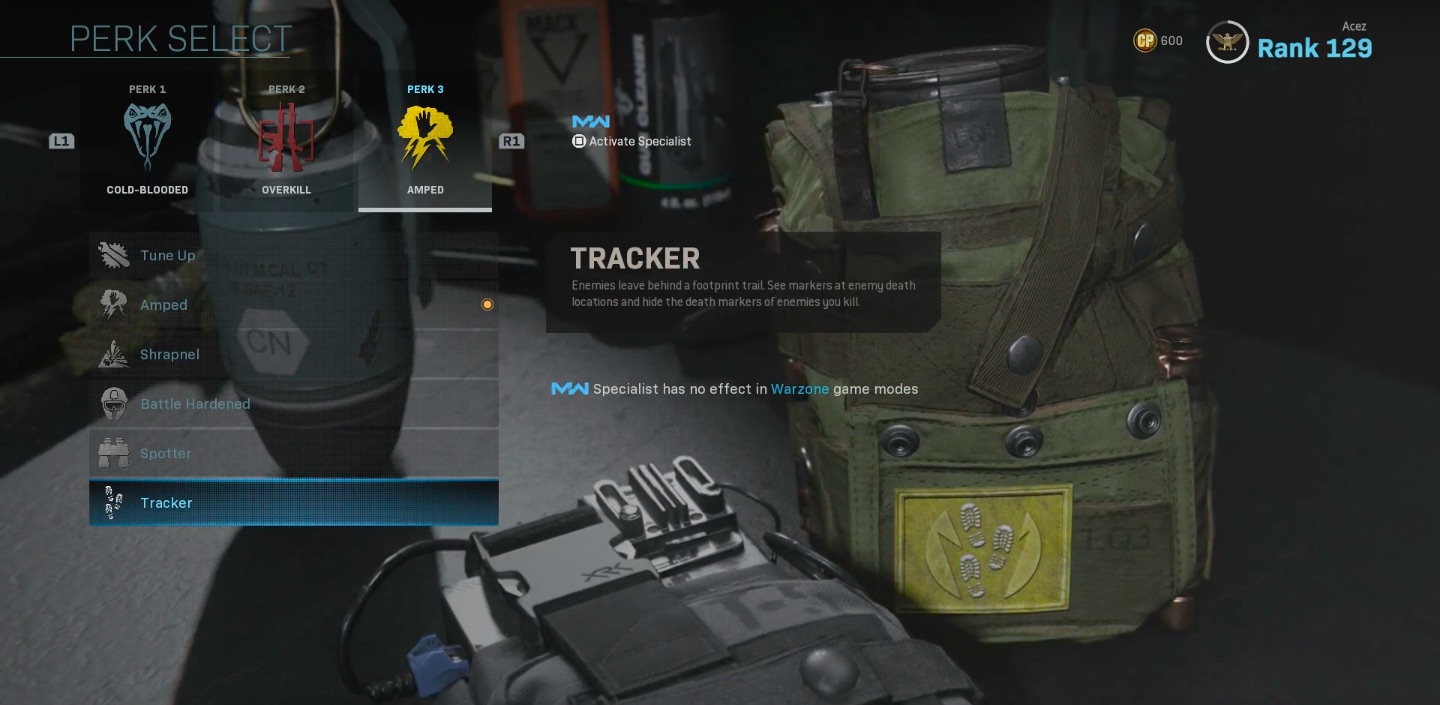 Those are the best perks that you should try and use. However, there are other Call of Duty Warzone Perks available. These are the rest of them:
High Alert – This gives you vision when an enemy spots you.
Spotter – You can see enemy equipment in a small radius.
Stalker – You can move faster when ADS.
Marksmen – You can spot enemies from further away.
Armorer – You use armor 20% faster and get 10% more from each.
Artisan Tastes – You get the chance to upgrade weapons you pick up sometimes.
Deep Pocked – Extra uses for the equipment.
Healer – Your medic items heal for longer.
Thief – You get more plunder when harvesting.
Sneaky – Your footsteps are invisible and enemies can't be warned when you're tracking them.
Perks are just one part of building a great Call of Duty Warzone loadout. These are some other guides to help you get the most out of the game: