Streaming PlayStation or Xbox Series gameplay has never been easier. Recently though, not only has streaming itself become more accessible but the dedicated external and internal capture cards are cheaper than ever. These let you capture gameplay footage in great quality. The best capture cards for streaming even have added features that go beyond recording.
They can also give you a lot more customization, like exporting directly with overlays or working with streaming software, or having facilities to take quick clips. A better capture card can help to make your streaming more efficient. Some even support 4K resolution, great if you're using one of the newer higher-end consoles for streaming on Twitch and YouTube.
There are loads of capture cards on the market at the moment but they can vary quite a bit in quality. That's depending on what you're looking for and how much you're willing to spend. We've scoured what's available to find the best capture cards for streaming right now. We've stuck to those that work well, rather than just a card with RGB lights to match a gaming PC but with a high delay! These are the best capture cards for recording PC and gaming console footage:
Elgato HD60 S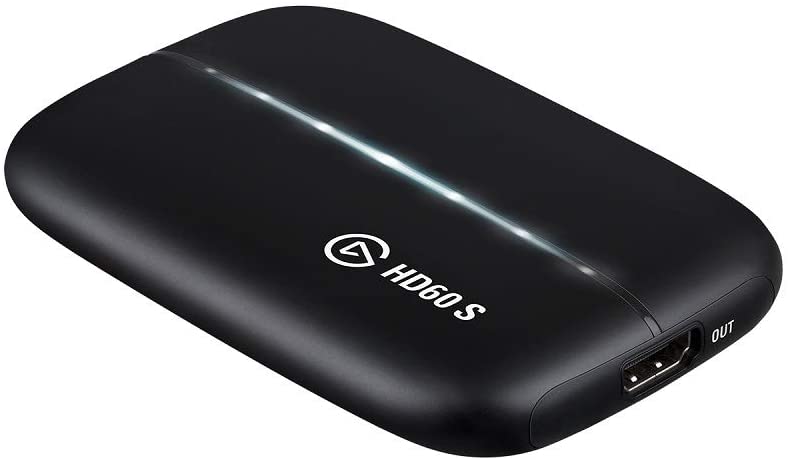 Key Features
Record in 1080p 60FPS
'Zero-lag' passthrough connection
Flashback recording
The Elgato HD60 allows you to both stream and record in 1080p while running 60 FPS in low latency. The HD60 supports passthrough, meaning you can record your footage without adding any lag or lowering the image quality.
One impressive feature here is the 'flashback recording'. This is a video buffer that constantly records the last 10 minutes of footage, so you can instantly save those highlight moments right after they happen. If you're streaming on Twitch and hoping to cut down longer sessions looking for highlights on YouTube, this could be a big help. The facility being directly in your capture device makes a big difference.
This capture card doesn't let you down with the basics, it runs with low latency. It should have zero impact on gameplay. These quality specs along with the added features make the Elgato HD60S one of the best capture cards.
AVerMedia Live Gamer Duo
Key Features
1080p
2 HDMI inputs and HDMI passthrough
Less than 50ms latency
The AVerMedia Live Gamer Duo is one of the best capture cards for streamers who want uncompromised quality. The Live Gamer Duo accepts multiple HDMI inputs, meaning you can capture your PS5/Xbox Series X/Nintendo Switch gameplay through one input, and have your webcam feed coming through a second input. That's perfect for Twitch and YouTube with a face cam. This might be the best capture card for console streaming with this wide range of options available.
The primary HDMI connection supports passthrough for up to 1080p/240 FPS, 1440p/144 FPS, and 4K resolution/60 FPS with HDR, while simultaneously supporting 1080p/60 FPS recording. This is very low latency, with less than 50ms affecting your stream. If you're playing on any gaming console, this is going to capture gameplay with a responsive stream on your PC alongside.
Another good feature here is that the Duo will also automatically tone map HDR gameplay down to SDR too. You can happily stream retro consoles through the Live Gamer Duo as well. Any type of console gaming is going to be streaming as nearly as well as if you were playing on a PC with this choice of capture card.
Elgato Cam Link Pro
Key Features
Four HDMI inputs
1080 at 60FPS or 4K at 30
Different picture modes are available
If you're looking for the highest quality footage of yourself in a stream or even better-quality cameras for your video calls, the Cam Link Pro is a great addition. Because it's a PCIe internal capture, the footage is more reliable than what you'll get from an external USB Cam Link or other alternatives. Even with USB 3.0 connections, it's different to go with an internal capture card. Since this one is an internal capture card, this might be the best capture card for streaming and recording playthroughs on PC.
It's not just for cameras and PC streaming though. You can still capture gameplay on retro consoles through one of the 4 HDMI inputs, although the Cam Link Pro's specialty is for adding multiple views to your stream. (There's also support for 4K/30 FPS output — not well suited for consoles, but handy if you have a compatible webcam or DLSR source.)
The Elgato Cam Link Pro has a lot of benefits as an internal capture card. However, the four inputs allow it to do most of what you'd expect from an external capture card too, and it even supports 4K. This is a great pick for a capture card.
Mirabox Game Capture Card
Key Features
1080p 60FPS recording
Mic and audio support
Plug in and play
This Mirabox capture card utilizes newer USB 3.1 connections for its faster speeds, which is even better than USB 3.0. You get relatively low latency here for an external capture card, with support for 1080p/60 FPS recording and passthrough gameplay.
This is a relatively simple capture card to use, just being a plug-in-and-play device with no drivers required. This is a great choice if you're looking for something simple to add to your set-up. Streaming in high quality doesn't have to be overly complicated. With a simple capture device like this, the barrier to entry for high-quality streaming is getting lower and lower.
The Mirabox capture card allows you to use a mic or other audio in your recording. This is perfect for streaming. Whether you're on console or capturing a webcam, this is one of the best capture cards.
AVerMedia Live Gamer Mini
Key Features
1080p 60FPS
Simple to use
Compact
The AverMedia Live Gamer Mini is a capture card that works great for streamers just looking for something simple. This doesn't have some of AverMedia's fancier features like flashback record, but it definitely gets the job done. It is optimized for plug in and play, so you're not going to have to fuss around before using it to record your streaming or play from gaming consoles. Just plug it into your gaming PC, and you're good to go.
This capture card supports a maximum of 1080p / 60 FPS. That's enough for recording high-quality gameplay, especially since the vast majority of streamers never stream beyond 1080p. There's only a single HDMI out, HDMI in, and micro-USB port on the Live Gamer Mini, but for most people that will be enough.
The AverMedia Live Gamer Mini does keep things simple, but it still outputs pure low-latency gameplay. It can hit the benchmarks you need for a stream, without needing extra set-up or too much technical knowledge. It works well with streaming software too. This is one of the best capture cards for streamers if that's all you're looking for.
What's the Best Capture Cards for Twitch Streaming?
The best capture card for Twitch streaming that we've highlighted here is going to vary depending on what your needs are. If you're just looking for a speedy internal capture card then Elgato is the right pick. Alternatively, the Elgato Cam Link Pro is great if you want something to capture 4K resolution along with simple integration with streaming software. These all have great performance, even exceeding pricier cards like the EVGA XR1.
All of our picks here capture gameplay directly to a PC, making them perfect for Twitch. While there are some uses for an SD capture card, these ones are better for Twitch streaming. Any of these cards are going to work great as a capture device for Twitch streamers.
What's the Best Capture Card for Console Streaming?
Capturing gameplay on console really helps to keep your options open. The best capture cards for streamers we've picked here pretty much all cater towards consoles. However, the AVerMedia Live Gamer Duo has some clear advantages in terms of the range of consoles you can attach and the quality you can record in. This is going to include support 4K resolution gaming consoles and retro consoles, all with low latency play. However, pretty much all of these are going to make great capture devices for game consoles. That even includes internal capture cards.
Those are our picks for the best capture cards for streamers. Each has something unique to offer, from simple devices for those looking to avoid complex setup to high-end capture cards with added features. One of these will be the right pick for you!
This article includes affiliate links, which may provide small compensation to Best Gaming Settings.