If you're working in front of a monitor all day it takes a strain on your eyes. Gaming can cause the same damage, regardless of how fun it is. But there's a good solution, the best gaming glasses protect your eyes from harmful blue light. That's how gaming glasses work, they can block out UV lights or different parts of the light spectrum. They help to reduce eye strain which can really help you with performance.
The blue light that computer screens output can cause long-term damage, not to mention short-term complications with your sleep. Some monitors filter out the blue light, but gaming glasses are a much more versatile and budget-friendly solution. Most of the best gaming glasses go past just light filters though. They have other features like an anti-reflective coating that can make prescription glasses better for gaming. These are some of the best gamer glasses currently available and what makes them stand out.
Gunnar Optiks Gaming Glasses

Key Features
Blocks 65% of blue light
Amber tinted lenses
Lightweight
These Gunnar computer glasses go a long way to protecting your eyesight, blocking out 65% of blue light. The tinted amber lenses are designed to reduce eye strain by affecting contrast. While there is a slight tint, this shouldn't get in the way of clear vision over your game. They're even anti-reflective coated glassed to give extra clarity. These will help to reduce the strain on your eyes to offer both comfort and protection. If you're looking for glasses like Gunnar, you might be surprised at how affordable the specs themselves are.
If you're wondering what gaming glasses does Clix use, these are very similar to his Gunnar gaming glasses and offer a lot of the same protections. Both can block out harmful UV lights and are anti-glare, to improve your overall visibility.
These frames themselves are lightweight and durable, strain isn't going to be a factor for long-term comfort here. These aren't going to intrude on your comfort or vision while gaming, while giving full protection.
Swanwick: Classic Day Swannies

Key Features
Understates design
Nearly clear lenses
Blocks blue light
These Swanwick Classic Day Swannies glasses are designed to help your eyes without making it look like you're wearing strange sunglasses. The frames match normal glasses, so if you're using a streaming set-up you don't look any different. The lenses are also hard to notice, being nearly clear with only slight tinting. They still work as well as any other gaming glasses though.
If you're wondering how gaming glasses work without being noticeable, these have blue light-blocking lenses. These are specifically designed more for eye strain from digital devices than sleep support, so perfect for gamers. That's what makes them the 'Day Swannies', there is a different set designed for the night to block out light that hinders sleep but these are for gaming.
While the appearance isn't going to give it away, these still block a good amount of blue light. These will reduce your exposure to harmful blue light while gaming without getting in your way.
ANRRI Blue Light Blocking Glasses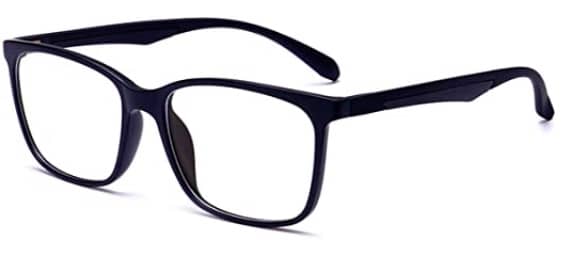 Key Features
Blocks 90% of blue light
Lightweight frame
Lifetime warranty
The ANRRi Blue Light Blocking Glasses are another pair with a low-key design. These are thicker framed glasses and have quite thin lenses. This is going to make them look like normal glasses and barely noticeable.
In terms of function, they work about the same as the rest of the best gaming glasses highlighted here. They cut down on as much blue light as possible, with this pair hitting 90%. This will reduce eye fatigue and improve sleep when viewing screens close to bedtime. On top of this though, they'll help with dry eyes and even failing vision from gaming for long periods. These are also the best cheap gaming glasses that we've included here. While they are the cheapest on this list, there just as effective as the others here.
Another factor that makes these glasses stand out is a lifetime warranty which should mean you're only ever going to need this one pair. For the best cheap gaming glasses, a lifetime warranty is a decent bonus. You can even use them fine with contact lenses. While these aren't the best prescription gaming glasses, if you have contacts, you can definitely use them even if you require a prescription. These are a great pair of gaming glasses and perfect if you want something that looks like normal glasses.
HyperX Gaming Eyewear
Key Features
Durable frame
Blue light and UV protection
Clear lenses
Includes protectable case
There are loads of reasons to go for blue-light blocking glasses, but these are a pair designed specifically for gaming. These glasses offer protection from blue light but they're also clear rather than tinted. This means that your view of games isn't going to be messed with. On top of this, there is an anti-reflective coating for clearer vision. Even while helping your eyes, you get a clear view of even the most minor detail on your monitor. Nothing should get in the way of your performance.
HyperX is a gaming company, so you might even be able to match these glasses up to the rest of your gaming set-up! The frames are plenty durable. Even a bad rage quit moment isn't going to be a problem for them.
The frames on the HyperX glasses are relatively understated. However, there are also designed with gamers in mind. These should be comfortable with or without a headset, not getting in the way of getting decent 3D audio while gaming. These HyperX glasses have those few features that make them great for gaming. With completely clear anti-glare lenses and even a case thrown in, this is one of the top picks for the best gaming glasses.
J+S Vision Blue Light Shield Gaming Glasses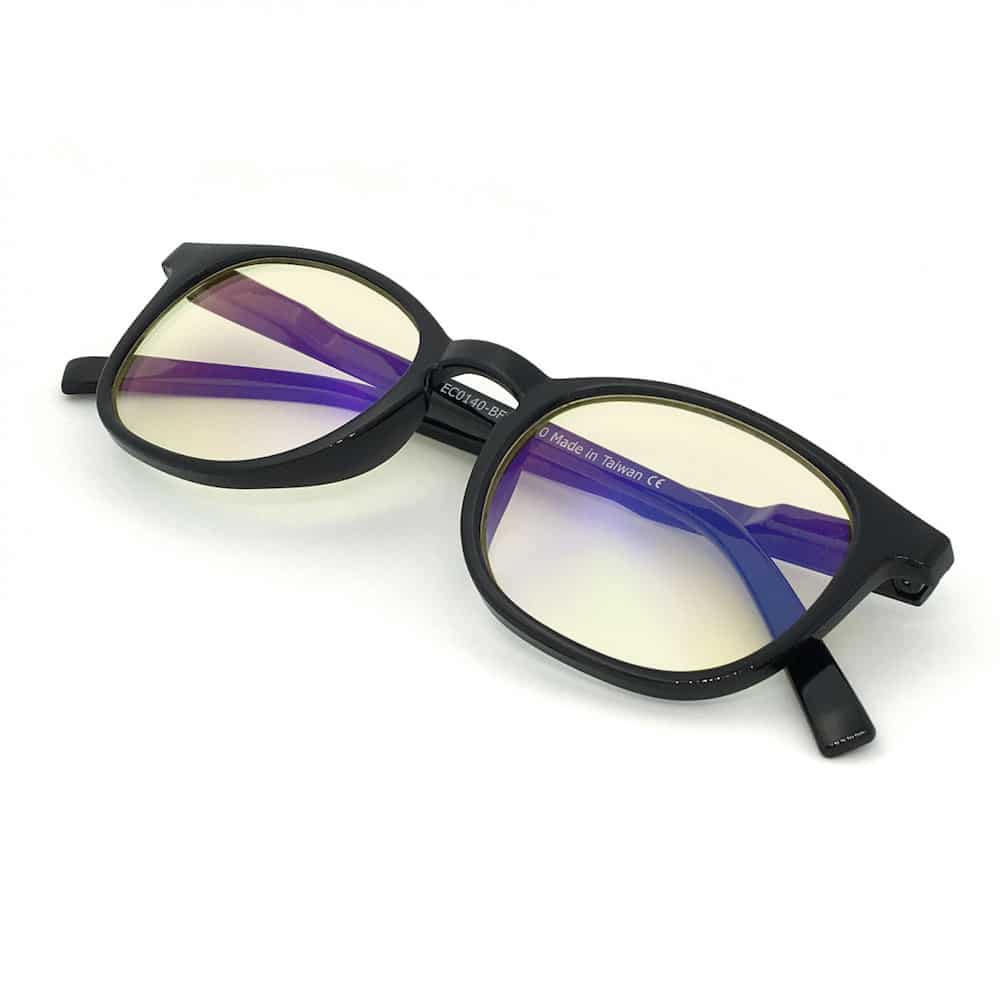 Key Features
Low color distortion lens
Clear frames
52% blue light protection
These J+S Vision Blue Light Shield glasses have entirely clear frames with a lightweight design for comfort. They offer some decent blue light protection, going up to 52% along with UV light filter for betting protection.
The lens themselves are worth focusing on a bit here. How gaming glasses work often means there's a bit of distortion or color change. Despite that, these lenses are designed for minimal disruption to what you're seeing. There should be only minor color changes and even 0 magnification.
Both the frame and lens are made out of polycarbonate, so they are light and flexible while being sturdy enough to actually stand up to heavy use. These glasses are going to do a great job cutting down the damaging effects of blue and UV lights.
Swanwick Classic Night Swannies for Gaming

Key Features
Blocks 99-100% of blue right
Flexible spring hinges
Prescription grade CR-39 lenses
The Swanwick Classic Night Swannies gaming glasses have amber lenses, designed to be anti-glare and tinted to filter out harmful light. These lenses can block 99-100% of blue light. This is definitely the highest of the best gaming glasses we've highlighted here. This will cut down on glare quite a bit and even add clarity. These are also prescription-grade glasses, so they are some of the best prescription glasses for gaming.
The design of these frames is a bit more stylized than some of the others highlighted here. They feature a pattern that matches the amber lenses, making the entire pair feel coordinated. These glasses can help improve your vision and eye care while gaming, and aid in sleep by cutting out blue light.
These are the night version of the Swannies glasses. While the day versions are built for eye strain, these really go all out in stopping blue light. They are also anti-reflective coating, so reflections won't cut in the way either. The filters here are definitely going to be a big help toward eye strain.
Those are some picks for the best gaming glasses right now. Each of these others something different, but they'll all protect your eyesight even over long gaming sessions. While the top competitive games all require a bit of grinding to really master, you'll have an easier time pulling longer sessions with some specialist glasses.
Frequently Asked Questions About Gaming Glasses
Finding your first pair of gaming glasses can feel daunting as you learn more about their distinct features and the quality of their blue light protection. That's why we got you covered with our FAQ below as we discuss everything gaming glasses! Continue reading to learn more.
Do Pro Gamers Use Gaming Glasses?
Yes! Some esports professionals and twitch streamers often use gaming glasses to help reduce the eye straining effects of higher amounts of screen time. Often, blue light brings with it negative effects on eye health and sleep quality following hours of gaming and streaming. Without the straining effects of blue light, esports professionals and gamers from all around can focus more on their competitive performance more than ever before with gaming glasses.
Streamers that use gaming glasses include Clix, FoxA_R6, and ParallaxStella, each with their own eyeframe style and color including amber lens. Often, streamers rely on the most popular and reliable eyeglass brands such as GUNNER Optiks or HyperX's lineup of gaming glasses.
Do Gaming Glasses Make You Better?
We wouldn't guarantee game changing effects, but gaming glasses can definitely help you focus more on improving your gaming performance! With them, you can focus on all the details on-screen without falling victim to the straining effects on blue lights. They're even better if they're used along with your eyesight prescription if you have one as well. Gaming glasses are built with gaming experience in mind so they are shaped to fit well with various gaming headsets including over-the-ear types.
How Much Are Gaming Glasses?
Prices for gaming glasses can range from as low as $25 and can go upwards to around $100. Their prices can vary due to their brand manufacturers and distinct benefits and features that they provide. Some gaming glasses may provide higher blue light protection, upwards to 90% or more.
Meanwhile, some gaming glasses will provide a unique tint akin to your own style and others may stick with a clearer colored frame for a more subtle look when working in office. Check out our suggestions for the best gaming glasses available today to find what works best for you.
This article includes affiliate links, which may provide small compensation to Best Gaming Settings.