Call of Duty: Modern Warfare is keeping a good deal of the options in its create-a-class system behind a pretty hefty XP wall. To unlock those Gunsmith attachments, you need to get pretty high levels of XP with each weapon. So, you're going to need the rest of your loadout to accommodate this. The perfect loadout in Call of Duty: Modern Warfare has to balance everything, that's using the right killstreaks, perks, everything. Tactical Equipment is one of the most important aspects of that. These are the best tactical Equipment Call of Duty: Modern Warfare Loadouts.
If you're trying to build the best loadout, you've got to start with a gun. This is basic really. However, with gunsmith attachments offering the chance to build really specific loadouts, the rest of your build has to be catered to this. With so much going on, it's no longer enough to just try and spam Juggernaut. You have to balance everything. Using the right tactical equipment can make or break your loadout.
Using your tactical equipment at the right time can swing the result of an entire match. It can bail you out after a bad few moves. This is why it is really important to find the best tactical equipment for you. They aren't all created equal, but you have a lot of choice.
The Tactical Equipment in Modern Warfare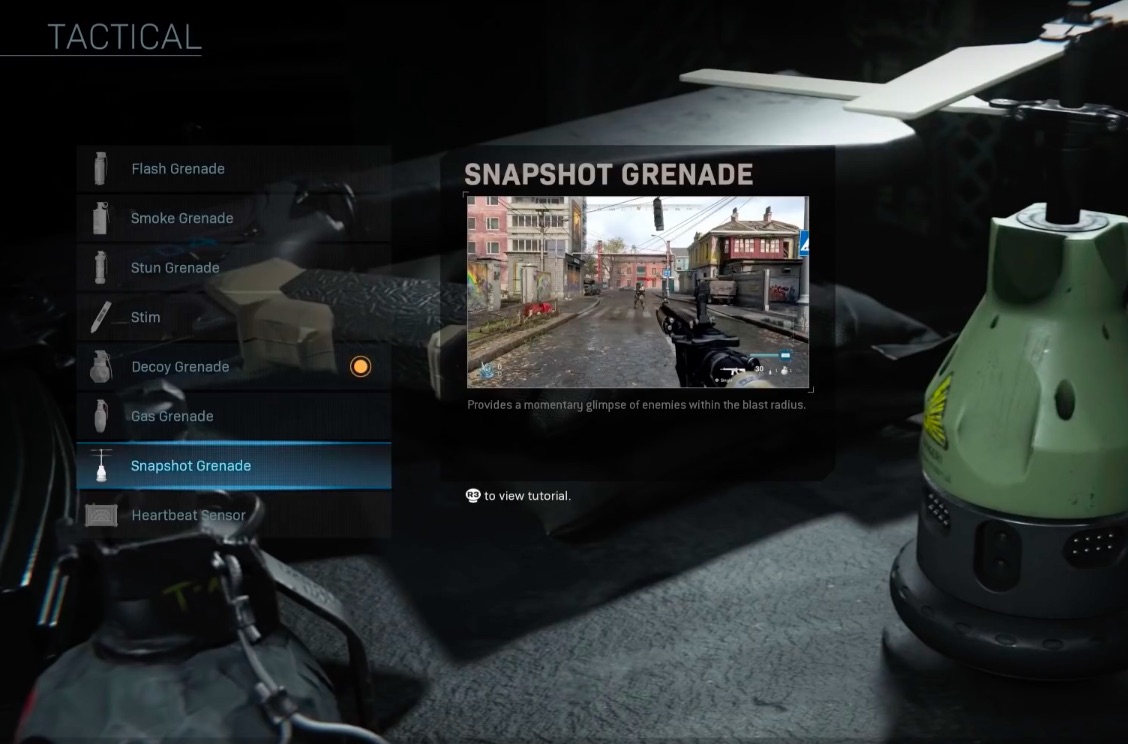 These are all of your options for tactical equipment in Call of Duty: Modern Warfare loadouts:
Stun Grenade – This is a throwable that slows down the movement and aiming of those it hits.
Smoke Grenade – Another throwable that generates a field of smoke. This blocks your enemies' vision, but it also blocks automated targeting systems.
Flash Grenade – This is a throwable that is similar to the Stun Grenade. It blinds your targets and deafens them for a short period.
Stim – That is a 'stimulant' you can take. It heals you up a bit.
Decoy Grenade- This is a grenade that spawns the sound of fake gunfire and radar signatures.
Snapshot Grenade – This gives you a brief look into the locations of enemies around the impact zone.
Heartbeat Sensor – You get a tablet with a display of rough information about your nearby enemies, more helpful than it looks.
Between these choices, you've got some clear picks for healing, and some that seem strangely specific. However, the actual best tactical in Call of Duty: Modern Warfare loadout depends on the role that you're playing.
The Best All-Round Tactical
It is difficult to pick a stand-out all-rounder since that term kind of means everything and anything. However, these choices of tactical equipment are perfectly suited for non-specific players. Even if you're not great at specializing in the game, you can use a tactical that supports you. There are some good options for jack-of-all-trades players.:
Stun Grenade
Smoke Grenade
Gas Grenade
These choices work best when you're pushing ahead, but they can also be used defensively to escape. These are versatile. Pretty much every player in a game will get good use out of these tactical choices, so they're a solid one to go for.
The Best Sniper Tactical Call of Duty: Modern Warfare Loadouts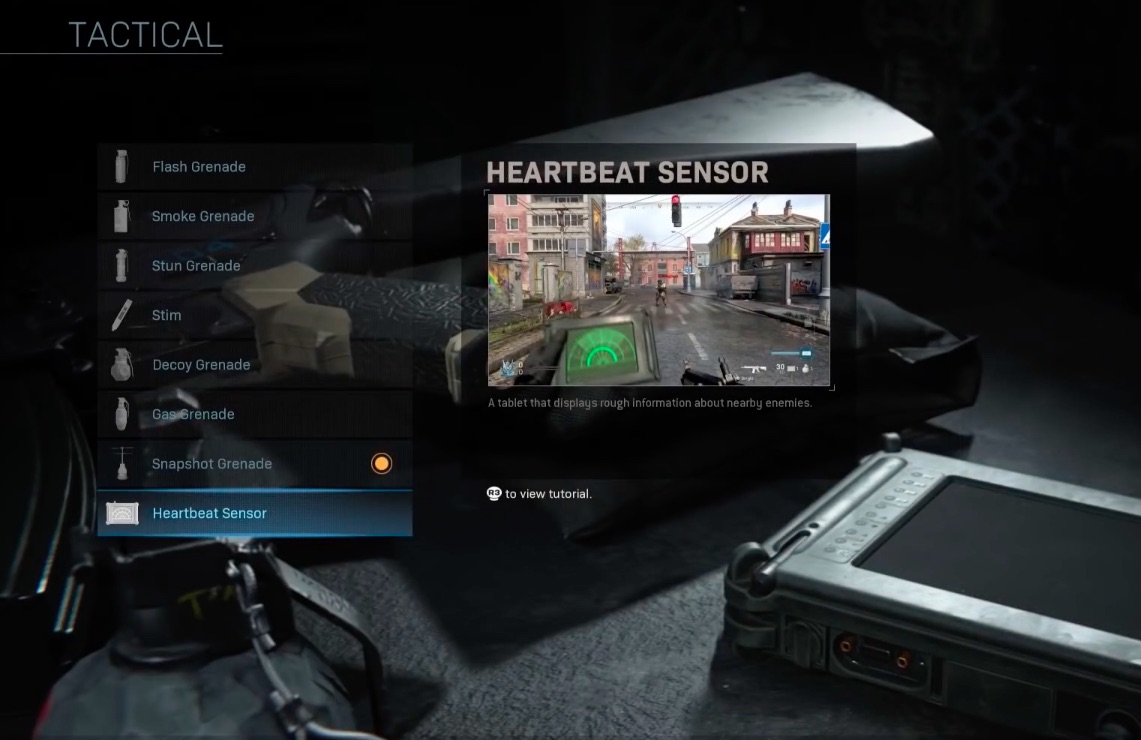 Snipers in Call of Duty: Modern Warfare don't have the best set-up. The maps are too small with plenty of interiors, and the pace of the game isn't exactly friendly. However, if you're skilled enough to push past these issues there are some great choices for tactical loadouts.
Heartbeat Sensor
Snapshot Grenade
Flash grenade
The Snapshot and heartbeat sensor are fairly self-explanatory since they help you to stay concealed, find the location of enemies, and operate more effectively. The flash grenade is another good choice for Sniper loadouts since it can make targets relatively easy to pick off, and it has some great defensive potential.
The Best Close Combat Tactical Loadouts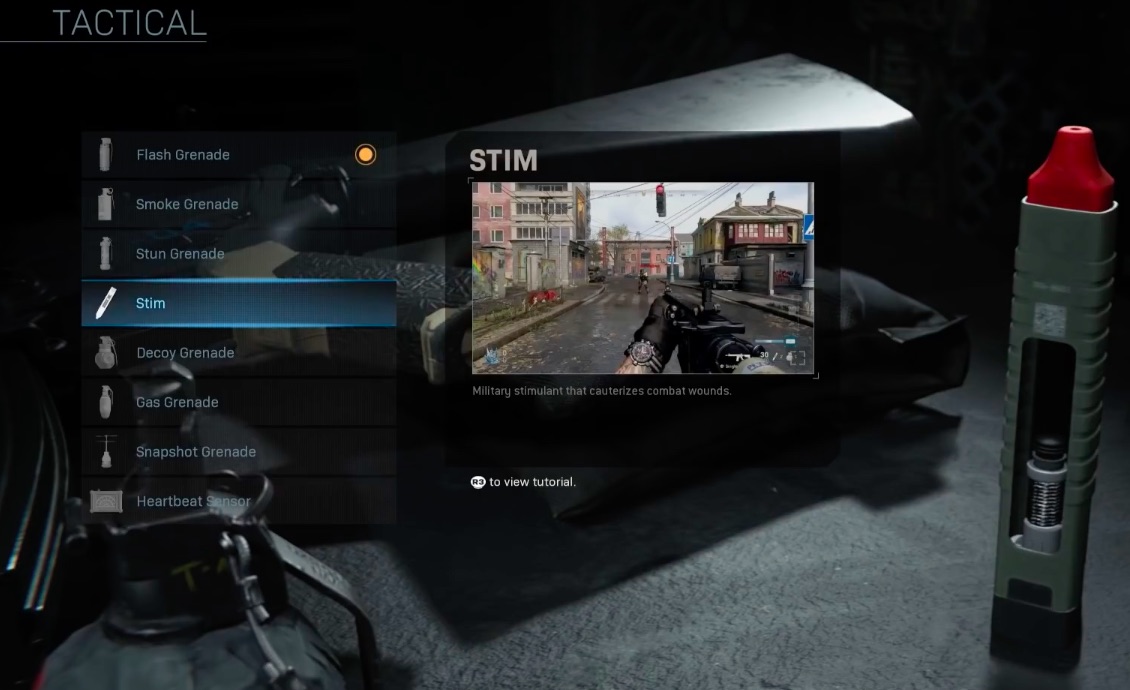 Close Combat and offensive players in Modern Warfare have a lot of options. They are essentially the opposite of a Sniper, the maps are perfect for them. You also have plenty of choices when it comes to tactical. These are some effective options:
Flash/Stun/Smoke Grenades.
Stim.
Heartbeat Sensor
The grenades have obvious offensive potential. They can be thrown into areas before moving in, giving you a big advantage in taking on enemies. The Stim will equally be beneficial to close combat players who are used to taking a lot of damage. This is a perfectly good choice if you're relying on getting high-level killstreaks. The heartbeat sensor is going to be useful for playing up close and personal in those dense interior maps. It will give you more of a clue as to what is lurking around the next corner.
The Best Tactical Call of Duty: Modern Warfare loadouts for Organised Teams
This one is a very specific tactical loadout which can actually be really effective. The issue is, that few teams have the coordination to make the most out of it. Used properly the Decoy Grenade can be a vital piece of equipment that can cause as a big enough of a distraction to seize control of a game. This gives you both the element of surprise and an advantage over your opponents.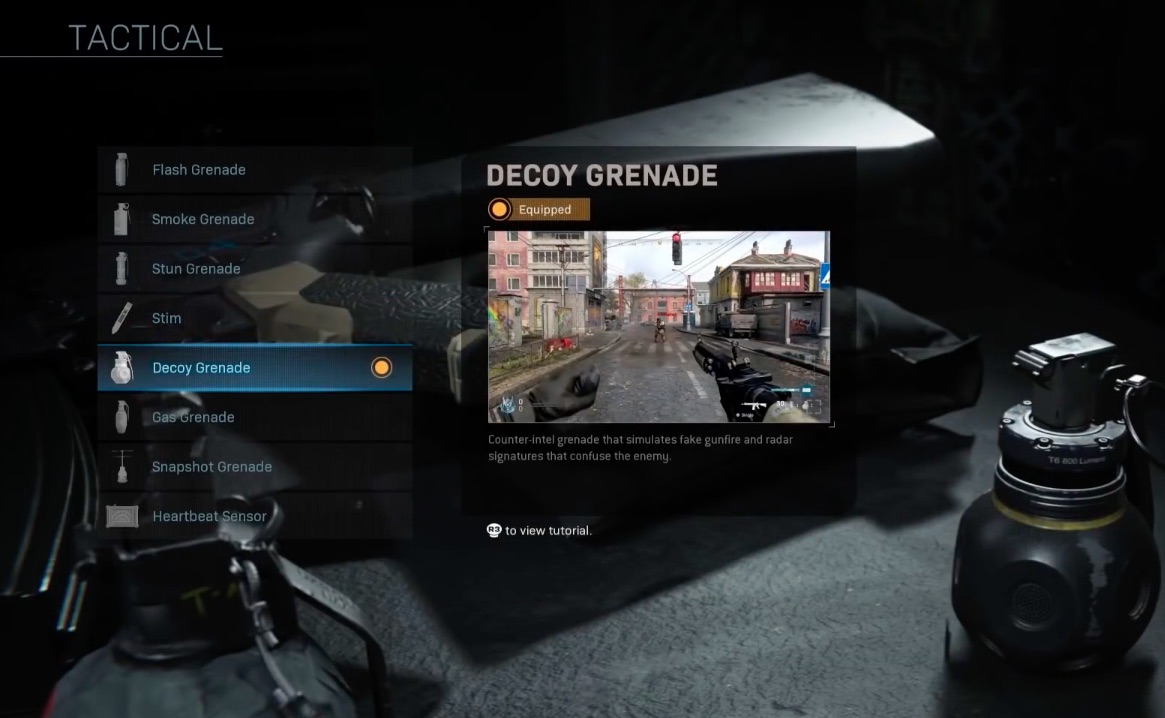 However, in practice, it is very difficult for a team to properly coordinate around the use of this tactical. This one is much more important than it initially seems when you're building your loadout. Unfortunately, not a lot of players are going to be able to use it to its full potential.
In Conclusion
These are the best tactical Call of Duty: Modern Warfare loadout. Between these options, you should be able to find the tactical equipment that is right for your style of play, and the loadout that you'll be using. You should also make sure you're using the best Call of Duty: Modern Warfare settings, to get the most out of the game on any PC.