Online gaming has changed the landscape for good, and it's now more common for people to play online with others than by themselves.
However, for this to work and go off without a hitch, you need absolute consistency and reliability with your internet connection, which is never 100% guaranteed.
[amazon table="38027″]
One way to ensure these speeds and connectivity is with a good gaming modem or router, designed for the specific needs that gamers have. With the rest of your rig set up, you might look to make improvements in other ways, and choosing the best gaming modem and router is a great choice.
What do you look for in a good gaming modem, though?
A gaming modem should be able to prioritize bandwidth, offer lighting speeds, and have features like the ability to connect to multiple devices at once. There are plenty of specs to choose from and what suits you best will depend on how you game, and your requirements for the internet.
An upgrade to a gaming-specific modem can make a lot of difference but you have to know what to look for. If you're unsure about shopping for this piece of gear or want expert recommendations to lead the way, we've hand-picked a selection of the best modem for gamers and can show you what sets them apart from the rest.
Our Expert Picks for the Best Gaming Modem – Reviews for 2021
Change the way you game for good with a brand new modem made just for the aspects of gaming.
These are our recommendations for the best gaming modems in all categories and with features for all, with a little more about how they stack up against the competition.
Winner: Motorola MB8600 Modem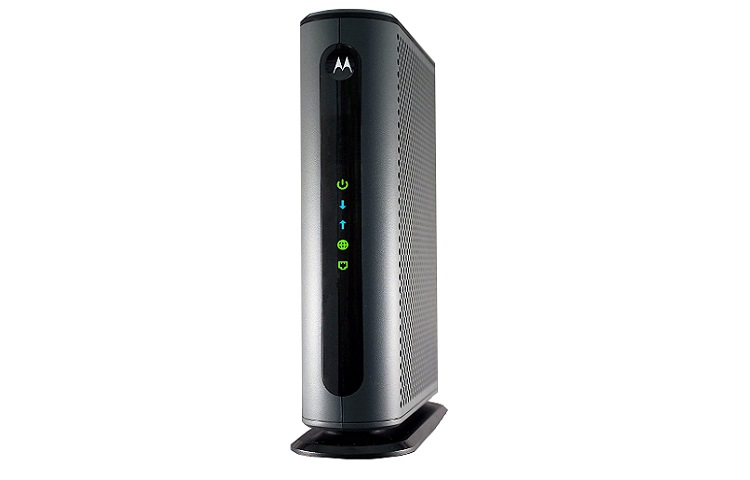 Connections: 1 x Ethernet
Data Transfer Rate: 6000Mbps
Security Protocol: Broadcom chipset
Our number one choice has to be this Motorola gaming motor, the MB8600, providing everything you need for fast speeds and uninterrupted connectivity. The MB8600 comes with built-in DOCSIS 3.1 and 3.0 to give you top speeds, as well as Active Queue Management that works to reduce latency, so there's no more lagging or stalling while you're in the middle of a game.
The best thing about this modem is the speeds it can achieve, which customers were able to notice as soon as they started gaming. This is thanks to the newer DOCSIS systems built in that work with all cable internet services, which means everyday people can improve their speeds with this single accessory. For gamers especially, having a modem like this can transform their performance.
The worst thing is the setup experience, with people finding the instructions included from Motorola to be barely adequate at all. If you're someone who's lacking in the technology department it's worth getting a friend over to help, and even they might struggle. More support from Motorola would be worthwhile for this, especially considering its higher price range.
The MB8600 from Motorola is compatible with almost everything, including any Wi-Fi routers, home Wi-Fi, and mesh routers. You can use this modem with Comcast Xfinity, Cox, and other cable providers, but keep in mind, it doesn't include a router with purchase. The maximum downloads available are 6000Mbps, however, the true speeds will be less, with popular providers guaranteeing 1000Mbps for standard service speeds.
This cable modem features a Broadcom chipset that prevents denial-of-service attacks and keeps your information secure, and this chipset is commonly found in many of the world's most popular modems. If you prefer ethernet, you can connect to a single device directly from the modem and get the same level of security.
Making the switch to this and ditching the included modem that comes with your internet plan can offer big savings as well, so it's worth the upgrade. The MB8600 a pretty beefy device measuring 7.25 x 2.25 x 7.88 inches and there's no option for mounting, so make sure you have the space for it.
When gaming is your goal and you want unrivaled speeds and constant reliability, the Motorola MB8600 is the way to go. This is the fastest gaming modem around and it's available online at Amazon with free shipping direct to your door.
Motorola covers this modem with a two year replacement warranty and you'll get full time access to their customer support, which can be a lifesaver during setup. For the best all-rounder gaming modem, the MB8600 is our top choice.
Runner Up: Arris Surfboard SB8200 Modem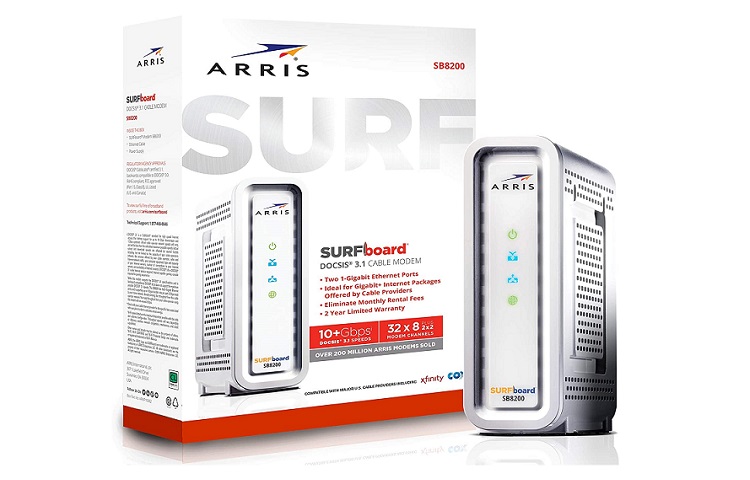 Connections: 2 x Ethernet
Data Transfer Rate: 2000Mbps
Security Protocol: Broadcom chipset
If you have cable internet at home and want a modem that will get the most out of it, the Arris Surfboard SB8200 is one of the greatest. This cable model utilizes the popular DOCSIS 3.1 to get its top speeds and can be used with all internet plans up to 2Gbps for lightning-fast connections. The unit measures 5.13 x 1.7 x 5.25 inches so it's a great size for a home office or bedroom without taking up too much space.
The simple addition of an extra 1-gig ethernet point earned this cable modem some points, as people were finding just a single slot to be limiting, especially during gaming where they couldn't have their own connection. If you live in a crowded household or want a dedicated modem for gaming, it's worth it to have this in place, and it means you can use more than one device at a time plugged in with both getting pretty good speeds.
However, with that said, this does cause some limitations and conditions on whether you can reach 2Gpbs as advertised. Users found that they sometimes needed two IP addresses just to harness this much speed, so when they only had a computer plugged in and a single connection, the speeds were more like 1000Mbps instead. This type of false advertising left a bad taste in people's mouths, so it's worth considering before you go ahead.
As a gaming cable modem, the Surfboard by Arris brings a lot to the table. You'll find 32 downstream and 8 upstream DOCSIS 3.0 bonded channels, and 2 downstream and 2 upstream DOCSIS 3.1 channels for more connections. The Surfboard SB8200 is compatible with all major cable providers but not with ATT, Verizon, CenturyLink or any other fiber or DSL internet, so make sure you check with your ISP before purchasing.
The Arris Surfboard runs with a Broadcom chipset which is a welcome upgrade from the now-defunct Puma, and it has 3GB of RAM included. The chipset prevents attacks and beefs up security so you can game online without having to worry about your privacy and safety. To set up the modem, you'll only have to go through a few steps provided your ISP is with the times as well, so it had this bonus going for it as well.
As an affordable way to get cable internet direct to your gaming station, the Arris Surfboard is a great option. Although some parts are lacking, it's easy to use and delivers reliable high speeds, so head to Amazon to find out the best price. Arris offers a two year limited warranty on their modems and you'll get to speak with their customer support team should anything go wrong, so there's a lot packaged into this modem that makes it a good budget-friendly option for gaming.
Alternative: Netgear Nighthawk CM1200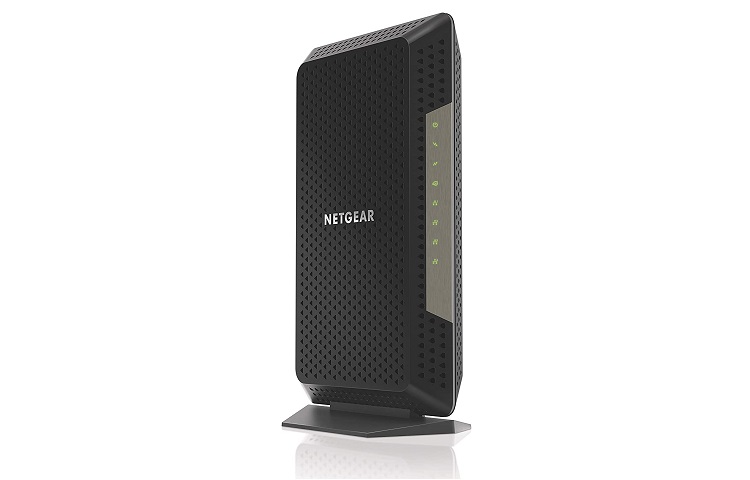 Connections: 4 x Ethernet
Data Transfer Rate: 2000Mbps
Security Protocol:
The NetGear Nighthawk is a must have for gamers who like multiple options for connections. With four Ethernet connections of a gig each, as well as top speeds of up to 2Gbps, there's plenty of room to game. You can stream, play with others, or delve into the online world of gaming with this popular modem, provided you have the right cable plan, and you can have two separate 2Gbps connections running at once.
Unlike other modems that provide two ports to provide their speeds, this one does it with one. The NetGear Nighthawk uses a multi-gig Ethernet to provide link aggregation so you can get the highest speeds possible while only having to use one IP address and a single computer. This is especially helpful for those that don't feel tech-savvy, and saves a lot of messing around.
However, the Nighthawk CM1200 comes with some issues, and customers didn't like how large it was. With overall measurements of 6.1 x 3.4 x 10.3 inches, it towers over the competition, and along with this bulk, it came with some connectivity issues. Some customers reported annoyance with their customer support in that you were only covered for 90 days of technical help before being made to pay, so if you run into problems you seem to be left on your own.
This problem aside, the Nighthawk by NetGear is incredibly easy to set up and compatible with all of the major cable providers, including Spectrum and COX, but it won't work with bundled voice services and DSL providers. When compared to the rental modem your ISP gives you, you can save the total cost of the device over a year plus boost your speeds for gaming, making it a savvy investment.
This modem features 32×8 channel bonding and OFDM 2×2, so it's up to speed with the other modern devices it's competing against. You can plug the Ethernet cable right into your computer or use any Wi-Fi router so that all of the wireless devices in your home can benefit from the high speeds as well.
The NetGear NightHawk CM1200 is an impressive modem with lots of options for connectivity, but some issues that need to be ironed out. If you want to benefit from more ports and greater speeds, it's worth the investment, and can be purchased at Amazon for the best price. NetGear covers this modem with a one year warranty but only 90 days of free technical support, but overall it's a great price for a gaming modem that has a lot to offer.
Alternative: Arris Surfboard SB6190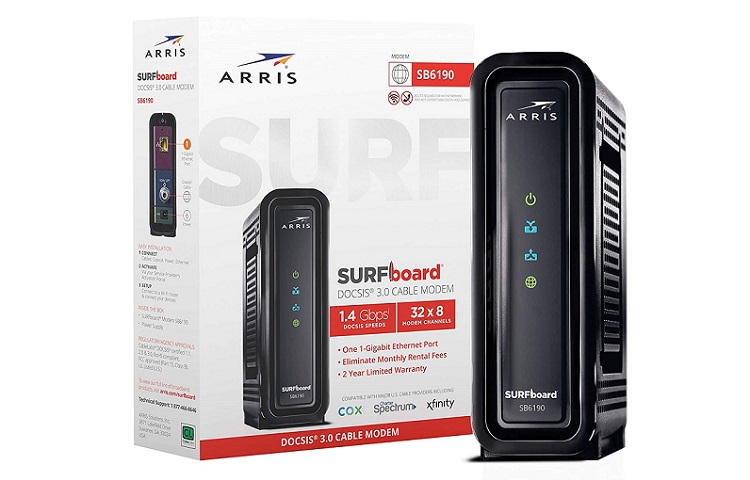 Connections: 1 x Ethernet
Data Transfer Rate: 1400Mbs
Security Protocol: PUMA chipset
When your budget is tight but you still want to upgrade to better speeds for gaming, an affordable option like the Arris Surfboard SB6190 is a popular choice. This smaller modem is capable of slightly less speed topping out at 1.4Gbps and works with maximum internet speeds of 600Mbps thanks to the DOCSIS 3.0 system built-in.
Although not as fast, this smaller Surfboard is still impressive, and it stays consistent with speeds and connections. Any gamer knows the value of having their internet connection reliable, as it tends to drop out at the most inopportune moments. With the trusted name of Arris and this Surfboard, the chance that this will happen has dropped dramatically.
For something that can't reach the higher speeds, it's pretty bulky, and an earlier model that only runs on DOCSIS 3.0. You'll notice a slight difference here if you compared it to a modem that operates on 3.2, but if you're upgrading your modem from an older one, it'll still wow you with what it's capable of, and even if the speeds aren't as high its reliability is.
The Surfboard SB6190 is compatible with most cable providers, and they provide support to find out if yours is included. Your modem is capable of bonding 32 downstream channels and 8 upstream channels so you'll never lose the connection, and it's a reliable modem for gaming. Keep in mind though, this isn't the best gaming modem router, and if you want to use Wi-Fi, you'll need to purchase the router separately.
The Arris Surfboard SB6190 measures 7.15 x 4.5 x 6.11 inches and can't be wall-mounted, so you'll need a safe spot to keep it. The modem runs with a PUMA chipset which has been outdated for some time and doesn't have the same security coverage that the newer Broadcom chipset offers, which could be a dealbreaker for some but won't affect the speeds or consistency of connection.
This is the best buy gaming modem and the cheapest on our list, so if you still want high speeds and a consistent connection for gameplay, you don't have to spend a fortune. The Arris Surfboard SB6190 will wow you with its reliability and you'll notice a huge difference, so head to Amazon to get yours today. Arris will cover you for two years with a warranty and customer support, so it's great to see a brand that values the customer and stands by the quality of its goods.
Alternative: Motorola MG7700 Modem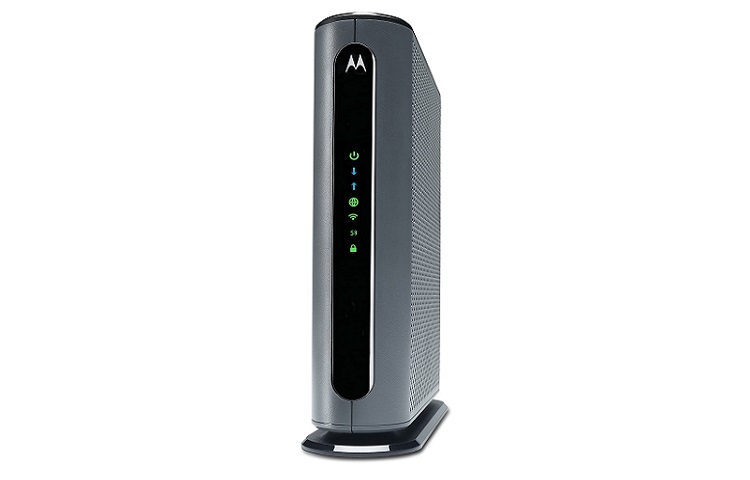 Connections: 4 x Ethernet, Wi-Fi
Data Transfer Rate: 1000Mbps
Security Protocol: Firewall
Motorola is no stranger to communication devices and if you want a reliable gaming model with a router already built in, the MG7700 is the best. This two-in-one device features Wi-Fi connectivity as well as four Ethernet ports, giving you plenty of options. With a maximum transfer rate of 1Gbps, you can expect more like 600Mbps, depending on your ISP's capabilities.
The Motorola comes with something that many others can't advertise, and that's a built in Wi-Fi router as well as a modem. This gives you two products for the price of one and more flexibility about how you stay connected. If you've been searching for the best gaming modem router combo you've found it, and a way to save some serious money in the process.
The range of this modem is a letdown if you plan on using Wi-Fi, and it's a key feature that helps this one to sell. You'll need to stay pretty close to maintain good speeds otherwise resort to a cable connection which might not work for anyone. If you plan on using Wi-Fi specifically, it's better to use a cheaper model and invest in a router that does this, otherwise, you'll be sorely disappointed.
Although there were some issues, there are still plenty of great features worth discussing and lots of benefits for those who want to game online with consistency. The Motorola MG7700 runs with DOCSIS 3.0 which is the earlier version but provides 24 downstream and 8 upstream channels for you to connect to. As for the Wi-Fi portion, it features firewall security and a power boost amplifier, but it still seems the cable connection is the smarter option here.
The MG7700 can be set up in 10 minutes, and any issues can be rectified by the online and phone support that Motorola offers. The modem itself comes in a sleek rectangular design that measures 8.6 x 2.6 x 9 inches, so it slides in neatly where you need it to. Inside, you'll find a Broadcam cable chipset which further adds to its security defense, and prevents denial-of-service attacks while you game online.
If you want a trusted name like Motorola providing your modem and prefer the option to connect to Wi-Fi without a router, you'll love the MB7700. Although slightly more expensive, you're given greater freedom over how to use it, and you'll benefit from reliable and consistent speeds. Head to Amazon for the lowest price and enjoy a two-year warranty and customer support that Motorola offers, to get you through any potential issues you might have.
Gaming Modem FAQs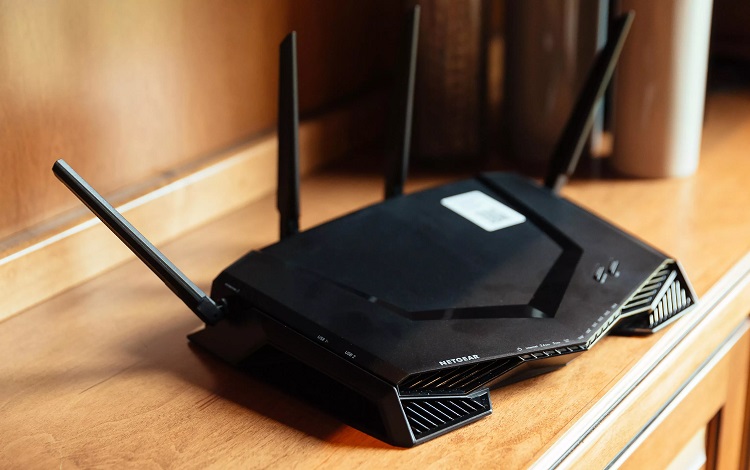 A quality gaming modem makes all the difference when you're playing online, and considering online play has because the norm, it's an essential investment to make.
For those new to online gaming or feeling unsure about what this technology means, we're here to help with some commonly asked questions and simple answers.
Do Gaming Modems Make A Difference?
Using the wrong modem can affect ping, speeds, and reliability, so choosing a gaming-specific modem is a good idea. A gaming modem has been designed with a more powerful CPU and they have greater power to reduce latency and offer more connections, as well as staying consistent through whatever you're playing.
What Is The Difference Between A Modem And A Router?
A modem is a device that connects the internet to your home, whereas the router is the means that helps your in-house devices communicate and access that internet connection. It is possible to get a two-in-one device with both a modem or router, or you can purchase each separately.
Is It Better To Have A Separate Modem And Router?
There are pros and cons to both sides, with people preferring a separate modem and router as it allows them the chance to upgrade and offer more connections to devices. However, a combined modem and router is still effective, usually cheaper, and capable of connecting to the internet with just as much efficiency.
Is 0 Ping Possible?
The goal of anyone with an internet connection is to have a low ping rate as this indicates how fast information traveled between the server and the device we're using. However, it's not possible to have an absolute zero ping as you have to account for the time taken for this information to travel.
High-Speed Gaming Made Possible
Although an often-overlooked element of gaming, a quality modem is essential when it comes to setting up your station.
Granting you access to fast speeds and reliable connectivity, and knowing you have a quality modem working behind you means you can put your focus back on the game without interruption.
If you're still unsure about modems, routers, and the rest of it, let our favorite picks guide the way. With our recommendations for the best gaming modems, each with something unique to offer, you'll be able to steer towards the right solution for your setup and reach speeds and consistency like never before.