With so much gaming done online these days, you want to ensure you've always got a steady internet connection to rely on.
Although many people prefer a cable connection for consistency, wireless comes with a lot of perks, and for some gamers, it's the only way they like to play.
[amazon table="38588″]
But, when your wireless port goes bust or you're working with an older laptop or motherboard that doesn't offer Wi-Fi connectivity, that can all change. Having an adapter on hand can be a gamechanger as these portable connection tools give you a guaranteed internet connection, no matter where or how you're playing.
What should you look for when choosing the top Wi-Fi adapter?
To choose a quality adapter, you want one with great range, fast speeds, and steady connectivity, all of which are important in gaming. This could look different for everyone and other features will depend on the rest of your gaming setup, it has to provide a solid connection for this type of setup.
If you're feeling in the dark about how to choose an adapter, we're here to help. We've compiled a list of some of the best sellers in this department so you can walk away with the best Wi-Fi adapter for desktop, laptop, and all other platforms, keeping you connected and in the game.
Our Picks for the Best Wi-Fi Adapter – Reviews for 2021
A Wi-Fi adapter is a handy tool to have as a stopgap when your regular wireless port fails you, or even as your only option for internet connection.
As such an important accessory, it needs to be able to deliver on all fronts, and that's why we've hand-picked these as the best Wi-Fi network adapter options on the market today.
Winner: Netgear Nighthawk AC1900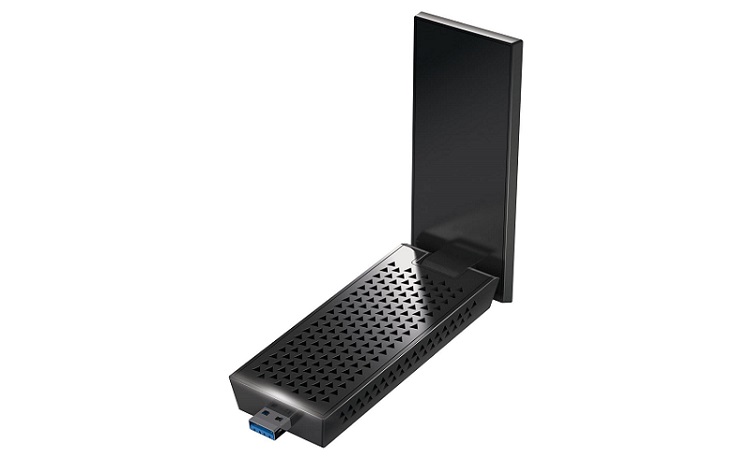 Size: 4.7 x 1.8 x 0.87 inches
Data Link Protocol: 801.11 ac
Data Transfer Rate: 1900Mbs
If you want the best Wi0Fi adapter for PC and Mac and are happy to pay the premium, the Netgear Nighthawk AC1900 is the only way to go. This adapter measures 4.7 x 1.8 x 0.87 inches and plugs into a USB port with a USB 3.0 connection and gives you instant access online, with a top data transfer rate of 1900 Mbs which is ideal for gaming.
The best thing about this adapter is the speeds, with people being amazed at what a Wi-Fi adapter on its own could do. With the right connection, you'll be able to reach speeds of up to 1300Mbps, so it tops most other wireless devices. Better still, you can get these speeds from anywhere thanks to its portability, so you can always be gaming with the smoothest and fastest connection possible.
On the downside, the software isn't the greatest, and some people found that without knowing how to get around its issues, it ruined the use of the adapter. The Netgear Genie software can take some getting used to which you'll need to do during installation, but if you can get past this part you'll be rewarded with a stellar piece of hardware in return.
The Netgear Nighthawk is the best Wi-Fi adapter USB and is compatible with Windows 7, 8, and 10, as well as Mac OS X 10.8.3 and beyond. With dual-band Wi-Fi and the use of explicit transmit beamforming+, you'll get the most in speeds, range, and stability, making it a great choice for online gaming, streaming, and enjoying media on the go.
The USB 3.0 connects to 802.11AC Wi-Fi speeds which make it faster, and it works with any Wi-Fi router you have running at home to deliver great internet without the need for any cords or cables. The Nighthawk features a 3×4 MIMO management tool so you're able to get more bandwidth for downloading, as well as having more uploading capabilities. The unit sits on a magnetic cradle and gives you the flexibility to keep it where you want and out of your way.
If you only want the best Wi-Fi adapter PC and MAC option, it has to be the Nighthawk from Netgear. This adapter is available for a great price online through Amazon, comes with a one year warranty and three months of technical support. The Netgear Nighthawk AC1900 is a premium adapter and priced accordingly, but if you want the fastest speeds and best range, it's the only way to go.
Runner Up: EDUP USB Wi-Fi Adapter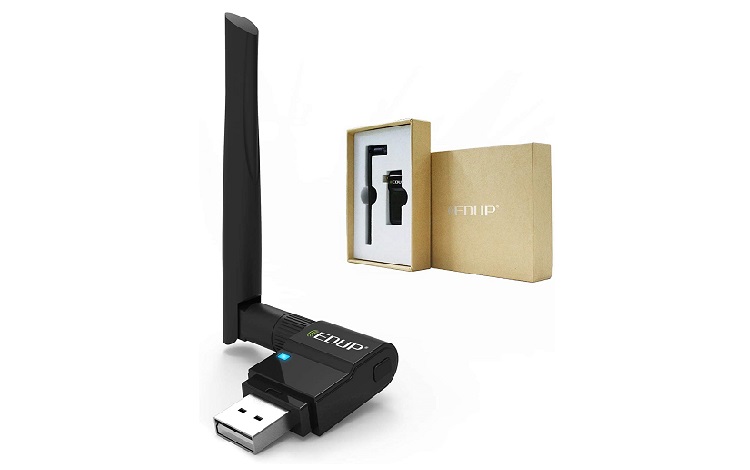 Size: 3.9 x 1.1 x 5.5 inches
Data Link Protocol: 802. 11AC
Data Transfer Rate: 600Mbps
If you prefer your wireless to be cheap and easy, you'll love everything about the EDUP USB Wi-Fi Adapter. This USB device runs on dual-band wireless for fast speeds, is compatible with all Wi-Fi routers, and uses high-speed 802. 11AC connection. Best of all, it's all housed in a tiny package that measures 3.9 x 1.1 x 5.5 inches, so you can plug it in and forget about it as you game.
What customers loved most about the EDUP Adapter was how easy it was to use, and how compact the design was. You simply have to plug this in and it gets to work without having to download anything bulky or know even the slightest bit about tech gadgets. As far as ease of use goes, the EDUP is by far the best in this category.
However, the speeds weren't as high as other more expensive options, so it's not ideal if you already have a router or connection that's struggling to keep up. With the maximum data transfer rate being just 600Mbps it's not ideal for games that require super-fast internet, so keep this in mind when you're looking for the right fit for your gaming station. You'll also need to insert a CD to install the driver, which not all devices will have, so keep this in mind.
The EDUP USB Wi-Fi Adapter is compact but powerful and compatible with most versions of both PC and Mac. You're also able to create a hot spot using the AP function that allows more devices to connect, so it can be utilized by more than just you if you want to spare some of your speeds.
This adapter is capable of reaching up to 600Mbps on a 5GHz band connection or 150Mbps on a 2.4GHz band, with 5G being the preferred option if you plan on gaming at great speeds. The EDUP has one key encryption and WPS to keep you secure, as well as an included CD for installation that takes mere minutes to set it all up and get your gaming station online.
The EDUP Wireless Adapter is a USB device made for portability and ease of use, and if you have mid-range needs for speed, it's one of the better options. This budget-friendly device will keep you online, and it's available for the best price online through Amazon, as well as a one year warranty from the manufacturer. There's no need to go big or cost a fortune just to get online, as the EDUP Wireless Adapter has proven to us all.
Alternative: Edimax Wi-Fi Adapter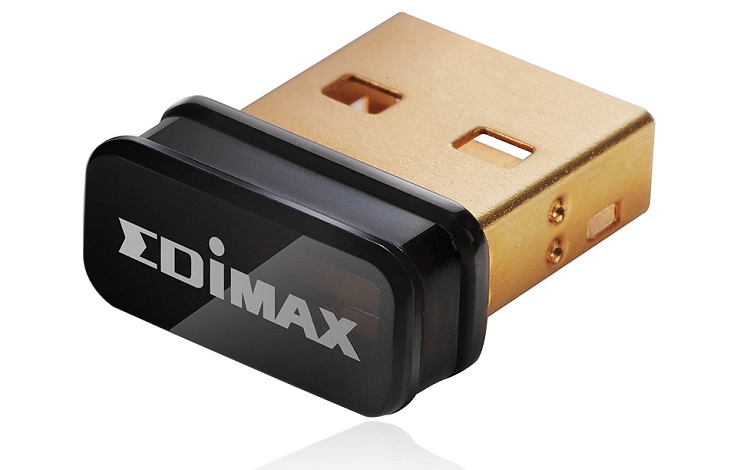 Size: 5.5 x 3.5 x 0.7 inches
Data Link Protocol: 802.11
Data Transfer Rate: 150Mbps
When you like to game without anything weighing you down, a compact USB 2.0 option like the Edimax Wi-Fi Adapter will be right up your alley. This tiny adapter fits right into your USB port and won't take up any other space, with Edimax claiming it's the world's smallest. This adapter supports 150Mbps of speeds and runs with 802.11n wireless, giving you enough for simple online gaming on the move.
The coolest thing about this adapter is the size, and if you're like other customers who were put off by the sheer bulk of some of these accessories, you'll appreciate it as well. This nano gadget won't even be seen once it's plugged into your computer, and even though it's tiny, it's still capable of getting a decent internet connection for gaming.
However, there are still some faults to be found and to be expected in one of the cheaper options we've reviewed. The Edimax Wi-Fi Adapter had some issues during installation with its software, and particularly for people on Mac and Linux. While it might be considered the best Wi-Fi adapter for Windows 10, it's not for everyone, and even those running Microsoft will likely lose their patience during setup.
This aside, there's still plenty of cool features worth mentioning in this tiny USB adapter. The Edimax has an internal chip antenna that helps with its small size and it's easy enough for anyone to set up thanks to the included multilingual EZmax setup wizard that runs when you first plug it in. You'll be secured while you play online thanks to its 64/128 bit WEP encryption, and it's an adapter compatible with Linux, Mac, and PC, with most versions covered.
The Edimax Wi-Fi Adapter uses a green design that relies on minimal energy to run, and it supports Wi-Fi Multimedia Standard that allows you to give certain types of data priority over others. This means you can put all of the speed and data towards gaming which will ensure a more stable connection while you play, and help to counteract its lower than standard rates.
If you've been searching for a discreet and simple way to stay connected while you game, the Edimax will tick all of your boxes. Not only is it compact but also affordable, and if you buy online at Amazon, you'll get the best price online and free shipping. Edimax has a one year warranty on this device, as well as ongoing customer support, so for such a small package it's still got plenty to offer, provided you don't need super-fast speeds to play.
Alternative: ASUS AC1900 USB Wi-Fi Adapter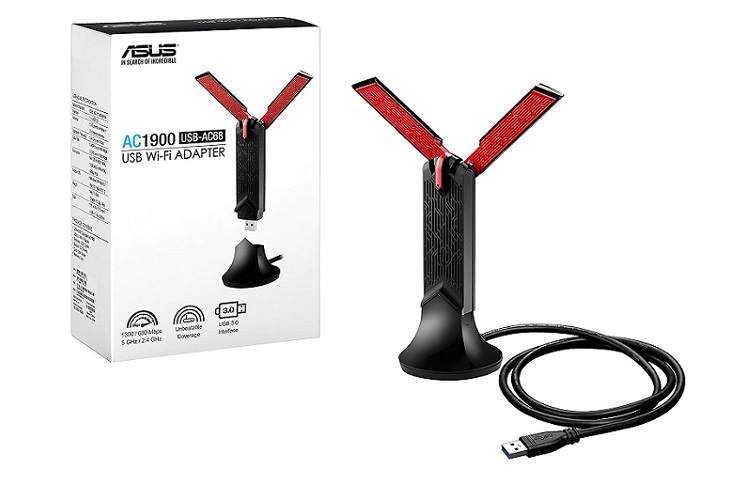 Size: 1.18 x 0.69 x 4.52 inches
Data Link Protocol: AC1900
Data Transfer Rate: 1300Mbps
ASUS is known for making quality gaming peripherals and if you don't mind a larger adapter in your station, their AC1900 is a great choice. This adapter has a data transfer rate of 1300Mbps which it achieves with two internal antennas that reach three positions, and ASUS AiRadar beamforming, all working together to deliver you a great gaming Wi-Fi adapter.
The speeds capable with the ASUS AC1900 are its clear advantage over the rest and with the right connection, you'll be playing at around 1300Mbps. There are lots of features working together to achieve this, and a steady connection, so no matter the type of gaming you're into, you'll never lose your place and you'll never have to fight through lags and slow speeds when you're equipped with this adapter.
The biggest disadvantage of the ASUS AC1900 Adapter is the setup process, with some people abandoning it altogether out of sheer frustration before they could get it to work. Some customers said they had to download drivers, install them, delete them, and then re-install just to get it to work, so although it's got good speeds to offer, you'll have to put in the work to get there.
ASUS has built this adapter to be compatible with both Mac and PC, but compatibility might seem like a long stretch if you're looking for the best Wi-Fi adapter Windows 10 can run, as you'll have to follow additional steps found online. Once installed, the adapter connects to dual-band AC1900 Wi-Fi so you get better range and higher output, and although it's an expensive option, it's a must-have for people with more requirements while gaming.
When it's not in use, the dual antennas both fold down so they can be packed up and taken with you wherever you go, and when you want to get a signal again, they unfold back just as easily. The measurements of the unit are 1.18 x 0.69 x 4.52 inches so it's quite tall when it's in action, but for the speeds it achieves, it's worth taking up this extra space if you need it.
To get your hands on the clunky but efficient wireless adapter from ASUS, go online to Amazon and check out their prices. ASUS covers this device with a one-year limited warranty, and you'll benefit from the many features at play helping it get high speeds and great range. The ASUS AC1900 Wi-Fi Adapter is fast, efficient, but a handful to set up, so it's better left to those with some knowledge of wireless connectivity.
Alternative: TrendNet AC1900 Wirleess Adapter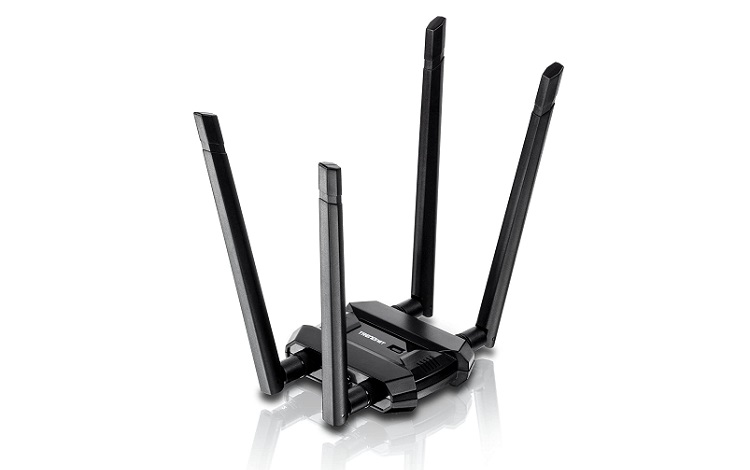 Size: 7 x 3 x 9 inches
Data Link Protocol: AC1900
Data Transfer Rate: 1300Mbps
Trendnet is another popular choice for a wireless adapter suited to gaming, with high speeds and good range possible when you plug it in. This adapter is an AC1900 connection that can reach 1300Mbps with the right router, or down to 600Mbps with Wi-Fi N. With a massive size of 7 x 3 x 9 inches and two antennas working for consistency and speeds, it's powerful and mighty.
The quality of this adapter is obvious as soon as you take it out from the box, and with a three year warranty, it goes above and beyond what others do. If you don't mind the size, it's a wise investment that will last for years to come, and according to customers, it remains consistent in speeds and rage no matter how long they've been using it. The other added bonus of having detachable antennas makes a huge difference, especially if you live somewhere with connectivity constraints.
This is the hugest adapter we've reviewed, so you'll want to measure up your desk to see if it's going to fit before getting one for yourself. If your goal is portable and easy gaming it's not going to be ideal, and better suited to people with large desks and desktop setups, otherwise, you'll find the adapter itself towers over your computer.
The side issue aside, the TrendNet AC1900 Wireless Adapter is still impressive, and it features four high gain antennas doing its work. The antennas are external and detachable so you can position them however you need, and this helps reach better gains as well. With a dual-band internet connection possible, you'll achieve better download and uploads speeds, which is great for all kinds of online gaming.
The TrendNet Wireless Adaptor uses beamforming which makes it ideal for gaming, as this helps to improve real-time performance. As a device compatible with both Mac and PC operating systems, nobody is left behind, and it works alongside all wireless routers. For your peace of mind, the adapter uses WEP and WPA wireless encryption, and setup is as easy as installing the driver with the included CD-ROM and plugging it in.
If you don't mind a larger antenna and want something that will serve you well for many years, the TrendNet Wireless Adapter is a wise investment. This AC1900 device is found online at Amazon for a great price, comes with free shipping, and the massive three year warranty we already discussed. For quality manufacturing and consistently high speeds, it's one of our favorite wireless adapters by far.
Wi-Fi Adapter FAQs
A Wi-Fi adapter can be a lifesaver when you're trying to game online and other methods are failing you. If you don't own of these tech accessories because you still want to learn more about what they do, we're here to help, so check out the answers to some commonly asked questions that others have about Wi-Fi adapters.
Are Wi-Fi Adapters Any Good?
A quality Wi-Fi adapter is capable of reaching fast internet speeds and with a reliable connection. The technology behind these accessories has improved from years past and it's now a good option for those who need a boost to their wireless or are gaming on something that can't connect otherwise.
Do Wi-Fi Adapters Make A Difference?
A Wi-Fi adapter can make a difference in a computer or laptop that has limited connectivity or is without the option for a wireless connection. These adapters provide an antenna that assists with your Wi-Fi, so if your current setup is struggling to connect, they can be an invaluable accessory.
Does Wi-Fi Adapter Affect Internet Speed?
A Wi-Fi adapter may affect internet speeds depending on its design, included antennas, range, and placement. These adapters come with various capabilities including the speeds it can reach, so if you're looking for something at the top of the range, you should shop accordingly and be prepared to pay a higher price.
Can Wi-Fi Adapter Be Used As A Router?
A Wi-Fi adapter does not have the same capabilities as a router when used on its own and won't be able to pick up an internet connection where there isn't a router in place. These accessories are similar to network cards that simply let you access the internet. With some technical skills, you could use a Wi-Fi adapter with a PC to turn the PC itself into a router, but this takes some know-how.
Top Speeds for Top Performance
Gaming requires consistent and reliable internet connectivity to keep you in the moment, but when your Wi-Fi port is not delivering of the rest of your peripherals can't deliver wireless, what are you to do?
Having a Wi-Fi adapter is a simple fix and a good stopgap for when nothing else seems to work.
Our recommendations for adapters cover all of the basic gaming needs and can give you reliable connectivity no matter where you are or what you're working with. A Wi-Fi adapter is a must-have for staying online, and with one of our top picks in play, you'll ensure you're always connected.