For many people, gaming is more than just a way to pass the time, but an opportunity to immerse themselves in a whole new world.
[amazon table="37755″]
The best way to ensure this immersive experience is with the right peripherals, including choices in audio and visual accessories, so you can lose yourself completely in the game.
A gaming monitor is one of the most important parts of a gaming setup because it gives us our view into the world of whatever we're playing. Although traditionally an expensive part, it's possible to find a gaming monitor under $300 that delivers on quality, smoothness, and clarity, if you know the features that matter.
What does the best gaming monitor under $300 look like, then?
A gaming monitor in this price range should have a good screen size, resolution, refresh rate, response time, and build, but keeping in mind that it's in the budget friendly category. Although cheap, you can still get a quality monitor that ticks these boxes and lets you game how you want to, provided you know what to look for.
Finding a good gaming monitor under $300 doesn't have to be a challenge when you know the basics about what these accessories offer.
To help give you a push in the right direction, we've reviewed some of our favorites in this category and a little more about what you can expect, so you can save some serious dough when shopping for yours.
Our Picks for the Best Gaming Monitor Under $300 – Reviews for 2021
An affordable gaming monitor that still delivers on specs and features might seem unreasonable, but it doesn't have to.
We've got some great options for the best gaming monitor under $300, and all with something unique to offer, so you're spoilt for choice when it comes to finding the perfect one.
Winner: ACER Nitro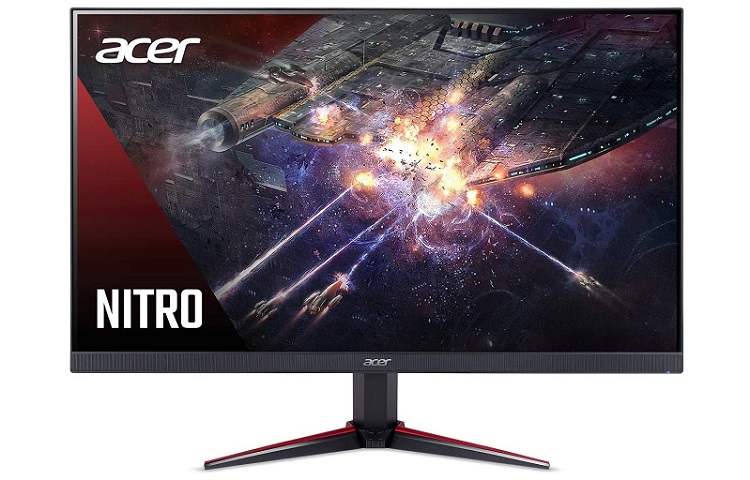 Screen Size: 23.8 inches
Resolution: 1920 x 1080
Refresh rate: 144Hz
Our number one choice for the best gaming monitor for under $300 has to be the ACER Nitro. This monitor comes with a 23.8-inch screen that puts it just below the competition in size but it makes up for it with other features like full HD widescreen IPS monitor operating at 144Hz refresh rate with 1920 x 1080 resolution.
This monitor operates with AMD Raedon Technology which means you rely on the graphics card of your computer rather than the display to dictate quality, so you don't have to spend a fortune on this accessory alone.
The greatest thing about the ACER Nitro is how responsive it is, which ultimately leads to a smoother and more immersive gaming experience. The response time is only 1ms so no matter what's happening on the screen, it'll catch up, and having something this smooth is a sight to see when you're looking for monitors under the $300 mark.
However, the drawback about this monitor is that it can feel a little flimsy when you compare it to a more expensive model, and customers noted it as soon as they picked it up. It can be misleading though because the monitor's performance is akin to something much more expensive, so it seems ACER has cut corners with this part to save money, giving their customers a cheaper alternative for a gaming monitor.
ACER has all the right features for a gaming monitor included like their ComfyView display which allows you to enjoy your game without dimming and flickers that only take away from the experience. When it arrives, you'll need to spend some time with color calibration, but right out of the box it does a decent job of getting it right.
The ACER Nitro has eight pre-set modes that you can use depending on what you're doing with the monitor, and gamers will be pleased to know there's a graphic option that suits them best. Setting up the monitor can be done using the included stand or it can be mounted on the wall, and ACER allows for multiple monitors to be used together if you want a larger visual experience.
This is easily the best 144Hz gaming monitor under $300 and it has a lot to offer the modern gamer, working alongside even the most impressive CPUs. Amazon has it listed for a great price online and it comes with a standard one year limited warranty and free shipping to your door. If you're after unbeatable value for IPS and 144Hz in screen capabilities, the ACER Nitro is one of a kind.
Runner Up: ViewSonic Elite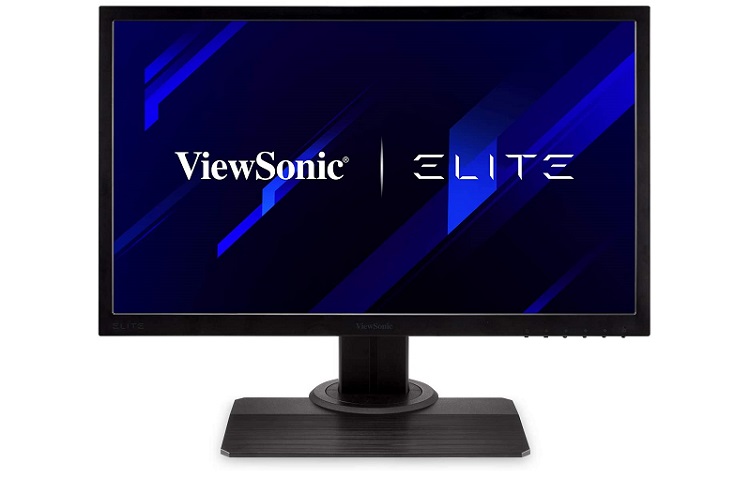 Screen Size: 24 inches
Resolution: 1080p
Refresh rate: 144Hz
The ViewSonic Elite is another top pick for the best gaming monitor under $250, and although it's affordable, it's still impressive. The Elite comes with full HF 1080p resolution and coupled with a 1ms response time and 144Hz refresh rate, you'll be fooled into thinking it's a much more expensive display when you end up gaming with it. This is an ideal choice for Esports and competitive gaming enthusiasts who want the best without spending a fortune.
For a cheaper gaming monitor, the ViewSonic Elite is also one of the most comfortable and ergonomically correct. Customers loved how there was minimal strain after a long night of gaming and it has a fully adjustable stand that can tilt, pivot, and swivel, as well as being customizable to whatever height you need. Although a seemingly basic feature, it made all the difference for gamers.
On the downside though, some customers had issues with black spots when theirs arrived, which meant they had to be sent back for exchange. Although it doesn't matter in the end when you get your new monitor, it appears there's a bad batch in production that are causing these issues, and it's not something you want to face when you're excited to try out your brand new monitor.
The ViewSonic Elite comes equipped with the famous AMD FreeSync Premium Technology which is made for gaming and it adds even more smooth factor to the gaming experience. There are two options for connectivity with an HDMI port and a DisplayPort so no matter your setup, you'll be ready to go. The built-in ViewSonic Black Stabilization brightens up dark scenes and gives you 22 different levels to customize between, so you'll have an edge on the competition no matter what you're playing.
If you're a gamer who likes color, you'll love the Elite RGB lighting technology included in this display, and the fact it can sync up with your other peripherals. The built-in ViewSonic Black Stabilization brightens up dark scenes and gives you 22 different levels to customize between, so you'll have an edge on the competition no matter what you're playing. This monitor also comes with a range of pre-set modes that get you ready for action so you can game with Esports, MOBA, FPS, and RTS without having to adjust a thing.
You can get your hands on the ViewSonic Elite by heading to Amazon, and also benefit from their free shipping promotion. This is well priced in the budget range of monitors but with the smoothness and clarity you'd expect from a more expensive category, so it's ideal if you're shopping on a budget. With 1080p definition and 144Hz refresh rate, it's hard to go past the specs on offer with the Elite Gaming Monitor by ViewSonic.
Alternative: Sceptre E248W Monitor
Screen Size: 24 inches
Resolution: 1080p
Refresh rate: 75Hz
If you're shopping on a serious budget and still want a gaming friendly monitor, something like the affordable Sceptre E248W Monitor might be more your style. As the cheapest option we've deemed worthy, it still has plenty of cool features like a 24-inch ultra-slim profile, cool metallic design, 1080p high-definition resolution, and refresh rate of 75Hz.
The best thing about this monitor is its display, and everything it's capable of for a monitor at this price. People were thrilled to see how bright their colors were and the sharpens of the picture, once they'd spent some time calibrating the colors. It's worth it to work on this when you're setting up the Sceptre as you'll be rewarded beyond belief with an impressive-looking display that operates better than some costlier options out there.
Of course, as a cheaper option, it's expected that the picture quality won't be as impressive. Most notably is the slower refresh rate which can be noticed more with modern games that require something speedier. You'll see a few more jumps and not get the smooth experience that more expensive monitors offer, but this might not be an issue if you're only playing with basic games.
The Sceptre E248W Monitor is ultra slim and it sits atop just about any work or gaming space, with many customers using theirs for both work and play. With a thin chassis and slim bezel, it's easy to move around and can even be mounted on the wall if you wish, and features two HDMI ports that allow you to connect to your gaming setup or CPU with ease.
This monitor comes with built-in speakers that add even further to its money saving abilities, giving you two gaming accessories in one. The Sceptre E248W also features Adaptive-Sync technology from the brand which means less noticeable stuttering and image tearing while you play, no matter what type of CPU you're working with.
If you want the lowest priced gaming monitor out there that can still deliver a crisp picture and vivid colors, it has to be the Sceptre E248W. Amazon has this monitor available in a range of sizes, depending on your setup, and they'll ship it straight to your door for free. As the cheapest option in all of our recommendations, it proves you don't have to spend a fortune for a great display, so don't pass over the Sceptre E248W on your search for a gaming monitor.
Alternative: ACER XFA240 Gaming Monitor
Screen Size: 24 inches
Resolution: 1080p
Refresh rate: 144Hz
ACER has done it again with their XFA240 Gaming Monitor, designed to deliver greatness on a budget and with a 16:9 aspect ratio to suit all of your gaming needs. If you're looking for the best ultrawide gaming monitor under $300, they have a great option with a 24-inch full HD 1080p display that offers a 144Hz refresh rate and response time of just 1ms for smooth gaming.
This smoothness is what customers appreciated most about the ACER XFA240 Gaming Monitor as it helped them immerse themselves in the game more fully. Even the mouse moved more smoothly and the game continued on without an issue, no matter what they were playing. If fast paced and action-packed games are what you enjoy, this is a major bonus to have on your side.
However, there were some flaws, including the difficulty in reaching the settings menu and making changes. This meant when you wanted to calibrate the screen or change something to suit your gaming, you spent a lot longer than you hoped for. It was a shame to see with a monitor that offered so much more in terms of smoothness and display but it made it a lot less accessible as well.
The ACER XFA240 comes with a fully adjustable and ergonomically display thanks to the stand that pivots, tilts, swivels, and changes height. You can adjust the viewing angles from 170° horizontal and 160° vertical to get exactly what you need, and it can be set up on your desk or mounted to the wall, giving you the option for either.
The 24-inch monitor comes with a single display port and an HDMI port, as well as two speakers included in the screen to save you from connecting any other accessories. The ACER XFA240 is a FreeSync monitor so it offers G-sync compatibility, making it perfect for NVIDIA and GeForce graphics cards and delivering smooth display, tear-free motion, and realistic visuals in all genres of gaming.
If you want an impressive gaming monitor that won't break the bank, there's a lot worth checking out in the ACER XFA240. This monitor was built for gaming and it shows, and you can get it for the lowest price online through Amazon, along with their free shipping promotion. Acer covers this monitor with a 12 month limited warranty and ongoing customer service, so as long as you don't mind fiddly control settings and have some patience, there's still plenty it has to offer.
Alternative: ACER FX250Q Gaming Monitor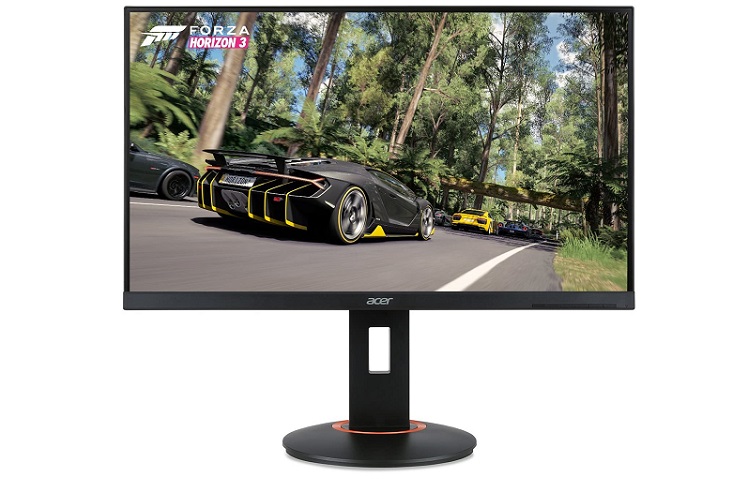 Screen Size: 24.5 inches
Resolution: 1080p
Refresh rate: 240Hz
The ACER FX250Q is our final recommendation for the best gaming monitors under $300 and it certainly packs a punch. This is a great choice for more serious gamers as it comes with features like a slightly larger 24.5-inch screen, full FH experience, widescreen TN monitor, and 240Hz refresh rate. With a no-frame design, it's sleek and professional and would do just as well as an office monitor for someone who also games their nights away.
The coolest thing about the FX250Q is all the features that make it more comfortable and safe to game on for hours. Acer has included their EyeProtect display, a blue light filter, and ComfyView which utilizes low dimming technology, all within the one monitor. With these combined, you could game all night and not feel a difference in your eyes, meaning you can enjoy its specs even more.
According to customers, the 240Hz refresh rate is hard to see, and some people reported that it maxed out around 180fps. Of course, this differs depending on the rest of your gaming setup, but it seems the consensus among many gamers. If you're purchasing this monitor specifically to see what it can offer here, you may be disappointed, so take this as a warning that it might not be all it's cracked up to be.
This issue aside, it's still a feature packed gaming monitor and impressive for its price. The FX250Q by ACER comes with three ports for play including an HDMI 1.4, HDMI 2.0, and 1.2 port, and FreeSync and G-Sync compatibility so you can game with the best, the way it should be. The ACER monitor is backlit with an LED that heightens the experience and adds a nice touch to your gaming setup, especially f you're someone who prefers to steer clear of the flashy RGB look.
You'll also love the ErgoStand built into the design which can be swiveled, tilted, and adjusted to whatever you prefer, giving you the most comfortable viewing and gaming angle possible. To save space, you can have it mounted on the wall with the included VESA attachment, or take advantage of its sleek design and keep it on your desk.
The ACER promises a lot and delivers on most of it but is still one of our top picks for monitors built for gaming on a budget. TheFX250Q can be purchased online at Amazon, shipped for free, and arrive with a full year's warranty plus customer support. If you want to game with premium specs and smooth gameplay that can't be beaten, it's one of the best ways to do it.
FAQs of Gaming Monitors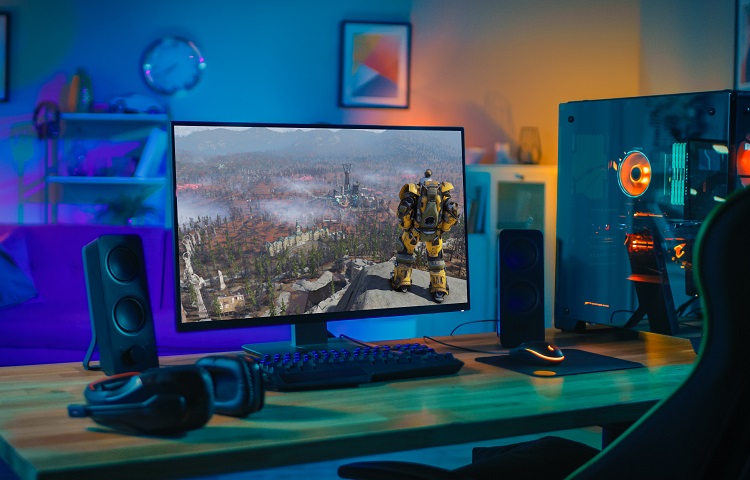 A gaming monitor can make or break your gaming experience but it's also one of the most technical parts of a setup. If you're still unsure about what to look for or the specs that are more important, never fear, as we've got the answers to some commonly asked questions right here.
Is It Worth Getting A Gaming Monitor?
Choosing a quality gaming monitor is worth it for your gameplay as there's no point in having a powerful computer setup without it. The monitor is the visual display of your gaming and its quality will determine how much you see, how clearly you see it, and what level of graphics you're able to appreciate.
Is 240Hz Better Than 144Hz?
Hz is a loose way to describe frames per second, and you'll be able to notice a difference when playing on a 144Hz capable monitor versus a 240Hz one. However, if the game you're playing doesn't go past 144 frames per second, there's no need to have a monitor that does, as it won't be registered anyway.
Can You Tell The Difference Between 60 And 120 Fps?
The difference between a 30 and 60 FPS monitor is far more noticeable than the difference between 60 and 120 FPS, but you still will see a small improvement with the 120. The display of a screen is usually more telling as to what quality the picture will be, so don't always count on the frames per second reading.
Does 120 Fps Give An Advantage?
A monitor that displays 120 frames per second is also referred to as 120Hz as these have good response times for gameplay. Simply put, 120 FPS means over 120 frames are being shown on the screen per second so it looks smoother compared to something like a 60 FPS capable screen.
A Better View on a Budget
Visuals are everything when it comes to gaming, but one look at the top contenders for gaming monitors and you can be scared off by the price alone.
By shopping smarter though, you'll see there are some great choices out there that better suit your budget, without missing out on any important features.
With our help and recommendations, you'll be able to find a new gaming monitor that still delivers where it counts. There's no need to blow the bank just to update your gaming screen, and with this one simple accessory, you'll notice a world of difference when it comes to an impressive and immersive experience.