Escape from Tarkov might be a while away from release, but it is a deep and complex game already. There is a really complicated in-game economy and loadouts, but there are also plenty of maps available. If you really want to dominate in raids, you've got know the maps like the back of your hand. The realistic approach to gameplay gives very little space for you to figure out where things are. This isn't the time to be wandering around like a tourist. This Escape from Tarkov Interchange map guide covers one of the most interesting spots in Tarkov to play.
Interchange is a map that mainly resembles a large shopping mall and a wider complex outside of it. It is largely defined by interior fighting and the maze inside of the building. One thing to note about this map is that it isn't as small as it looks. There is an awful lot of space here and quite a lot spread around the outside of the shopping center. The key to performing well on the Escape from Tarkov Interchange map is learning the map. The inside area can become a maze, knowing your surroundings is more important than ever.
Escape from Tarkov Interchange Map Guide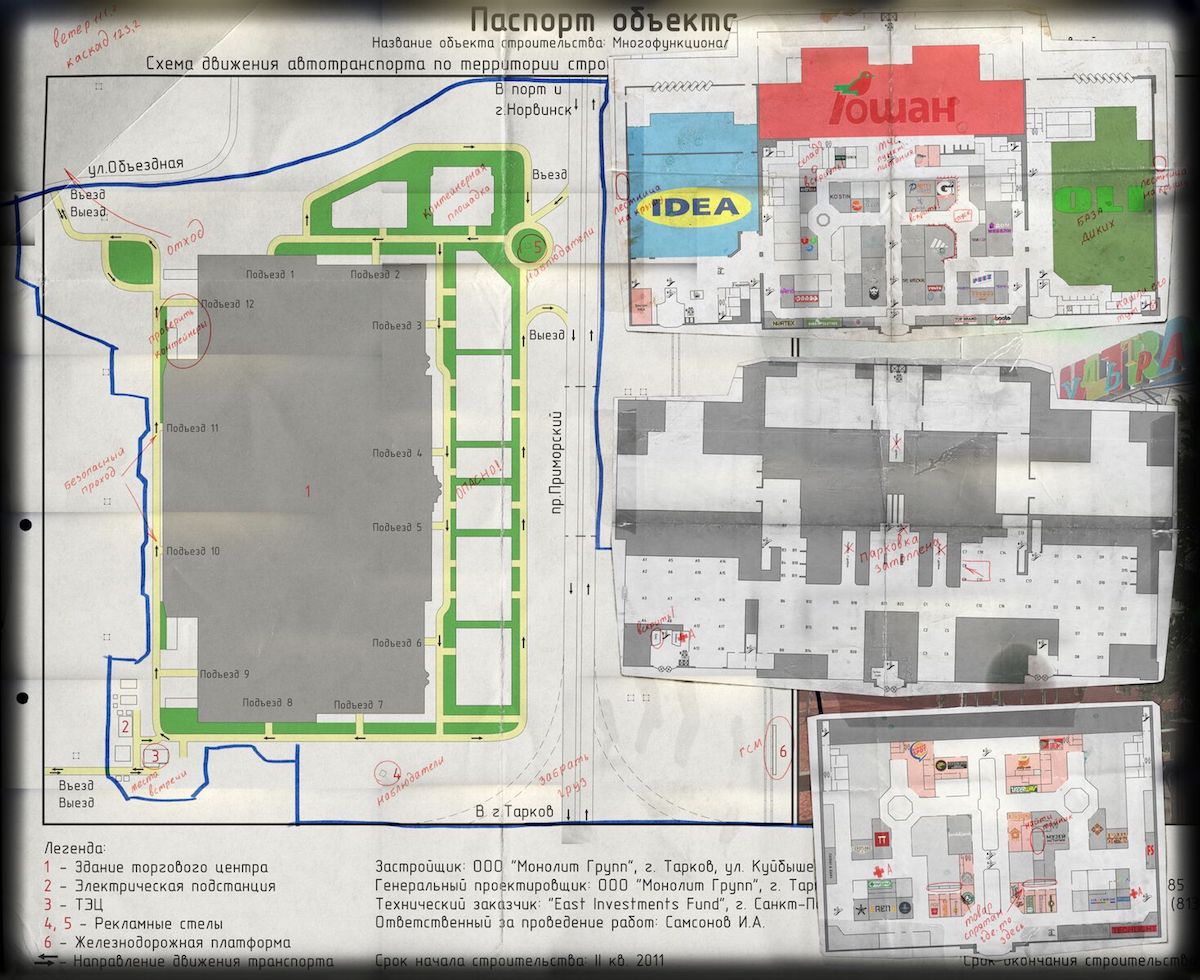 Interchange can be divided into a few different areas. The first is the mass inside of the shopping center. This is a twisted up maze of individual shops. You likely won't know the layouts of the inside of each shop for some time, but it is helpful to try to learn a few signs in this area to keep your bearings. This is the largest POI, but you shouldn't ignore the rest of the map in favor of this.
There are an awful lot of spawn points on Interchange. Most of them can be divided into a few areas. The key to finding out where you are on the map is the large 'anchor' stores. These are the really large stores with recognizable branding, it helps a bit that they're fairly thin parodies of commonly known brands.
When you spawn you need to look around and try to spot one of these reference points. The IDEA store is an easy one to see, as is the large store opposite. Inside of the mall is going to be easy to recognize. If you're on the outside this should also be easy to figure out from first spawning. Deciding which of these points you're nearest can save you valuable time in trying to find your extraction point and which way you need to head.
Flow and Chokepoints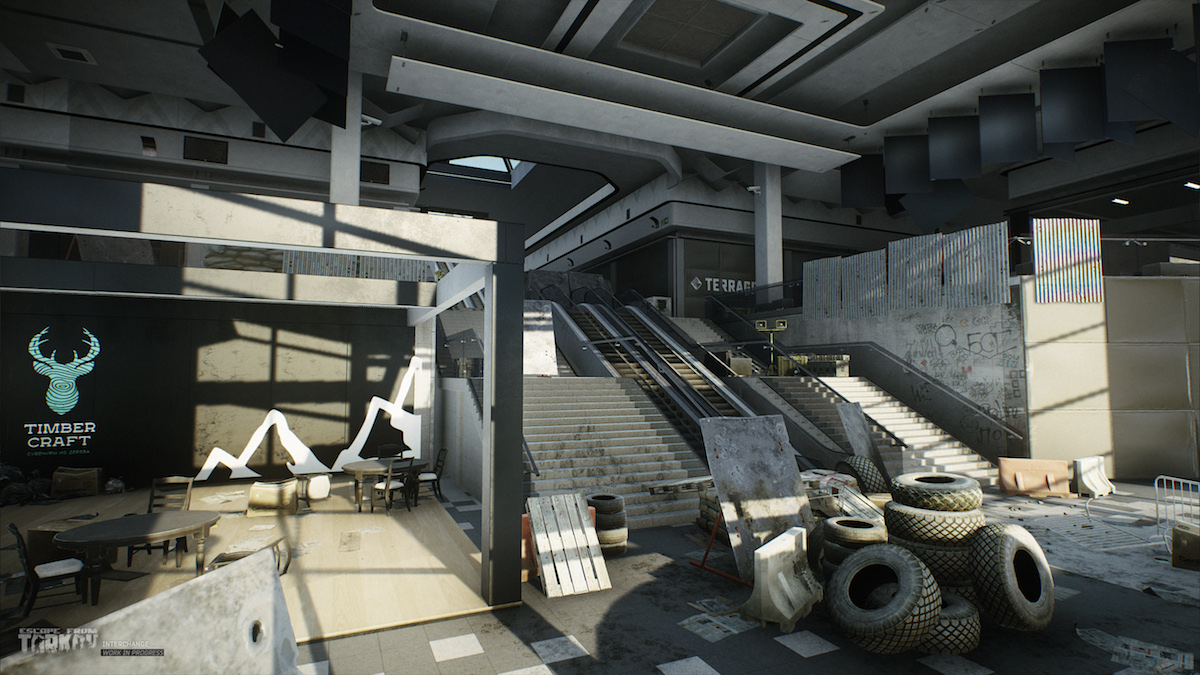 This is another Escape from Tarkov map with a fairly traditional flow. You're flushed out of one side of the complex into the center to loot, then to the opposing side to extract. The focus here is on traveling north and south, this is the direction that the map flows in.
Where this Escape from Tarkov Interchange map gets a bit more complicated is the mall. This is the hotspot that you have to push through to get to the opposing side, but it isn't a traditional chokepoint. This area is filled with other players, loot, and Scavs. However, you can split the mall into a few manageable areas to get a better judge of it.
The large center of the mall is the biggest chokepoint, however, spread around are 4 smaller areas. The parking lot and other floors also tend to be quieter, these are good options as spaces to flee to if a firefight turns bad.
Inside the Mall
Each store inside the mall has a different layout. Within each, there are plenty of places and surfaces that you can use as a vantage point or as cover. Most players will have a few stores that they particularly know the layout of. Never assume that a store is empty. Use the audio queues in the game to judge if a player is waiting to ambush. Lines of site out of shops can also be a great place to pick up kills. You would think that the mall can become a spot for chaos and close combat fighting, but if you play tactically you can take out lost players at a medium-range and stay safe.
Learning how things work here is vital. Once you know the layout properly, you can dip in and out of stores to reposition and disorientate opponents. Mastering the layout of the mall and using it to your advantage is really important. If you're struggling to find your way around, spend some time in an offline mode figuring things out.
Parking Lot
The parking lot under the mall isn't to be ignored, it is actually quite a big bit of the map. This area can all look the same to newcomers but it is a great resource to have. Using players in here can help you seize the advantage in a game.
This place isn't a major hotspot for PVP, but if you're patient you should find some other players coming into this area.
Escape from Tarkov Interchange Scav Boss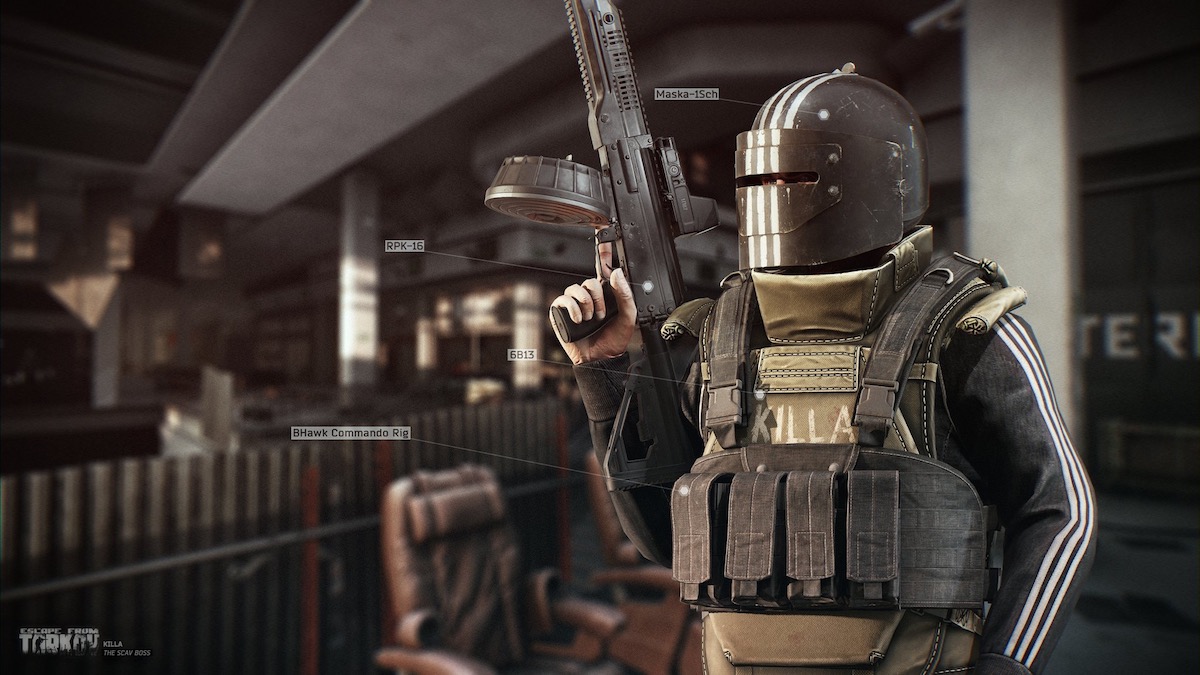 The Escape from Tarkov Interchange map does has a Scav Boss. This boss is Killa. You can find him patrolling the first floor of the mall. This will sometimes lead him to peruse players, but only in this area. If you kill him, you can expect to bring back some pretty good loot. This is what Killa is carrying:
AKMS 7.62×39 Assault Rifle
Submachinegun 19-01 Vityaz-SN 9X19
RPK-16 5×39 Light Machine Gun
TT Pistol 7.62 TT
F-1 Grenade
RGD-5 Hand Grenade
Zarya
RDG-2B Smoke Grenade
Maska 1Sch Helmet
6B13 M Assault Armor
Triton M43-A Chest Harness
Blackhawk! Commando Chest Harness
TerraGroup Labs Access Keycard
Morphine
Vaseline
Salewa First Aid Kit
TarCola
Who Should Play Interchange?
The Escape from Tarkov Interchange map is great for most types of players. Snipers aren't going to have the most fun unless they can find some very specific spots inside of the mall. However, for those looking for more fast-paced PVP or good loot then this map is fantastic. Make sure you learn the layout if you want to stand the best chance of winning your games here. This is especially true for beginners.
No matter which map you play on though, you make sure you're using the best Escape from Tarkov settings if you want to come out on top of more games.