Call of Duty: Modern Warfare has fun and varied maps, a great system of class creation, and plenty of game modes. Although, a lot of gameplay still comes down to the basics. The most essential factor in how you perform is your choice of weapon. This guide goes through the best Call of Duty: Modern Warfare weapons. Each of these is at the top of its class in the game and should enable players to rack up kills as quickly as possible. While no one weapon is perfect for every player, these are great starting points.
What is really good about Call of Duty: Modern Warfare compared to Fortnite or other shooters, is the Gunsmith system. With this, you can customize just about any weapon in just about any way you can imagine. With this, you can really modify how your weapon works and what it does. If you use the Gunsmith mode effectively, you can tinker with any weapon until it is just about perfect. You should use this in tandem with the best Call of Duty: Modern Warfare weapons. Think of these weapons as a starting point. These have great stats and potential. However, it is the gunsmith attachments and the rest of your loadout that is going to perfect the weapon.
The Best Call of Duty: Modern Warfare Weapons –  Assault Rifles – M4A1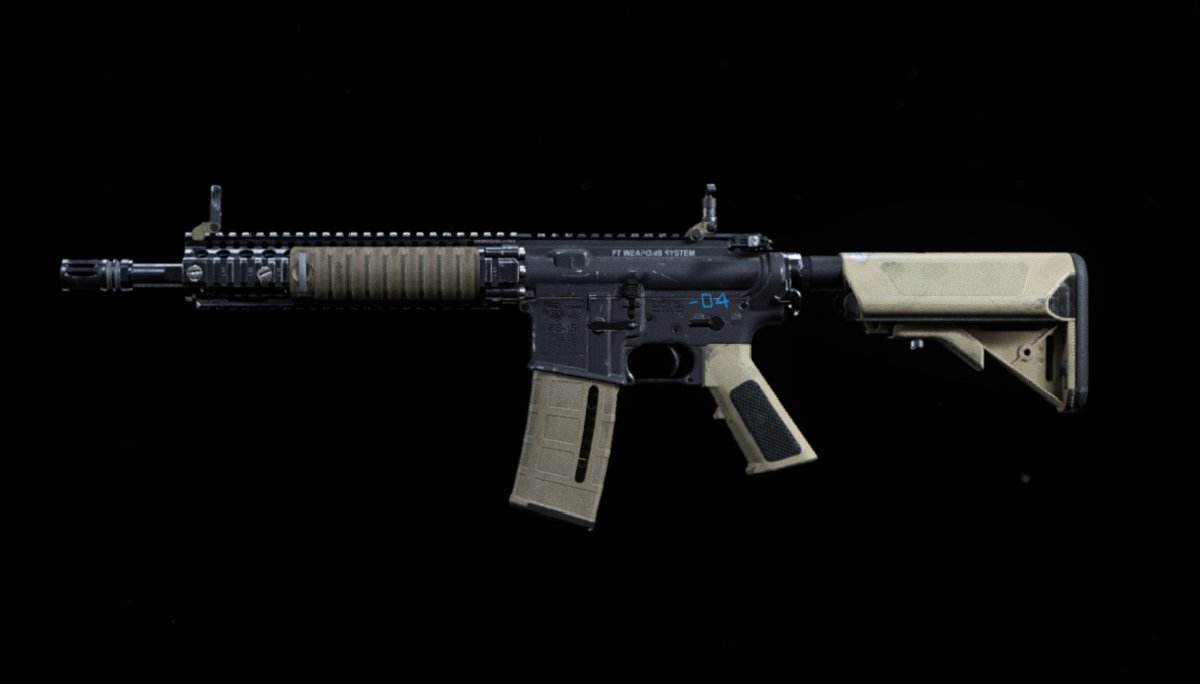 The M4A1 is the top of the class in Assault Rifles. These weapons are the basics in Call of Duty. Every player needs to be adept at using one, even if they're not your main weapon. This means the choice for best Assault Rifle is really important for how you build out classes. This is especially true if you're using the Overkill perk to double your weapons and make a lopsided weapon more viable with an all-rounder.
The M4A1 is the best choice for Assault Rifles. This is because of its balance. It can functionally just as well as a range as up close. It has decent stability to prevent too much recoil, along with a great speed and damage rate. This is the all-rounder. It might not be game-breaking good in any department, but the balance keeps it on the top of its category for an effective Assault Rifle. With such potential, it is easily one of the Call of Duty: Modern Warfare weapons.
This weapon is a bit of a blank slate. It is really well balanced, so you can modify it as much as you need too. With some well-chosen Gunsmith perks, you can turn the M4A1 into whatever type of Assault Rifle you need without having to put up with the drawbacks that are already present in other Assault Rifles.
The Best Call of Duty Weapons – SMG – MP5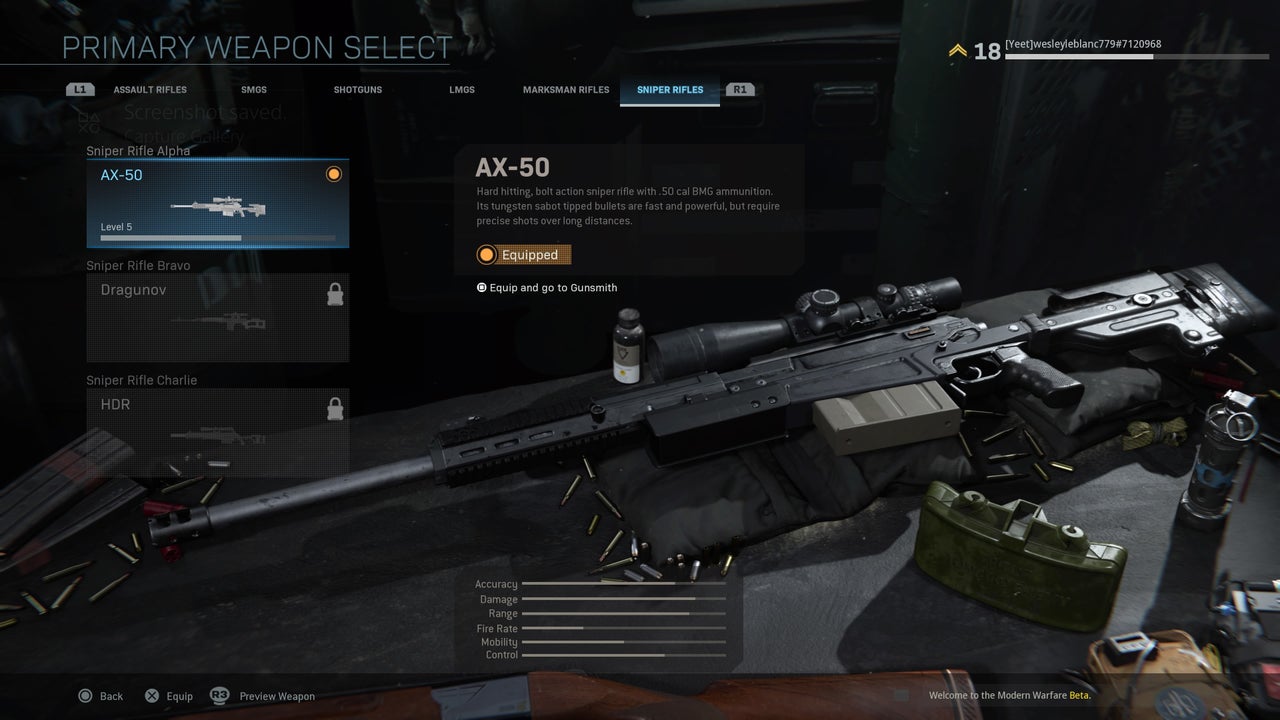 The MP5 is a Call of Duty classic, its appearance in Modern Warfare is no exception to this. The MP5 is on the medium end of the fire-rate. This gives it the strength that you need in small maps without sacrificing too much in terms of power. While it isn't as strong as some of the other SMGs on offer, it does give you the most versatility. This SMG can be helpful in a lot more situations then its harder or faster firing relatives. This makes it a great choice for keeping a balanced loadout.
SMGs in Call of Duty: Modern Warfare are very specific weapons. You're best off using them in smaller maps. This makes them a little specialist. One of the main appeals of the MP5 is its ability to function well in a great variety of locations. This weapon should serve you well no matter what type of map you're on.
The Best Call of Duty: Modern Warfare Weapons – Sniper Rifle – AX-50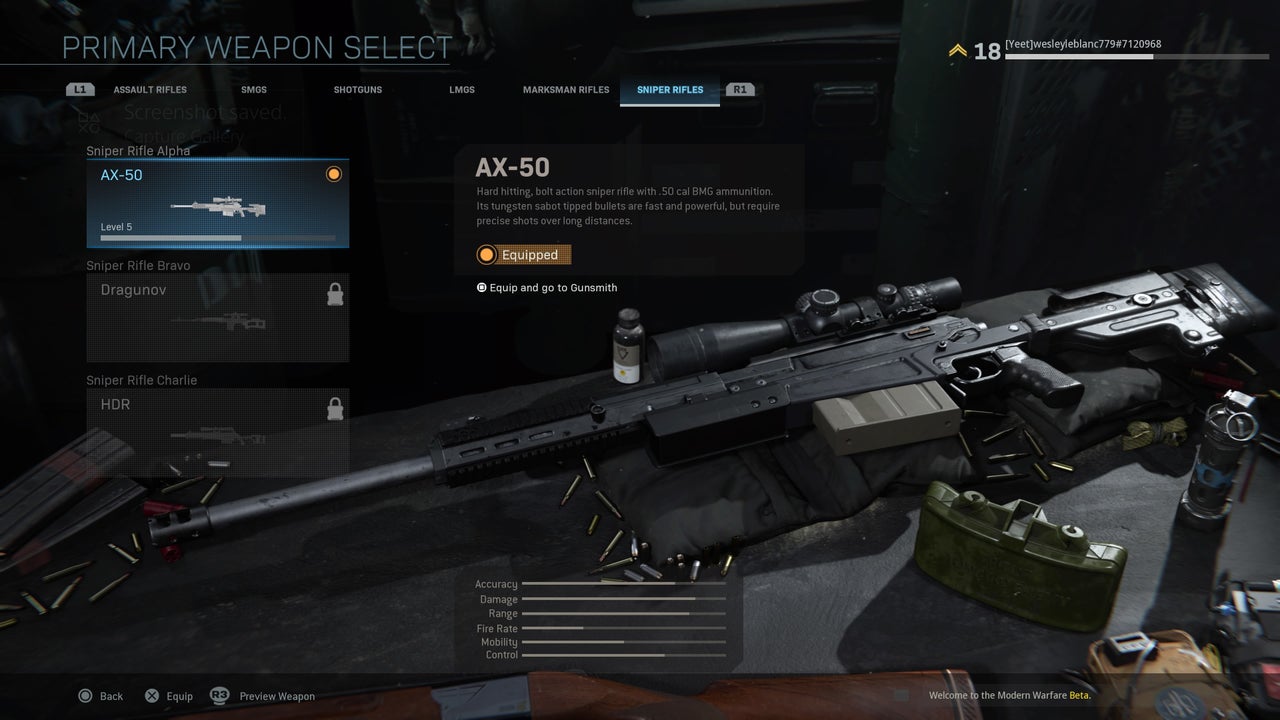 Sniper Rifles in Call of Duty: Modern Warfare really are a space to use Gunsmith on. You can optimise just about any of them to function how you want a Sniper Rifle too. However, none of them give as many possibilities as the AX-50.
This Sniper Rifle is one of the best Call of Duty: Modern Warfare weapons as it cancels out a lot of the negatives that come with Sniper Rifles. The AX-50 manages to make a Sniper a much more effective and versatile weapon. This is particularly important since so many maps in this game aren't fantastic for snipers. There is a lot of interior space and small maps for you to deal with, a real problem with a traditional sniper rifle.
This is a bolt-action sniper rifle that can take down anything in a shot or two. It hits pretty hard but importantly features a fast reload speed. This is essential for playing on certain maps. The quick reload and moving speed is going to allow you to get a lot more shots in and fire them off in a more reactive way. However, while this is one of the best Call of Duty: Modern Warfare it is still a Sniper Rifle. This is a type of gameplay that is nearly entirely dependent on your skill, so this is really important for getting the most out of the AX-50.
Marksman Rifles – MK2 Carbine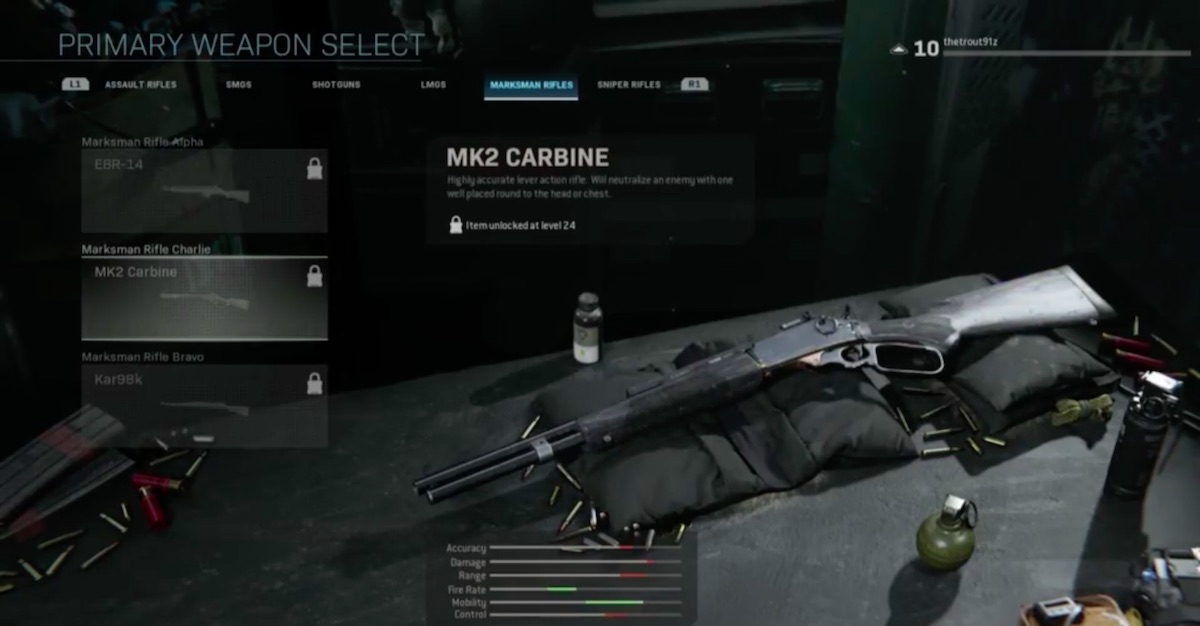 Marksman Rifles are a halfway house between an Assault Rifle and a Sniper. These are really quite useful in call of Duty: Modern Warfare. The map design and the number of smaller maps have made these medium-range weapons a better use of an accurate sniper's talents than a Sniper rifle in most games. The MK2 Carbine is one of the best Call of Duty: Modern Warfare weapons in this category. Like the best Assault Rifle, this one features a really good balance. This means you can modify it until your heart's content, but the weapon itself isn't starting off with any particular downsides.
This is an effective defensive weapon. It is quick to operate, deals plenty of damage, and can be moved and maneuvered a lot faster than many of its peers. It isn't a close combat weapon, but that isn't what you want this gun for. If you're a sniper looking for a way to get more involved in some of the less appropriate Call of Duty: Modern Warfare maps, then this Marksman Rifle is a great choice for you.
The Best Call of Duty: Modern Warfare Shotguns – 725

The 725 has proved itself to be an absolute powerhouse of a weapon in this game. A well modified and wielded one of these can easily take out entire teams in the right situations. Its stopping power is off the charts and its speed isn't too bad either.
The drawbacks of this weapon are the same as pretty much every shotgun in every shooter ever. It is slow compared with other weapons. and relatively unforgiving if you miss a slot. You also don't get much range. However, this is basically just true of all shotguns. With the Gunsmith mode you can even modify this weapon to function perfectly at a medium-range, a bizarre power-up but one that some players might get a lot of use out of.
The Best Modern Warfare Weapons – LMG – PKM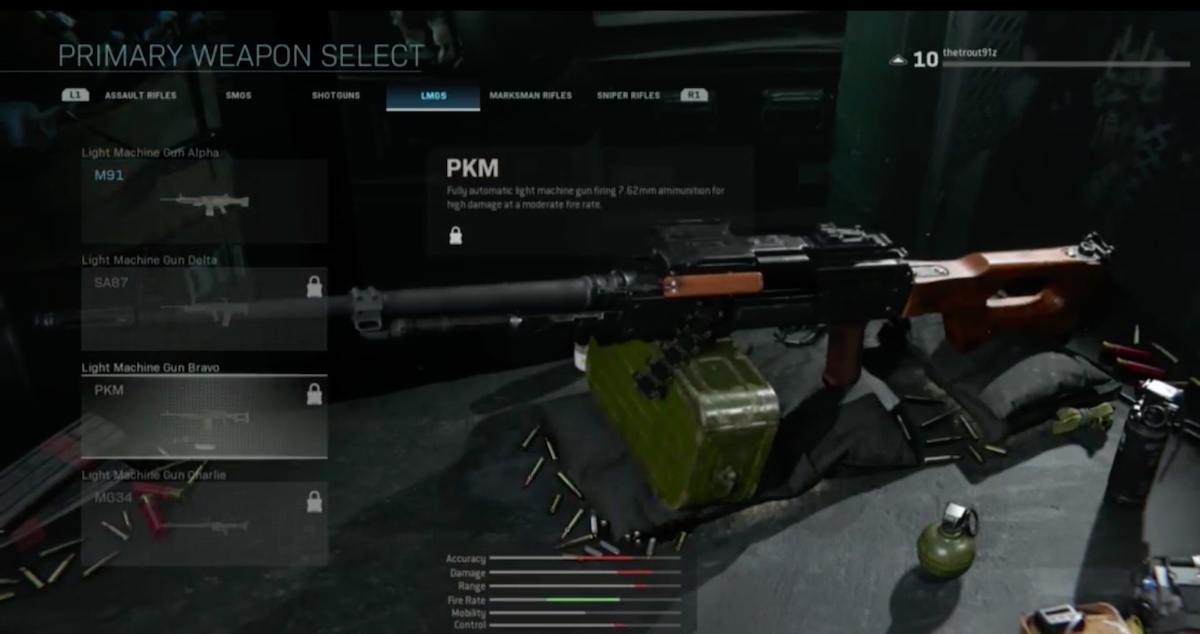 The PK is our pick for the best Call of Duty: Modern Warfare weapons thanks to its stopping power. It is important to keep in mind though that LMGs are specialist weapons in this game.
The fire-rate is fast and recoil is less intrusive than you'll find in other LMGs. Firing fast and doing a lot of damage should enable you to get plenty of kills with the LMG as long as you know what you're doing. Reloading can be a bit of a problem and should be addressed with Gunsmith. Equally, your speed is going to be affected by this weapon even if this is less so than with other LMGs.
The Best Call of Duty: Modern Warfare Weapons – Pistols – .357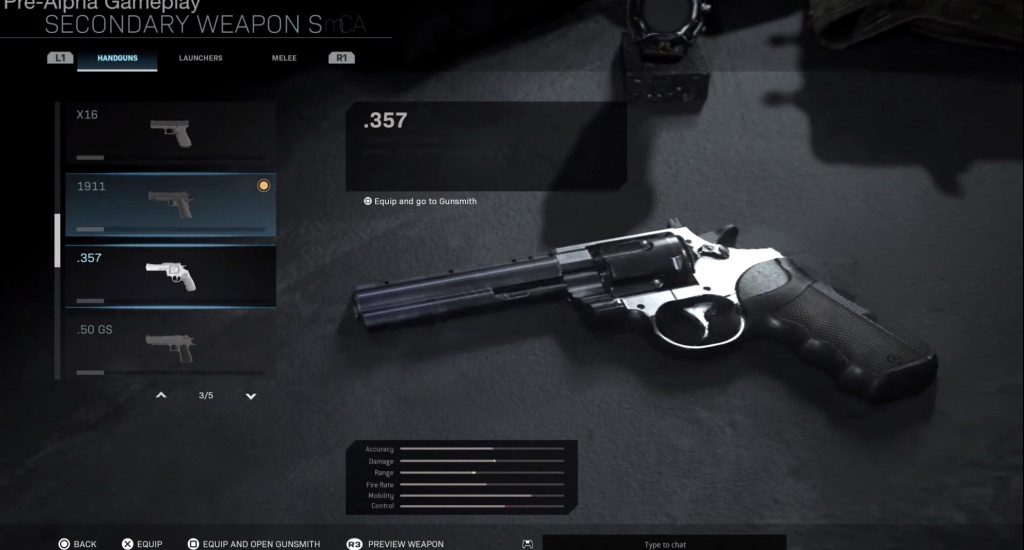 The .357 is the standout pistol in the game so far. However, pistols are hardly the most exciting of weapon. It is a utility. If you need it, you'll be thankful to have an effective pistol but it is hardly the centerpiece of your loadout.
The .357 deals good damage, at a decent rate, and it is easy to move with. This is about all that you need from a Pistol. You can take someone out in a couple of shots. This is one of the best Call of Duty: Modern Warfare weapons, despite being a bit dull it is going to get the job done.
In Conclusion
These are the best Call of Duty: Modern Warfare weapons available in the game. However, these weapons are really just the beginning. This is such a big game when it comes to customization that two players wielding the same one of these weapons may be handling completely differently. These weapons are where you should start, but building an effective loadout is going to need the right Gunsmith attachments too.