Call of Duty Warzone is one of a number of Battle Royale that has seen an influx of controller players. While mouse and keyboard are the usual preferred way to play, a lot of games have seen controller players make something of a resurgence. Controllers are the main way to play on a console, but more often players are now using them on a PC too. If you're looking at switching to a controller though, you've got to make sure you're running the best Warzone controller settings.
Playing with a controller on a PC can be the right move for some players. You get the response time and added FPS potential on playing on a PC, but still have access to the controller method of playing. For a lot of people, this comes with certain muscle memory and skill. If you've spent longer playing shooters on a console than a PC, then you're going to perform better with the gamepad. There is also a decent aim assist on offer to help bridge the gap between the two control schemes.
These are the best Warzone controller settings. The way of configuring everything to get the best performance possible from your controller, and the easiest to use control scheme.
The Best Warzone Controller Settings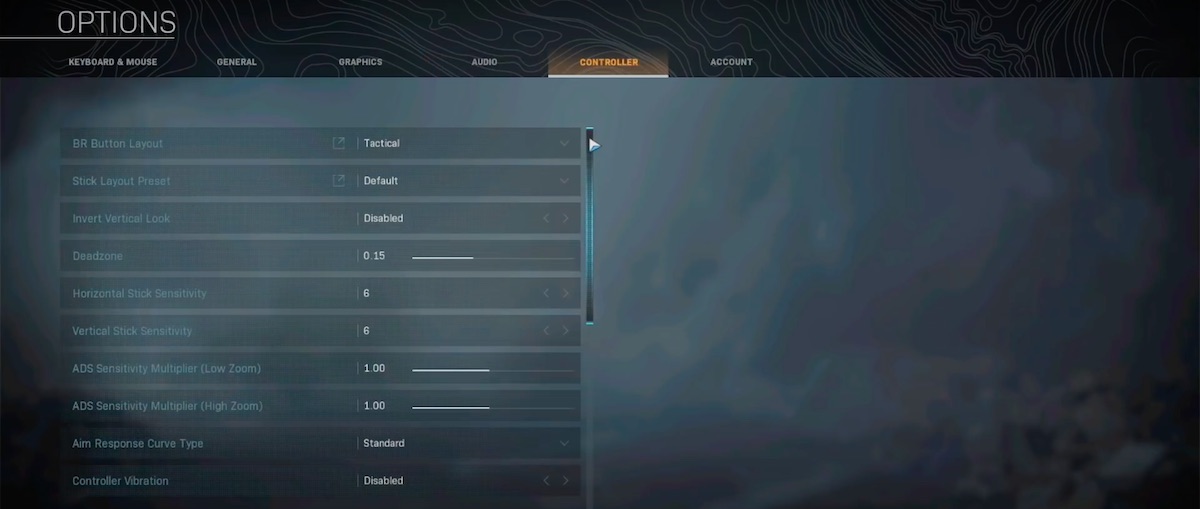 The best Warzone controller settings will vary a little bit depending on how you normally play, so feel free to adjust some bits to better suit the sensitivities that you normally use. These are just settings for the controller tab of your in-game settings. The others like graphics are the same no matter what type of input you're using. These are some recommendations for your controller specific settings.
BR Button Layout – Tactical
Stick Layout Preset – Default
Invert Vertical Look –
Deadzone – This will vary depending on your controller and how responsive it currently is. For a controller working perfectly, around 10 should be fine.
Horizontal Stick Sensitivity – 6
Vertical Stick Sensitivity – 6
ADS Sensitivity Multiplier (Low Zoon) – Around 1
Ads Sensitivity Multiplier (High Zoom) – Around 1
Aim Response Curve Type – Standard
Vibration –
Aim Assist – Standard
ADS Behaviour – Hold
Equipment Behaviour – Toggle
Use/Reload Behaviour – Contextual Tap
Depleted Ammo Weapon Switch – Enabled
Slide Behaviour – Tap
Auto Move Forward – Off
Automatic Sprint – On
Vehicle Camera Recenter – Enabled
Parachute Auto-Deploy – Disabled
What Else You Need to Know to Use a Controller in Warzone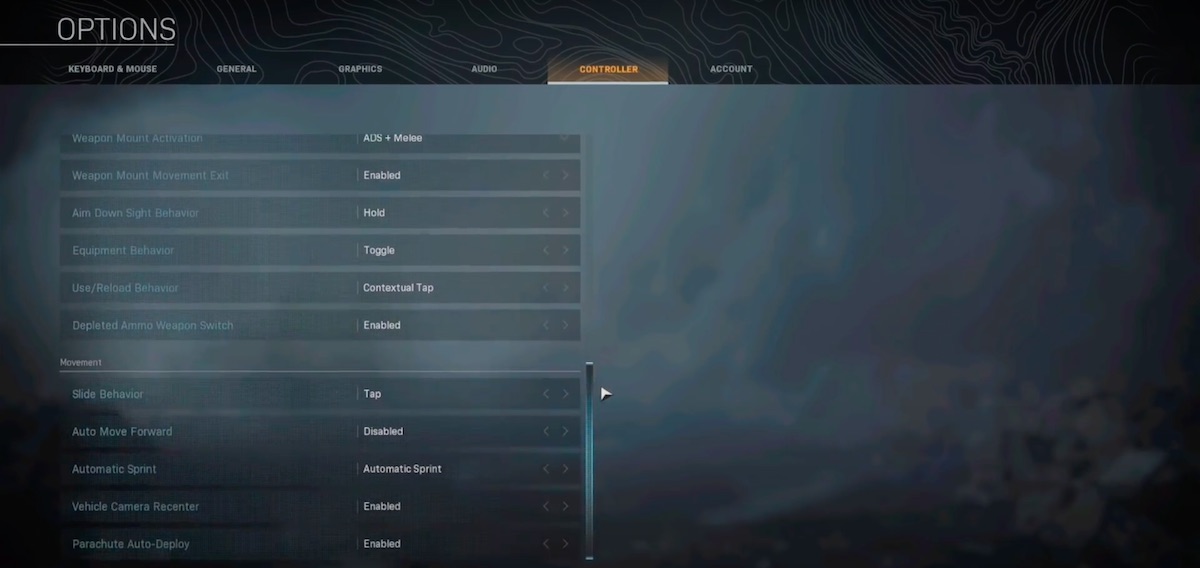 Those are some recommendations for the best Warzone controller settings. It doesn't begin and end there though. If you want to perform well with a controller in Warzone, you'll need to make sure you're playing with them correctly.
When you're using a controller, your aim needs to be sharper than ever. Even with aim assist, you're at a bit of a disadvantage compared with a mouse and keyboard. A skilled controller player though can outperform them even with twin sticks. Players like Nickmercs are great evidence of how well controller players can become. You've just got to work a little harder to get to that point. So practice your aim using your controller. Try to use the same sensitivities across the board to build up muscle memory and skill. If you can get all of that down, then playing with a controller and a high FPS can be the best of both worlds.
Our other guides to Warzone can help you polish up any other areas of your gameplay that need help.