Apex Legends celebrated Christmas and the New Year with a Mirage themed event. However, just because Season 3 is winding to a close, it doesn't mean the festivities are. Just announced was Apex's next event, this one will help you see season out in style. The Grand Soiree might just be the most exciting Apex Legends so far. Rather than just giving you fairly simple challenges and cosmetics, there is a crazy amount of new content ready for you to play.
The Grand Soiree is going to be active in the game between Jan 14th and Jan 28th. This gives you only two weeks to play all 7 of the new game modes and everything else involved. This doesn't give you a whole lot of time to actually play through things, so you should be ready to go on the 14th if you want to make the most of it. Apex Legends is definitely stepping things up with this event, a big contrast to Fortnite. That game is also drifting towards the end of a Season with a new map, but it isn't quite receiving the same level of content at the moment. It might seem that Apex Legends is the Battle Royale to be playing at the moment.
The Grand Soiree is doing things a bit different to previous Apex Legends events. There aren't as many challenges to be done and free cosmetics to unlock. This might be something of a disappointment to some players. New cosmetics are always fun. However, those given away for free have never been particularly expansive. The best stuff has always been behind a paywall, so things aren't entirely different here. There are still some rewards on the way, but this isn't the main event.
The Grand Soiree Game Modes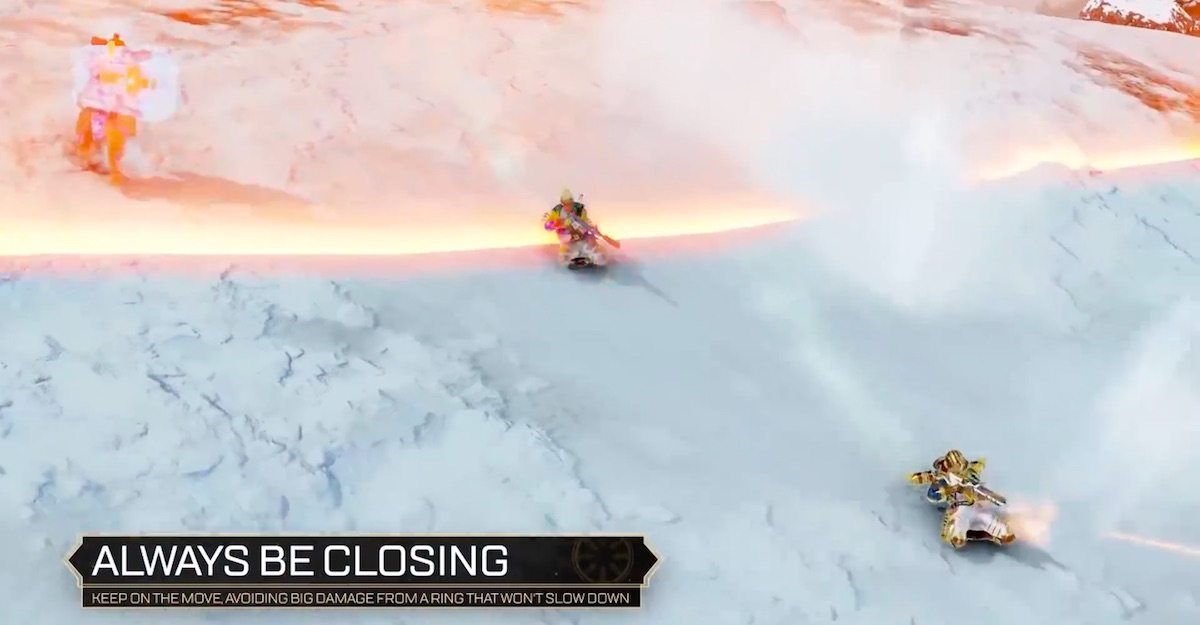 The main event in the Grand Soiree is the new game modes. In the past, events have added fun modes like a Solo game, but the Grand Soiree has taken things to new heights. 7 whole new modes have come to the game. Each is different, and some even revisit some classic content from the game's first two seasons! Pretty fitting since the game is approaching its anniversary. These are you options to play over the two-week event:
Gold Rush Duos
In this event, you're limited to only Gold weapons. This definitely limits the loot pool. It is also a Duos based game. This isn't the norm for Apex Legends so this twist alone is set to make it a bit more exciting.
LIVE.DIE.LIVE
You can probably figure out what's going on in this Grand Soiree game mode because of the name. Respawning is turned on here. Every time the ring closes and you have a living squadmate, respawning happens. This is a really interesting twist. You still have time to eliminate a whole team between rings. However, you've got to keep one person alive through the whole thing.
Third Person Mode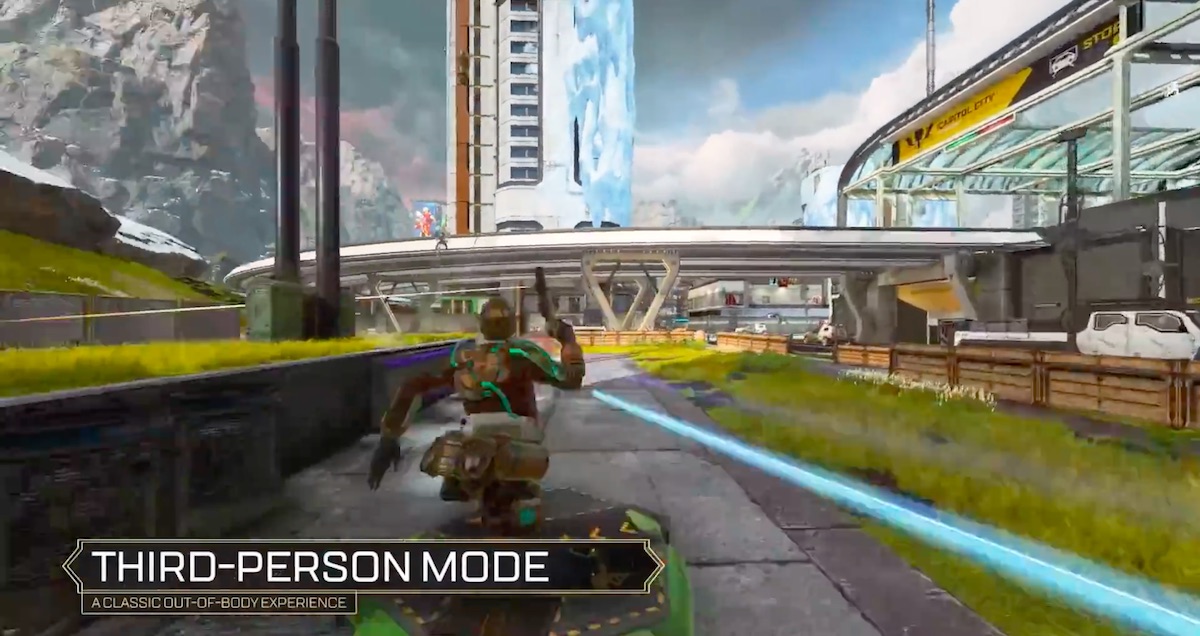 Third Person Mode is pretty self-explanatory. You'll be playing Fortnite style with the camera shifted behind you. While this is a nice novelty, players are going to find its completely messes with their muscle memory. This is bound to be an interesting mode.
Always Be Closing
This game mode is something that only slight changes the mechanics of the game, but forces an entirely different approach to the metagame. The ring in this match is always closing in on you. It doesn't slow down or stop. This is a fun twist that forces you to really prioritize in the early game. Looting needs to be done quickly and effectively here! One of the simplest Grand Soiree game modes, but exciting too. 
Armed and Dangerous on World's Edge
In this game mode, only shotguns and Sniper rifles are available and limited armor! So, if you've got close combat and long-range then this might be a combination that perfectly suits your skillset!
Kings Canyon After Dark
This is a simple nostalgic throwback. However, there is a slight twist. This game mode is back on the original Kings Canyon, but it is at night.
Dummie's Big Day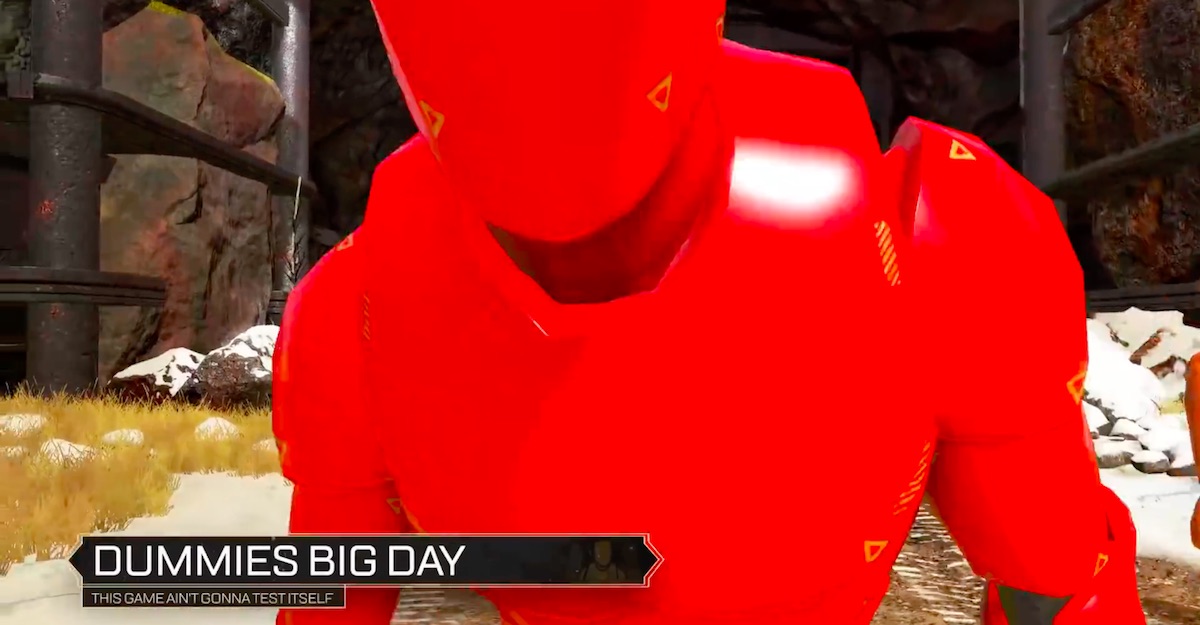 This game mode seems to consist of taking out a succession of dummies. This is, of course, something a bit silly, but with 7 game modes for two weeks, there has to be a few that are mainly for fun.
Apex Legends Grand Soiree Cosmetics
It isn't just limited-time modes you have to play with though. While the cosmetic offerings are quite as extensive or assured as previously, there are some skins that have the potential to be some of the rarest in the future.
The image below shows off some of the rewards that are up for grabs once the challenges are issued for this mode.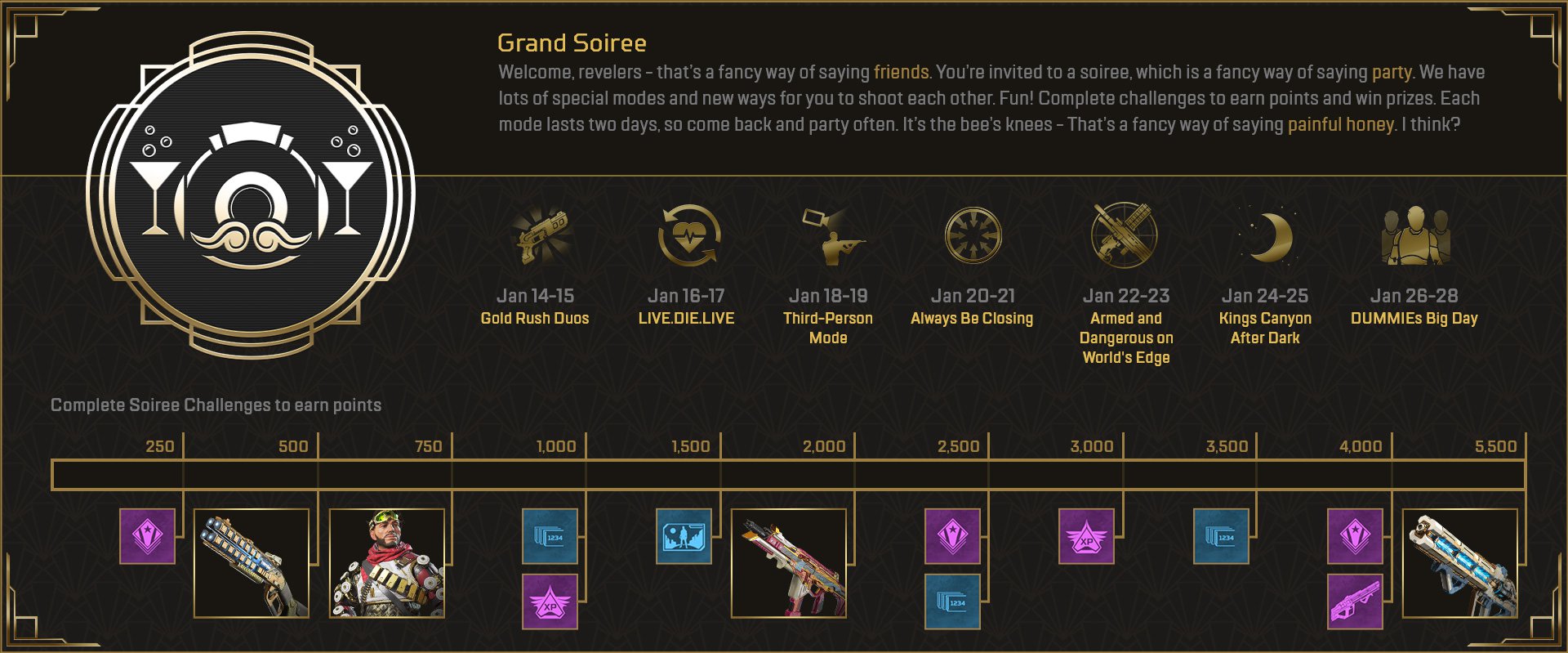 Alongside those limited rewards, there are loads of formal wear styled skins rotated around the shop and loot pool over the course of the event. These are available to purchase at the usual prices.
Apex Legend's Grand Soiree is definitely an event with a difference. Compared with most Apex events, the emphasis is on the gameplay. If you want to get the most out of these new game modes, we have guides covering the latest map, the rarest skins, and the best settings to use in-game.