Apex Legends has come a long way since its launch. If you've not taken the time to change around your settings since release, your frame rate might have started to suffer! Using the best Apex Legends settings for Season 8 will help you stay ahead of the curve. A better frames per second rate means a quicker reaction time, more awareness of what is happening, and an edge over your competitors. If you want to improve at Apex Legends, you need to make sure you're using the best Apex Legends settings for 2021.
While your gameplay style might vary depending on which Legend you're playing as, using the right Apex Legends is going to give you an advantage with any character. To properly optimize everything, you need to look at both your in-game settings and those of your PC in general. This guide covers some recommendations for the best Apex Legends Settings for Season 8.
System Requirements for Running the Best Apex Legends Settings
To run Apex at its peak performance, you need to use the right equipment. These are the minimum requirements for running Apex Legends and the recommended settings. While you can use the best Apex Legends settings for Season 8 on any PC, the closer you to the recommended specs the better.
Minimum System Requirements
CPU – Intel Core i3-6300 3.8GHz / AMD FX-4350 4.2 GHz Quad-Core Processor
GPU- NVIDIA GeForce GT 640 / Radeon HD 7730
RAM – 6GB
Operating System – Windows 7
HDD– 22 GB of Free Space
Those are the minimum requirements. However, if you want to run the best Apex Legends settings in 2021 without having to make a pretty big sacrifice on the visuals, you might need something stronger.
Recommended Settings
CPU– Intel i5 3570K or equivalent
GPU – NIVIDA GeForce GTX 970 / AMD Radeon R9 290
RAM – 8GB
OS – Windows 7
HDD – 22GB available space required
If your system matches these requirements, then your computer can run the best Apex Legends settings. Improvements over these specs never hurt though. Running the game at a high frame rate usually comes at the expense of graphical fidelity. If you want to manage both a high FPS and a really pretty looking game, you'll need a pretty powerful set-up. There are some other things you consider about your PC too though.
Using the Right PC to Run the Best Apex Legends Settings
There are some things completely outside of the game that you can do to improve the performance on Apex Legends. These are steps you should take to ensure the best Apex Legends settings in Season 8 can work as well as possible on your PC.
Close other programs that are running when playing the game.
Free up more space on your hard drive.
Use an SSD instead of HDD where possible.
Make sure everything is up to date for your software and OS.
Use a wired internet connection.
If you're using a laptop, switch it to the high-performance mode and make sure the power is connected.
Ensure your energy-saving preferences aren't having an impact on performance.
Enable performance mode on any CPU or GPU controllers that are available for your hardware.
Remove the FPS Cap for Apex Legends
Before you optimize your game to run the best Apex Legends settings 2021, you'll need to fiddle with the game itself. You need to remove the FPS cap that is automatically running in the game to make sure you can get as high a rate as possible. This is how you do it:
Find Apex Legends in your library.
Right click and select Game Properties.
Head into to Advanced Launch Options.
Go to Command-Line arguments, and write "+fps_maxunlimited".
The Best Apex Legends Settings for 2021
Configuring your PC to run the game as well as it possibly can is just the first step. You're going to see some big improvements once you configure your in-game settings to run at peak efficiency. Using these best Apex Legends settings for Season 8 will give you better performance which will ensure you can play Apex at the same FPS as the pros. You might have to sacrifice some visual details, but your FPS is unlikely to dip.
The Best Apex Legends Settings Season 8- Gameplay Settings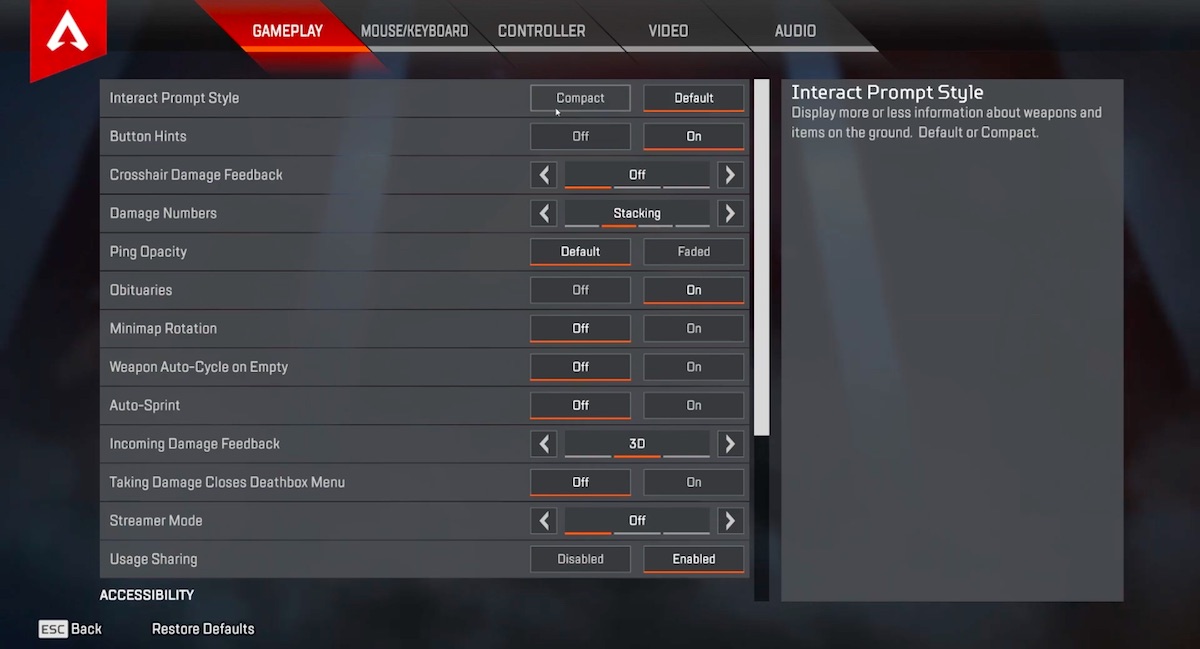 Interact Prompt Style – Compact
Button Hints – Unless you don't remember the buttons for some reason.
Crosshair Damage Feedback – This is a personal preference, but off is simpler.
Damage Numbers – This is important feedback for how your shots are hitting.
Ping Opacity – Default
Obituaries – This is personal preference really.
Minimap Rotation – Most players know the map well enough to not need this and it can become disorientating
Weapon Auto-Cycle on Empty – This is just another click saving measure.
Auto-Sprint – Off, to give you the opportunity to move slower if you want.
Double Tap Sprint – Preference really.
Incoming Damage Feedback – This doesn't really make much of a difference.
Take Damage Closes Deathbox Menu – Off, so you can still swap things in firefights.
Streamer Mode – Unless you're streaming of course.
Usage Sharing – This isn't really important for performance.
Accessibility
The best Apex Legends settings cover most of what you need in the game. However, accessibility options are pretty much just for if you need them. There isn't a strategic advantage to turning these off or on if you need them to use them.
The Best Apex Legends Video Settings for 2021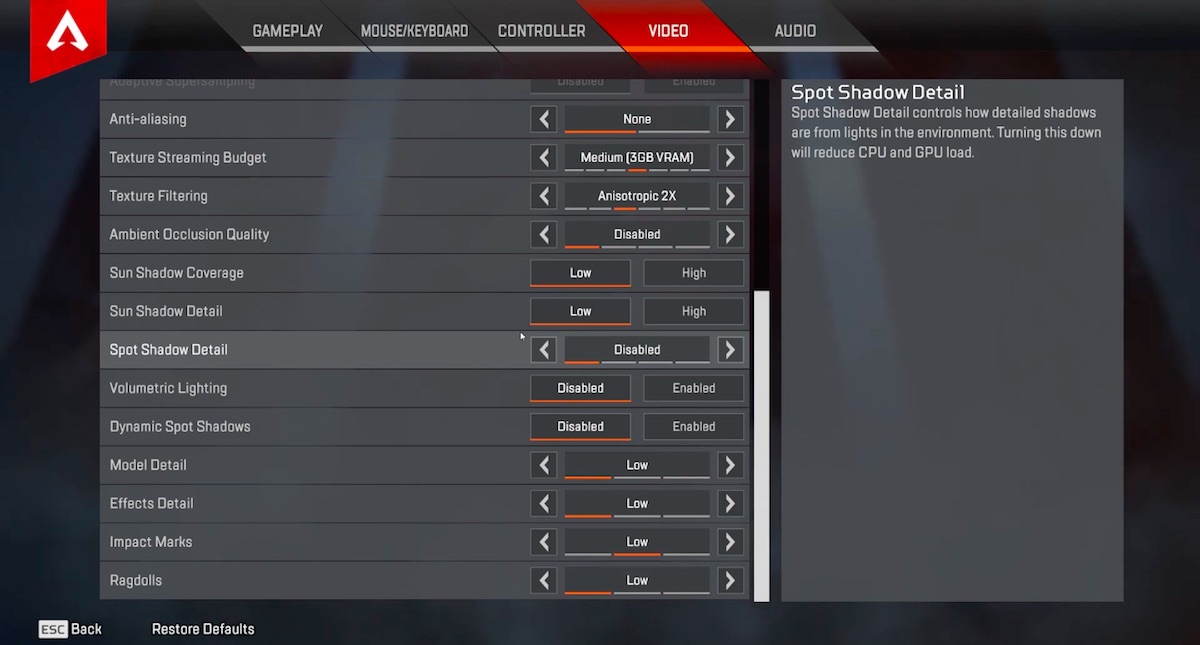 Display Mode – Full Screen.
Aspect Ratio – This should match the native ratio of your monitor.
Resolution – Go for your monitor's native ratio.
Brightness – Turn this up a bit from the standard to get greater visibility. However, this partially comes down to your preference.
Field of View – 100 or higher. A lot of players will insist the bigger the field of view the better, since you see more of the game. However, this can be disorientating for some and not everyone has a monitor that can make this work. Experiment with this, but don't feel like you need to have it cracked up to where the game looks strange to use the best Apex Legends Settings.
Sprint View Shake – This just causes disruption to your camera.
Advanced Video Settings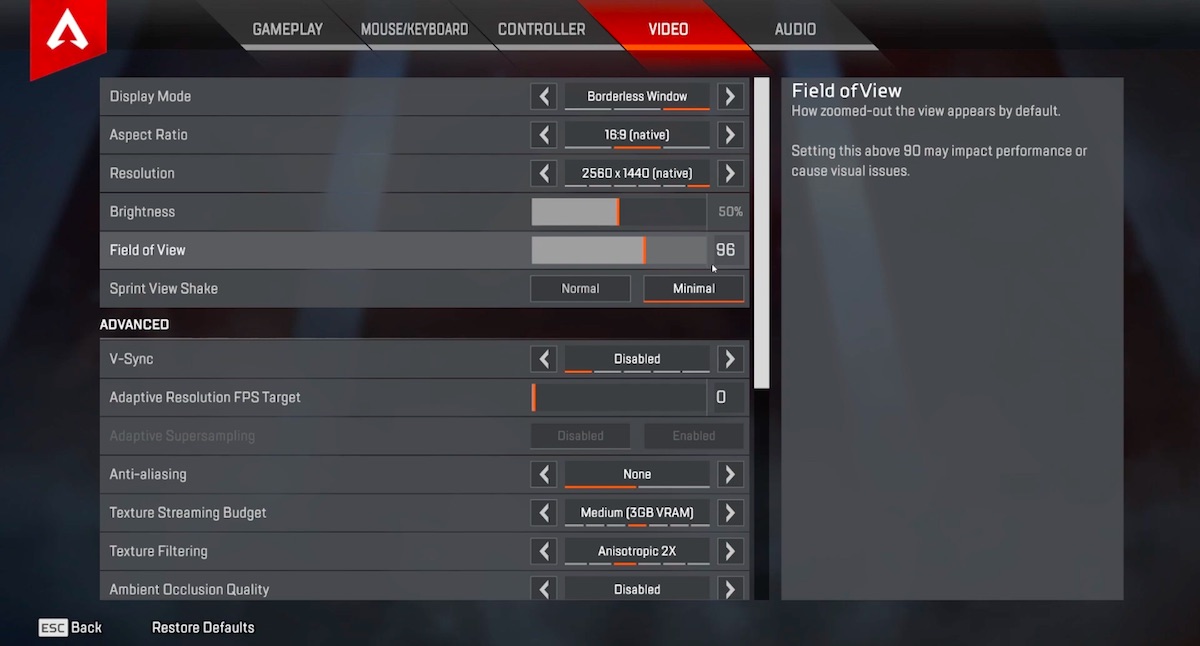 V-Sync – V-Sync has a negative effect on your frame rate and your input lag, so it is best to keep it turned off. This is completely useless if you have a G-Sync monitor too.
Adaptive Resolution FPS Target – This can be helpful if you don't feel like changing your settings yourself. However, if you take the time to dial back your visual settings to give you a consist frame rate then it become unnecessary.
Anti-Aliasing – It isn't necessary for good performance.
Texture Streaming Budget – Low-Medium. You can scale this to the RAM you have available but try and keep it on the lower end to get a better performance.
Texture Filtering – Set this as low as possible to free up your GPU.
Ambient Occlusion Quality –
Sun Shadow Coverage – Low, it is a strain on your PC and adds little.
Sun Shadow Detail – Low. In-game shadows are basically your enemy when it comes to getting a good frame rate.
Volumetric Lighting –
Dynamic Spot Shadows – These are more settings that make the game demanding but pretty.
Model Detail – You don't really need the extra detail on models if you're always on the move.
Effects Detail – The detail doesn't lose much of your experience and it puts a strain on your GPU.
Impact Marks – Off.
Ragdolls – Off.
A lot of those best Apex Legends settings come down to making the game look worse. This is sadly the best way to get it to run better. The game does still look pretty good on these settings, but not as fantastic as it could.
The Best Apex Legends Audio Settings
Your audio isn't the most important part of having the best Apex legends settings in 2021. However, you can still adept them to make sure you get the best chance of winning as possible.
Master Volume – This just depends on if you want to turn the volume up and down on your PC or in-game.
Sound Effects Volume – Have this set to high.
Dialogue Volume – High. This is to make sure you can hear all of the important stuff in game.
Music Volume – Have this set quite a bit lower than the other sounds. This will ensure you don't have vital audio information lost under music.
The other audio settings are pretty much just about chat and your personal preferences, so there is no objective best for those Apex Legends settings.
Mouse and Keyboard Settings – The Best Apex Legends Settings 2021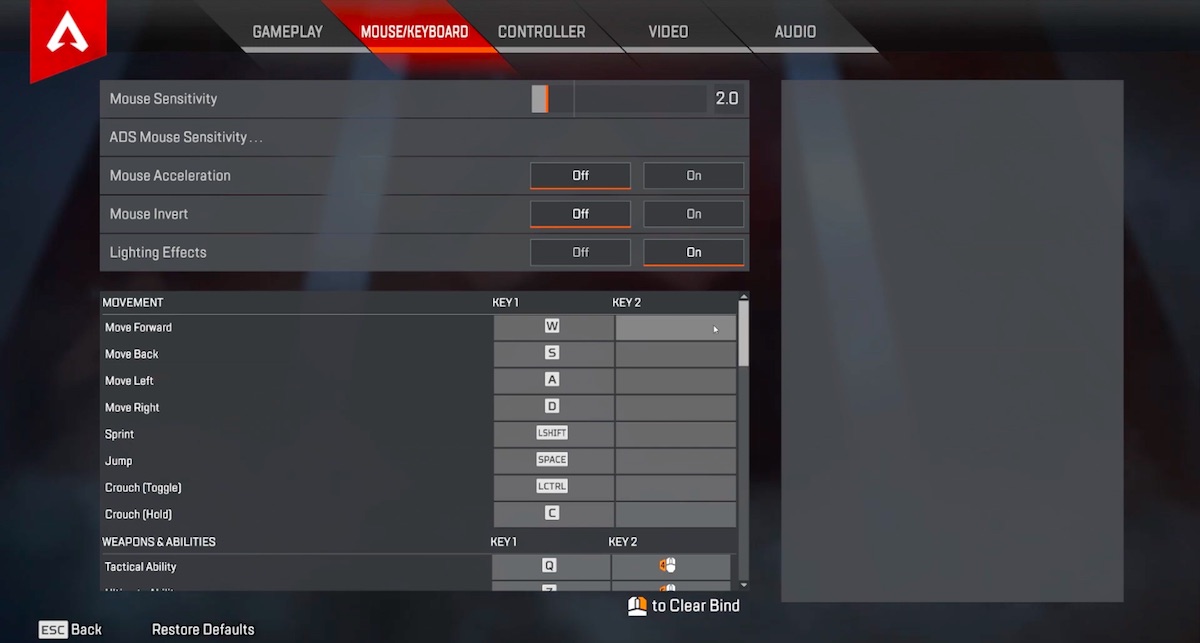 The best Apex Legends settings for Season 8 has to deal with your sensitivities and keyboard. For key binds, there isn't really an objective best. If you don't know where to start you should look through what pros players use for some inspiration, and then go from there with whatever feels comfortable.
These are some recommendations for the best Apex Legends settings in Season 8 for your controls.
Mouse Acceleration – Off.
Mouse Invert – Unless you're one of those people who always inverts controls in the game.
Lighting Effects – This pretty much just comes down to your keyboard.
Sensitivities
This is where it gets a little complicated. Which sensitivities are right for you will depend on how you play. When you use the same sensitivities a lot, you build muscle memory and responding to things in-game becomes more natural. This gives you quicker response times and more accuracy. Different Legends may even require different sensitivities because of how they move. You can't build muscle memory if your movements result in different actions each time, so try to stick to some once you pick them.
When you're finding the right sensitivities for Apex Legends, you should keep these things in mind.
Keeping your ADS sensitivity low is better. This allows you to make precise and careful movements, so you miss a lot less.
General aiming sensitivity needs to be a bit higher than ADS. However, not so much that it is difficult to control.
Scoped Sensitivities will depend on how confident you are taking shots at a long-range.
Those are the best Apex Legends settings in 2021. However, this all comes down to what works best for you. Try to play around with these and make sure that your settings are matching the power of your PC and your skill level in the game. These are some other helpful guides for Apex legends in Season 8!