A good gaming station is worth its weight in gold, but it's not all electronics and CPUs that you have to worry about when setting one up.
Aside from the desk, your gaming chair will be the true indicator of the comfort, support, and performance you're able to give as you game, so getting it right is key.
[amazon table="38194″]
These days, gaming chairs can cost a fortune, especially if you want one with all the latest bells and whistles, ergonomics, and stylish looks. Those shopping on a budget looking for the best gaming chair under 200 might be feeling dejected when it seems everything is a lot more expensive, but it's still possible to get a real treat for your posterior in this price range.
What should a good gaming chair have?
To find the best gaming chair for $200 or less, you'll want something with ergonomic support and the right material, as well the ability to make adjustments to suit your body. The other features are merely optional including recline, cup holders, racerback designs, and bold colors, so it all comes down to what the gamer wants.
The good news is, you can find a quality gaming chair under $200 that ticks all of your boxes, provided you know where to look. To narrow your search and take your gaming station to the next level, we've got a selection of five of our favorite chairs and all within an attainable price range.
Our Favorites for the Best Computer Gaming Chair Under $200 – Reviews for 2021
If you're ready to treat your back and posterior to world-class comfort but don't have a lot of cash to splash, we're here to help.
These are our expert picks for the best gaming chair under $200 in all categories and styles, giving you only a handful of the top contenders to choose from for your gaming station.
Winner: Respawn Skull Trooper Gaming Chair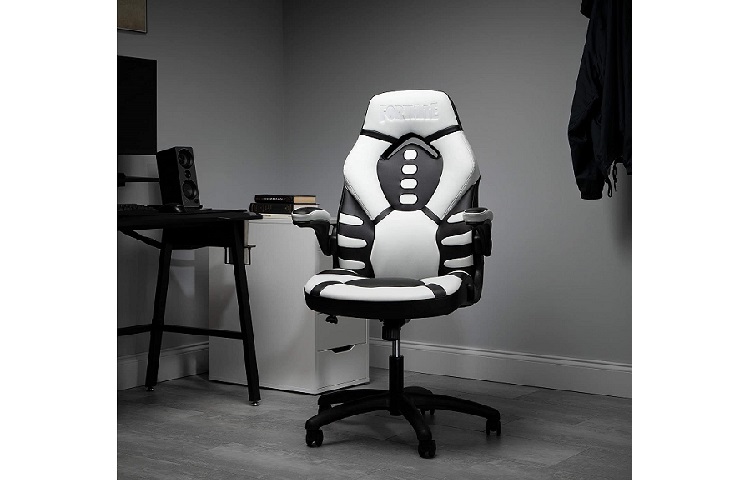 Size: 28.5 x 28 x 51.5 inches
Weight: 34.6lbs
Maximum weight: 275lbs
Our top pick for the best gaming chair for under $200 has to be the Respawn Skull Trooper Gaming Chair. This unique chair is a limited edition Fortnight Skull Trooper design with a cool black and white design in the racecar style for your comfort and performance. Crafted with bonded leather, vinyl, and PVC, it's built to last but also to look cool, and it'll become the centerpiece of your gaming station.
According to customers who've purchased the Respawn chair, comfort was the best feature of all. The padding is done in segments so you can really feel it and it comes with a built in head support to give your neck comfort, as well as your back. If you love long gaming sessions but usually have to admit defeat because you're in too much pain, this is the chair for you.
The biggest disappointment was assembling the chair, and even those with some handyman knowledge found it a challenge. Be prepared to spend longer than expected putting it together, and it's made even harder by a lack of decent instructions from the manufacturer. Those without any skills in this department will be better off paying someone to assemble it for you.
Once it's put together though, there's a lot of features to mention in the Fortnite Skull Trooper Gaming Chair. Respawn has included 4D adjustability, reclining arms up to 105 degrees, tilt tension, center-tilt, and a height adjustment. With all of these set to exactly what you want, you'll experience support as you've never felt it before.
The Respawn Gaming Chair measures 28.5 x 28 x 51.5 inches and weighs just under 35lbs. the maximum user weight is 275lbs so it's durable and built to last, with an especially robust lumbar support that keeps your back in check. The black and white bonded leather and Fortnite logo is the finishing touch that makes this a clear standout.
Respawn has 25 years of experience creating ergonomic furniture and it's evident as soon as you sit in this chair. The Respawn Fortnite Skull Trooper Gaming Chair is the best of the bunch and available online at Amazon, with free shipping to your door included in the price. Not only that, but Respawn offers a limited lifetime warranty on parts of the chair, further vouching for its greatness. If you want to game in a bold style and absolute comfort, it's the top contender when you're shopping on a budget.
Runner Up: OFM ESS Gaming Chair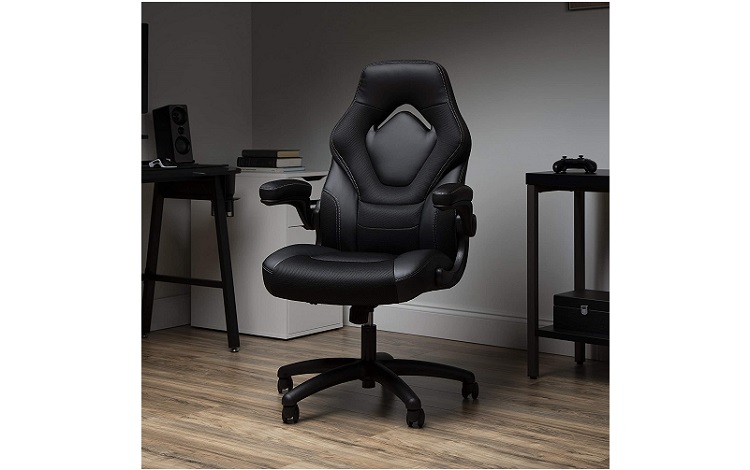 Size: 30.4 x 28.1 x 48.2 inches
Weight: 33.1lbs
Maximum weight: 275lbs
For the sleek look of a professional office chair with the comfort of a gaming seat, one of our favorites is the ESS Gaming Chair from OFM. This is a luxurious model and a good gaming chair under $200 that looks like it cost a lot more. With a maximum weight capacity of 275lbs but only weighing 33lbs itself, it's a durable and comfortable option for your gaming station.
The best thing about this chair is its appearance, and if you're trying to get the aesthetic right in your gaming room, you'll appreciate it. Customers loved the sleek black look and racecar style that made it not only professional looking but perfectly built for gaming, and without the garish bright colors or bold designs that other gaming chairs sometimes have.
On the downside, you'll need to be careful when sitting on this chair, as some people have mentioned the outer material wearing away after some time. Unlike others that have a leather cover, this one is only fabric, so it's natural that it goes through some wear and tear. If you're worried, you might invest in a cover to keep it in better condition, but it won't impact the quality and comfort of the chair even if it does wear down a little.
The OFM ESS Gaming Chair measures 30.4 x 28.1 x 48.2 inches so it's a great size even for those with larger needs. The arms flip up as needed and have two inches of padded thickness on each of them, should you choose to keep them down. The seat is also thick and durable with 5.5 inches of comfort and filled with a high-density foam that won't sink or dent even with hours of gaming.
There are loads of ergonomic features in the ESS Gaming Chair by OFM, including adjustable tilt tension, a 360-degree swiveling base, center tile, and personalized height adjustment with a pneumatic lever. You'll be able to customize this chair to perfection so that your performance and comfort are better than they've ever been.
For a budget friendly chair, it's great to see that OFM offers a limited lifetime warranty for this product, which speaks to their quality craftsmanship. It's available online at Amazon and the marketplace will ship for free as well, further adding to the good value. If you prefer a sleek and professional gaming chair that still allows full customization to your needs, the OFM ESS Gaming Chair is one to consider.
Alternative: Flash Furniture X10 Gaming Chair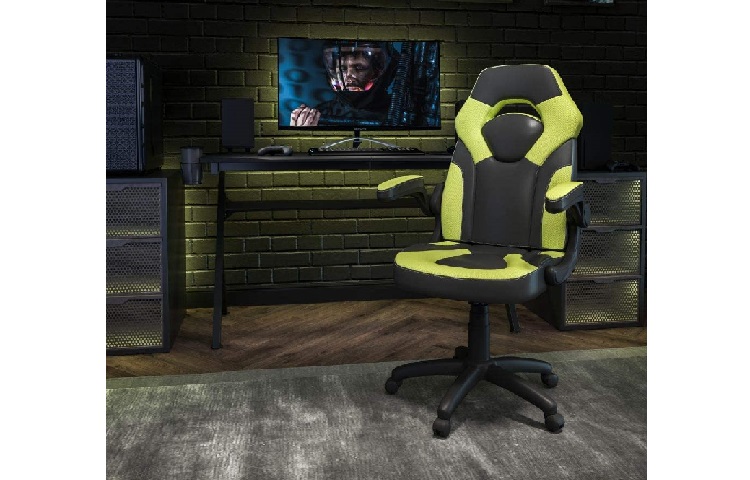 Size: 26.25 x 24.75 x 46.25 inches
Weight: 32lbs
Maximum weight: 250lbs
When your budget is lower than usual, you can still find the best gaming chair under $150 or less. The Flash Furniture X10 Gaming Chair is an economical and ergonomically correct way to game, and it comes in a range of bold colors and designs including neon green, camouflage, and hot pink, to suit your taste and style. This gaming chair weighs around32lbs and has a maximum capacity of 250lbs, so it's a little less than what others offer but still great for the price.
The best thing about the Flash Furniture X10 Gaming Chair is the look of it and how much comfort it brings for something so affordable. Some customers thought it was a little uncomfortable but after a few hours of breaking it in, they were shocked at how luxurious it felt. The padding was thicker than most which meant better support, so it's not as flimsy as you would expect for a chair this price.
In terms of longevity, this probably isn't a chair that's going to be in your gaming station for a decade. The weight capacity is less than others in this price range and the materials aren't the most durable, so don't purchase it as a long-term investment. You'll be able to feel the difference as soon as you sit on it, and although it's comfortable, it's not made to last forever.
The Flash Furniture X10 Gaming Chair features a high back and contoured cushions that fit to your body, all built into a racing seat design. The arms flip up depending on how you prefer to game, and the entire chair is covered in Flash Furniture's LeatherSoft upholstery that gives the look and feel of leather without the price tag.
Other materials used to make the X10 were plastic, plywood, mesh, and polyurethane, and there are over 10 designs to choose from. The chair conforms to ANSI and BIFMA standards with adjustable height and a tilt lever so you can lock into your most comfortable position and game all night.
To get your hands on the affordable and comfortable X10 Gaming Chair by Flash Furniture, head online to Amazon, and benefit from their free shipping as well. This chair features no warranty coverage, which is to be expected at this price range, but has loads of happy customers who were thrilled with what it offered when they gave it a chance to be worn in. If you're shopping on a tight budget but still want the look of a professional gaming station, the X10 will serve you well.
Alternative: Musso Ergonomic Gaming Chair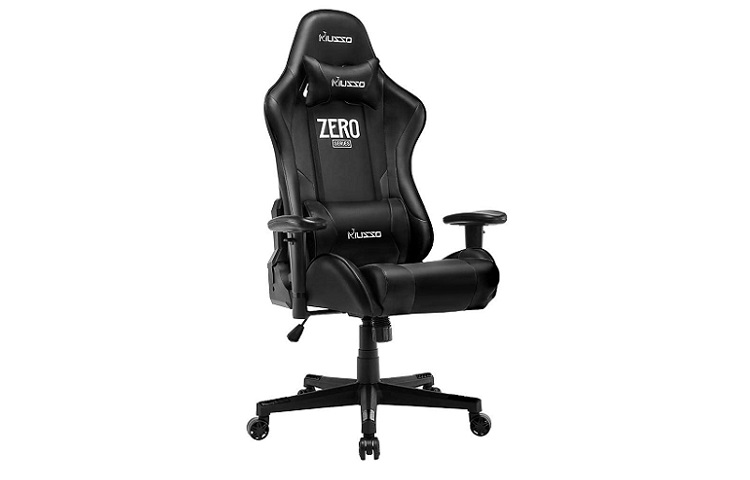 Size: 49.6 x 26.8 x 26.8 inches
Weight: 48.5lbs
Maximum weight: 300lbs
For a serious and solid gaming seat that doesn't cost the world, you'll want to check out what the Musso Ergonomic Gaming Chair brings to the table. This chair means serious business and weighs in at 48.5lbs with the ability to hold up to 300lbs of gamer, setting it far above the competition in this regard. The Musso features a sleek black PU leather look with segmented padding, offering serious support and comfort to suit more body types and physical needs.
According to gamers, this was one of the most durable chairs they've ever sat in, which was made even more shocking because of the price. The padding is a little harder, which people appreciated, and the overall build and weight of the chair show just how careful the craftsmanship was. Even if you game all day and night, you'll have to work pretty hard to wear out the Musso.
Some customers have had issues with the adjustment knobs and levers and found them hard to adjust. A few people even mentioned broken parts in these areas and had to order a whole new chair from Musso to fix the issue. This isn't something you want to come across when you're spending near $200 for a brand-new gaming chair, so if you plan on doing lots of adjustments, you'll want to be careful.
The Musso Ergonomic Gaming Chair measures 33.2 inches high at the back which is a lot more than others we've reviewed, and it has a larger-than-life cushion to suit people of all shapes and sizes. There are six color choices including black, pink, and camouflage, with a unique style for everyone. The height can be adjusted for ergonomic support and it comes with a 360-degree swivel option so you can move around as you please.
Made with high quality PU leather and thick padding within, you'll feel the difference as soon as you sit down. There are an adjustable headrest and lumbar pillows to give you back support, as well as padding in the armrests. The metal frame is flexible but tough, and it's easy enough to put together yourself with the instructions that Musso includes.
If you like a more serious-looking gaming chair that's capable of holding a wider range of gamers, the Musso Ergonomic Gaming Chair should be at the top of your list. Falling neatly into our price range of under $200 on Amazon and with free shipping, it's great value for its quality. However, there's only a one-year limited warranty offered on this seat which is a letdown compared to the rest of our picks, so keep that in mind if you're after a gaming chair with more coverage.
Alternative: BestOffice Gaming Chair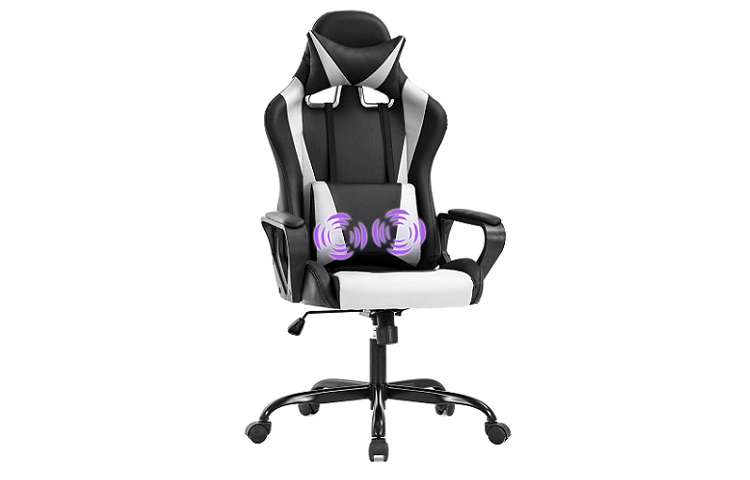 Size: 24.61 x 24.41 x 51.97 inches
Weight: 31lbs
Maximum weight: 250lbs
BestOffice has designed a chair that's the ideal mix between gaming and office use, and priced exceptionally well as one of our cheaper picks. This budget-friendly chair is in the racer style and supports up to 250lbs of gamer atop it, with overall measurements of 24.61 x 24.41 x 51.97 inches and a weight of 31lbs. It comes with five color options to choose from, although it's marketed as a woman's chair, would be a great pick for men as well.
The best feature of this chair is its affordability and it's a great entry-level option for people new to gaming or not wanting to spend too much right now on a seat. You'll still get all of the features like ergonomic adjustments, swivels, easy setup, and bold colors, but priced well below the rest of the pack.
On the negative side of things though, this cheapness comes with some downsides. Most obvious is the fact that it's flimsier than other chairs, and although it states it can hold up to 250lbs, people found it was less than that. To be on the safe side, anyone over 200lbs will want to upgrade to something more durable, because the BestOffice Gaming Chair is not it.
This aside, there are plenty of features to talk about in this economical gaming chair option. The chair has great lumbar support with cushioning and features padded arms and padded headrest, as well as 360-degree swivel. The headrest can be adjusted to suit your height but the armrests, unfortunately, stay in place, so this is something to consider if you prefer to game without them.
The BestOffice Gaming Chair takes 15 minutes in total to set up, even if you have no previous experience, and it comes with all of the tools to get the job done. With a soft PU leather finish it looks more expensive than it is, and it resistant to spills like oil and water, so will last as long as you take care of it.
As one of the cheapest chairs we've found, there's still plenty of good in the BestOffice Gaming Chair, and it's the ideal entry piece for your gaming station. Amazon has it for the cheapest price online and they'll ship it to your home for free, and it comes with a guarantee from BestOffice that you love it or they'll help you out. If your budget is lower than $200 but you still want to game with the best of them, this is a money-savvy choice.
FAQs of Gaming Chairs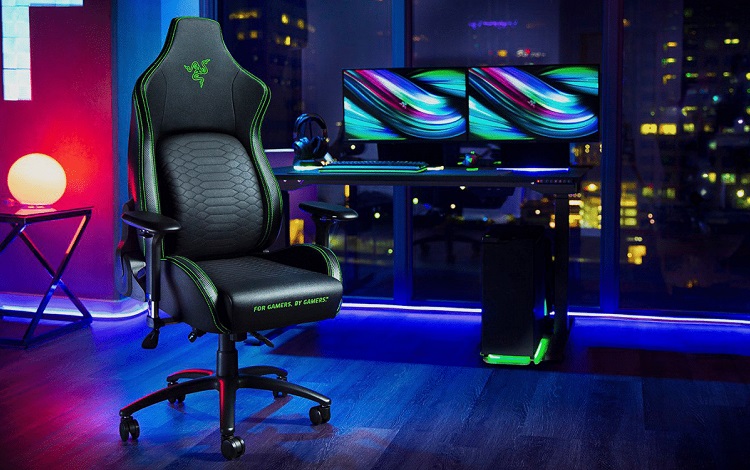 A search for the best PC gaming chair under $200 can be overwhelming as it seems people are gladly spending hundreds of dollars more just on this one accessory.
However, these chairs don't have to be expensive just to be a good fit, and if you want to know more about how to choose the right seat, read on to see some FAQs about them.
Are Cheap Gaming Chairs Worth It?
Gaming chairs can vary in quality depending on price and features, but you don't have to spend a few hundred dollars just to get one that's well made. A simple office chair could be used instead, provided it had ergonomic support and comfort for longer sessions of play, making it easy to find a quality gaming chair under $150 or even less.
How Should You Sit In A Gaming Chair?
When using your gaming chair, you should aim for the correct posture and positioning as you would in an office chair. Your feet should be flat on the floor, back and neck straight, and your arms rested on the desk in front of you, with no straining on any part of your body.
Are Gaming Chairs Good For Back?
Most gaming chairs are designed like office chairs and they're constructed specifically for lumbar support and use over long periods. A well-built gaming chair or office chair is suitable for your back and will give you the correct posture and positioning to play for hours on end without strain and discomfort.
Are Gaming Chairs Better Than Office Chairs?
Gaming chairs are designed for gaming specifically but they often resemble a standard office chair with bolder designs. The difference between a gaming and office chair is the gaming model allows you to move more freely and the office chair may allow more adjustments, but overall, they're quite similar in design.
The Final Touch to Your Gaming Station
There's no denying the power a cool gaming chair can add to your station, and as we've proven, you don't have to break the bank to get one.
You can treat your posterior to a new chair designed specifically for the joys of gaming, and complete your setup with a comfortable and supportive base.
Our selection of gaming chairs proves that you don't have to spend a fortune just to get a supportive, adjustable, and cool-looking gaming seat. Your body will thank you for the upgrade and your gaming performance will as well, so there's never been a better time to level up to something brand new.