Hyper Scape is a new sci-fi Battle Royale. It features unique mechanics in the way of hacks, and weapons that can be combined to be powered up. This game is pretty different from other Battle Royales. Beyond the obvious differences in mechanics, the level design of Hyper Scape flips the entire Battle Royale formula and tactics on its head. This Hyper Scape beginner's guide covers everything you need to know to get started.
These are the tips and tricks that you'll need to know to hit the ground running in Hyper Scape. The game is pretty different from other Royales, so you need to know what you're doing. This Hyper Scape beginner's guide covers the basics of the game, the map, weapons, mechanics, and some extra bits that you're going to need to know to get the best start.
Hyper Scape Beginner's Guide – The Basics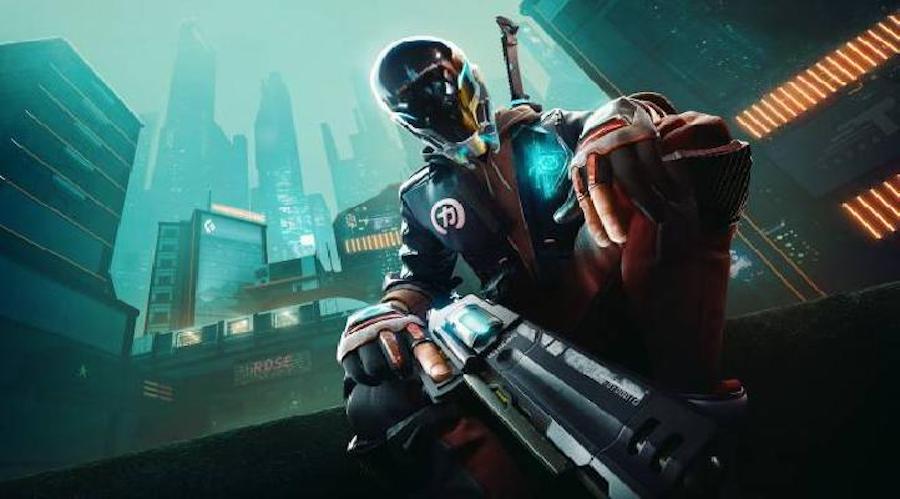 These are the basic tips and tricks and the details you need to get up to speed in Hyper Scape.
The game is Crown Rush rather than a straight-up Battle Royale. You're trying to get the crown, not be the last guy standing. Often these are the same thing.
Everyone has the same health for the entire game! There are no extra health bars.
Hacks are special abilities that you can collect. They do different things like let you jump or be invulnerable for a short period and can be powered up.
You can fuse abilities to level them up. This can reduce their cooldown or make them last longer.
The same goes for weapons. While you can find a higher tier weapon, you can also fuse two identical weapons to make them the next tier up.
Some hacks can affect your survivability. They can make you briefly invulnerable and reduce damage. However, they don't make your health bar any bigger. Everyone has the same level of health.
You start the game out with a melee weapon. While you're holding this, you run faster. Keep this in mind if you need a speed boost after you collect a weapon. You can pull out your melee weapon and go faster.
The crown will spawn once district is in play. Once it does, you win by picking it up and holding it for 45 seconds.
When you have the crown, everyone can see where you are. You're the priority target for everyone.
Dodging and staying alive with the crown rather than getting kills can work, but it is difficult to do this without killing most other players.
Hyper Scape Beginner's Guide – Districts and Verticality
These are some tips and tricks for the way that the map in-game is designed. The design of the map makes gameplay really different from other Battle Royales. This Hyper Scape beginner's guide covers what you need to know about it:
Verticality is important in this game and map. This comes down to the way things are designed.
Buildings are tall and dense. High ground can get pretty high. On top of that, the buildings themselves have a lot of space inside. This means you need to be ready to fight in close inside spaces. This is a different kind of combat to that in Fortnite or PUBG. Apex Legends played with this in one season with a large interior space. Largely though, this is new territory for a Battle Royale.
Getting on top of buildings is really important. Hacks enhance your vertical movement so play attention to them.
The dense buildings can make it hard to locate players even in a small physical space on the map. Peek around corners and sweep buildings as you progress.
The circle works differently in Hyper Scape. The districts will shut off one by one, funneling players into a smaller space rather than a decreasing circle.
With only one district left to play in, things are tightly packed once the crown spawns. This is where getting on top of rooftops becomes pretty important.
Dropping In – Hyper Scape Beginner's Guide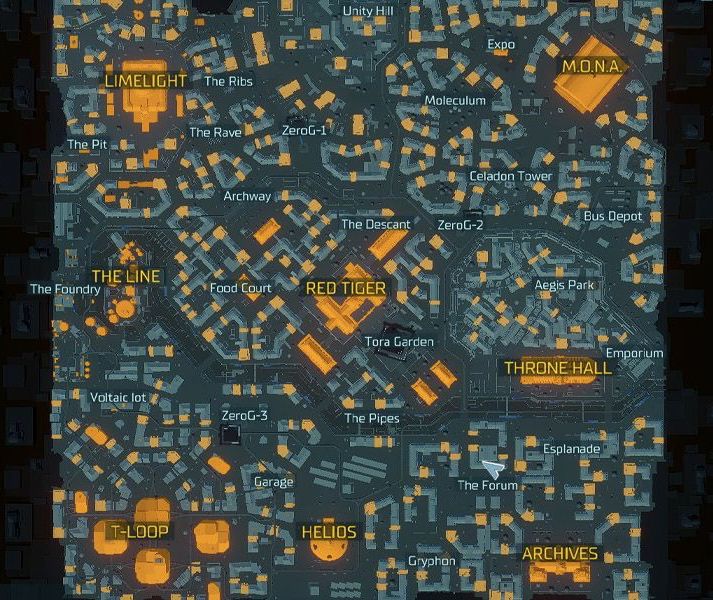 This Hyper Scape beginner's guide covers everything you need to know about the game, which has to include dropping in. Most battle Royales like to put their own spin on this first stage of the game, hyper Scape is no different. This is what you need to know:
Not everyone drops from the same starting point. Different teams are organized on different opposing corners.
This means that if you travel halfway across the map to land, others will probably have already landed and looted there.
It also means there is no benefit to going for the closest POI or the furthest POI. Each has the same chance of having other players there.
You drop in a pod, which can be controlled. Press W to go faster while in the pod.
The middle of the map is going to take everyone just as long to reach. This is the furthest from your starting point that you should drop.
Once you go into first-person mode, you lose control of the direction you're heading in, keep this in mind.
Red beacons show where other players have dropped. This lets you quickly adjust where you're going to fall if you've been beaten to the punch.
Hyper Scape Beginner's Guide – Loot and Fusions
This Hyper Scape beginner's guide covers what you need to know about the game, including its loot pool. This works differently to other games. So this is what you need to know about the loot pool and fusing items.
Loot in the game can be improved by fusing it with an identical item.
With weapons, this can change a lot of things like their damage or magazine size.
Abilities can also be fused.
The difference between a base weapon or ability and the last tier is huge. Don't forget about this mechanic, as it makes it much easier to get high-tier weapons than just by looting.
Focus on maxing out your loadout. You can do this by fusing with duplicates or finding higher tier items lying around.
Other loot can be found like in other Battle Royales. Ammo or chests are scattered around as supply drops. Killed players also drop ammo irrelevant of what they were holding.
You won't find high-tier loot outside of the main locations. It seems the loot pool is much more heavily compacted in the vertical sections. Make sure you keep this in mind when dropping and rotating.
Hyper Scape Beginner's Guide – Echos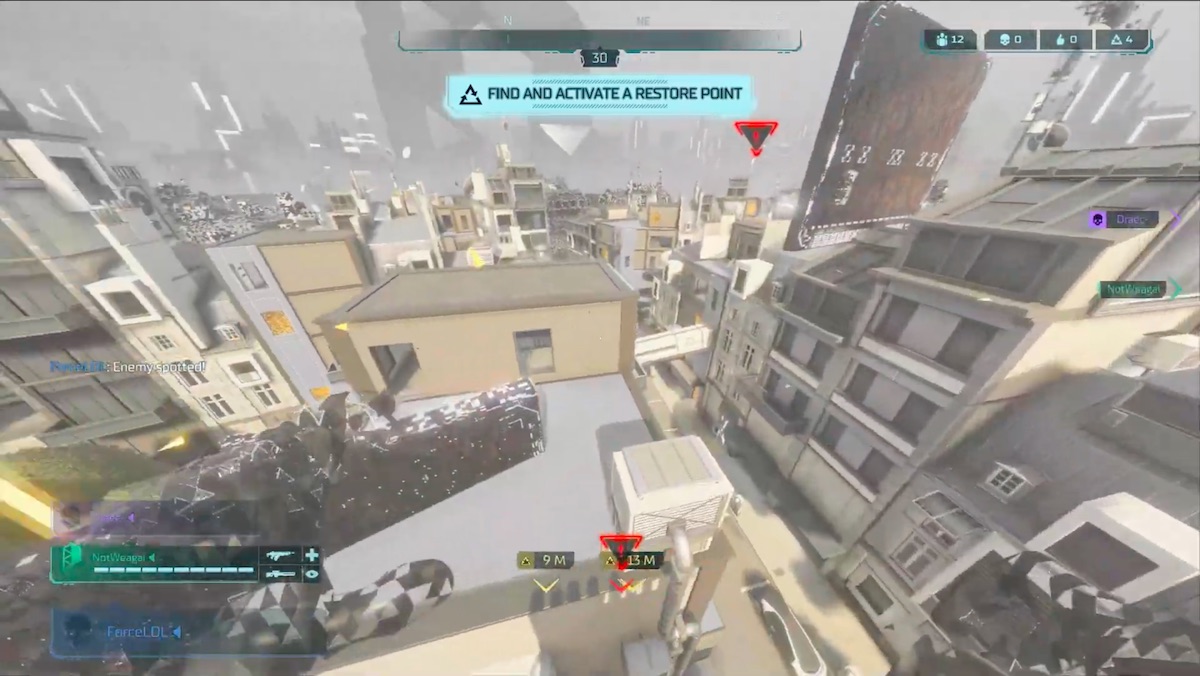 Echos are a unique element to this game. When you die, you can be revived or act as a scout. This is what you need to know about Echos in a Hyper Scape beginner's guide:
When you die here, you're not dead but you stay as an echo.
This is kind of like playing as a ghost.
Only your squad can see you.
You can still run, jump, and ping. Once you're dead, you become a scout. You can move around the map pinging enemies, weapons, anything you find. You can even track enemy teams and call it out to your squad.
This is a really useful role. In certain situations, it is even worthwhile to stay dead as the team's scout rather than coming back quickly.
When your team kills an enemy, a yellow triangle will appear in that spot. You can resurrect on it by standing on the triangle and bringing your team over.
Only Echos see the triangles, so keep in mind you'll have to call it out or ping it.
In the late game, stay aware that Echos might be pinging you even when you can't see them.
Hyper Scape Beginner's Guide – Weapons and Hacks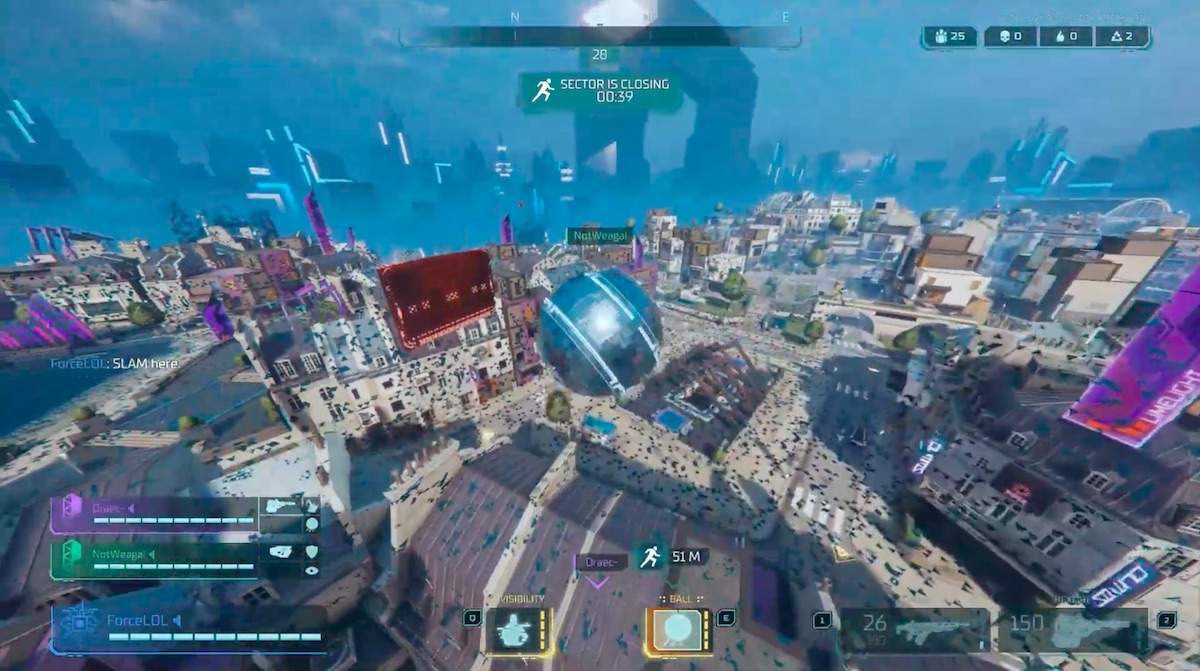 These are some general recommendations for first-time beginners in the game. These are some of the weapons that might be the most useful for newcomers to hyper Scape.
Skybreaker
This is a plasma cannon kind of thing. It shoots a ball of plasma that becomes bigger and deals more damage the further it travels. It can one-hit-kill a player from a distance. A damaged player can be killed quickly up close. What is good about this weapon is its huge AOE. It even does damage through walls when hitting the outside of buildings. You can deal damage to whole teams, even with a building between you.
Teleport
This is a hack that lets you teleport to the spot that you're looking a.t It has a short cooldown so you can use it to grab the high ground in as many fights as possible. You can even use it to just teleport into the sky. Once up there, you can use double jump to keep yourself afloat for a little while. This lets you take plenty of shots at enemies while literally just floating above them.
HexFire
This is a Gatling gun in the game. Not too much needs to be said about how useful it is. It's like a maxim gun, it can just mow down players as you turn. You sacrifice mobility with it, but it does great damage especially when you're positioned inside.
The Ball
This is a big hamster ball you'll be slotted into. It is armored so it takes some time to burst you out of it. It bounces higher with each jump. So with a fully upgraded ball you can use it dodge for the 45 seconds you need to take the crown. When you hit the ground, it does some damage too.
Comodo
This weapon is like the skybreaker, but it is smaller and easier to handle. It does less damage but works much better up close. With the AOE effect, this is really good for close combat. With someone up close, you can use it like a shotgun to take them out with AOE damage working in your favor.
The Wall
The wall is a blocking hack that you can throw up. It has to be destroyed and takes quite a lot of fire. If you play Overwatch or Valorant you'll likely know how useful a wall can be for blocking out players and controlling positioning.
What Else Do You Need to know About Hyper Scape?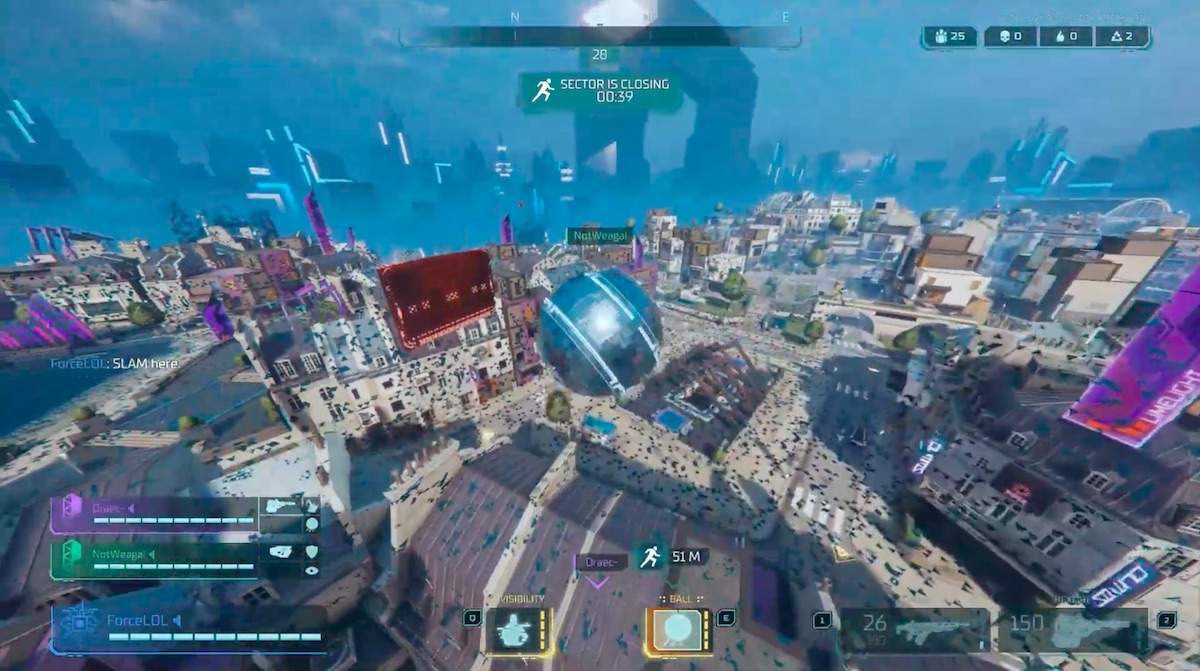 This Hyper Scape beginner's guide covers what you need to know to get started in the game. We'll have bigger guides covering the weapons, hacks, map, and getting the right settings for the game up shortly so you can master every element of Hyper Scape.