League of Legends Wild Rift's Wild Beta has launched in North and South America, bringing the game to an even wider audience. The title has already built up a following in other territories, with a healthy esports scene already developed. Now that the game is pretty widely accessible though, there are a lot of new players hanging around. Whether you're a LoL die-hard, or just dipping your toes into the entire MOBA genre, it is a great time to get to grips with Wild Rift. The game is a little complex though, especially for beginners. This Wild Rift beginner's guide covers everything you need to know to get started winning in this game.
Wild Rift Beginner's Guide – The Basics
If you're not particularly familiar with Wild Rift, then these are the absolute basics. Wild Rift is a MOBA. That's a multiplayer online battle arena. This type of game has teams of usually five going up against each other in a well defined battlefield. In this game, that battlefield is Wild Rift. This is a mirrored map. So each two sides are the same for each team, aside from the objective specific features. Each team begins on one side of the map, and is assigned red or blue to indicate their area. The goal is to destroy your enemy's nexus, a series of objectives spread around the map.
The Nexus is divided into three lanes. There is the top lane, the middle lane, and the Dragon lane. In games, you aim to get XP to level up, get more gold, and make your champion stronger. You do this by killing lane minions and jungle creeps, enemy champions, turrets, and completing other objectives. You can get better stats by doing this.
Teams start on the top or bottom of the map. Across the game, teams try to develop, and push closer towards the ultimate goal of the Nexus. There are others objectives in the game throughout each round, but that is the central goal.
The Map and Lanes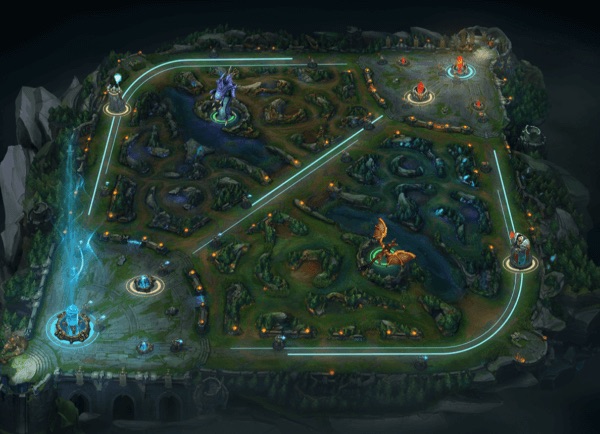 The map and lanes within Wild Rift are the core of its gameplay. Between your base and your enemies base, this is where you'll spend the game. The middle lane cuts through the right center, while the Baron and Dragon lanes curve around the edge. There is also the jungle in play, but that's more of a wildcard area than the other three. These are some other Wild Rift Beginner's Guides points about the map:
Visability – The game map in Wild Rift falls under the Fog of War. You'll find this mechanic in a lot of games, stretching from StarCraft to Civ. Essentially, it is a blackout over the areas of the map that you can't see. You might know the general theme of the map, but you don't get the full picture in each game.
What You Can See – You have full vision over your own team, and the areas around them. There's also your own base, trinket wards, tower ranges, and rivers if you get the scuttle crab. You see enemy players once they become a threat, but have to strategise without any info.
Jungle – The Jungle is an area of the map which Junglers have to spend their time. These guys are nearly always in the fog of war, so they give a great opportunity for sneak attacks.
Fountain – This is the spawn point, you can buy items, heal, and get mana points.
Nexus – This is the crystal in your base, you need to protect it and take out the enemy's crystal. This is protected partially by some turrets.
Minions – They spread out after spawn into all of the lanes, with special Jungle creeps in the Jungle. The entrance of these is the same for both teams.
Wild Rift Beginner's Guide – Minions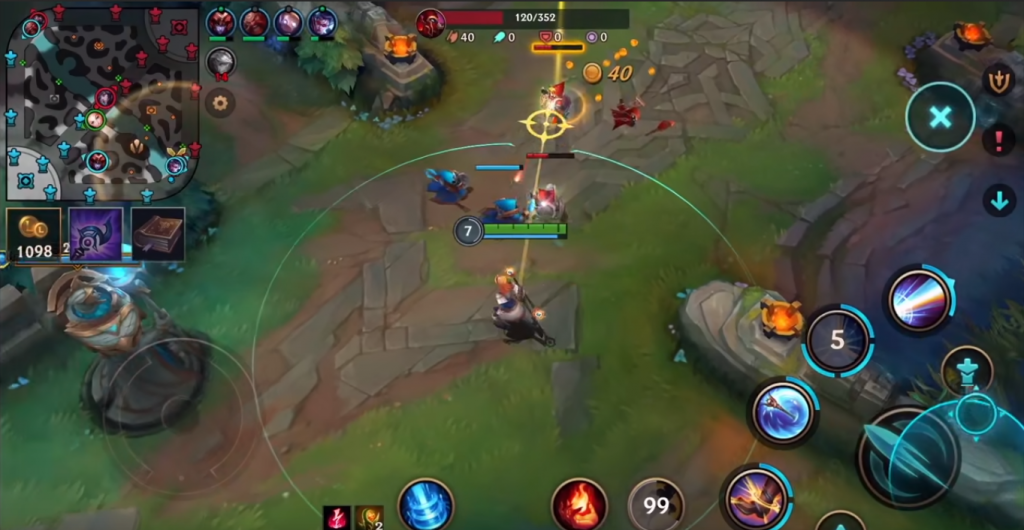 Taking out minions is one of the more grindey aspects of the game. These are the minions that you're going to have to deal with, and how they can help you win the game in this Wild Rift Beginner's Guide:
Melee – Melee minions are short ranged in their attacks, as melee implies.
Caster – These ones are longer range.
Cannons – These minions only come every three waves. They do more damage, and give more gold than the other two varieties.
Jungler Creeps – These are the Jungle equivalents. They launch in much the same way.
Waves – They come out in waves. These waves begin after 12 seconds. Then again every 25 seconds. When each side's wave meets in the middle they'll clash and attack each other.
After 12 Minutes – The waves change, and get harder. They switch to alternating between a wave with one cannon, or two cannon minions without any range. The pace of the game speeds up along with the minion waves.
Dealing with Minions – If your team can kill and collect the minions quicker than the enemy, that's essentially going to give you an advantage.
Super Minions – These spawn after a base turret has been destroyed. They have more attack power and put more pressure on an enemy base.
Jungle – Wild Rift Beginner's Guide
The Jungle is a dedicated area that a player on your team has to spend their time in. This player is going to be running Smite as their summoner spell to do this. This does a specific amount of damage to Jungle camps, so it is essential. The jungle contains these camps all around the river. Taking them out alongside taking out Jungle Creeps gives experience and gold.
The Jungle might be off to one side, but they're often the person who is having the most influence in the lanes. Camps can be placed in different locations in the lane, controlling the flow of the other players. Junglers do this, but they're also got to take down some specific objectives. That's while controlling the jungle and watching out for the enemy jungler. The Jungler section might not be huge in this Wild Rift beginner's guide, but they do play an important role.
Turrets
The line of turrets on the map surrounds both bases. These have 3,000 HP and will need to be worn down entirely to proceed. It can't be revived once down, so they are key objectives. Doing this will open up more space for your team, along with control, and getting you closer to the enemy base. They're easiest to take down with one more than one specific champion working in tandem.
Dragon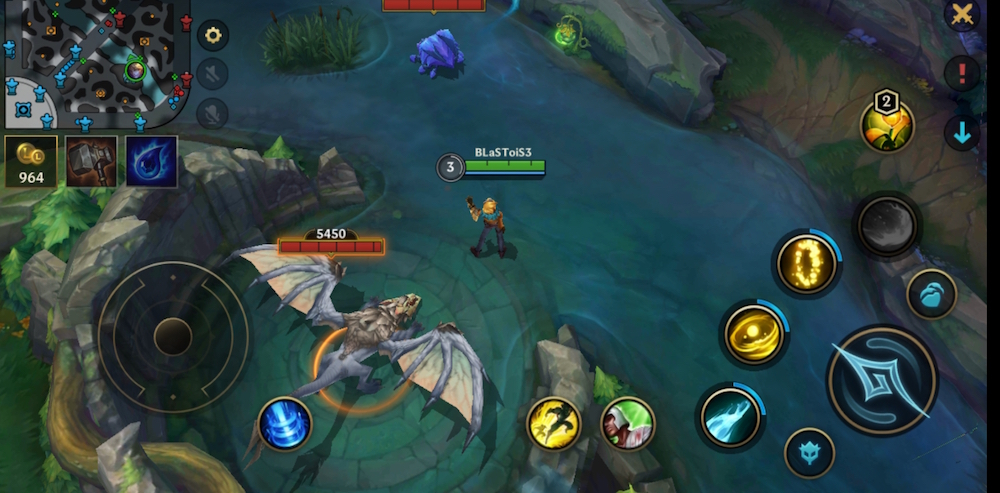 There are four elemental dragons in the game, the Ocean, Infernal, Mountain, and Cloud. If you kill even one of these, your entire team receives a permanent buff. They begin to spawn at four minutes into the game. However, only three spawn across the entire match. These are the types of dragon around in the game:
Ocean – This grants Lifesteal.
Cloud – This one gives you more movement speed.
Mountain – Gives more defence.
Infernal – Offense.
Eternal – The largest dragon, and separate to the elementals. This has more HP and gives an even bigger buff. It spawns once in every game.
The dragons will all come from the Dragon area, which is nearest to the middle (or dragon) lane. These might seem like they should be a bigger part of the Wild Rift beginner's Guide, but they're largely important for that buff.
Rift Herald
This is an objective which pops up in the Baron pit next to the top lane. It spawns at the six minute mark of every game, but only once per game. You need to deal damage to its back, where the eye is .Then, you can pick up the eye in your trinket slot. While holding it, you can use this item to deal damage to turrets.
Baron
This is another monster in each game, it spawns at the ten minute mark. It provides a buff to all living players. When you're close to minions, they'll do more damage against the enemy's minions. This can give you a lot of momentum, especially in the late game as the pressure and momentum become really important. The other buff is faster recall. The baron respawns every three minutes, so both teams can capture it at some point.
Wild Rift Beginner's Guide – Roles and Positions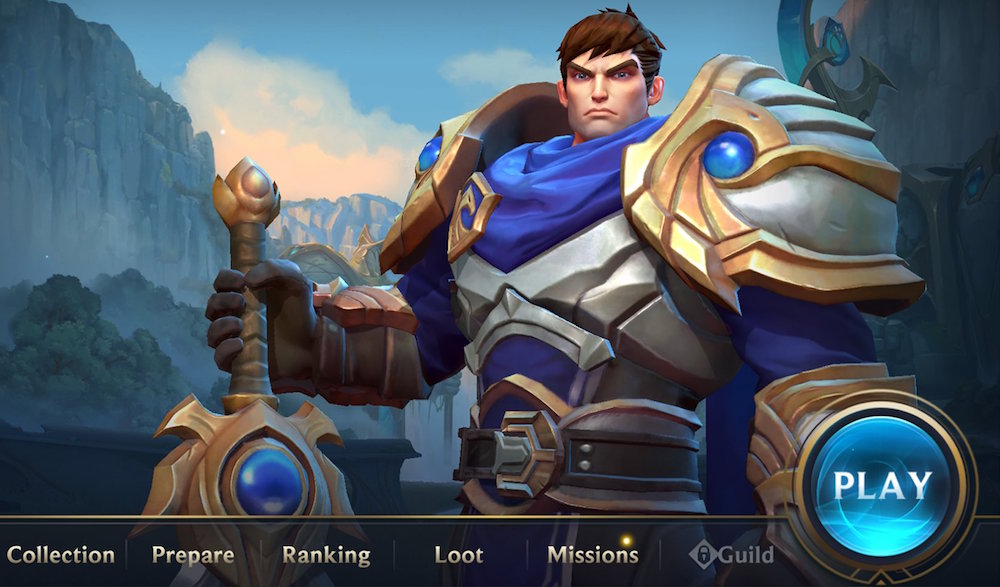 There are five positions in the game. Each has a different Champion best suited to them, and certain lanes that you should be focusing on with that position. The top lane typically takes a melee fighter, with the middle lane for mages and assassins. The dragon lane often has ranged and support marksmen. Then there's a Jungle position and support. That's only five positions in all, but there are six different roles that players can use:
Assassins – Do burst damage.
Fighters – Can buy items for damage and defense, do best as melee damage.
Mages – Spell casters and AOE.
Marksan – Ranged attacks with low defense.
Supports – They're there to assist other players, often marksmen.
Tanks – Tanks can soak up damage and great defense.
So there will always be a role short across your position. Which you go without is part of the strategy in the game. There are already more than 50 Champions, and we can expect more to come to the title all the time. If you play Valorant or another MOBA, you're used to strategizing about positions.
Items and Income
While there is a lot going on in every game of Wild Rift, collecting gold to grab items and income are pretty important. You get gold from killing minions, enemies, and from taking down turrets. This naturally limits how much you're going to get access to in a game, without wasting too much of your time grinding for gold rather than progressing in objectives.
The items you can buy can give you an advantage for surviving, dealing damage, or just using as a general utility. However, each player can only carry six items in the game, so you're going to have to be economical.
Wild Rift Beginner's Guide – Attacking
Attacking and dealing damage is vital to actually making progress. You have a few options here too. Each Champion has an auto attack you can use pretty easy just by clicking. On top of that though, you have access to four different abilities for each champion. These are more specialist. There are other summoner spells, which come in twos, and items that can be bought.
Stats
The Champion stats really govern how effective each of the characters is in a different situation or role. You can dig really deep into these, but the basics that you need to be aware of are:
Health – This is just your HP, seen in-game as a green bar.
Resources – Your ability resources cover Mana, Energy, and other options They're used to do attacks and use abilities. How they work is different from champion to champion though.
Attack Damage – This is the physical damage that an attack does.
Ability Power – This stat deals with how powerful your abilities can be, but also some of the regular attacks when you're hitting something like a turret.
Armor – This is a standard defense stat, it is a number that weakened the damage you take.
Magic Resist – Like armor, but this is resistant to magic damage rather than physical.
Attack Speed – How fast your auto attack can fire.
Ability Haste – This is the cooldown on abilities.
Critical Strike Chance – Critical strikes deal double damage, this is your chance of hitting one.
Movement Speed – A simple one, this is just how quick you move. Can be greatly expanded upon with the right items and abilities.
Wild Rift Beginner's Guide – Experience and Levels
We've covered a few things in this Wild Rift Beginner's Guide that help you grind out experience points to level up a champion already. In each game, you start at level 1. The goal is to get all the way to level 15. You can do this by killing minions, clearing jungle camps, or getting kills. Even being close to a kill gives experience or an assist, you don't have to land the blow yourself.
Once you go up in the levels, you start to become more well-rounded. Your stats are going to increase with each level. This can really affect the balance of champions, so it is important to figure out if grinding early is vital for your champion's play style.
Those are the basics of what you need to know to get off the ground in Wild Rift. However, the game has a very deep strategy. If you really want to play well then you'll have to dig quite a bit deeper into the game's balance of champions, abilities, and the general metagame. While this is a mobile game, it is considerably more complex than most on the market and it'll take some time to get to grips with.