Escape from Tarkov is the latest shooter to capture the attention of streamers and players alike. This game has been kicking around in various early forms for a while but has really picked up steam since 2017. It is a shooter that goes for hardcore and realistic gameplay, which is always a fun choice for multiplayer-focused game modes. Across a variety of different maps and modes, you have a lot to play with, which is why it has dragged so many streamers away from Fortnite and Call of Duty. However, if you really want to get ahead in this game you've got get your settings right. These are the best Escape from Tarkov settings.
Using the right settings in any multiplayer game is absolutely vital. When you're playing on a PC, you're not on a level playing field. Some people have an advantage over others. This is purely through their equipment. However, there are also settings at play. Even if you use the same PC and mouse as your favorite streamer, you won't get the same results. Settings govern the way the game behaves, they allocate resources and make priorities. Using the right settings can help the game run smoother, giving you a better FPS and an advantage when it comes down to reaction times.
If you're looking to improve when playing shooters, you need to be looking at your settings. Few games are optimized for perfect performance out of the box, since competitive frame rates and performance aren't typically the metrics that people judge a game on. That's why its necessary to change things around, and to use the best Escape from Tarkov settings possible if you want to get ahead.
The Best Escape from Tarkov Settings
Escape from Tarkov can be a really impressive looking game. When given the chance, the realism is pretty impressive. Unfortunately, we're not after realism here. In this guide to the best Escape from Tarkov settings, we're going after frame rate while keeping the visuals high enough to never give you a disadvantage. These are some recommendations that can boost your performance without sacrificing too much visual quality.
Game Settings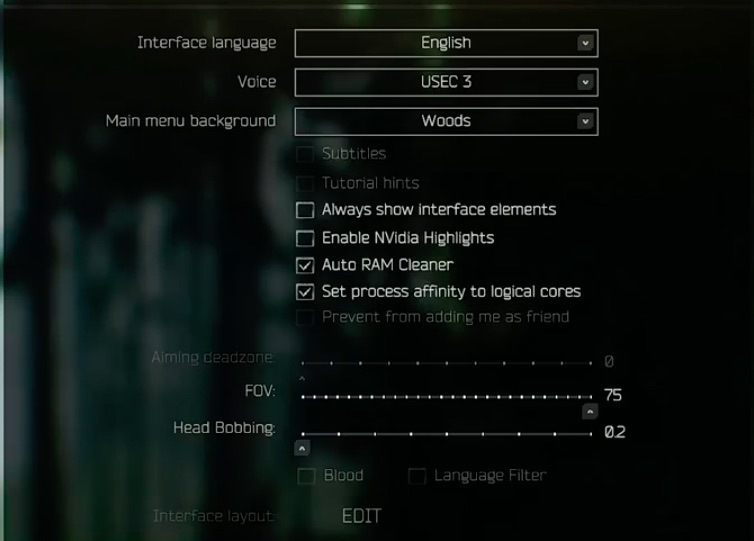 Auto RAM Cleaner – Turn this on.
FOV – Turning this one can give you a much bigger image. However, be careful since this can mess with the way you see everything.
Graphics Settings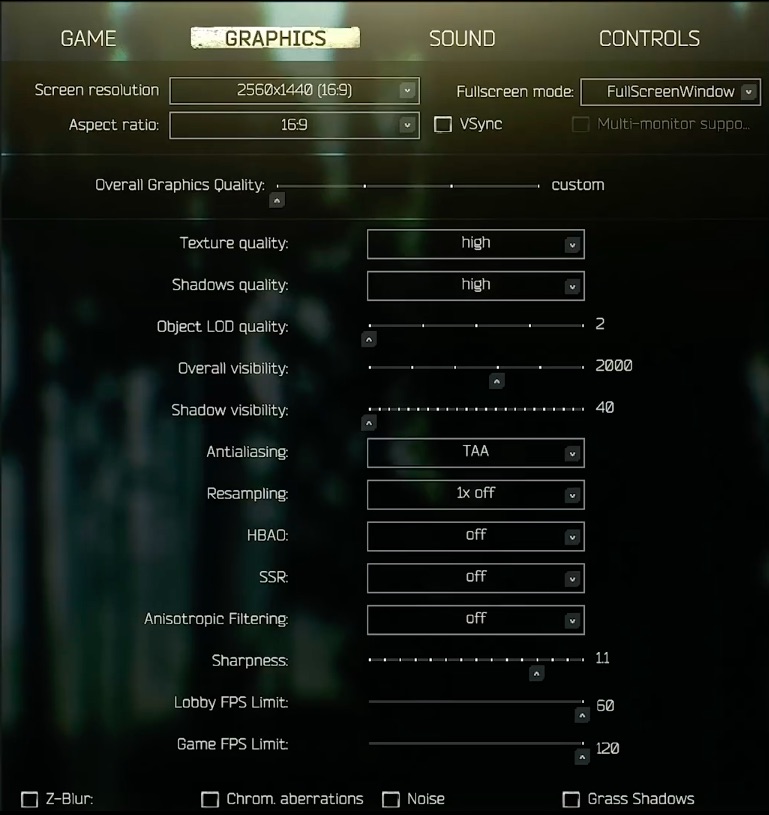 Z-Blur – Off
Noise – Off
Grass Shadows – Off
Aspect Ratio – Native to your PC.
Texture Quality – Medium gives you a nice balance between quality and frame rate
Shadows – Low
Object LCD Quality – 2
Overall Visibility – 2000
Shadow Visibility – Low
Antialiasing – TAA helps more with blur
HBAO – Off
SSR – Off
Anisotropic Filtering – Off
Sharpness – This doesn't make a huge difference
FPS Limits – Keep this as high as you can, depending on your monitor. The full 120 is good for most players.
These are the best Escape from Tarkov settings. With these applied, you should be able to get a great and stable FPS. This will give better reaction times for the game, all without sacrificing a crazy amount when it comes to visual quality.